Tamko Topics is a weekly newsletter of The Students' Union of Tampere University of Applied Sciences.
ENGLISH SUMMARY
1. Welcome to Gateway to Working Life -recruitment event next week! TURSASPASSI EVENT
2. Talvitursajaiset goes winter 27.1. TURSASPASSITAPAHTUMA
3. Tamko's mobile student card is now on Tuudo!
4. Remember to pay healthcare fee by the end of the January
---
1. Welcome to Gateway to Working Life -recruitment event next week!
Are you looking for summer job? Or place for internship? What about company to make your thesis for? Come to Gateway to Working Life event next week!

Gateway to Working Life is event is great opportunity to have chat with organizations and find out more about work opportunities that they have to offer.

Event is organized on TAMK's main campus lobby area 23.-25.1. at 10-14, free entry.

Gateway to Working Life event days:
23.1. Social services and health care, business administration and hospitality management
24.1. Technology and ICT
25.1. Technology

There is also programme:
– Seminars
– Free CV-photoshoot with professional photographer
– CV- clinic where you can bring your own CV to comment on
+ BINGO!

Digital fair catalogue
From this digital fair catalogue you can find companies which have informed in advance that they hire English speaking people. However we encourage international students to tour in the event and talk with all the companies and look for different opportunities!
https://issuu.com/opiskelijakuntatamko/docs/gateway_to_working_life_2023_fair_catalogue

Check out Gateway To Working Life website:
https://www.porttityoelamaan.com/

You can get stamp to your Tursaspassi by participating in the event.
2. Talvitursajaiset goes winter 27.1.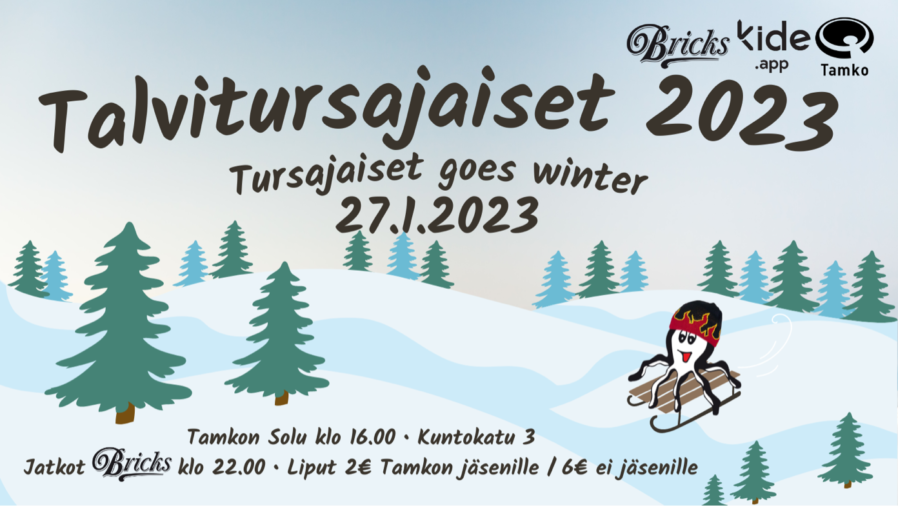 The year has changed, and that means that there are new students in Tampere! It's time for the Tursas shepherds to go to work and herd the lost Tursas into student life. So now it's time for Tamko's 4th Tursajaiset goes winter!

Tursajaiset Goes Winter 2023 will be held on 27.1 and the day event is free for all new students. The event starts at 4pm, when the groups have gathered on the square on the Teiskontie side, from where the whole mass of students will march around TAMK towards Solu to pledge a vow called Tursas vow. After the Tursas vow, the groups can go around tasks around Solu. The group with the highest score and the best costume will be rewarded the following week after the event.

The day event ends at 9pm and from there you can move towards the afterparty. The doors to the afterparty open at 10pm. The after party is at Bricks! Tickets to the after party are 2 € for Tamko's members and for non-members and from the door 6€.

Afterparty tickets: https://kide.app/events/ec671b8f-04b0-497e-ba7a-102b79f17166

TLDR;
What: TURSAJAISET GOES WINTER 2023
Where: Starting from the Teiskontie side of the main campus
When: 27.1. from 4pm onwards. Afterparty at Bricks at 10pm

All events of the student union of Tamko are completely harassment-free and no harassment or discrimination of any kind is accepted. Harassment contact persons can be reached at email address harassment@tamko.fi.

If you would like more information about the accessibility of the event, please contact accessibility@tamko.fi

3. Tamko's mobile student card is now on Tuudo!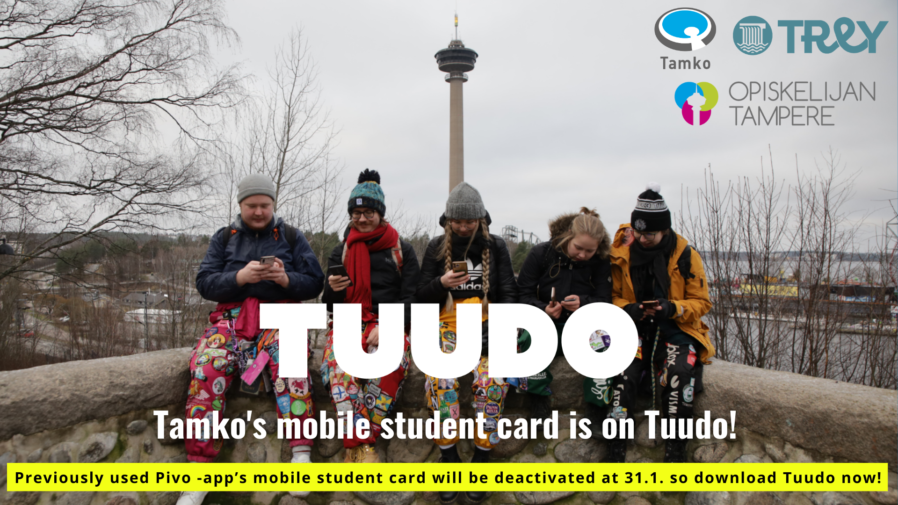 Previously used Pivo -app's mobile student card will be deactivated at 31.1. So download Tuudo now!

If you have paid Tamko's membership fee and are registered for attendance at TAMK you can activate mobile student card to use alongside you plastic student card. You get all the same discounts and benefits when using mobile student card or plastic card.
Tuudo is a free app, that has been made to make students' life a bit easier. in addition to Tamko's mobile student card, you can find from Tuudo example your timetables, study credits, reservations for classrooms and other TAMK's spaces, cafeteria's menu and course enrolments, quite handy!
You can download Tuudo to your mobile devices from application store.

Read more: https://tamko.fi/news/tamkos-mobile-student-card-can-now-be-found-from-tuudo/
There is also Tuudo-tutorial on Tamko's Instagram!

4. Remember to pay healthcare fee by the end of the January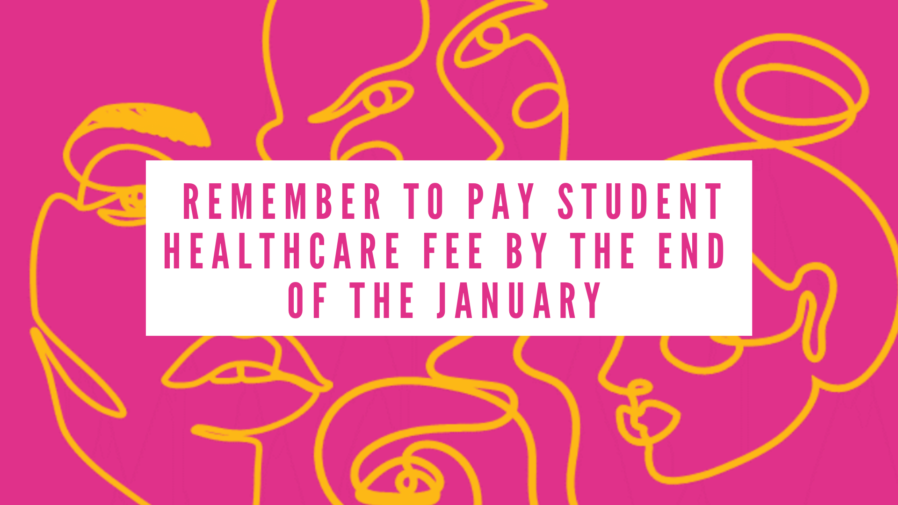 Remember to pay the healthcare fee to Kela!
The student healthcare fee must be paid by students who are completing a degree at a Finnish institution of higher education and have registered as attending for the term.
No bill will be sent on the healthcare fee, and thus you have to pay the fee on your own initiative.
In 2023, the healthcare fee will be EUR 36.80 per term.
The fee must be paid once per term (spring and autumn).
For the spring term, the due date of payment for the healthcare fee is 31 January 2023, provided you have registered as attending by then.
NOTE: If you have social security coverage in another EU/EEA country or in Switzerland or the United Kingdom, you do not have to pay the healthcare fee. However, you are allowed to use the FSHS's services.
Find more information on Kela's website: 
How to pay the student healthcare fee in higher education