A student's everyday life cannot revolve around exam books and lecture notes alone. Leisure activities are important for everyone. For us in the Students' Union, the well-being of the student is also important. In addition to our own leisure activities, we inform members about the events and hobbies of third parties and the Students' Union, where possible.
Events
Student events enrich the everyday life of students which is full of studies. Tamko is involved in different kind of events, both as an organizer and as a partner. The most important thing is, however, to organize as versatile culture and leisure activities as possible. Tamko tries to take everyone into consideration to guarantee that majority of students could attend the events.
Established events organized by Tamko include for example the New Students' event called Tursajaiset in September and January, the Gateway to Working Life recruitment event, studying year opening and closing partes and various advocacy and student welfare events on campuses.
We welcome new ideas – feel free to contact us if you have an idea for a new event! Tamko's event representative: tapahtumat@tamko.fi
If you want more information about the accessibility of Tamko's events, please contact accessibility@tamko.fi

Most of the events are organized by student associations and clubs of the Tampere Universities and that means that many events are cross-disciplinary so all students in the University Community can participate in the events. There all sorts of events, non alcoholic aswell. Student events are held weekly, and the easiest way to find information about them is to follow student associations' and clubs' social media and Kide.app. Kide.app is application and the key to student events. It's also where most event tickets are being sold.
INTERNATIONAL ACTIVITIES
The key areas of the Student Union's international activities are international tutoring and taking the international perspective into account in the protection of students' interests. Students' Union also works to help foreign students to adapt to Finland and to advance domestic internationalization of Finnish students. The aim of international activities is to promote the integration of foreign students and to enable Finnish students to internationalize from home country.
INTERNATIONALIZING FROM FINLAND
Participate in course held in some other than your own native language

Join CLINT or apply for other organizations for the role of the international affairs representative
Attend language club
Get involved in TAMK's friendship programme, where you get an international student as your friend.
Apply for international tutoring!
Tamko trains international tutors, who tutor exchange students incoming to Tampere University of Applied sciences, and degree tutors, who tutor foreign students of degree programs in English in co-operation with peer tutors. Tutors aim to help students in a foreign environment in TAMK and Tampere. International tutoring is an excellent way to improve one's language proficiency and to meet new friends around the globe. International tutor is often the first connection exchange student has with Finland.
CLINT (Club International Tampere)

Club International Tampere (CLINT) is a sub-organization of Tamko. CLINT is operated by its board members and many active international tutors. The main mission of CLINT is to enhance the co-operation between Finnish students and exchange students who come to study in Tampere University of Applied Scienses.
CLINT organizes a variety of events, trips and other activities to help foreign students with their adaptation to Finnish culture with other internationally-minded Finnish students.

Follow CLINT from their social media: @tamkclint
Survival Kit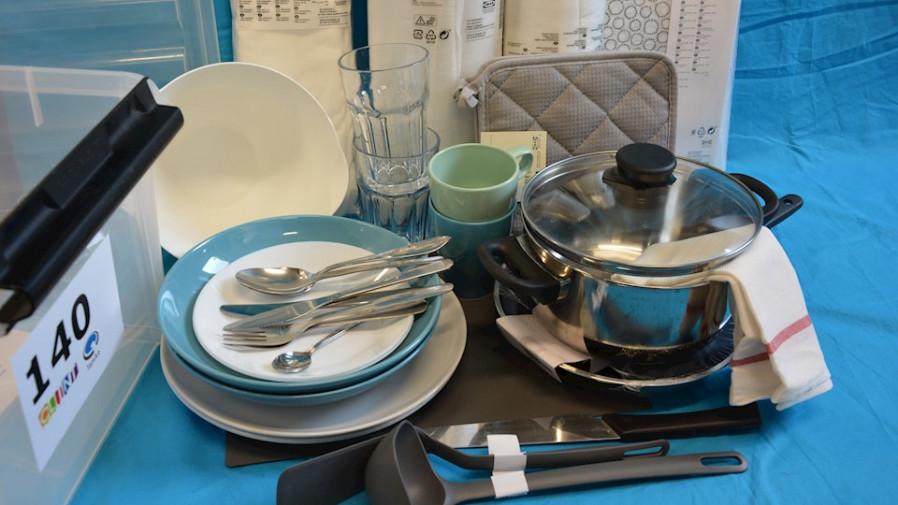 Students' Union Tamko and Club International Tampere (CLINT) rent Survival Kits, which contain basic items such as kitchen utensils and bed linen into a student flat for exchange period. The kit is supposed to assist foreign students in TAMK to settle in Tampere.
Get settled in easier when you come and let us worry about the recycling of the kit when you leave back home! The nature will thank you!
This Survival kit it is ONLY for Tampere University of Applied Sciences (TAMK) exchange students. If you study in Tampere University then this kit is not for you.
KIT CONTENTS
Coffee mug (2), drinking mug (2), bread plate (2), dinner plate (2), soup plate (2), fork (2), knife (2), spoon (2), teaspoon (2), bread knife, cutting board, spatula, ladle, frying pan, kettle, kettle lid, plastic bowl, potholder (2), kitchen towel, bed sheet, blanket, blanket cover, pillow, pillow case and storage box.
Please do NOT return bed sheet, blanket, blanket cover, pillow or pillow case. They are your personal property.
The price for the kit:
Tamko's members: 25€ + 55€ refundable deposit fee = 80€
Non member: 30€ + 50€ refundable deposit fee = 80€
The deposit will be refunded after returning the whole Survival Kit unbroken and clean back to the Student's Union office. If something is missing, broken or dirty when returning the Survival Kit, the deposit will not be refunded.
You can get the link to buy the Survivor Kit from your tutor.
If you are staying longer, you will be charged 20€ (members) /25€ (others) for the additional semester(s).
Each One Teach One
Would you like to get to know students coming from different countries, meet with them in casual settings, learn their languages and culture and/or teach them your own, and get credits for doing that? If you became interested, Each One Teach One is exactly for you.
Further information from Intra and International affairs.
SPORT SERVICES
Tolu
Tampereen orastavat lihakset urheiluseura ry (or Tolu ry, freely translated as Tampere's Burgeoning Muscles Sports Club) is a student sports club that works closely together with Tamko. We participate in organizing various events and activities and in increasing knowledge about the delights and necessity of sports. The goal is to get students moving.
All Tamko members are welcome to attend the regular weekly sports shift. Various sports are played on weekly sports shift with a relaxed mood.
Follow Tolu Instagram to know more about weekly sport shifts! @urheiluseuratolu
SportUni – Joint sports services of the Tampere Universities

With the SportUni fee of your own university you are entitled to use the sports services in all campuses at TAMK and TAU. The sports opportunities include the gyms, group exercise classes, courses and ball games. Additionally individual sports services are offered.
The SportUni fee is paid according to the practices of both universities. The fee can be paid separately for each semester or for the entire year. The sports fee is paid at the university where you are studying. After the payment you can use the services at your own campus, and after having requested the access rights you can use the services also at the two other campuses. TAMK students pay the fee at Tamko's office.
The access rights to the other universities must be requested personally from the university in question. Please, have the payment receipt, ID and your student card with you. The access card must be scanned by the reader each time you visit the sports facilities.
Learn more from SportUni's website
You can also follow SportUni on soscial media: @sportunitampere

Sports Equipment for borrow
Tamko has a variety of sports equipment that you can borrow for free from our office. The equipment must be returned the next day but you can discuss about the duration of the borrowing. Until then the renter is in responsible for the items.
List of equipment for borrow:
Table tennis rackets and balls
Tennis rackets and balls
Badminton rackets and shuttlecocks
Basketballs
Volleyballs
Footballs
Futsal balls
Golf balls
American football
Rugby ball
Floorball sticks and balls
Floorball goalie equipment
Frisbee / Ultimate discs
Kick Pads
Jump rope
Darts (regular and darts)
Pesäpallo (Finnish baseball) bats, balls and gloves
Skates
Mölkky
Wishes and hopes on new/additional sports equipment can be sent to office@tamko.fi.
Members of the Students' Union can also start up their own sports clubs and get support from the Students' Union. More information: Wellbeing contact