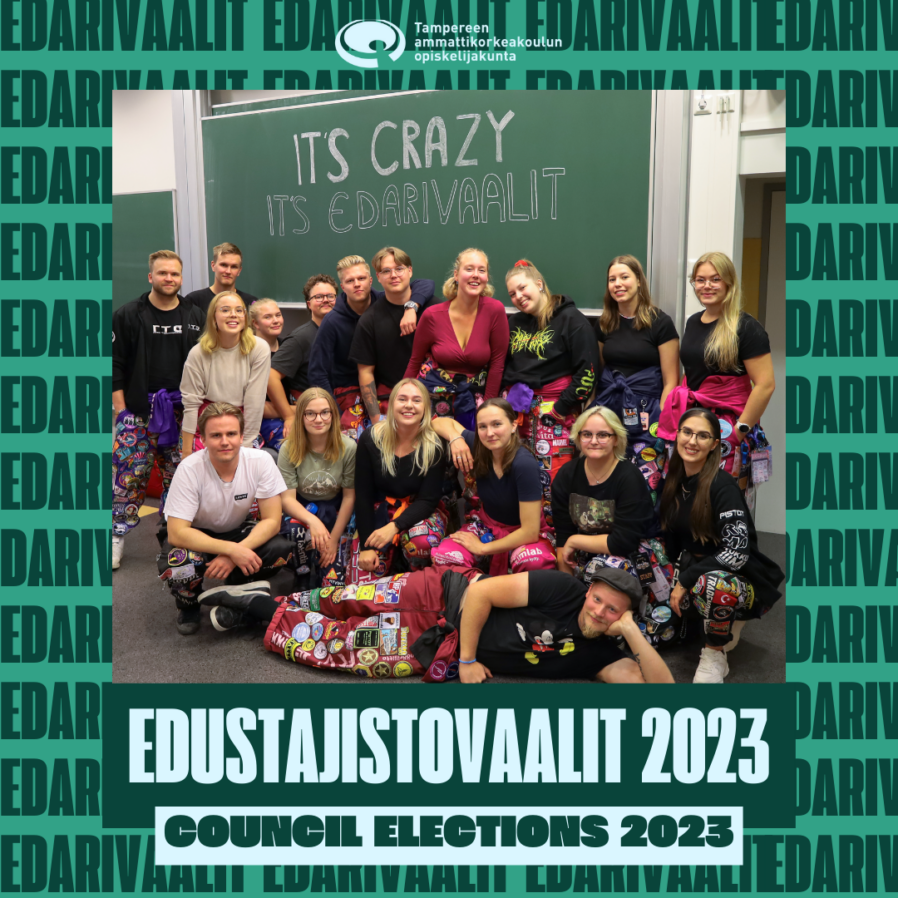 Council elections 2023 timetable
STANDING AS CANDIDATE 5.9. starting at 9.00 – 3.10. ending at 12.00
Declare yourself to a list and stand as a candidate during this time!

CANDIDATE SAUNA NIGHT 12.9. at 5pm >
At Solu's sauna! Come to meet current members of the Council and mingle with other who are interested!

VOTING BEGINS 18.10. at 10.00
Electronic voting begins! You will get link to your tuni- email.

OFFICIAL ELECTION DAY 8.11.
The voting ends on the official election day at 3pm and the results will be published during the same night.

ELECTION NIGHT 8.11. at 3pm >
Welcome to Solu's sauna and raise a glass after the elections!

CONSTITUTIVE MEETING november 2023
In this meeting the new elected Council will choose the Chairpersons, the Board and other actors.

NEW ELECTED COUNCIL'S TERM OF OFFICE IS STARTING OFFICIALLY 1.1.2024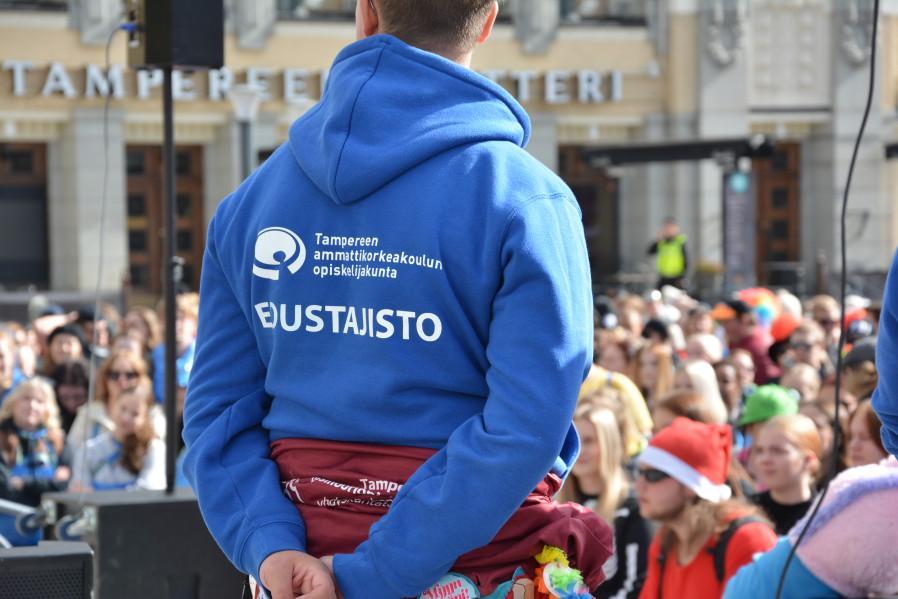 What on earth is council?
There are 21 students working at the council. They are using the highest power in students´ union. You will get to work with other students to effect Tamkos action and to maintain students wellbeing.
Working at council you will get more out of student life. You will meet new people, make new friends and practice conference standards. All the decicions are made together, you don´t have to work alone!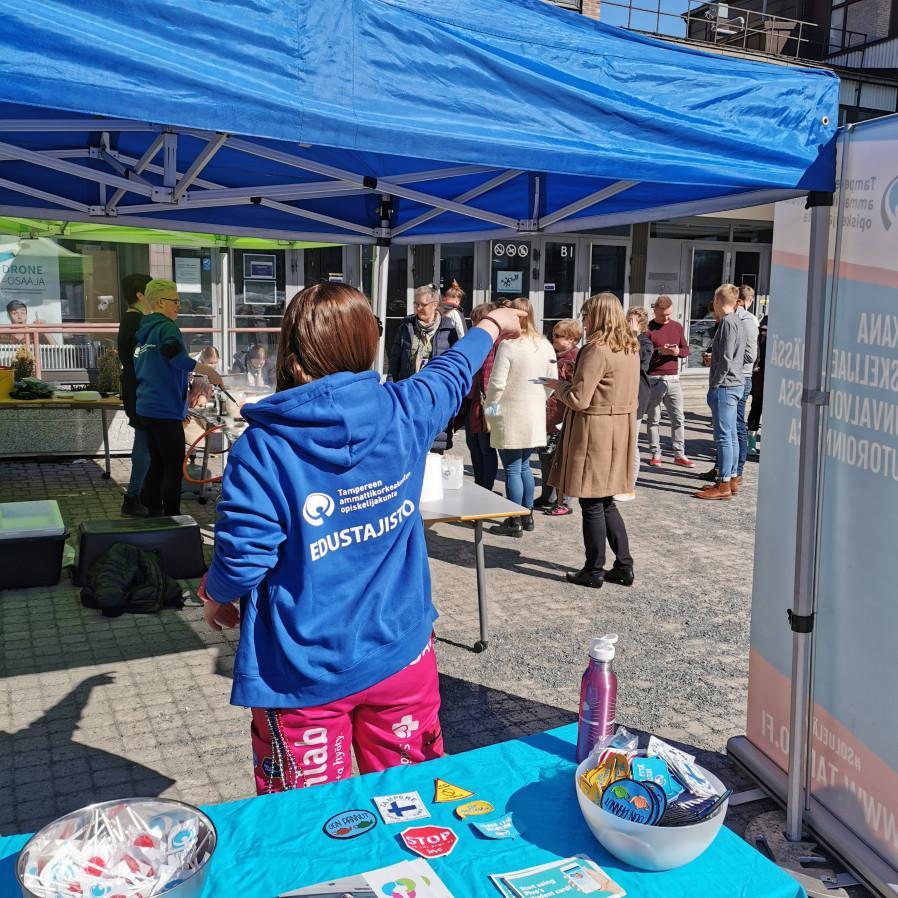 Council elections
Tamkos members (people who are studying at TAMK currently and have paid Tamkos membership) can vote at the council elections. 21 members will be elected.
Council elections are held as list election. List election is a election method where for example candidates with the same education or same values are on the same list as candidates. Therefore the voter does not only vote for person but also for a list. The popularity of the list affects to the composition of elected persons. The same method is used for example in the parliamentary elections.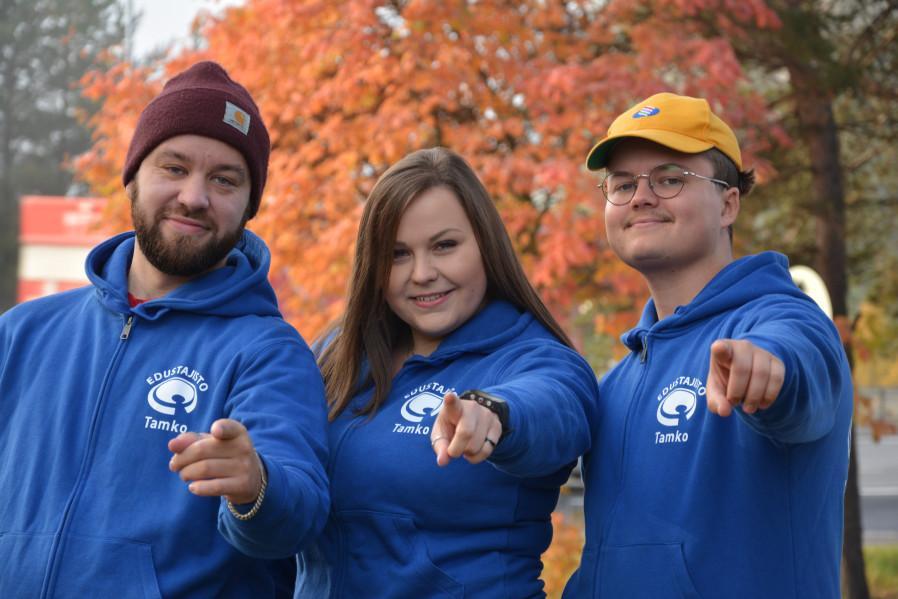 voting in the council elections
The electronic voting takes place via email link. The link will be sent to TUNI email for all Tamko members who are eligible to vote in the Council elections. Students who have joined Tamko during the Council elections will have the voting link sent to their email immediately after joining.
Voting period of council elections 2023:
18.10. stating from 10 am – 8.11. ending at 3 pm
STANDING AS A CANDIDATE IN THE ELECTIONS
Time period to stand as a candidate in council elections 2023:
5.9. starting from 9 am – 3.10. ending at 12.00
All those who have enrolled for the following semester and are members of Tamko can stand as a candidate in the elections.
Follow these steps below to become a candidate for Council elections!
1. Register for the list of candidates or create your own list
2. Fill in Tamko's electronic candidate announcement
3. Advertise yourself!
Read the further information down below:
1. Declare yourself to a candidate list
You have to declare yourself to a candidate list that you can run for the council. You can choose your candidate list yourself. Choose candidate list with people who has same values as you. Different candidate lists are organized by sub-associations. Don´t be afraid to contact them! If you are having hard time finding your own candidate list, we will help you. If you want to, you can create your own candidate list. If there is only one person at the candidate list, they have to get as many votes as the most popular candidate lists persons together. Please note, you can only represent on one candidate list!
---
We will compile the lists informed to Tamko here with the contact person of the list, so that you can find list for yourself.
If you want your own list to be added here, please contact viestinta@tamko.fi

Tradenomit
Declare yourself to this list via this form: https://forms.office.com/e/rdGGjBztUJ
Contact person of the list: Berfin Üstün, jasenvastaava@ttory.fi
Soten valitut palat
Declare yourself to this list by sending email to: kopo@piratery.fi
Contact person of the list: Mila Paltta, kopo@piratery.fi
INSINÖÖRIT
Declare yourself to this list via this form: https://forms.gle/Mvr4xG5NxcJBwxEM6
Contact person of the list: Jenni Kupiainen, edunvalvonta@tiro.fi
Culture and media -list
Declare yourself to this list via this form: https://forms.gle/xpf2qwzxw1ryfGKG9
Contact person of the list: Oskar Berg, oskar.berg@tuni.fi
---
One person will manage the candidate list and gives out the form to Tamko. One candidate list can hold 21 people at maximum.
2. Fill out the candidate announcement
After you have declared yourself to some list, fill out the candidate announcement form.
The form asks for the candidate's basic information as well as additional information such as the candidate photo, election slogan and themes.
3. ADVERTISE YOURSELf
You can do it through social media, among your study friends, do posters, have a stand at campus etc. If you put posters to notice boards remember to get a Tamkos stamp from our office to your poster. In all advertise you have to follow TAMK´s guidence. Tamko will advertise every candidate evenly.
Central election committee 2023:
Every year new Central Election Committee is chosen by the Council. Central Election Committee organizes Council elections, counts the votes and makes sure election regulations is up to date. Executive Director of the Students´ Union works as a secretary in Central Clection Committee. Central Election Committee works until new students are chosen for the roles, usually for one year.
Emmi Lainpelto – Chairperson
Kia Kauppinen – Vice chairperson
Berfin Üstün – Member
Mona Ristikartano – Member
Mikko Vaskivuori – Member
Joonas Soukkio – Member
Ville Paananen – Member
You can send your questions about elections via email to keskusvaalilautakunta@tamko.fi