If you want to join a club, contact us: office@tamko.fi
Are you a club's board member and noticed that information on this page is incorrect or about to change? Update your information with this form "Contact information update" (in Finnish only)

Student clubs
Antura
Antura is Tampere University of Applied Sciences' building trade students' club. Its purpose is to boost the feeling of solidarity between the Construction Engineer and Construction Site Management students and strengthen the cooperation between students and the field's firms and trade unions.
Board 2022:
Sara Räsänen – chairperson
Ville Sivén – vice chairperson/secretary
Juuso Ahvenniemi – financial coordinator
Jasmine Utriainen – event coordinator
Kaisa Haanpää – firm and cooperation coordinator
Kaisa Maksimainen – tutor coordinator
Riku Pitkänen – marketing coordinator
Harri Kuhna – deputy member
Tuomas Koskimäki – deputy member
Anni Huhdanpää – deputy member
antura(at)tamko.fi
Antura on Facebook
Instagram: @anturatamk
Biceps – TAMPERE'S PHYSIOTHERAPY STUDENTS' CLUB – BICEPS
BICEPS on Tampereen ammattikorkeakoulun fysioterapeuttiopiskelijoiden kerho, jonka tarkoituksena on toimia jäsenistönsä yhdyssiteenä sekä tiedonvälittäjänä. Kerhon tehtävänä on kehittää opetuksen ja opiskelun sisältöä sekä toimia linkkinä alan toimijoihin. Kerho toimii alan opiskelijoiden edunvalvojana koulussa. Kerho järjestää jäsenistölleen erilaisia koulutuksia sekä mukavaa yhteistä tekemistä tuodakseen eri vuosiluokkia yhteen.

Board 2022:
Petri Salminen – chairperson
Saara Järvinen – vice chairperson
Henri Kupi – finance coordinator
Joel Anttinen – secretary & education affairs
Aliisa Oksanen – event coordinator & 20FY contact person
Siiri Nykänen – communications
Sanja Säpyskä-Rajala – facilities coordinator
Mira Laine – Motive & 19FY contact person
Jutta-Noora Kuosa – Tamko- & 21FY contact person
Taru Nieminen – expert by experience
Contact the board by email: biceps(ät)tamko.fi
Contact the chairperson of the board by email: pj.biceps(ät)tamko.fi
Biceps on Facebook
Instagram: @BicepsTAMK
BioKe
The purpose of the Biomedical Laboratory Scientist students' club is to bring the Biomedical Laboratory Scientist students of all student year groups together.
Board 2020:
Oona Mäkinen – chairperson
Jutta Remes – vice chairperson
Sonja Rantamäki – secretary and publicist
Anni-Liina Honkakunnas – event and external relations coordinator
Chairperson's email: biokepj(at)tamko.fi
Board's email: bioke(at)tamko.fi
BioKe on Facebook
Instagram: @bioke_tamk
G.L.O.B.E.
GLOBE (= Giant Leprechauns On Behalf of the Environment) is a student club for Enviromental Engineering students in TAMK. We organize different sorts of events, gatherings and trips for all ENVEs. We also try to influence on important environmental issues in our surroundings. Everyone is free to join us and also to bring in new ideas.

Our website will tell you more: http://globetamk.weebly.com/about-us.html
Hallitus / Board 2022:
Anni Seeger
Noore Serlippens
globe(at)tamko.fi
GLOBE Facebookissa
Instagram: @globetamk
HAPPO RY – TAMK'S LABORATORY ENGINEERING STUDENTS' CLUB HAPPO RY
HAPPO ry is Tampere University of Applied Sciences' Laboratory Engineering students' club. HAPPO ry promotes the interests of the Laboratory Engineering students and organizes events and excursions to firms in the field. The organization offers its members affordable coffee, participates in tutoring activities, helps new students to acquire overalls and sells overall patches both to its members and non-members. You can find Happo members from Kuntokatu Campus, wing A's underground floor (A0), and you can reach us by this address: happo(at)tamko.fi
Board 2022
Sanni Koukku – chairperson, pj.happo(at)tamko.fi
Jaakko Järvenpää– vice chairperson and education policy coordinator
Jussi Lahtinen – treasurer
Sami Kivinen- secretary
Noora Perho – event lady
Eemil Jaarinen – overalls coordinator
Santtu Aaltonen – media coordinator
Riku Fagerström – member coordinator
Niko Paukkola – member coordinator
Veera Vanhala – board member
happo(at)tamko.fi
HAPPO on Facebookissa
Instagram: @happo_ry
Konekerho ry
Konekerho ry is TAMK's Mechanical Engineering students' and Vehicle Engineering students' club. Konekerho organizes excursions to firms, our own events and cooperative events with other clubs and organizations. In spring, Konekerho members have the opportunity for a week-long exchange period in Germany, which is organized in cooperation with TAMK and Hochshule Hannover. Konekerho offers its member a club room that can be found on the floor A0. The club room has capabilities for both group work and leisure time between lectures.
Board 2022:
Lassi Laakso – chairperson
Anni Ahola – vice chairperson
Topias Nikki – treasurer
Eemil Wallin – secretary
Hermanni Salonen – education policy coordinator
Sami Paakkinen– event coordinator
Marco Peltonen – facilities and member coordinator
Arttu Heikkinen– firm and cooperation coordinator and Hannover coordinator
Jami Kunnari – project coordinator
Riina Salonen – publicity and marketing
Roni Marttila – graphic design
konekerho(at)tamko.fi
Konekerho on Facebookissa
Instagram: @Konekerho
Puusuutarit ry
Puusuutarit ry is TAMK's Construction Engineering students' club that organizes Asta Fair in cooperation with Tampere Trade Fairs and TAMK every spring. The association consists of third-year and fourth-year students of which the fourth-year students have the lead responsibility and the third-years students act as apprentices.
Actors 2020:
From this link: http://puusuutarit.fi/puusuutarit.html
rakentaja(at)tamk.fi
Puusuutarit on Facebookissa
Puusuutarit website
Instagram: @Puusuutaritry
Score
Score is a new student club for people interested in video game development. It aims to be the first Finnish student chapter of IGDA, the International Game Developers' Association. Score is also formally known as Tampere University of Applied Sciences Game Development Club.
Who gets to Score?
Basically anyone who's up for it! We invite every student interested in gamedev as a career, as one of our main points is to form an active medium for students to communicate with each other – pretty much what IGDA is doing with the current developers. We plan on creating and maintaining relationships with other similar instances (like DiGRA) and all local studios.
Our aims can be split in two as follows:
1. Getting our hands dirty
Making our own games and/or modifications to existing games. Nothing can replace real life experience, so we must do what we must do. We will have at least one project on at all times depending on resources and prefer smaller/more creative/experimental ones over big total conversions or such.
We have a lot of students who study producing/design/audio/writing etc, so it's in our interests to build "simple" games with rich content or unique playability. Self reflectionism is also a keyword, as we want to study every aspect of game design and not take anything as-is.
2. Networking and directing studies
It is not that easy to know what is up in the business and who is who without digging the web really hard. We plan on providing a more efficient channel of information for the students and at the same time a possibility for the companies to review possible future employees. We would love to see companies recruiting students from our ranks to some low level summer jobs and such.
Besides that, we help students to find the most efficient way to utilise their skills on game dev, not depending on what their major is in school.
How can I Score?
In short: Let us know you exist! You might want to visit our home page and follow the instructions there. If you are still not sure, you can always contact us at score(at)igda.fi or join our club meetings!
SOURCE ry
SOURCE is TAMK's ICT Engineering students' club. We organize all kinds of events, and our purpose is to create a more tightly-knit network of IT professionals and share information about the opportunities in our field.
Board 2022:
Nelli Niinivaara – chairperson
Alina Kauppila – vice chairperson
Jonna Sorsa – treasurer
Laura Tiihonen – secretary and publicity coordinator
Arttu Uuranmäki – event coordinator
Leevi Immonen – external relations coordinator
Safiul Alam

– leisure coordinator

Toni Rantanen – member coordinator
Sviatoslav Vasev – international affairs coordinator
Marko Metsola – webmain
hallitus@source.club
SOURCE's website
SOURCE on Facebook
Instagram: @source_ry
SYNTAKSI ry
SYNTAKSI ry is TAMK's Business Information Systems students' club. The club's purpose is to make the students more visible and create suitable events for them.
Board 2022:
Milla Kaasalainen – chairperson
Eetu Niittymäki – vice chairperson
Miro Mäkinen– secretary
Visa Keskinen – treasurer
Juuso Korhonen – board member
Mikko Salonen – board member
syntaksi(at)tamko.fi, syntaksiry(at)gmail.com
SYNTAKSI ry on Facebook
Instagram: @syntaksiry
TaTeK
Talotekniikan Kilta (freely translated as Building Services Engineering Guild), TaTek, is a club under the Students' Union of Tampere University of Applied Sciences (Tamko) that was established in 2010. The purpose of the guild is to enhance the feeling of solidarity between students of HVAC Systems and Electrical Systems and improve the cooperation with firms in the field.
Board 2022:
Miska Ristikartano – chairperson
Linda Vallenius – vice chairperson/education policy coordinator
Paavo Koskiniemi – financial manager
Sanni Kirjavainen– event and communication manager
Eemeli Torkkeli – firm and cooperation coordinator
Teemu Laiho – secretary and member coordinator
tatek(at)tamko.fi
TaTeK on Facebook
Instagram: @talotekniikankilta
Tarkka
Tarkka is Tampere's Construction Architect students' club that offers its members fun recreational activities and interesting extra content to their studies. The primary purpose of Tarkka is to enhance the feeling of solidarity between the Construction Architect students and Architect students. Tarkka cooperates with other clubs, associations and
business representatives. Tarkka was founded in the autumn of 2014 when the Degree Programme in Construction Architecture was reinstated to the curriculum. All Construction Architecture students of Tampere University of Applied Sciences can join Tarkka as student members. Students from other fields of study can also be accepted as endorsement members. You can join as a student member by paying Tarkka's membership fee at Tamko's office.
Welcome to Tarkka!
Board 2022
Outi Savijärvi– chairperson
Viivi Koski – vice chairperson
Frida Piuva – treasurer
Melina Avelin – secretary
Jenny Tokoi – social, educational and external affairs
Vanessa Pönnighaus – event coordinator
Pyry Kononen – event coordinator
Ida Korsimo– excursion coordinator
Anna Ainassaari – anniversary party coordinator
Myy Moisala – calendar coordinator
Tanita Mäkinen – coffee coordinator
Anni Rantasuo – publicist
Sauli Aulamo – publicist
Actors 2022
Santeri Hakamaa
Terhi Kemppainen
Sarianna Sillanpää
Iiris Hongisto
Heidi Mustonen
tarkka(at)tamko.fi
Tarkka on Facebook
Tarkka's website
Instagram: @Tarkkakerho
TASO ry
The purpose of Tampereen sähköopiskelijat TASO ry (freely translated as the Electrical Engineering students of Tampere) is to enhance our members knowledge of the electrical engineering trade and offer them facilities, equipment and materials to carry out their own projects. In addition, we have a spacious office in the downstairs of the electrical wing of the Kuntokatu Campus (A0-18) where we offer five-star services and equipment, such as computers, a refrigerator and a coffee maker. You can find us by following the smell of smoke and the signs that start by the elevator. When possible, TASO ry aims to organize small-scale activities for its members, such as excursions to industrial plants and visits to fairs dedicated to the electrical trade. We aim to also organize more relaxed forms of entertainment, such as sauna evenings, when there is demand.
Because TASO ry consists of students from different student year groups, we also offer assistance in matters related to electrical and electronics, studying and whatever else you may require. TASO ry's membership fee is a paltry €5/academic year, and you can join through Kide.app.
Board 2022:
Matti Hämelahti – chairperson
Juuse Hannula – vice chairperson
Samuli Marttila – treasurer
Lumi Vainio – secretary
Juuso Torikka – educational affairs
Mika Haapanen – event coordinator
Enni Heinonen – cooperations coordinator
Markus Korpela – facilities and member coordinator
Sampo Mykkänen – soscial media coordinator
taso(at)tamko.fi
TASO ry on Facebook
TASO ry's website
Instagram: @tasory_ig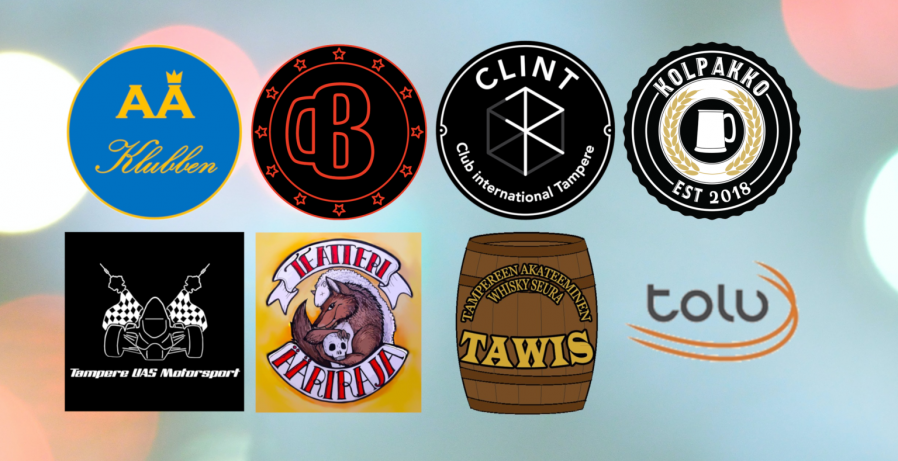 tamko's hobby clubs
ATIK
ATIK (Alkeellisten Taitojen Insinööri Kiekkoa, freely translated as Engineer Ice Hockey of Rudimentary Skills) organizes ice hockey games on Mondays at Tampere Ice Stadium (Hakametsä). Everybody from TAMK are welcome to join, as long as you can hold onto your stick and keep yourself upright on the ice. We play with recreational rules (no checking or slapshots) and with smiles on our faces. Yet, passion for the sport is not quite enough, as you also need your own complete set of equipment to join us on ice. But of course, the most important thing is that there is enough enthusiasm, and everybody is having fun. Our goal is to offer the hockey-minded people of TAMK time on the ice and good games.
If your skates are sharp and your chin strap loose enough, drop us a message at atik(at)tamko.fi and we'll see if we have an open spot for you!
Board 2022:
Eeli Niemi– chairperson
Eero Pulkkinen – vice chairperson & secretary
Tuomas Koskimäki – treasurer & member coordinator
atik(at)tamko.fi
ATIK on Facebook
AÅ-Klubben
AÅ-Klubben promotes and upholds the traditions of student life and culture and brings students from various backgrounds and cultures together. AÅ-Klubben strives to maintain the old and create new food, beverage, and sports events.
Board 2020:
Viljami Sinisalo – chairperson
Jenni Lehto – vice chairperson
Henna Kuikka – secretary / well-being director
Jouni Parkki – information director
Janette Kyllönen – financial director
Kim Lilfors – translation director
Janne Suonpää – recreation director
Valtteri Hautamäki – event director
aooklubben(at)gmail.com
AÅ-Klubben on Facebook
Instagram: @aoklubben
Bubiklubi
Bubiklubi maintains and improves students' knowledge of the city and sub-region by cultural events and supports social relations between students during the academic year by means of collaboration. Bubiklubi organizes visits to restaurants and pubs in Tampere Region.
Hallitus 2022
Ilari Savikko – chairperson
Juho Ahvenniemi
Ossi Aikio
Julius Alanko
Severi Kettula
Waltteri Kolkka
Pauli Matilainen
Ville Paananen
Janne Suonpää
info(at)bubiklubi.fi
Bubiklubi on Facebook
Bubiklubi's website
Instagram: @Bubiklubi
clint
Club International Tampere (CLINT) is a sub-organization of Tamko (Student Union of Tampere University of Applied Scienses).
The main mission of CLINT is to enhance the co-operation between Finnish students and exchange students who come to study in Tampere University of Applied Scienses, and that way facilitate their adaptation to Finnish culture. CLINT is operated by its board members and many active international tutors.
Our main activities include maintaining and supervising the Survival Kits as well as organizing various events for the exchange students. CLINT also takes part in training the new international tutors.
Board 2022:
Tuomas Hård– president
Matti Hämelahti – vice president
Tatu Hukka – event coordinator
Antti Kärkölä– event coordinator
Suvi Ahtikari – event coordinator
Eerika Malkamäki – social media
Juho Vierimaa – officer
Elina Bak – officer
Clint(at)tamko.fi
CLINT on Facebook
Instagram: @tamkclint
Kolpakko – Kaupin olut- ja panokerho
Kaupin olut- ja panokerho KOLPAKKO (freely translated as Kauppi Beer and Brewing Club) promotes the homebrewing hobby of TAMK's students. KOLPAKKO improves its members know-how in tasting specialty beers and homebrewing. The members can rent equipment from the club for their homebrewing activities.
Board 2022:
Jonna Seppälä – chairperson
Hilla Toivanen– vice chairperson
Jesse Niro – treasurer
Juuse Hannula – secretary
Wilma Vuorenmaa– entertainment coordinator
Salli Sarvela – event coordinator
Jaakko Järvenpää – cooperation coordinator
Juho Lajusuo

– excursion coordinator

Jukka-Pekka Jänkälä – social media and graphic design coordinator
hallitus@kolpakko.fi
Kolpakko on Facebookissa
Instagram: @kolpakko_tre
Tamkon Letut
The chosen sport of Tamkon Letut is ultimate, a team sport played with a frisbee. We spun into action in the spring of 2007 when we organized a 30-person beginner's course. After the course, we have actively participated in tournaments of different levels. Currently we aim to practice once a week and participate in beginner-friendly tournaments. The next beginner's course is organized in the spring of 2019. Good team spirit is, and has always been, the trademark of Tamkon Letut :). If you find yourself jamming "All By Myself" too much at home, try joining us.
Board 2018 – 2019:
Santeri Harmaala – chairperson
Matti Lähteenmäki – vice chairperson
Julius Lanu – secretary
letut(at)tamko.fi / tamkonletut(at)gmail.com
Tamkon Letut on Facebook
Tampere Formula Student ry
The Formula Student SAE/Formula Student competition is international racing series in which students compete with their self-made small formula -style racing cars. Students from over 100 educational institutions conceive, design, produce and compete with approved Formula Student -class racing vehicle annually in events arranged all over the world. During recent years Formula Student has been in a strong buoyant force and especially in Europe awareness of the series has escalated among upcoming engineers, motor sport fans and also companies from all over the globe. Therefore the events offer excellent and substantial network for making international contacts.

The competitions are divided into two main sections, static events and dynamic events. Design of the car, marketability and cost analysis are evaluated in the static events. Performance, durability and fuel economy are evaluated in the dynamic events.

The purpose for the competition is to develop future engineering skills in designing, manufacturing and also in project management and financial sectors as well. Tampere Formula Student engineering team consist of students from Tampere University of Applied Sciences, Finland. Our association was established in 2006 and our mission is to design and build a new racing car annually in order to stay in the top class of the series. Currently the development of our new upcoming racing car is in progress.
Board 2020:
Petra Jaatinen – chairperson
Juuso Puranen – vice chairperson
Kristiina Rantanen – treasurer
Riku Kokko – secretary
Jussi Mononen – board member
Petri Lähteenmäki – board member
formula(at)tamk.fi
Tampere Formula Student ry on Facebook
Tampere Formula Student ry's website
Instagram: @tampereformulastuden
TAWIS
TAWIS (Tampereen akateeminen whiskyseura, freely translated as the Academic Whisky Society of Tampere) is a club for all friends of whisky. If you are a passionate whisky taster or it intrigues you, TAWIS is the way to go. TAWIS organizes whisky-related events to its members, for example, visits to distilleries and monthly tasting events.
For more information about the club and how to join: tawis(at)tamko.fi
Board 2019:
Santeri Halminen – chairperson
Erik Suhonen – vice chairperson
Lassi Myllynen – secretary
Casper Kivimäki – treasure
Jukka Koskinen – board member
Santeri Koto – board member
Reima Itkonen – board member
Visa Kangosjärvi – board member
Ilari Savikko – board member
tawis(at)tamko.fi
TAWIS on Facebook
Teatteri Ääriraja
Teatteri Ääriraja is a theater group founded in the autumn of 2014. The purpose of the group is to have fun in a theater setting and to have a play ready by the end of each academic year. In addition to theater activities, we aim to do fun things together off the setting and meet new people. If you are interested in joining us, send us an email to teatteriaariraja(at)tamko.fi or contact us on Facebook.
Board 2022:
Edith Polón– chairperson
Minea Leppänen– vice chairperson, leisure coordinator
Matias Korhonen – secretary, treasurer and purchases coordinator
teatteriaariraja(at)tamko.fi
Teatteri Ääriraja on Facebook
Instagram: @aariraja
TES – Tampereen korkeakoulujen epätoivoiset sinkut
Have you ever thought how annoying it is to be at a bar when you are the only single person of the group? Would you like to spend more time with other singles and single-minded people?
Tes (Tampereen korkeakoulujen epätoivoiset sinkut, freely translated as the Desperate Singles of Tampere Universities) is a club for singles and single-minded people that organizes activities from trips to the forest to speed dating and from sauna evenings to pre-parties. The long-standing objectives of the club are increasing the sociability and community spirit between the universities and preventing social exclusion and loneliness. In Tes, you can be what you want, as long as you are single or single-minded. Come join us, meet new people and enjoy singlehood with a tinge of humor! You can join at Tamko's office for the whopping fee of 69 cents. You can reach us by DM on Instagram and by email.
Board 2022:
Pauli Matilainen– chairperson
Anton Pohjonen – vice chairperson and gamekeeper
Olivia Syrjä– secretary
Kia Kauppinen – fling coordinator
Berfin Üstün – Tinder analyst
Markus Inkinen – financial and phone coordinator
Mikko Vaskivuori– dating coordinator
Ville Paananen – Member whisperer and underwear coordinator
tes.sinkut(at)gmail.com
TES on Facebook
Instagram: @testampere
Tolu ry
Tampereen orastavat lihakset urheiluseura ry (or Tolu ry, freely translated as Tampere's Burgeoning Muscles Sports Club) is a student sports club that works closely together with Tamko. We participate in organizing various events and activities and in increasing knowledge about the delights and necessity of sports.
Board 2022:
Johanna Yrjölä – chairperson
Hermanni Koskinen – vice chairperson
Samuli Lumme – treasurer
Jutta-Noora Kuosa – member
hallitus(at)urheiluseuratolu.fi
Tolu on Facebook
Tolu's website
Instagram: @urheiluseuratolu
VaHa Kabinetti
Alumni of the Students' Union of Tampere University of Applied Sciences – VaHa Kabinetti VaHa Kabinetti was founded in November 2014.
vaha.hallitus(at)tamko.fi
Community Clubs
Kuisti ry
Kuisti ry (freely translated as Porch ry) is an association founded in 2020. Our purpose is to prevent the social exclusion of students and to offer a safe space for meeting other students. The main project of the association is to build a mobile porch by which we would facilitate student events and grill sausages both with meat and without.
Kuisti ry aims to improve students' knowledge of porches and terraces, and we also annually hand out the Kuisti of the Year award.
Board 2022
Mikko Wrightson – chairperson
Aurora Kaakkolammi – vice chairperson
Hilja Aliranta – secretary
Rikuville Uusitalo – treasurer
Teemu Urpo – AV
Aaro Toivonen – SK
Nelli Niinivaara – oil wrestling coordinator
Tomi Minkkinen – grill master
Leevi Immonen – wiener machine
hallitus(a)kuisti.org
Instagram: @kuistiry
Nääspeksi ry
NääsPeksi ry, an interactive musical plays association, is a public benefit purpose association founded in 2011 whose purpose is to produce and support the theater hobby of the universities students of Tampere. However, the activities of NääsPeksi have continued with the same objective since 1999, and it is currently one of the largest amateur theaters of Finland. We have hundreds of volunteers with various tasks from Tampere Universities each year. Of those, Tampere University of Technology is most prominent, as NääsPeksi has operated within its student union since its beginning.
Hallitus 2021:
Katja Kujala – chairperson
Emma Brown – event coordinator, vice chairperson
Miikka Saraniemi – secretary, external relations coordinator
Lauri Kuusisto – club room coordinator
Tuomas Pihlava – treasurer
Lauri Pitkäjärvi – NääsPaja coordinator
Jaakko Rinta-Filppula – IT coordinator
Kiti Suupohja – communication
hallitus(ät)naaspeksi.fi
Nääspeksi website
Nääspeksi on Facebook
Instagram: @naaspeksi
PAH ry – Puhallinorkesteri Akateeminen Henkäys
Puhallinorkesteri Akateeminen Henkäys, or more familiarly PAH (freely translated as Academic Breeze Wind Orchestra), is a student wind orchestra founded in 2019. The orchestra was founded because of the need to have an active, good-quality wind orchestra for the students of Tampere. The objective of the orchestra is to offer the members of Tampere Universities community a good-quality, goal-oriented musical hobby activities. Our diverse repertoire consists of both classics and contemporary music, from marches to film scores. PAH's artistic director is Asseri Väisänen
Board 2022:
Mikko Sauni – chairperson
Kaisa Rantamäki – vice chairperson
Jami Särkinen – treasurer
Santeri Saine– secretary
Janni Forsell – equality coordinator
Pihla Antila – member coordinator
Daniel Koskikunnas – facilities and concert coordinator
Saini Koivuniemi – sheet music collection coordinator
Hilda Perander – member of the board
Reetta Liinamaa – deputy member
pah.hallitus@gmail.com
Puhallinorkesteri Akateeminen Henkäys on Facebook
Instagram: @pahpuhku
TAKSIGAYS – TAMPEREEN AKATEEMISESTI SIVISTYNEET GAMBINAN YSTÄVÄT ry
Tampereen akateemisesti sivistyneet Gambinan ystävät ry (TAkSiGaYs, freely translated as Tampere Academic Gambina Appreciation Society) operates in Tampere to bring students and the student-minded together in an interdisciplinary, national and international manner. The society organizes annually all kinds of events that also have alcohol-free options despite our name. If you have ever heard about the Gambina meetings, or you know what the interdisciplinary Gambina group is, you are an already familiar face for our activities. For more information: gambina.fi.
Board 2022:
Alisa Hakkarainen – chairperson
Riina Harjuniemi – vice chairperson
Tuomas Hakala – treasurer
Rudolf Salminen – secretary
Ville Silvennoinen – external relations coordinator
Kalle Tervo – member coordinator
Hanna Rahkonen – communications
Niko Lankio – event coordinator
Actors 2022:
Niko Ruotsalainen
Richard Äyräs
Tuomas Himanen
Jani Patrakka
Sami Perkiö
Miska Rantala
Jesse Riikinen
Olli Ruotsalainen
Paula Saarinen
Arttu Timonen
Mikael Timonen
Markus Viitala
Board's and actor's email: hallitus@gambina.fi
TAkSiGaYs website
TAkSiGaYs on Facebook
Instagram: @kampiviina