Tamko Topics is a weekly newsletter of The Students' Union of Tampere University of Applied Sciences.
ENGLISH SUMMARY
1. Results of the Council elections
2. Hangouts coloring night today TURSASPASSI STAMP!
3. Clubs and associations day tomorrow TURSASPASSI STAMP!
4.. Welcome to Tamko's open meeting
5. Kimble tournament
6. Pre-Christmas karaoke bingo
7. Search for new friends in Parvi's Instagram
8. Suggest TAMK's staff member and teacher of the year
9. Welcome to Kamula – evening for newcomers
---
1. Results of the Council elections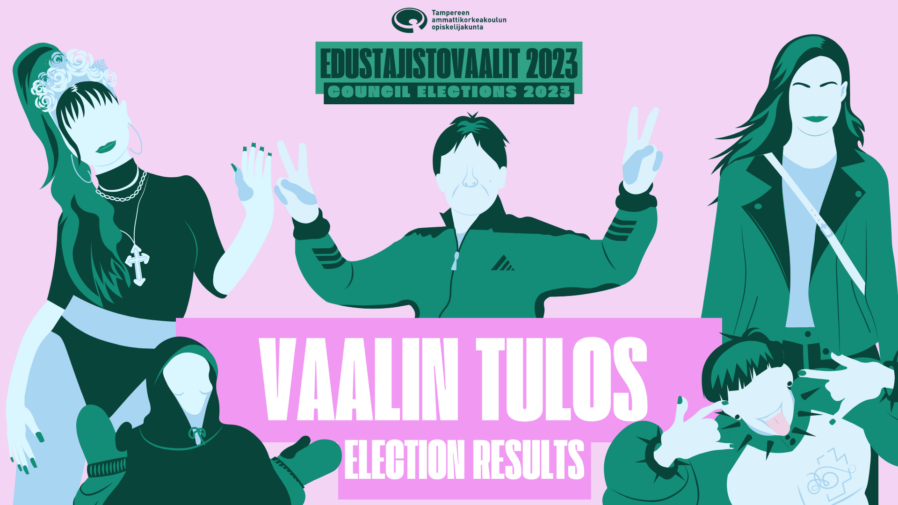 The voting period for the Tampere University of Applied Sciences Student Union's Council elections ended last Wednesday on 8.11. 2023 at 3 pm and 21 Council members were elected to decide on larger lines of Tamko.

Warm congratulations to all elected! See the full list of the elected persons from Tamko's website: https://tamko.fi/news/the-results-of-the-council-elections/

A total of 1603 votes were cast.
Voter turnout: 21,4 %
Vote-getter (72 personal votes): Aliina Hiljanen, Culture and media list

Thanks to all who stood as a candidate and voted!
2. Hangouts coloring night today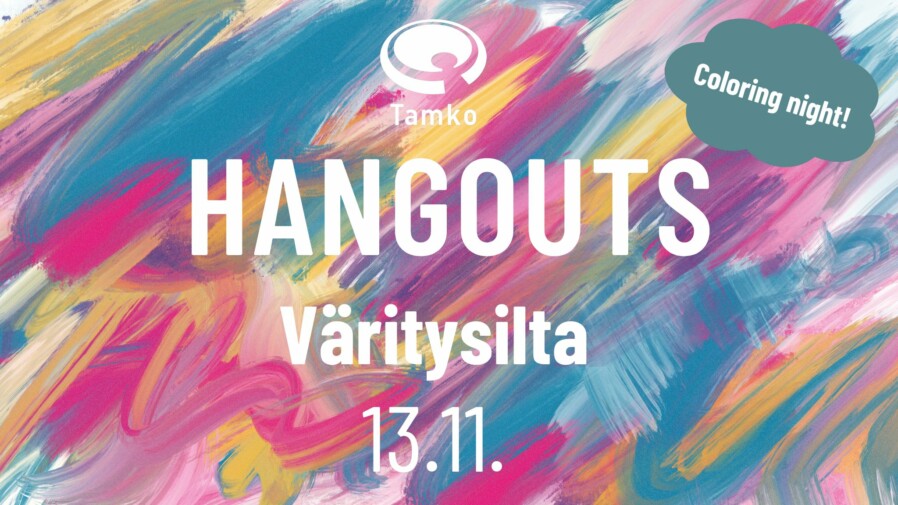 Welcome to Solu's sauna on today, Monday 13.11. from 5 p.m. The evenings are dark and gray, so what could be better than meeting new people and coloring some pages? You can also come to the place just to hang out and enjoy the warmth of the sauna. Please bring your own sauna things!

During the evening, there will be coloring pages, snacks, and drinks, and your own snacks are more than allowed!

Hangouts is a free and alcohol-free event, you can also get a stamp to your Tursaspassi.

WHAT? Hangouts coloring night
WHERE? At Solu's Sauna
WHEN? TODAY 13.11. at 5 pm

All Tamko's events are strictly free of harassment. We have trained contacts, so if you face any kind of harassment during the event, please do contact hairintayhdyshenkilot@tamko.fi

If you want more information about the accessibility of the event, please contact saavutettavuus@tamko.fi.
3. Clubs and associations day tomorrow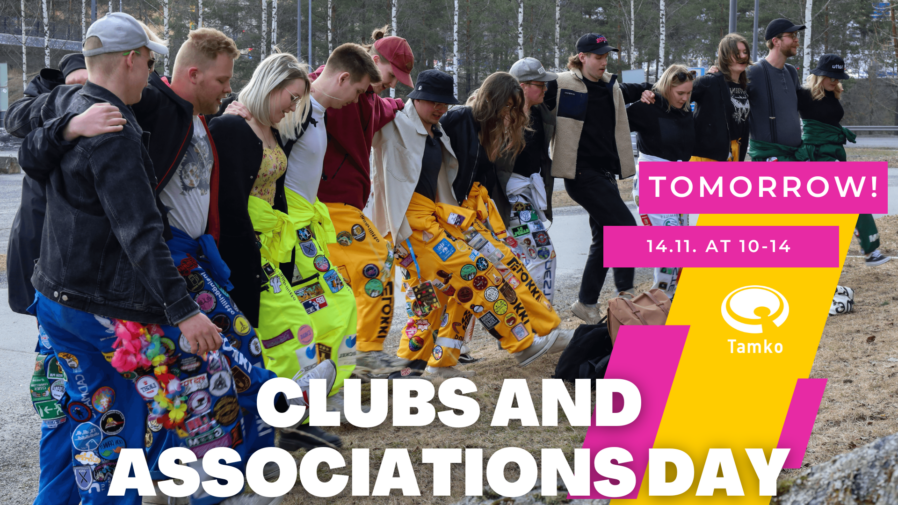 Welcome to Clubs and associations day at TAMK main campus on TOMORROW 14.11. at 10-14!

TAMK has an exceptionally great and extensive student club and association culture and now you have the opportunity to get to known them! Clubs' and associations' operators present their activities in stands and you can tour around them freely.

Tamko also has its own stand where you can come and ask more about working in Tamko's Board.

Welcome!
4. Welcome to Tamko's open meeting
If you are interested in becoming a Board member? Do you want to use your voice, meet new people and create student life and community spirit? Join Tamko's open meeting on Wednesday 15.11. starting at 17!

The meeting will be held in the auditorium E1-06 of TAMK's main campus and all Tamko members are welcome to attend the meeting, each of whom also has the opportunity to apply for the Tamko's Board.

After the meeting, you will have the chance to ask the current board about their work at Tamko and their area of responsibilities. You do not need to have any previous experience of working in an association. You will get a thorough training to your tasks and, in addition to the rest of the Board, you will also have the help and support of staff in your day-to-day work. Kind reminder that the working language of the Board is Finnish.

The 2024 Tamko's Board will be elected at the Council's organisational meeting on 22.11.2023.
See you at the upcoming meetings!
5. Kimble tournament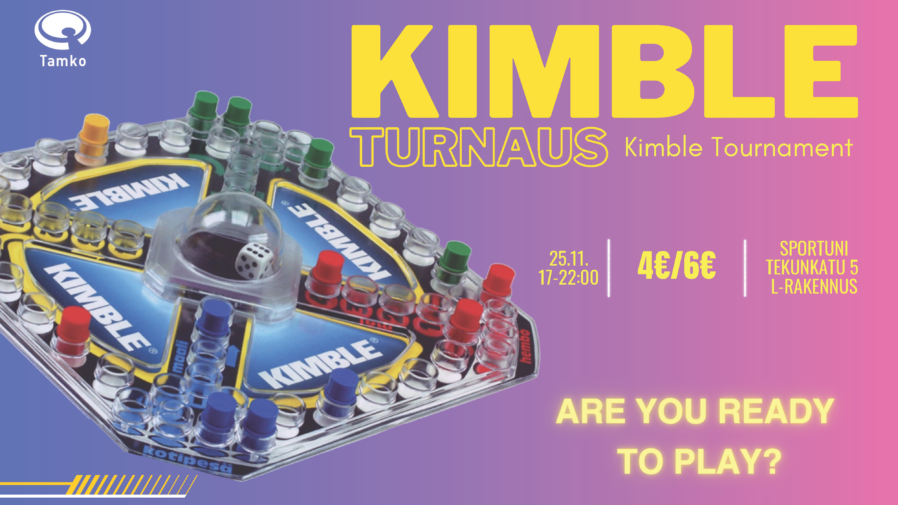 Do you have a will to win? Do you have a magic touch on the dice-dome? And most importantly, do you have nerves made of iron?

With all these features, you can become Kimble Tournament champion! Tamko will host the long-awaited Kimble Tournament on 25th of November. Starting at 5pm in the SportUni Kauppi sports hall. Come race for victory or follow this incredible thriller!

Tickets are on sale now! Get yours: https://kide.app/events/f8e79c90-4e78-4b44-8c16-ebf6fac386d9
6. Pre-Christmas karaoke bingo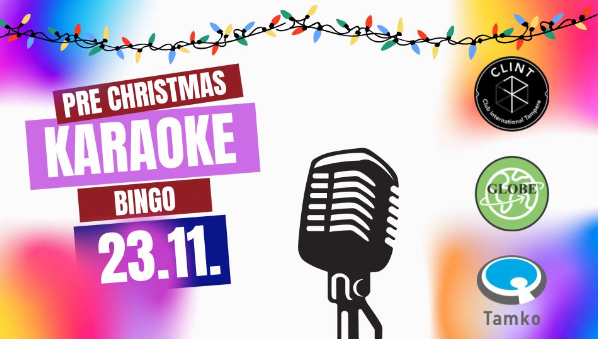 Ready to let out the Christmas spirit by singing your heart out? CLINT and GLOBE come together to bring you a pre-Christmas karaoke bingo night!

Christmas time is approaching and what better way to prepare for it other than singing Christmas songs. Join Clint and Globe on a fun karaoke bingo evening at Kaijakka, one of the best karaoke bars in Tampere.

We will have a Christmas-themed evening of singing and you have the chance to participate in our Bingo game and win prizes. Wear your ugly Christmas sweaters to start off with the right spirit and feel free to decorate your overalls with Christmas decorations.

The night is at a bar, but there is no need to drink alcohol to participate in the bingo or have fun together!
The event is free for everyone, you can wear your overalls. The event will start at 19:00 and end at 22:00, the winners of the bingo will be announced before 22:00 so be there early enough to participate in the bingo and have a chance to win some cool prizes!

After 22:00 you can keep on partying at Kaijakka!

WHAT? CLINT x GLOBE Pre-Christmas karaoke bingo!
WHEN? Thursday 23.11.2023, from 19:00 to 22:00
WHERE? Kaijakka, Laukontori 12
FOR WHO? The event is open to everyone!
TICKETS? Free https://kide.app/events/12a2290f-633a-4bee-bde3-f1df61e2fdd5

The event is harassment-free in line with Tamko guidelines.
7. Search for new friends in Parvi's Instagram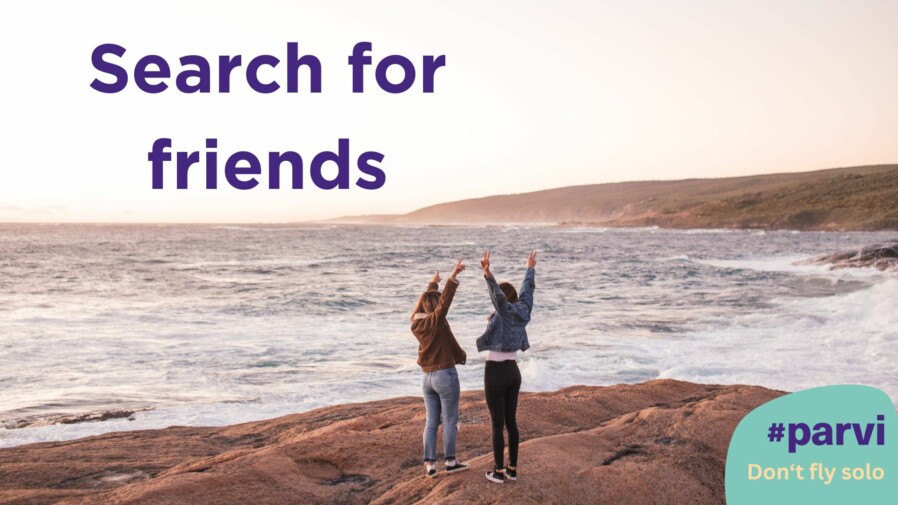 Would you like to find new friends or get to know new people?
Everyone can feel loneliness in the rush of everyday life. Loneliness can appear in many ways and people can feel it in their own way. University students may find it hard to find new friends in new surroundings. Here is a way to get to know new people!
Search for friends: You can introduce yourself in the comments. Tell for example your hobbies, what you like, your favourite things and values. Please leave your own comment, so there is potential for as many to find new friends.
You can answer to comments that pique your interest and then you can fix up a meeting for example in Instagram's direct messages. Remember to stay safe and be kind!
The search is open for the time being.
The search for friends is made in co-operation with TAMK Parvi and TAMK students.
WHAT: Search for friends
WHERE: Parvi's Instagram @tamkparvi https://www.instagram.com/tamkparvi/
WHEN: Starting on Tuesday 7.11.2023
8. Suggest TAMK's staff member and teacher of the year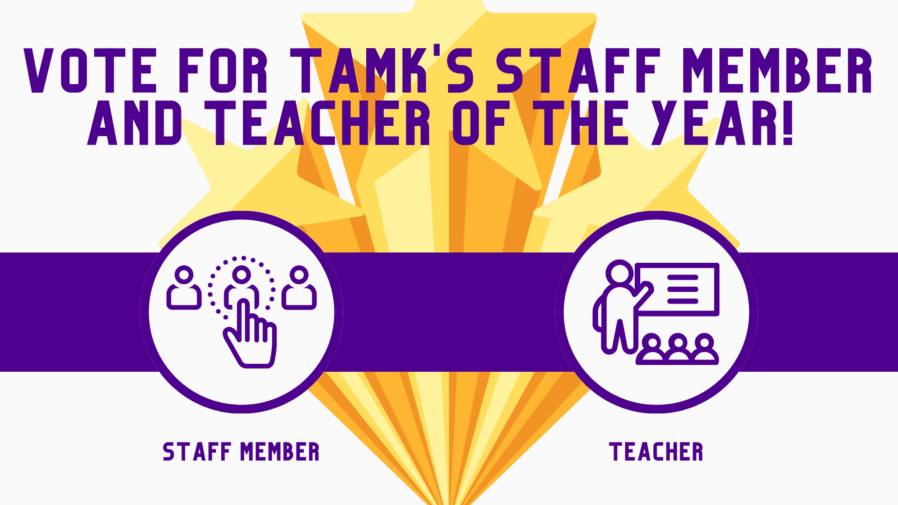 Every year, TAMK honours people who are important to the community. The TAMK Board of Directors selects the staff member and teacher of the year based on nominations and additional information received. The Student of the Year award and scholarship are provided by TAMK. The awards are distributed by the TAMK support foundation.

Which TAMK staff member do you feel has contributed to the community, student-friendliness and supported students this year?

Who has been a teacher at TAMK this year who has guided, helped and created a sense of community in the classroom?
Submit your own suggestion with reasoning using this form: https://www.lyyti.fi/questions/0d1034cbe7 (staff member and teacher nomination on the same form) The deadline for responses is 26.11.2023.

The awards will be presented at the graduation ceremony on 15th of December 2023 and will then be published in the Intra and on the Tamko website.

Everyone at TAMK can vote!
9. Welcome to Kamula – evening for newcomers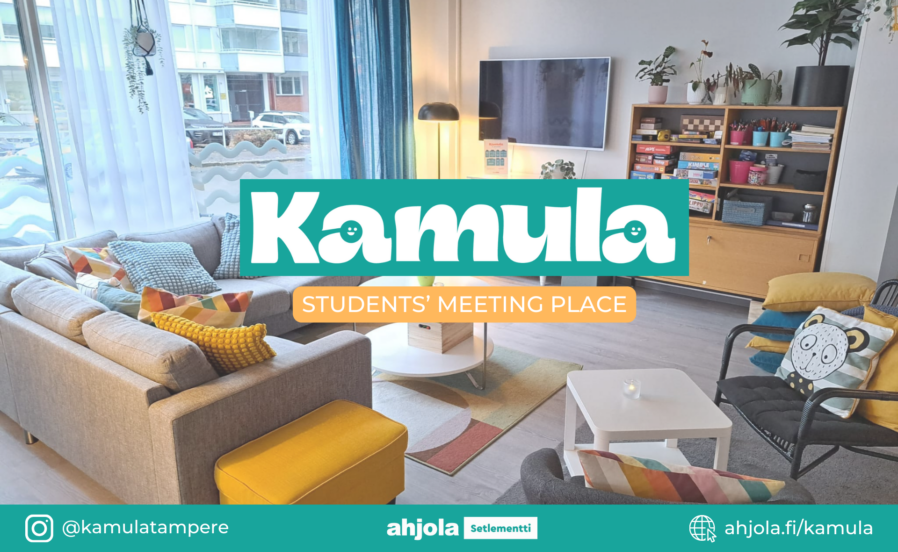 Hi student!
Have you heard of Kamula, a meeting place for students? Or maybe you have heard of it, but haven't been to Kamula yet? We have planned a nice evening at Kamula just for you. Welcome to Kamula's newcomers' evening!

WELCOME TO KAMULA – evening for newcomers
THURSDAY 16.11.23 at 4 pm to 7 pm
At Kamula (address: Mustanlahdenkatu 18, Tampere)
Free of charge
No pre-registration required

Activities for the evening
-Snacks & bingo (with prizes!) starting at 4:30 pm
-Baking together starting at 6 pm
-Bracelet making station open all evening
At the door of Kamula, you will be welcomed by Kamula's employees Fiia & Siina. You will be shown around the Kamula facilities and what you can do at Kamula. After the tour, we will find something nice to do together. There are also volunteers at Kamula who spend time with visitors. You will not be alone at Kamula.
Questions, thoughts, excitement… ? We are happy to help, send us a message (WhatsApp)
MORE FREE PROGRAM COMING UP
– *Yoga on Wednesdays at 4.45 pm
– *Sound bath on Saturday 18.11. at 1:30 pm
– Christmas card crafting on Saturday 18.11. at 2 pm to 6 pm
– *Murder mystery role-playing game on Saturday 18.11. at 6 pm to 8 pm
– *Disney theme day on Sunday 19.11. at 12 pm to 4 pm
– *Blunder workshop on Monday 20.11. at 6:15 pm
– Board game night on Thursday 23.11. at 5 pm to 9 pm
– Magician workshop on Friday 1.12. at 5.30 pm
*Pre-registration: kamula.melvio.app (log in with your phone number, register and sign up for activities)
More information about Kamula
www.ahjola.fi/kamula
Instagram @kamulatampere