Tamko Topics is a weekly newsletter of The Students' Union of Tampere University of Applied Sciences.

ENGLISH SUMMARY
1. Final days to vote in Council elections! TURSASPASSI STAMP!
2. Well-being week has begun! TURSASPASSI STAMP!
3. Welcome to Tamko's open meeting
4. Last week to apply for degree tutoring! TURSASPASSI STAMP!
5. Hangouts coloring night 13.11. TURSASPASSI STAMP!
6. Clubs and associations day next week TURSASPASSI STAMP!
7. Peer Support Power
8. Student, your feedback is important!
9. Search for new friends in Parvi's Instagram
10. Welcome to Finland Sitsit
11. Vote for TAMK's staff member and teacher of the year
12. Hardy party Christmas concert vol 2!
---
1. Final days to vote in Council elections!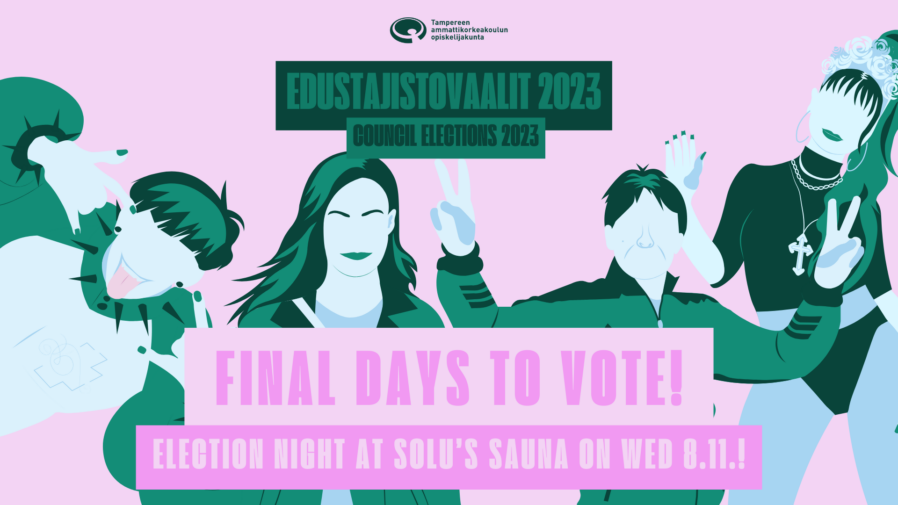 The results of Tamko's Council elections will be clear this Wednesday 8.11. and you still got enough time to use your vote! By voting you are also a part of possibly making the new voting record!

Electronic voting is super easy and convenient to do anywhere, anytime. The voting link can be found in every voter's email, make sure to check your spam.
Every voter can pick up a sparkly new overall patch from the Council election stands or from Solu even after the voting period is over.

Council Elections night are held at the Solu's sauna on the afternoon of the actual election day on Wednesday 8.11. from 3.30 p.m. onwards, where we raise a glass after the elections. Welcome to join!
2. Well-being week has begun!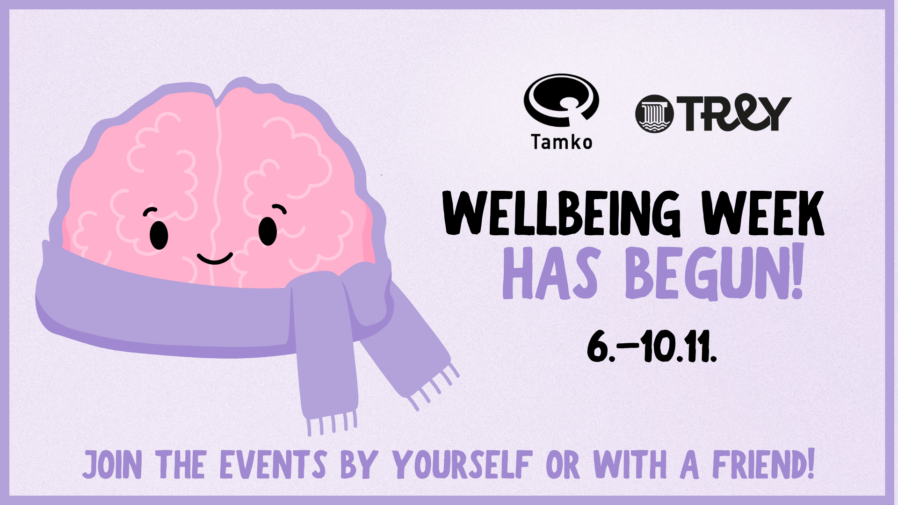 Tamko's and TREY's Well-being Week starts with the Well-being Fair in TAMK´s main campus on Monday 6th of October at 10-14! At the fair, there will be a variety of well-being-focused actives and associations that provide information to support one's well-being during studies, after studies and in working life.
The Well-being Week offers over 30 wellness and coping -focused events around Tampere.

How does these events sound to you?:
Arts and crafts
Day sauna and dip into Näsijärvi lake
Mocktail workshop
Painting
PowerPoint championships
Spinning
Forest walks
Volleyball tournament
Skating
Skateboarding
Kyykkä
Naps
If some of the above sound interesting to you, join the events by yourself or with a friend! All students of TAMK and University students are welcome to Well-being week's events. The more detailed information about the events can be found from here: https://tamko.fi/news/well-being-week-2023/
3. Welcome to Tamko's open meeting
If you are interested in becoming a Board member? Do you want to use your voice, meet new people and create student life and community spirit? Join Tamko's open meeting on Wednesday 15.11. starting at 17!

The meeting will be held in the auditorium E1-06 of TAMK's main campus and all Tamko members are welcome to attend the meeting, each of whom also has the opportunity to apply for the Tamko's Board.

After the meeting, you will have the chance to ask the current board about their work at Tamko and their area of responsibilities. You do not need to have any previous experience of working in an association. You will get a thorough training to your tasks and, in addition to the rest of the Board, you will also have the help and support of staff in your day-to-day work. A kind reminder that the working language of the Board is Finnish.

The 2024 Tamko's Board will be elected at the Council's organisational meeting on 22.11.2023.
See you at the upcoming meetings!
4. Last week to apply for degree tutoring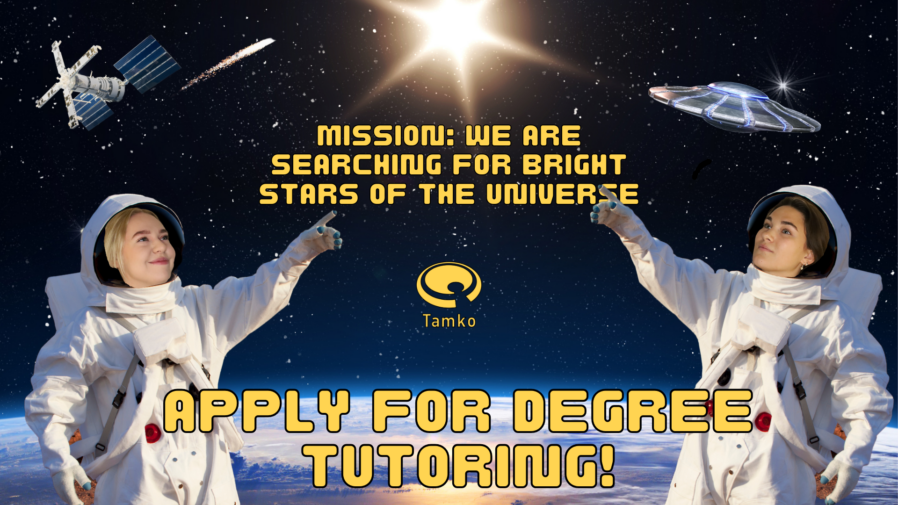 Application period ends this Sunday, so this is the time to fill your application!

Houston, we have a mission! We are searching for bright stars of the universe, meaning awesome tutors! Enrollment for degree tutoring is now on! Tutors will gain new friendships and study credits: sounds like a great adventure, huh? Also by applying for tutoring you can get stamp to your Tursaspassi.
Degree tutors help out new degree students of TAMK. They are playing an important part in integrating new students to Tampere and Finland. The training aims to train foreign students to work as degree tutors with their Finnish peer tutor colleagues. Degree tutors will meet the group once a month during the academic year 2023-2024. All the applicants will be interviewed after the application period and the trainings will take place on the spring semester 2024.
Application period 23.10.-12.11.
Enroll here and start your adventure!
5. Hangouts coloring night 13.11.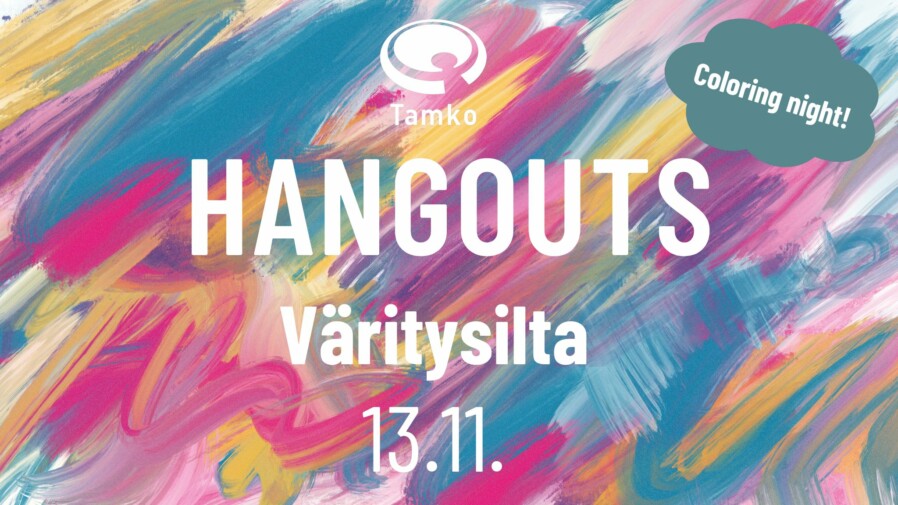 November's theme is coloring night, so come to Solu's sauna on November 13 from 5 p.m. The evenings are getting darker and grayer. What could be better than meeting new people and coloring some pages. You can also come to the place just to hang out and enjoy the warmth of the sauna. Please bring your own sauna things!

During the evening, there will be coloring pages, snacks, and drinks, and your own snacks are more than allowed!

Hangouts is a free and alcohol-free event! Get a stamp from the event to your Tursaspassi.
WHAT? Hangouts coloring night
WHERE? At Solu's Sauna
WHEN? 13.11. at 5 pm

All Tamko's events are strictly free of harassment. We have trained contacts, so if you face any kind of harassment during the event, please do contact hairintayhdyshenkilot@tamko.fi

If you want more information about the accessibility of the event, please contact saavutettavuus@tamko.fi.
6. Clubs and associations day next week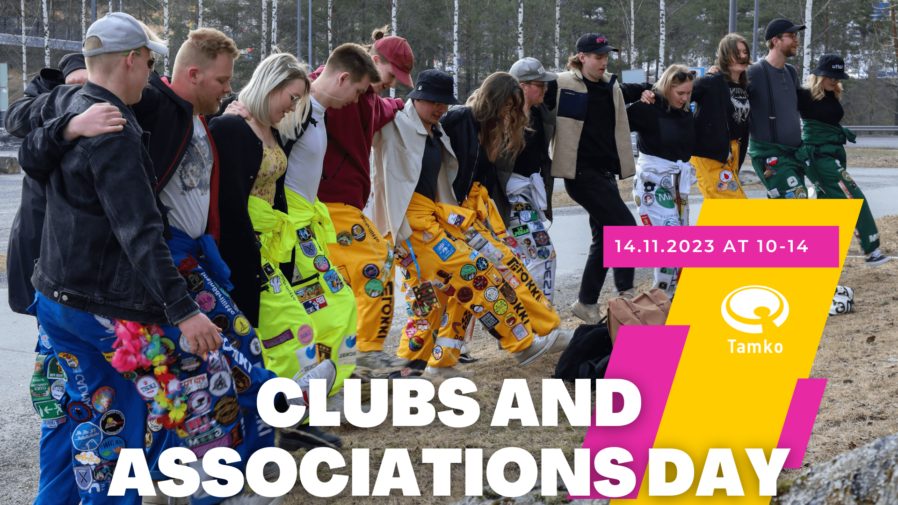 Welcome to Clubs and associations day at TAMK main campus on 14.11. at 10-14!

TAMK has an exceptionally great and extensive student club and association culture and now you have the opportunity to get to known them! Clubs' and associations' operators present their activities in stands and you can tour around them freely.

Tamko also has its own stand where you can come and ask more about working in Tamko's Board!

Welcome!
7. Peer Support Power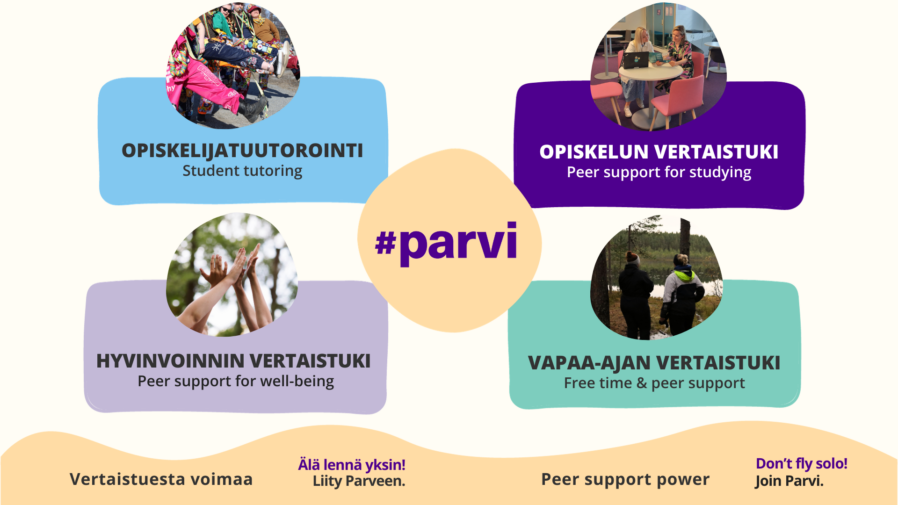 Peer support can manifest in various ways depending on the situation and needs.It can be informal, such as conversations and support among friends, or it can be a part of organizations or groups that provide structured peer support around a specific topic or life situation. In this text, we want to highlight various forms of peer support that are offered especially to Tampere University of Applied Sciences (TAMK) students.

Support can be divided into four different themes and everyone can use one or more forms of support according to their needs!

We would like to encourage everyone to make use of peer support and the insights, knowledge, and shared moments it provides. In addition, each of us can also act as a peer in our own networks. By providing peer support, we contribute to the formation of a cohesive and well-being community and help prevent loneliness.

Read more about different peer support possibilities: https://intra.tuni.fi/en/content/news/52871
8. Student, your feedback is important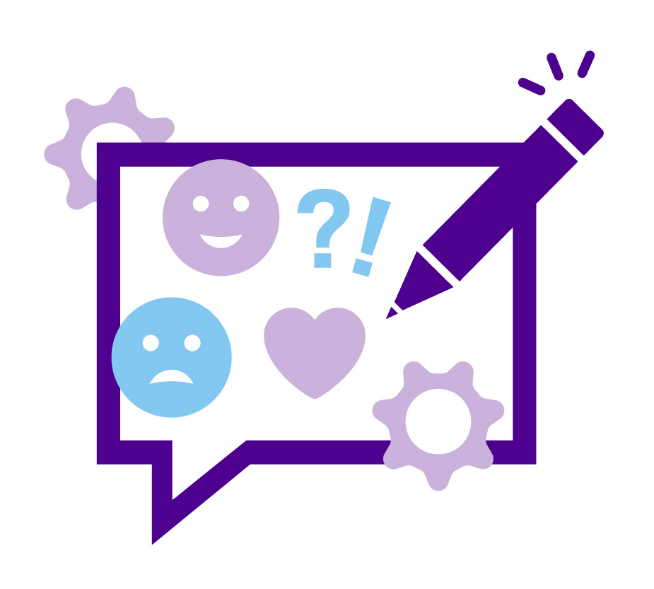 Dear student, how are you doing?
The feedback surveys will be open until November 10th. In addition to course feedback, TAMK collect the feedback every autumn from new students, second- and third-year students and masters' degree students who started their studies in spring 2023.
You will receive a survey by e-mail during this week from studentfeedback.tamk@tuni.fi. If you can't find the mail, check your spam folder as well.

Your feedback is important! Please answer the survey and participate in the feedback session for your degree program next spring.
9. Search for new friends in Parvi's Instagram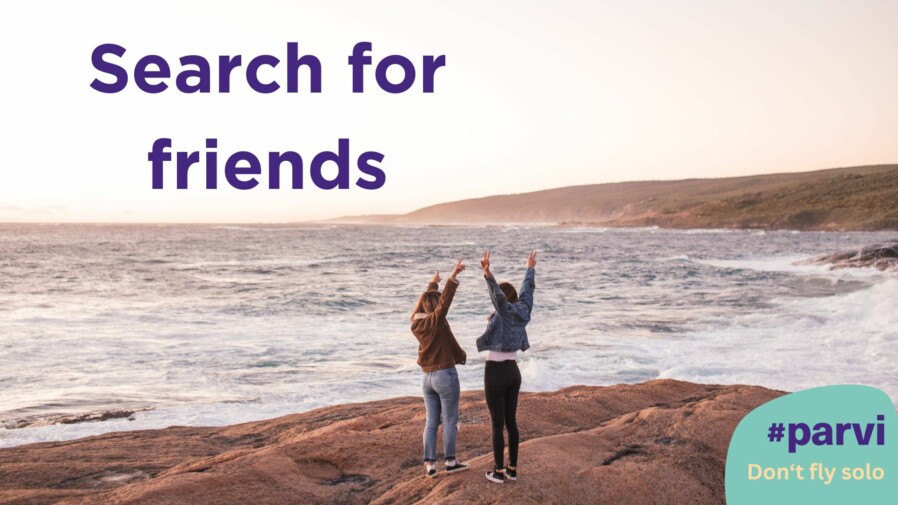 Would you like to find new friends or get to know new people?
Everyone can feel loneliness in the rush of everyday life. Loneliness can appear in many ways and people can feel it in their own way. University students may find it hard to find new friends in new surroundings. Here is a way to get to know new people!
Search for friends: You can introduce yourself in the comments. Tell for example your hobbies, what you like, your favourite things and values. Please leave your own comment, so there is potential for as many to find new friends.
You can answer to comments that pique your interest and then you can fix up a meeting for example in Instagram's direct messages. Remember to stay safe and be kind!
The search is open for the time being.
The search for friends is made in co-operation with TAMK Parvi and TAMK students.
WHAT: Search for friends
WHERE: Parvi's Instagram @tamkparvi https://www.instagram.com/tamkparvi/
WHEN: Starting on Tuesday 7.11.2023
10. Welcome to Finland Sitsit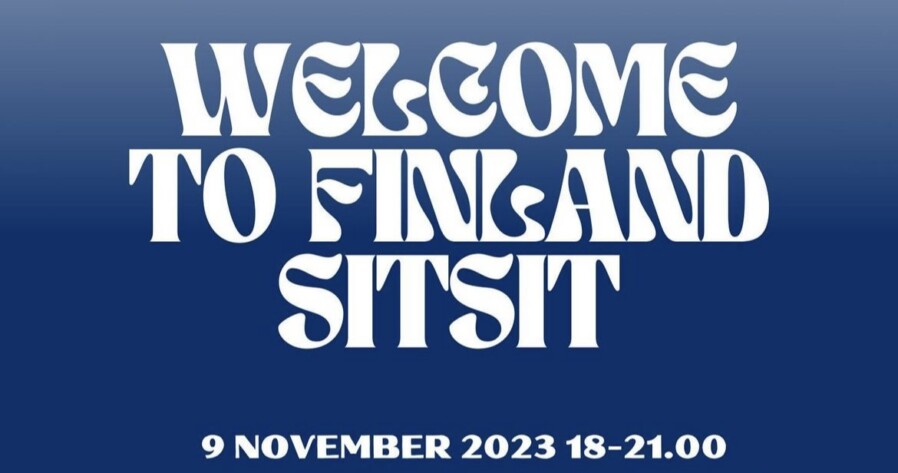 Hello International students!
We are proudly announcing that you have been invited to Tampere International events first event. What better way to welcome you to Finland than a traditional Finnish student event called SITSIT (9.11.2023, 18.00-21.00 at Hatanpäänkatu 6), where our theme is… you guessed it right welcome to Finland! So dress up accordingly, you can be going for sauna, hockey player or maybe Santa Claus! And don't worry our events are completely in English so everyone can get on board!

Sitsit is an academic dinner party and is very popular in Finnish student culture. In this welcome to Finland SITSIT, we are going get together with our international community and introduce you to Finnish culture!

If you feel like this sounds a bit confusing, don't worry! We are there to guide you through your sitsit with our wonderful toastmasters!

Tickets to our sitsit will be on sale in Kide app. We have alcoholic and non-alcoholic tickets. So make sure that you are getting yours!
Tickets: https://kide.app/events/3d0ff247-f4e7-4c2e-aa4f-a538c3989716
We have joint afterparty with Symposium at Heidi's Bier Bar, you have the option to buy afterparty ticket along with the sitsit ticket! Once you have purchased Sitsi ticket, you can find the link to buy the Symposium ticket from additional information in your Kide.app wallet sitsi ticket. Afterparty is optional.
Event is organized by Tampere International events, for more information please contact niina.v.sipila@tuni.fi
What: TIE sitsit!
When: 9.11.2023.
Where: Soutupaviljonki (Hatanpäänkatu 6).
Where can I get the tickets: In kide app 2.11.2023!
11. Vote for TAMK's staff member and teacher of the year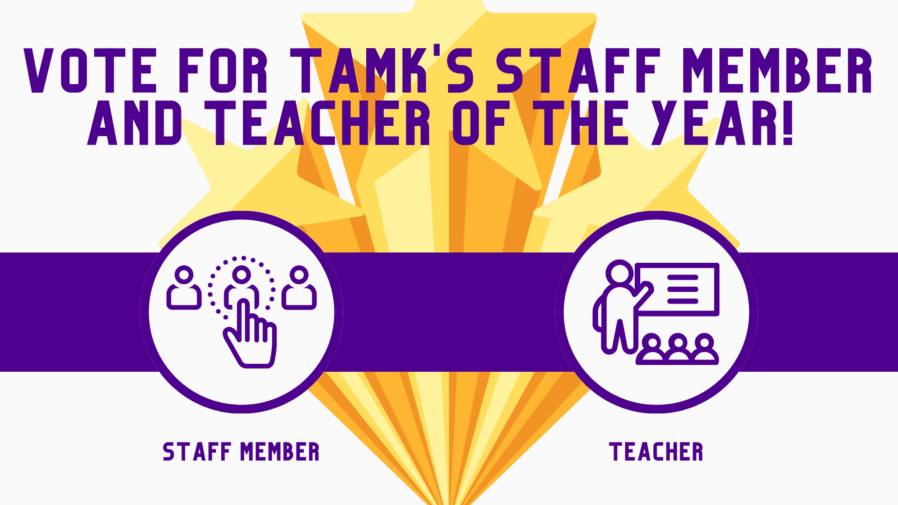 Every year, TAMK honours people who are important to the community. The TAMK Board of Directors selects the staff member and teacher of the year based on nominations and additional information received. The Student of the Year award and scholarship are provided by TAMK. The awards are distributed by the TAMK support foundation.

Which TAMK staff member do you feel has contributed to the community, student-friendliness and supported students this year?

Who has been a teacher at TAMK this year who has guided, helped and created a sense of community in the classroom?
Submit your own suggestion with reasoning using this form: https://www.lyyti.fi/questions/0d1034cbe7 (staff member and teacher nomination on the same form) The deadline for responses is 26.11.2023.

The awards will be presented at the graduation ceremony on 15th of December 2023 and will then be published in the Intra and on the Tamko website.

Everyone at TAMK can vote!
12. Hardy party Christmas concert vol2!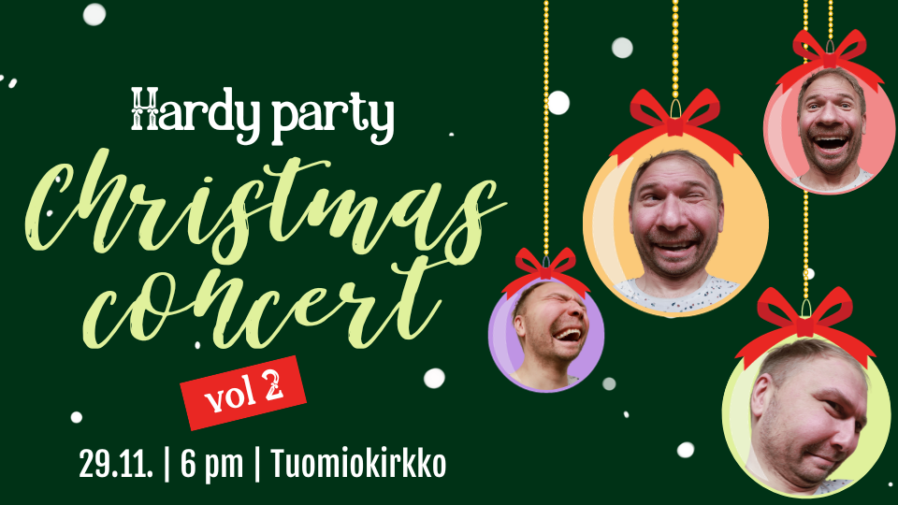 Oh my! Jusu went and booked the whole Cathedral for us AGAIN and there is an even bigger spectacle (snow) blizzard coming! Almost a hundred mebered-choir, a huge arsenal of lights and of course an entire symphony orchestra, duh!
Put on your overalls and join the Hardy party Christmas concert at Tampere Cathedral on Wednesday 29th November 2023 at 6 p.m. If you're going to a Christmas concert this year, this is it! Come in on time, it will be full house!
Performing: TAMK Symphony with soloists and several choral ensembles together and separately. The conductor is Markus Yli-Jokipii and the event is organized by TAMK Musiikki.
Concert is free, but you can redeem the ticket for yourself as a reminder of the event.
From this evening, the jinglebells will start tinkling!

In cooperation with: Tampere Tuomiokirkkoseurakunta, MusTa ry, Tampere University of Applied Sciences and Tamko.