Tamko Topics is a weekly newsletter of The Students' Union of Tampere University of Applied Sciences.
ENGLISH SUMMARY
1. Remember to vote in Council elections! TURSASPASSI STAMP!
2. Welcome to Tamko's open meeting!
3. Apply for degree tutoring! TURSASPASSI STAMP!
4. Well-being week starts next week! TURSASPASSI STAMP!
5. Hangouts coloring night 13.11. TURSASPASSI STAMP!
6. Clubs and associations day 14.11. TURSASPASSI STAMP!
7. Student, your feedback is important!
8. Halloween board game night
9. Influenza vaccinations will start at FSHS in November
10. Looking for alcohol-free activities? Want to meet new people? Welcome to Kamula! 
---
1. Remember to vote in Council elections!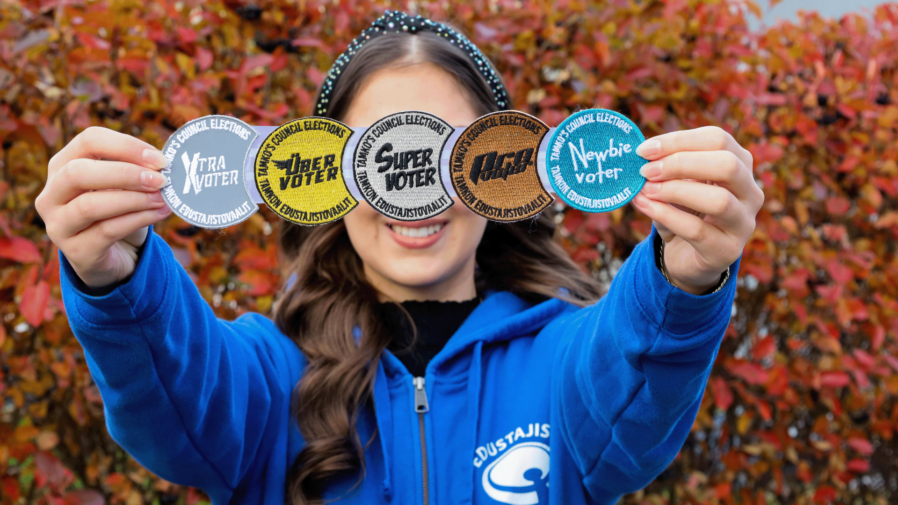 Voting in Tamko's Council elections is going on!

Everyone who voted this year can get the blue Newbie voter -patch. If the voting streak continues next year, you can rise to the bronze level and get the Pro voter -patch and continue to get new patch every year! These glittering patches can be picked up from Council election stands or from Solu.

Ps. If you are now already an experienced voter you can buy the other overall patches from Solu!

Because voting is fully electrical, so it is easy to vote in anywhere and anytime! The voting link has been sended to every eligible voter via e-mail, please remember to check your spam.
2. Welcome to Tamko's open meeting!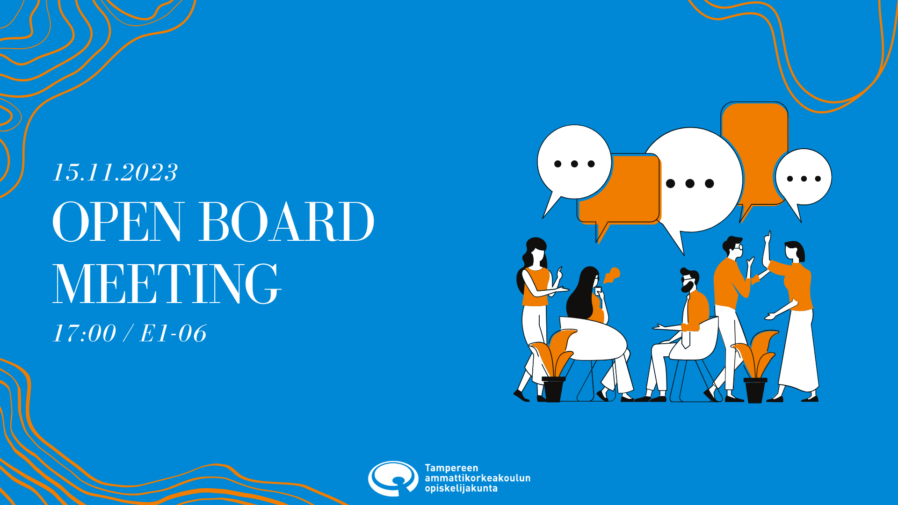 If you are interested in becoming a Board member? Do you want to use your voice, meet new people and create student life and community spirit? Join Tamko's open meeting on Wednesday 15.11. starting at 17!

The meeting will be held in the auditorium E1-06 of TAMK's main campus and all Tamko members are welcome to attend the meeting, each of whom also has the opportunity to apply for the Tamko's Board.

After the meeting, you will have the chance to ask the current board about their work at Tamko and their area of responsibilities. You do not need to have any previous experience of working in an association. You will get a thorough training to your tasks and, in addition to the rest of the Board, you will also have the help and support of staff in your day-to-day work. Kind reminder that the working language of the Board is Finnish.

The 2024 Tamko's Board will be elected at the Council's organisational meeting on 22.11.2023.
See you at the upcoming meetings!
3. Apply for degree tutoring!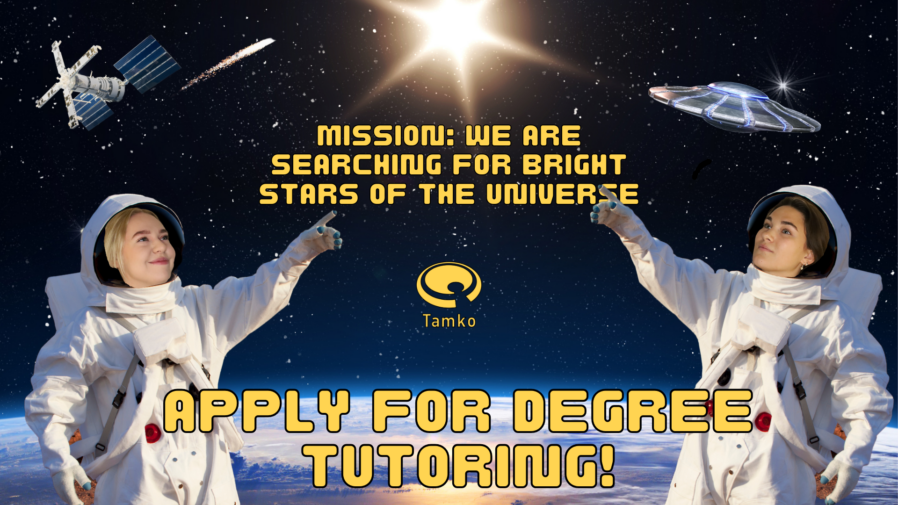 Houston, we have a mission! We are searching for bright stars of the universe, meaning awesome tutors! Enrollment for degree tutoring is now on! Tutors will gain new friendships and study credits: sounds like a great adventure, huh? Also by applying for tutoring you can get stamp to your Tursaspassi.
Degree tutors help out new degree students of TAMK. They are playing an important part in integrating new students to Tampere and Finland. The training aims to train foreign students to work as degree tutors with their Finnish peer tutor colleagues. Degree tutors will meet the group once a month during the academic year 2023-2024. All the applicants will be interviewed after the application period and the trainings will take place on the spring semester 2024.
Application period 23.10.-12.11. 
Enroll here and start your adventure! 
4. Well-being week starts next week!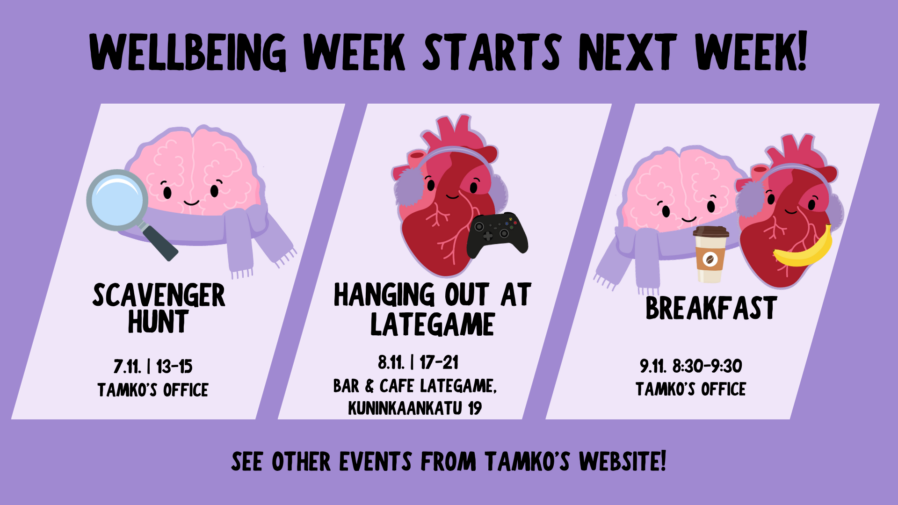 Tamko's and TREY's Well-being Week is gathering over 30 wellness-focused events during 6.-10.11.There are events like PowerPoint competition, day sauna, Mocktail workshop and dough therapy! Join us by yourself or with a friend!

See the full Well-being week's programme: https://tamko.fi/news/well-being-week-2023/
_______________________

Tamko's events during the Well-being week:
SCAVENGER HUNT
Time: 7.11 at 13-15 
Place: Tamko's office, Kuntokatu 3, L-rakennus 
Language: Finnish, English 

Scavenger hunt! Pick up a list from the office that contains mystical things that you need to find around the campus. Return the list back at the office for a sweet surprise. 
HANGING OUT AT LATEGAME
Time: 8.11 at 17-21 
Place: Bar & cafe Lategame, Kuninkaankatu 19 
Language: Finnish, English 

Come hangout and play games at Bar & cafe Lategame, there is also a friend table if your coming alone and want to meet new people. Consoles, boardgames and dance games are free. PC-gaming time is 1€/h 
BREAKFAST
Time: 9.11 at 8.30-9.30
Place: Tamko office, Kuntokatu 3, L-rakennus
Language: Finnish, English

Come alone or together to get some free coffee and breakfast on thursday 9.11 starting at 8.30 from Tamkos office in front of Solu. There is enough breakfast for 30 people!
5. Hangouts coloring night 13.11.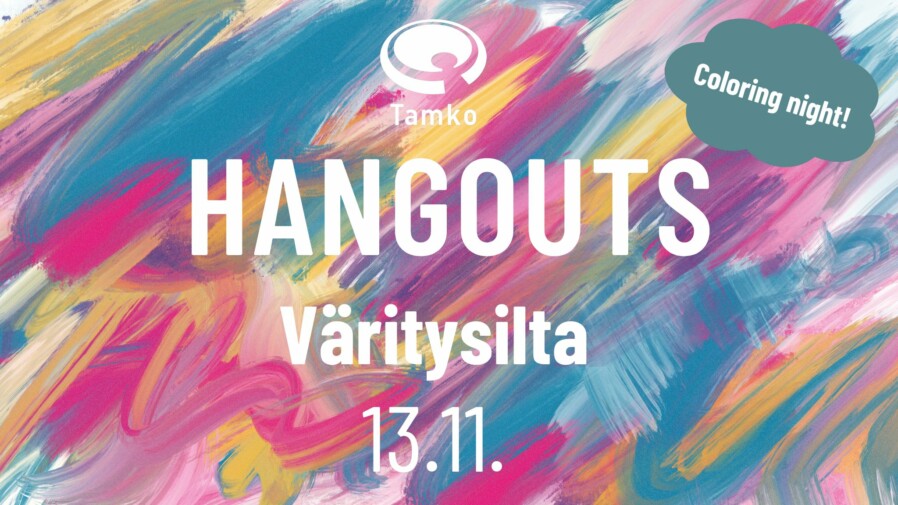 November's theme is coloring night, so come to Solu's sauna on November 13 from 5 p.m. The evenings are getting darker and grayer. What could be better than meeting new people and coloring some pages. You can also come to the place just to hang out and enjoy the warmth of the sauna. Please bring your own sauna things!

During the evening, there will be coloring pages, snacks, and drinks, and your own snacks are more than allowed!

Hangouts is a free and alcohol-free event! Get a stamp from the event to your Tursaspassi.
WHAT? Hangouts coloring night 
WHERE? At Solu's Sauna 
WHEN? 13.11. at 5 pm 

All Tamko's events are strictly free of harassment. We have trained contacts, so if you face any kind of harassment during the event, please do contact hairintayhdyshenkilot@tamko.fi 

If you want more information about the accessibility of the event, please contact saavutettavuus@tamko.fi. 
6. Clubs and associations day 14.11.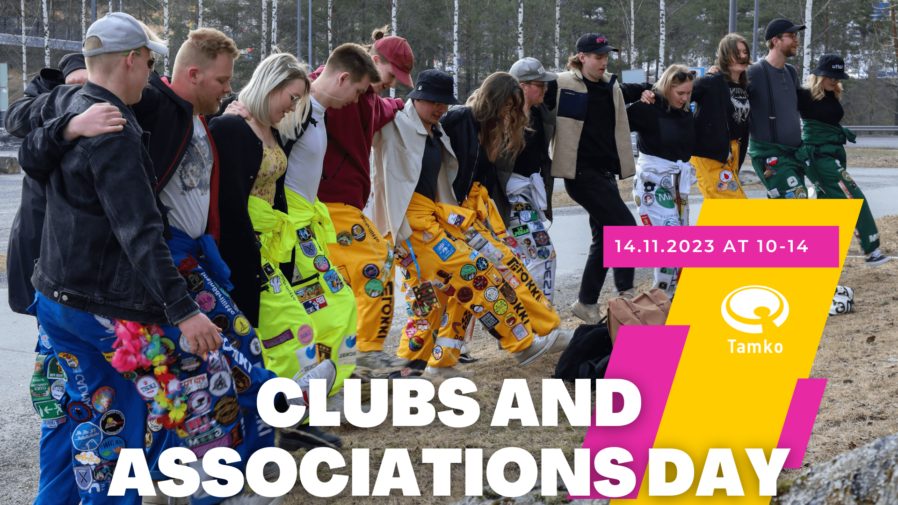 Welcome to Clubs and associations day at TAMK main campus on 14.11. at 10-14!

TAMK has an exceptionally great and extensive student club and association culture and now you have the opportunity to get to known them! Clubs' and associations' operators present their activities in stands and you can tour around them freely.

Tamko also has its own stand where you can come and ask more about working in Tamko's Board!

Welcome!
7. Student, your feedback is important!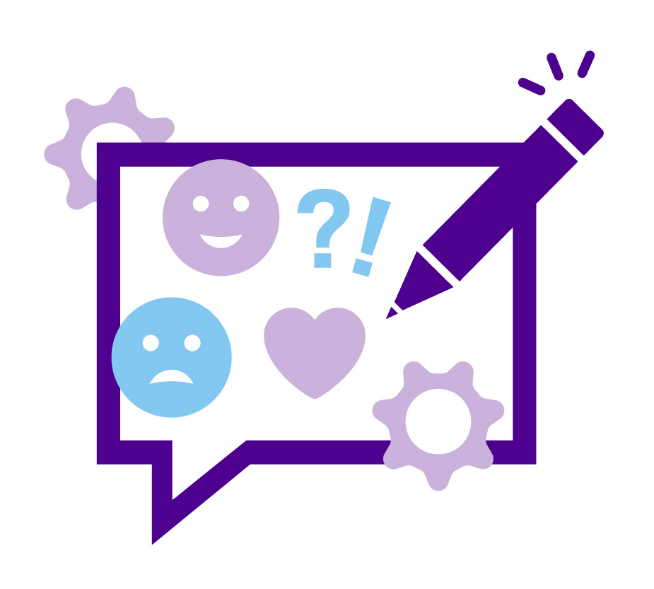 Dear student, how are you doing?
The feedback surveys will be open until November 10th. In addition to course feedback, TAMK collect the feedback every autumn from new students, second- and third-year students and masters' degree students who started their studies in spring 2023.  
You will receive a survey by e-mail during this week from studentfeedback.tamk@tuni.fi. If you can't find the mail, check your spam folder as well. 
 
Your feedback is important! Please answer the survey and participate in the feedback session for your degree program next spring. 
8. Halloween board game night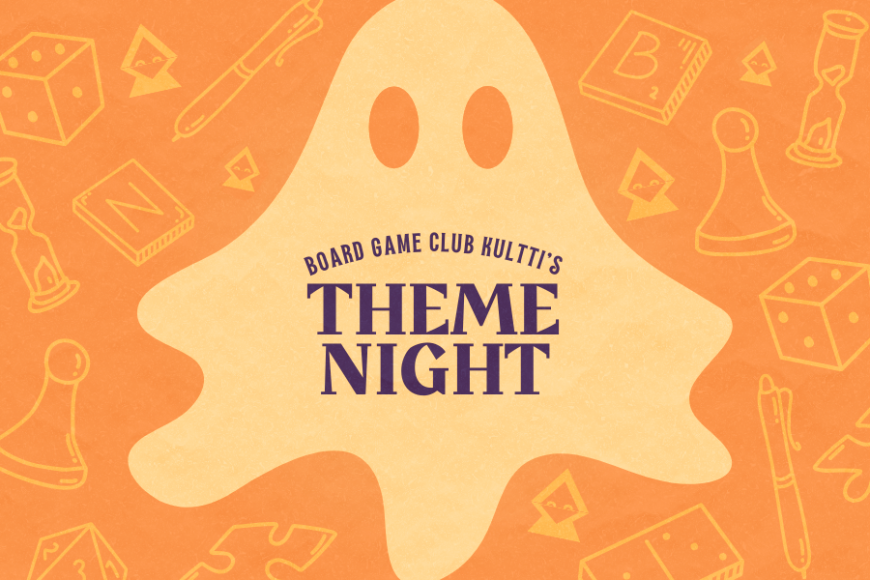 Welcome to a Halloween board game night at cafe Taverna on Thursday 2 November.
The theme of the Board Game Club Kultti's night is Halloween, so be prepared for scarily fun games fit for the theme. The night starts at 5 pm and you can play all the way to 10 pm. All members of Tampere Universities community are welcome to join!
The registration for the night starts on 30.10 at 5pm. We have five blood-chilling games to choose from, one of them in English. The description for the games are found through the link. Every game table has Kultti's own game master helping everyone to understand the rules before the game is started. You won't need any experience before-hand to join. After the game tables are reshuffled and we will try different games from Taverna's large collection.
The entrance fee for Taverna in 3,5€ for students and 4€ for everyone else. The fee grants you access to the game library for the whole evening.

WHAT: Board Game Club Kultti's Halloween theme night
WHERE: Board game cafe Taverna, Rautatienkatu 10
WHEN: 2.11.2023 at 5-10 pm 
LINK TO REGISTER: https://docs.google.com/forms/d/e/1FAIpQLSevfbPFJ2DBW8GrHU0UIXyMifPuv85ZkGUv5vOYb3sbVH9Rlg/closedform 
9. Influenza vaccinations will start at FSHS in November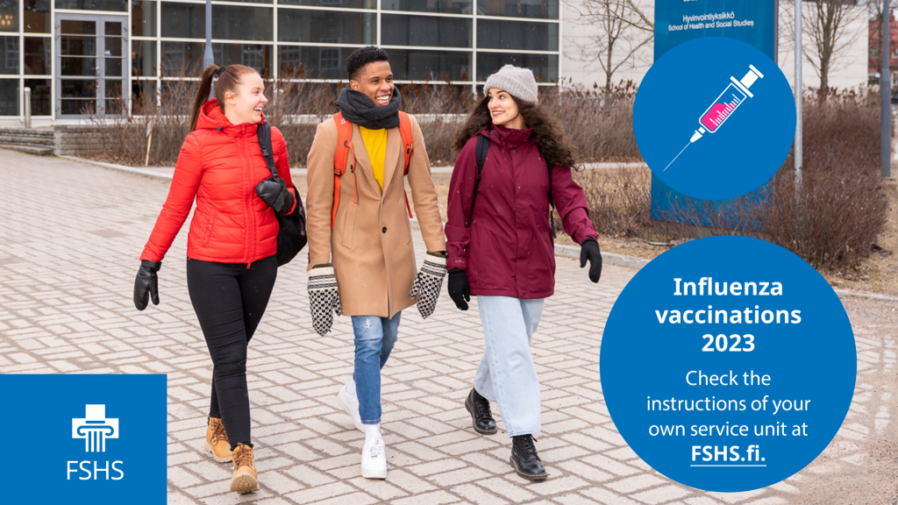 Influenza vaccinations (2023–2024) will start at FSHS in November. Health and welfare students in higher education, as well as students belonging to a risk group can receive their influenza vaccinations from the FSHS free of charge.

Read more: https://www.yths.fi/en/news/2023/influenza-vaccinations/
10. Looking for alcohol-free activities? Want to meet new people? Welcome to Kamula!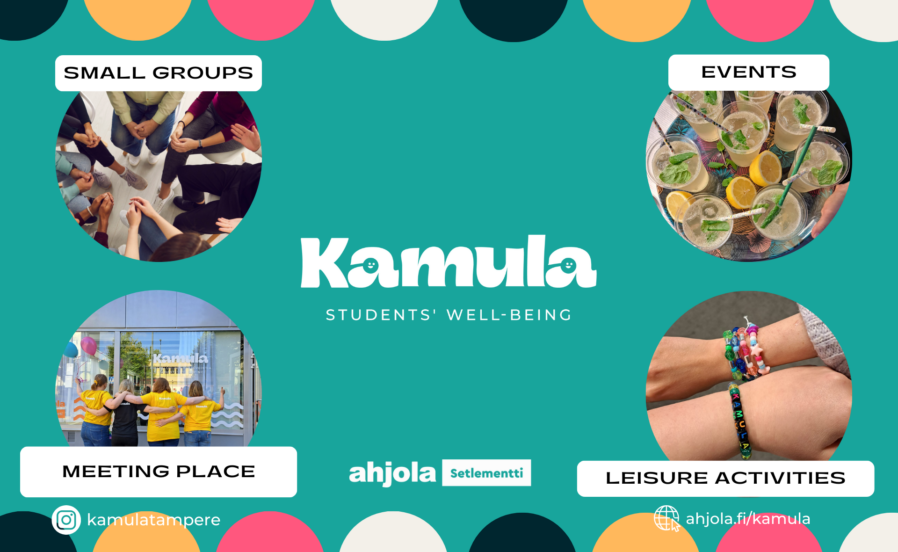 Looking for alcohol-free activities? Want to meet new people? Welcome to Kamula!

Kamula is students' meeting place, small groups, leisure activities and events in Amuri, Tampere. Kamula activities goal is to strengthen students mental well-being and prevent loneliness.
In October-November, Kamula's program includes murder mystery roleplay, Halloween celebrations, board games, baking, and yoga. All activities are free of charge and alcohol-free. We also use the principles of a safe space in our activities. You are warmly welcome!
More info: www.ahjola.fi/kamula
Instagram @kamulatampere https://www.instagram.com/kamulatampere/