Tamko Topics is a weekly newsletter of The Students' Union of Tampere University of Applied Sciences.
ENGLISH SUMMARY
1. Solu opening hours during this week (week 42)
2. Voting in Council elections is about to begin!
3. Become an international tutor
4. Something to do during self studying week in Kamula
5. Trick or Treat PISTOT
6. PISTOT x KOLMIOT party cruise
---
1. Solu opening hours during this week (week 42)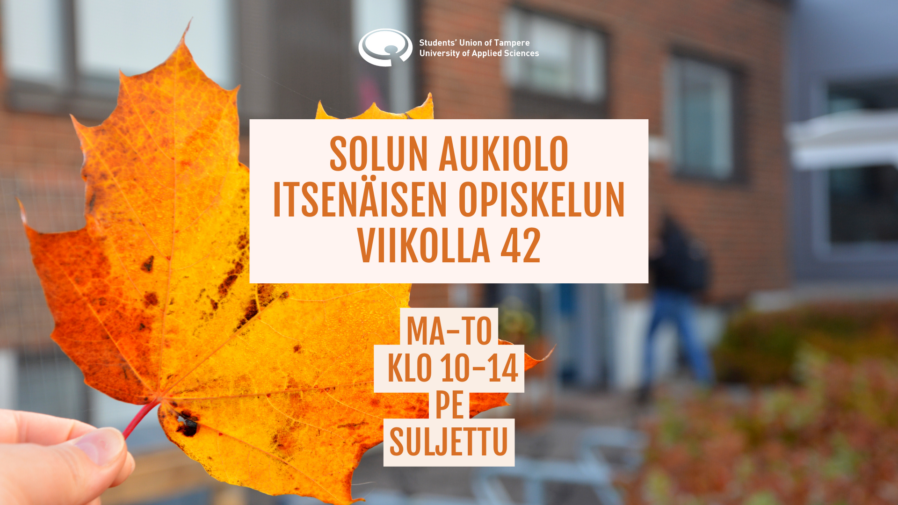 During the self studying week (week 42) Tamko's office Solu operates with reduced opening hours.

Opening hours:
Monday – Thursday: 10 am – 2 pm
Friday: closed

Welcome to change student card sticker, buy overalls badges, borrow sports equipment or drink a cup of coffee!
2. Voting in Council elections is about to begin!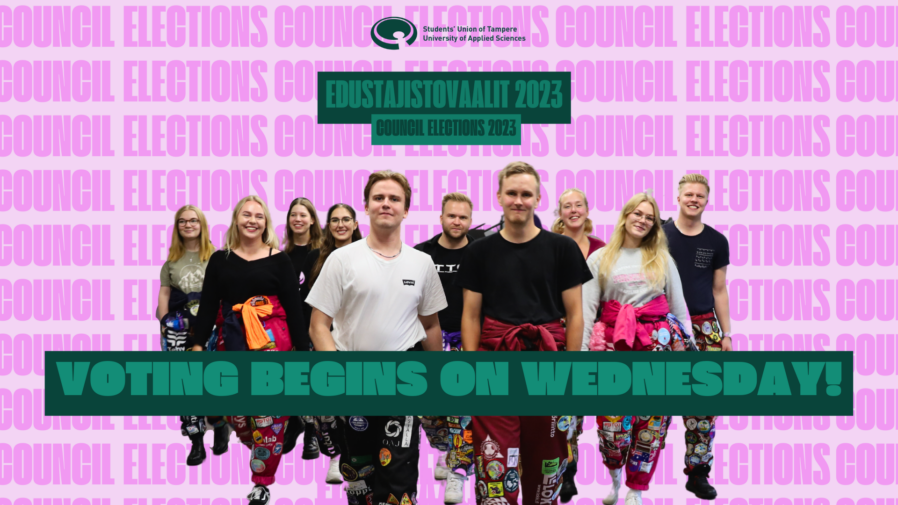 Voting in Tamko's Council elections begins on this Wednesday 18.10.!

The voting in 2023 Council elections is fully electrical, so it is easy to vote in anywhere and anytime! The voting link will be sent to every eligible voter via e-mail, please remember to check your spam!

There are 54 candidates from six different candidate lists! You can get to known all the candidates from Tamko's website: https://tamko.fi/students-union/council/council-election-candidates/

Remember to use your voice and vote!
3. Become an international tutor!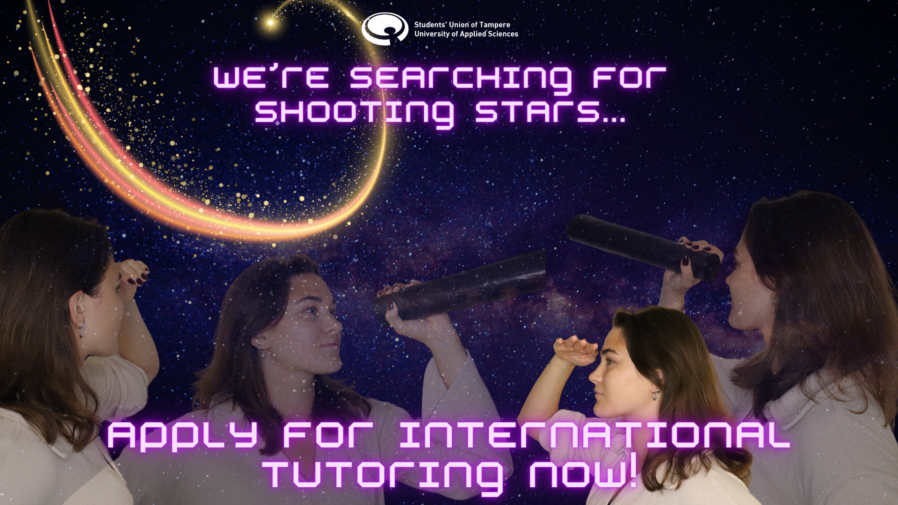 We're searching for bright shooting stars to join our adventure, could YOU be one of them?

Come to welcome new exchange student arriving on January to TAMK and apply to become International Tutor. As International tutor you will help the exchange students to navigate around Tampere and Finnish student life. International tutoring is a great way to network and get new friends from around the world. You'll get 2 study credits and an extra point from international tutoring at the end of tutoring, if you're going to study abroad as an exchange student yourself.
There will be two training sessions organized by Tamko during autumn 2023 on 7th and 14th of November. Enrollment is open 9.10.-29.10.
Enroll here: https://forms.office.com/e/UV7fnmh1k7
4. Something to do during self studying week in Kamula!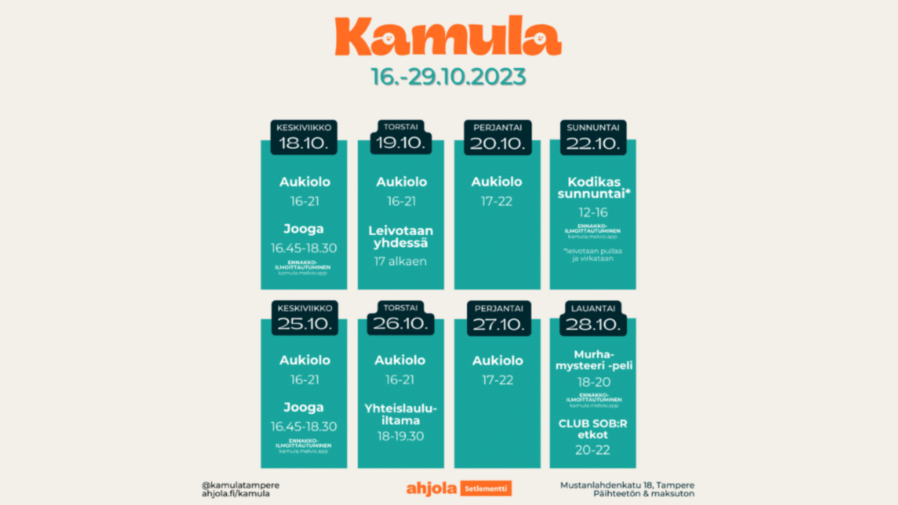 Kamula is students' meeting place, small groups, leisure activities and events in Amuri, Tampere. Kamula activities goal is to strengthen students mental well-being and prevent loneliness.

During the self studying week there are fun programme going on at Kamula! It is free and you can come and go when you feel like it. Kamula is the place where is licence to chill.

Read more: https://www.ahjola.fi/kamula-en/
Follow Kamula on Instagram: @kamulatampere
5. Trick or Treat PISTOT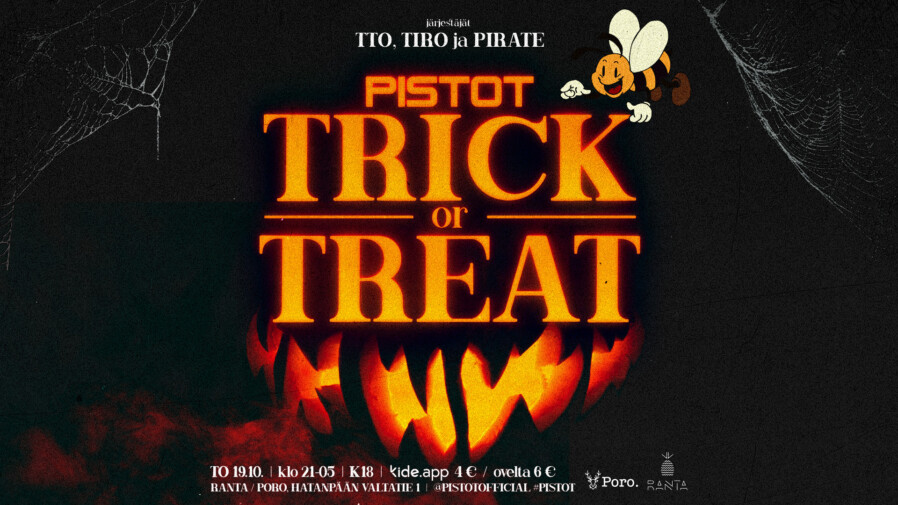 The time of Halloween horror and fun is here again, and we want to invite you to celebrate with us! Come and spend a terrifyingly entertaining evening full of fancy dress, drinks and Halloween fun!

Jump into the magical and scary world of Halloween with us! This evening will be full of great Halloween fun, which you will have memories of for many years to come!

Tickets go on sale on Kide.app on Thursday, october 12th. at 12 o'clock
https://kide.app/events/8771e64c-5690-4191-9639-64d5eb0535bf

WHAT: PISTOT Trick or Treat
WHEN: Thursday 19.10. from 21:00 to 05:00
WHERE: Restaurant world: Koskikeskus Ranta & Poro.
HOW: Tickets €4 in advance/€6 at the door. €0 with Bilepass (note! free ticket must be redeemed)

PISTOT is organized by TTO ry, TIRO ry and PIRATE ry
All PISTOT events are completely harassment-free and no form of harassment or discrimination is accepted. PISTOT parties include trained anti-harassment contact persons Susanna (hairinta.susanna@tiro.fi), Ville (hairinta.ville@ttory.fi) and Riku (hairinta.riku@piratery.fi), who can be contacted if necessary.
6. PISTOT X KOLMIOT party cruise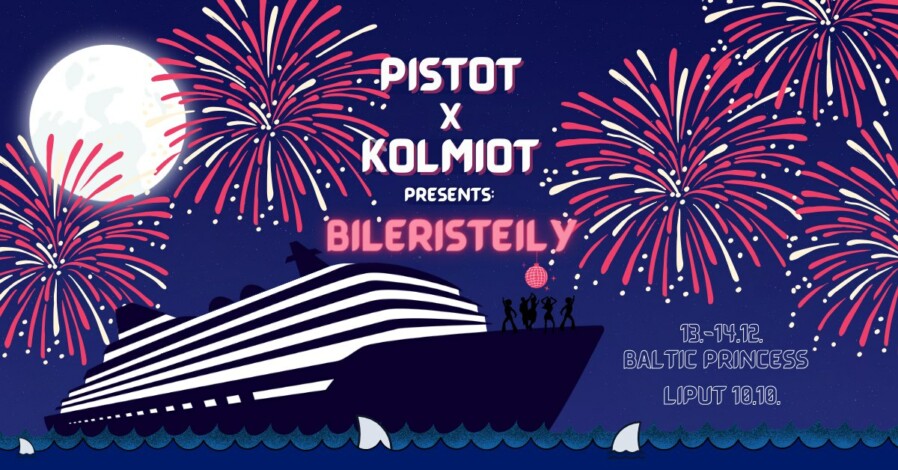 Last year's hit event PISTOT X KOLMIOT Party Cruise is coming again this December!

Busses depart from Tampere on December 13th at 2 pm and return on 14th at 8 pm. After the cruise we'll keep the spirit up at Kolmiot from 9 pm onwards (tickets must be purchased separately).

There are three types of tickets:
1) You can buy a four-person E-class cabin with your friends, in which case only one of you will buy the cabin and fill in the details of the other cabin members at the time of purchase. (166 €)
2) You can buy a four-person B-class cabin with your friends, in which case only one of you will buy the cabin and fill in the details of the other cabin members at the time of purchase. (172 €)
3) You can buy a ticket on your own for B-class cabin, whereupon the remaining 3 are new acquaintances in your cabin! However, if you wish, you can make cabin friend wishes, which we will try to implement the best we can. (44 €)

In addition, you must pre-purchase at least one meal/participant:
– Buffet dinner on December 13th. (42 €)
– Buffet breakfast on December 14th. (18 €)
Meal vouchers are valid throughout the cruise in the ship's restaurants and can only be used to pay for food and drinks.

If you sell your ticket:
It is possible to send ticket types in Kide.App and passenger information can be edited until October 30th at 8 pm. After that, the information is sent to the shipping company.

More detailed instructions and schedules will be sent to the ticket buyer's email closer to the event. For questions, please contact us via email at pistottre@gmail.com.

WHAT? – PISTOT x KOLMIOT Party Cruise
WHEN? – 13.-14.12.2023
PRICE? – Starting from 59,50 €
TICKETS? – https://kide.app/events/04e7160c-fda6-42b4-8be2-d8f9b7f7417f