Tamko Topics is a weekly newsletter of The Students' Union of Tampere University of Applied Sciences.
ENGLISH SUMMARY
1. Donate blood and save lives! TURSASPASSI EVENT
2. Tamko's SiipiBingo 15.2.! TURSASPASSI EVENT
3. Activate your Tamko mobile student card on Tuudo now!
4. Remember to pay healthcare fee by tomorrow 31.1.!
5. Greetings from TAMK Parvi
6. Welcome to the Pop-up relaxation workshop
7. Sparris workshops support studies, spring 2023
---
1. Donate blood and save lives!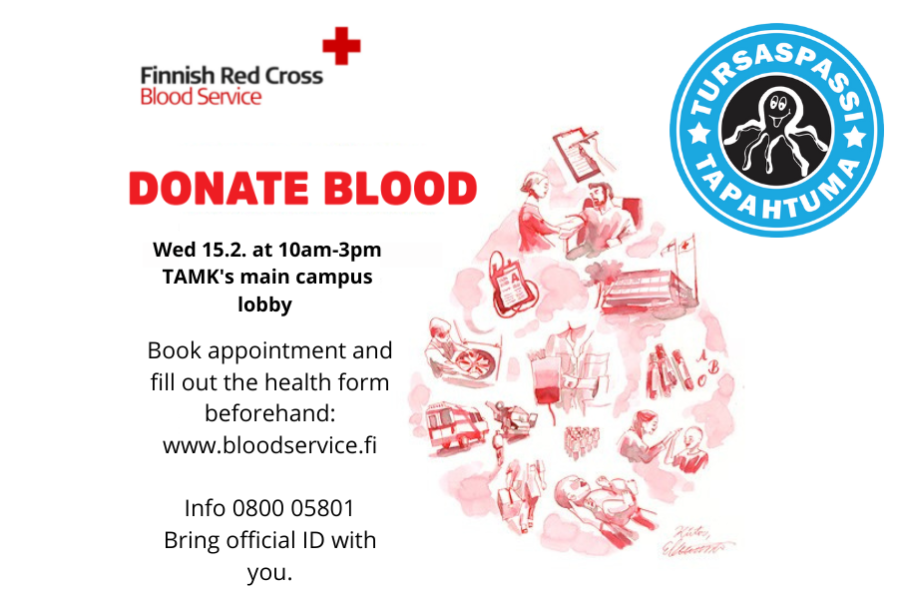 Tamko and SPR are organizing blood donation at TAMK main campus lobby on Wednesday 15.2. from 10am till 3pm.

Blood donation is an easy way to help and only takes about an hour. Come along to save lives!
You can book an appointment for donation and make a health survey in advance at https://www.bloodservice.fi/

Donating blood is a tangible and easy way of doing good. Every day, patients in Finland need the help of 800 blood donors. The blood donated by volunteers helps over 50,000 patient a year. This help cannot be replaced by money or medicines. Blood products are administered to patients of all ages, from unborn babies to the elderly. Blood products can often save lives.

Who can donate?
You can donate blood if you are from 18–70 years of age, weigh at least 50 kilos and have no health complications that would make you ineligible to donate blood. First-time donors cannot be over 59 years of age. You can test your eligibility to donate here: https://www.sovinkoluovuttajaksi.fi/#

When you go to donate blood, please bring a photo ID issued by a competent authority.

You can get a stamp to your Tursaspassi by attending!
2. Tamko's SiipiBingo 15.2.!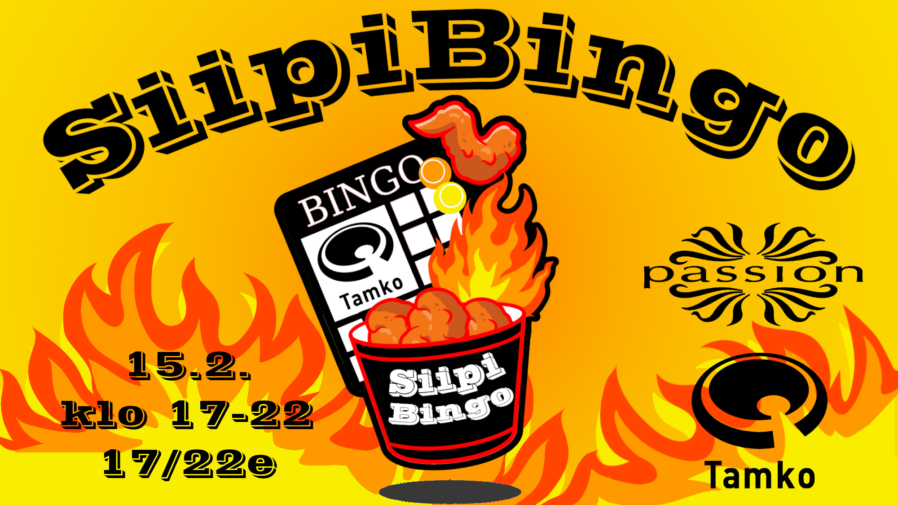 Oh boy what's coming again!! It's time for another SiipiBingo🔥 Now is the perfect time to warm up your stomach and get your Bingo exclamation ready because on the 15th of February we'll be playing again!
SiipiBingo will be held on Wednesday 15th of February at Bar Passion from 5pm to 10pm. The first Bingo round starts at 18:00. The evening includes a tasty wing buffet and several rounds of bingo with nice prizes! Gather your friends and start testing your bingo skills (or wing-eating skills)!
This time there is also a friend table! If you come to the event alone or want to get to know new people, you can sit down at a marked table where anyone can become friends.
Please inform us of your special diet/allergies using the form attached to your ticket purchase. Vegetarian/vegan diet option will be falafel, so you don't have to go hungry during the evening!
WHAT? SiipiBingo!
WHERE? Bar Passion, Tullikamarin aukio 1
WHEN? 15.2. at 17-22
HOW MUCH? Tamko members 17€, others 22€ The ticket to the event includes a wing buffet, bingo and an overall patch.
*Due to the increase in food prices, the price of the buffet has also increased. We always try to organize our events as inexpensive as possible and hope that the prices will drop for future events.

Ticket sale begins on Wednesday 1.2. at 2pm in Kide.app: https://kide.app/events/fcf305b1-9785-472b-926f-8098f53ef8c1
All events of the student union Tamko are completely harassment-free and no harassment or discrimination of any kind is accepted. Harassment contact persons can be reached at email address hairintayhdyshenkilot@tamko.fi.

If you would like more information about the accessibility or accessibility of the event, please contact saavutettavuus@tamko.fi
3. Activate your Tamko's mobile student card on Tuudo now!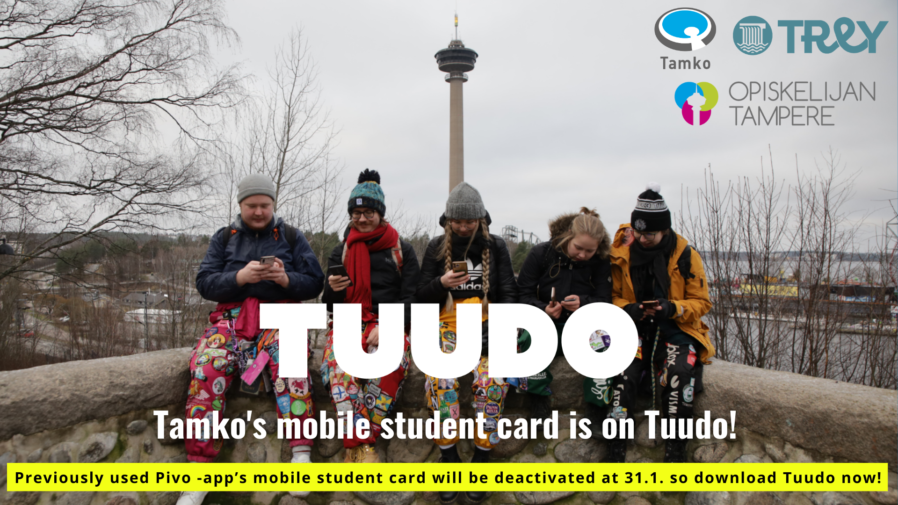 Previously used Pivo -app's mobile student card will be deactivated on tomorrow 31.1. So download Tuudo now!

If you have paid Tamko's membership fee and are registered for attendance at TAMK you can activate mobile student card to use alongside you plastic student card. You get all the same discounts and benefits when using mobile student card or plastic card.
Tuudo is a free app, that has been made to make students' life a bit easier. in addition to Tamko's mobile student card, you can find from Tuudo example your timetables, study credits, reservations for classrooms and other TAMK's spaces, cafeteria's menu and course enrolments, quite handy!
You can download Tuudo to your mobile devices from application store.

Read more: https://tamko.fi/news/tamkos-mobile-student-card-can-now-be-found-from-tuudo/
There is also Tuudo-tutorial on Tamko's Instagram!
4. Remember to pay healthcare fee by tomorrow 31.1.!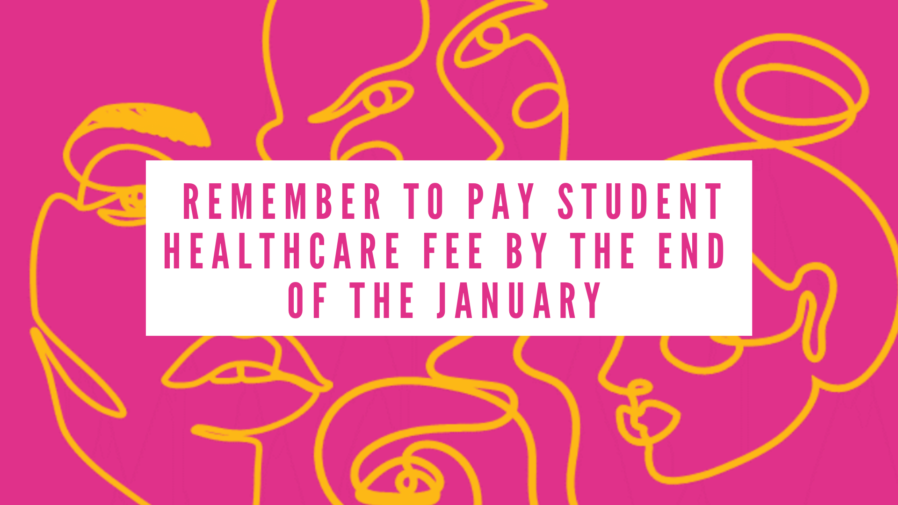 Remember to pay the healthcare fee to Kela!
The student healthcare fee must be paid by students who are completing a degree at a Finnish institution of higher education and have registered as attending for the term.
No bill will be sent on the healthcare fee, and thus you have to pay the fee on your own initiative.
In 2023, the healthcare fee will be EUR 36.80 per term.
The fee must be paid once per term (spring and autumn).
For the spring term, the due date of payment for the healthcare fee is 31 January 2023, provided you have registered as attending by then.
NOTE: If you have social security coverage in another EU/EEA country or in Switzerland or the United Kingdom, you do not have to pay the healthcare fee. However, you are allowed to use the FSHS's services.
Find more information on Kela's website: 
How to pay the student healthcare fee in higher education 
5. Greetings from TAMK Parvi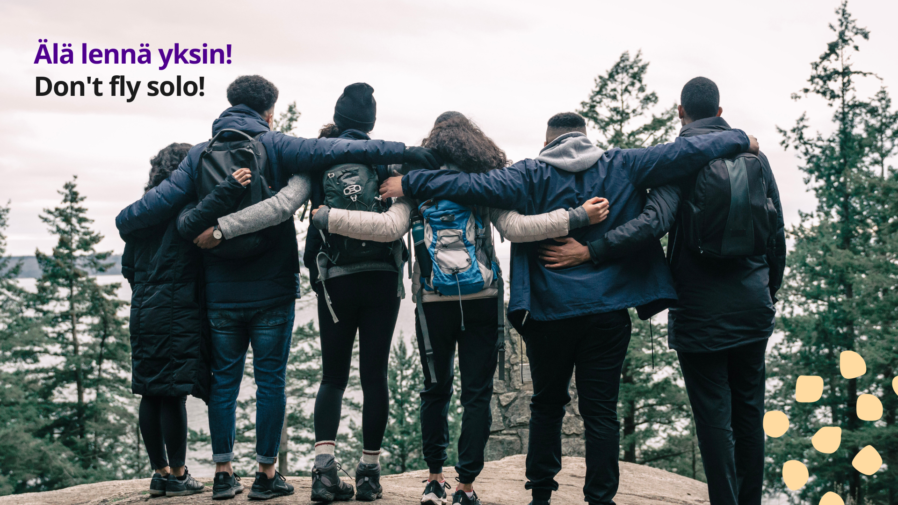 Parvi (Eng. flock) is wellbeing and support services, peer support, and connecting with others, so that no student is left alone. You can join Parvi on campus and online.
Walk-ins at Parvi (TAMK main campus B1-24)
on Tuesdays at 11–12 Study coach (occasionally also International social counsellor)
on Wednesdays at 11–12 Special needs teacher
on Thursdays at 11–12 Student counsellor
Ask Me Anything session on Jodel @tamk channel
Welcome to ask anything what comes to your mind!
You'll find all Parvi activities and times on Parvi's calendar.
Follow @tamkparvi on Instagram to stay tuned.
6. Welcome to the Pop-up relaxation workshop!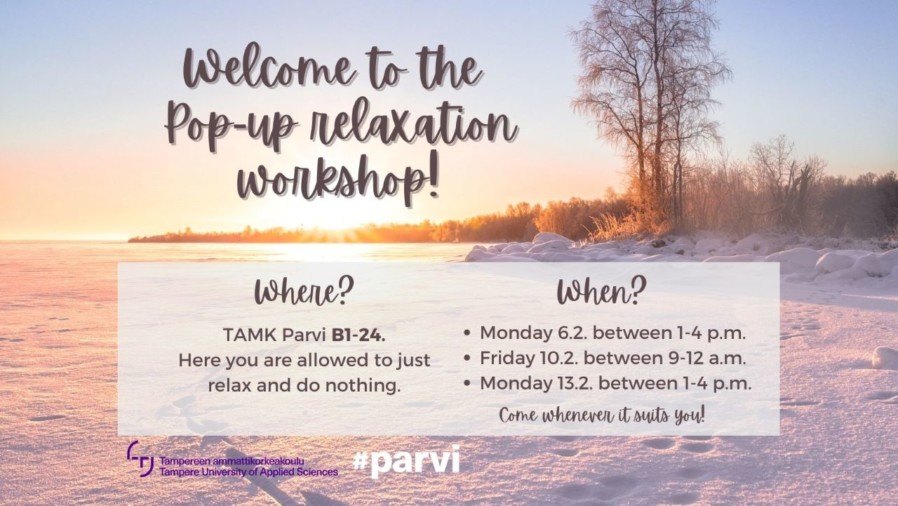 Do good for yourself and come to the Pop-up relaxation workshop during your study or work day! Here you are allowed to just relax and do nothing. If you want you can take part in a guided stretching routine (in Finnish) every hour. At the workshop you can also enjoy a cup of tea.
Where?
TAMK Parvi B1-24
When?
– Monday 6.2. between 1–4 p.m.
– Friday 10.2. between 9–12 a.m.
– Monday 13.2. between 1–4 p.m.
Come whenever it suits you.
Welcome!
7. Sparris workshops support studies, spring 2023
How to tackle the stage fright? How to get started with writing or thesis work? How can I manage the time and deadlines?
For these and other helpful themes related to studying, Sparris study skills workshops provide useful tips. There are workshops available both in English and Finnish, on campus and online.
Sparris workshops are organized mainly at Parvi room (at the TAMK main campus, B1-24) or on Zoom. No pre-registration is required. All the Sparris workshops for spring 2023 and additional info can be found on the Study Skills page.
Sparris workshops are free for all TAMK students. Welcome to one workshop or all of them!
By attending Sparris workshops and reflecting upon what you've learned in a learning diary you can earn a study credit in Parvi study course.

Read more: NN00GB75-3001 Improve Your Study Ability at TAMK Parvi, 1 cr