Tamko Topics is a weekly newsletter of The Students' Union of Tampere University of Applied Sciences.
ENGLISH SUMMARY
1. Welcome to Tamko
2. Tamko's mobile student card is now on Tuudo!
3. Gateway to Working Life -recruitment event in January TURSASPASSI EVENT
4. Student lunch costs now 2,95€
5. Changes and increases to student financial aid
6. Remember to pay healthcare fee by the end of the January
7. SportUni open house week started today!
8. Fleamarket for work clothes for practical training
---
1. Welcome to Tamko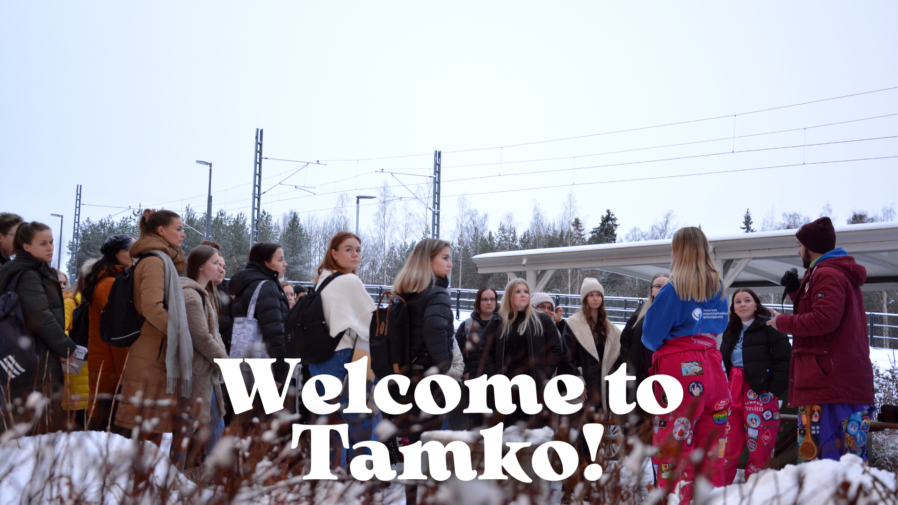 Hello new student and warmly welcome to Tamko!
Hopefully you have recovered from all information recieved from orientation days and studies starts to roll forward. If you ever feel like you need tips for student life, face challenges during your studies or if you are in need for coffee come to Solu and we will help you out!
Solu is open Mon-Fri 9am – 4pm.
Tamko Topics
Tamko Topics is weekly newsletter where we gather the most important topics about student life. Topics has information about Tamko, student life in Tampere, co-partners, events, FSHS information and a lot more!
Tursaspedia
Tamko's Tursaspedia is a guide compiled for new students starting at TAMK. Tursaspedia provides an overview of the activities of the student union as well as tips for leisure and studying at TAMK. Tursapedia is renewed and updated annually.
Read through the guide and know more:
https://issuu.com/opiskelijakuntatamko/docs/tursaspedia_eng_2023-2024_
Tursaspassi-passport
Tursaspassi is a fun thing given to first year students to make their first year of studies a little bit funnier. You can get stamps to Tursaspassi from events, shops, places and activities. Mainly, you can get the stamps from the event organizers or staff. If you forget to collect the stamp or there is no one to witness the activity you can get a stamp from Solu in exchange for a picture/other valid proof. Tursaspassi is supposed to be a fun thing, so let's stay positive! The prizes for collecting the most stamps are listed in the passport. Students who start their studies in January will recieve their Tursaspassi in autumn from their tutors or get it from Solu.

2. Tamko's mobile student card is now on Tuudo!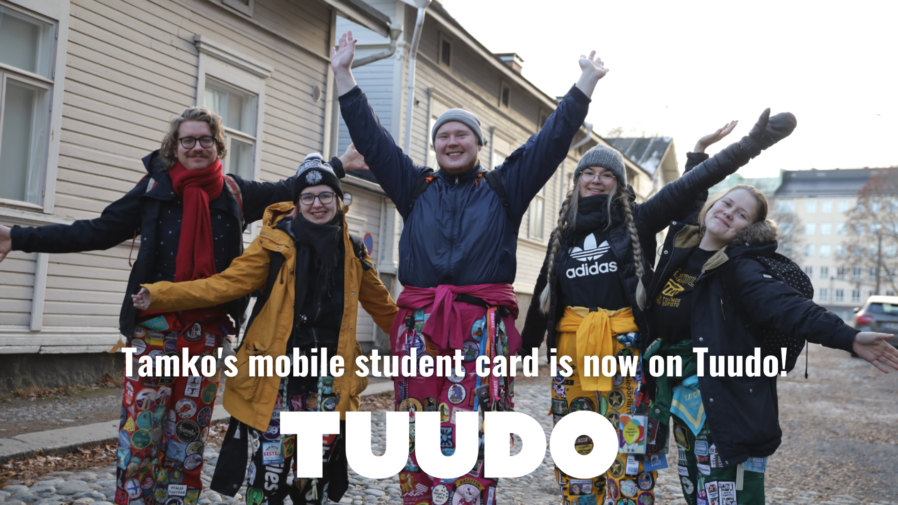 If you have paid Tamko's membership fee and are registered for attendance at TAMK you can activate mobile student card to use alongside you plastic student card. You get all the same discounts and benefits when using mobile student card or plastic card.
Tuudo is a free app, that has been made to make students' life a bit easier. in addition to Tamko's mobile student card, you can find from Tuudo example your timetables, study credits, reservations for classrooms and other TAMK's spaces, cafeteria's menu and course enrolments, quite handy!
You can download Tuudo to your mobile devices from application store.

Read more: https://tamko.fi/news/tamkos-mobile-student-card-can-now-be-found-from-tuudo/
Previously used Pivo -app's mobile student card will be deactivated at the end of January.

3. Gateway to Working Life -recruitment event 23.-25.1.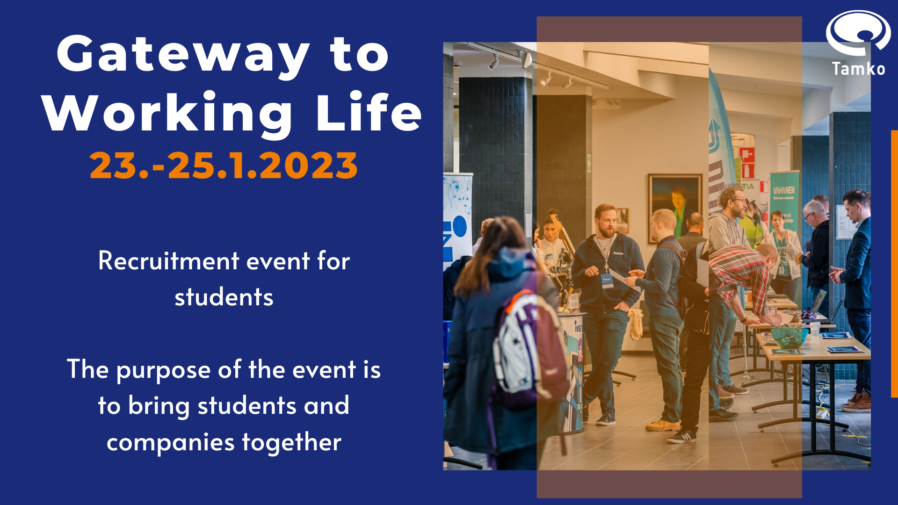 Are you looking for summer job? Or place for internship? What about company to make your thesis for? Come to Gateway to Working Life event in January 2023!
In January 2023 students and companies are coming together when Tamko is organizing Gateway to Working Life (Finnish name: Portti Työelämään) recruitment event! This event has been organized since 2010.
Gateway to Working Life is event where local and national organizations come to TAMK to meet their future talents!.The organizations are offering different kinds of work, internship and thesis opportunities to TAMK students plus a chance to communicate with them and get more detailed information about them.
Event is organized on TAMK's main campus lobby area 23.-25.1.2023 and there is free entry to the event.
GATEWAY TO WORKING LIFE EVENT DAYS OF 2023:
23.1. Social services and health care, Business administration, hospitality management and others
24.1. Technology and ICT
25.1. Technology
You can get stamp to your Tursaspassi by participating in the event.

4. Student lunch costs now 2,95€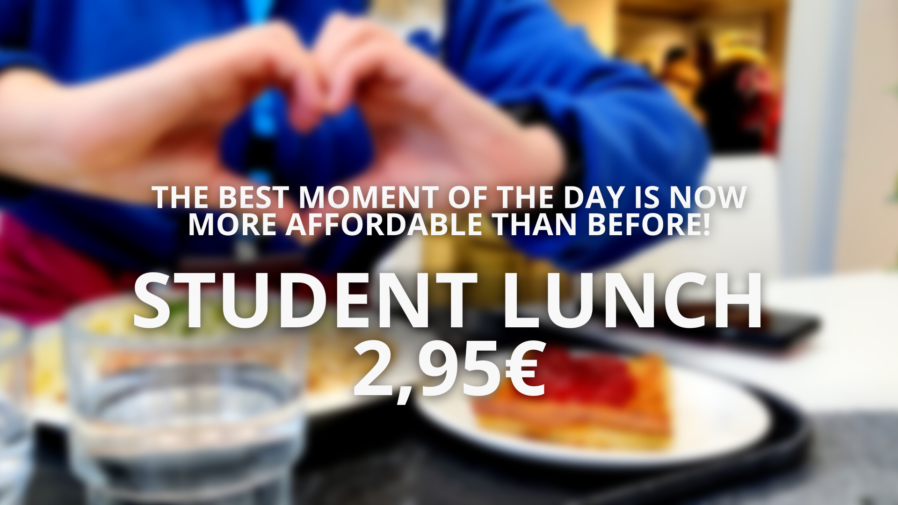 After Kela increased meal subsidy, you can now get student meal for the price of 2,95€!
You can get the student lunch by showing student card or Kela's meal subsidy card.

Tamko's members get exra -0,10€ off from student lunch!
Note! The extra discount for Tamko members applies only to Campusravita's student lunch.

5. Changes and increases to student financial aid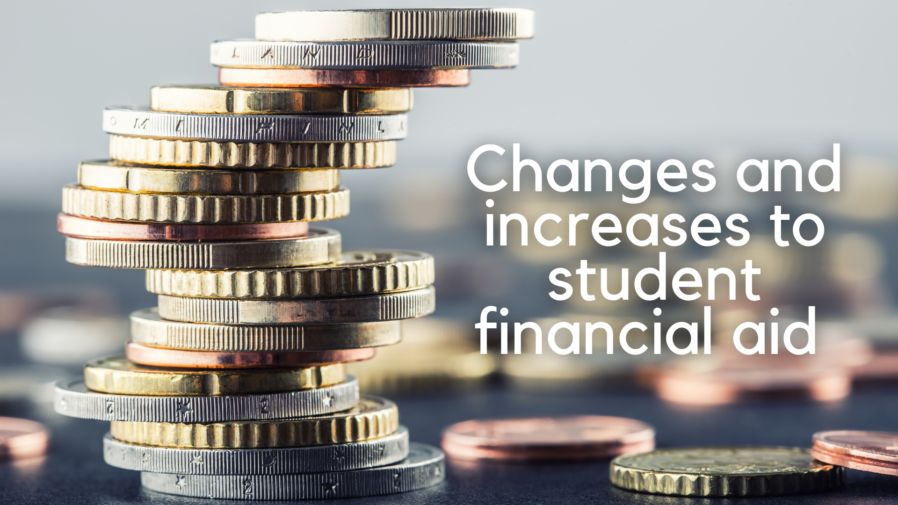 In 2023 there will be changes to student aid for example the annual income limits for student financial aid will be raised, study grants and the provider supplement to the study grant will be increased and also the meal subsidy for higher education students will be increased.

Read more about the changes from here: Changes to Kela benefits in 2023 | Our Services | Kela

6. Remember to pay healthcare fee by the end of the January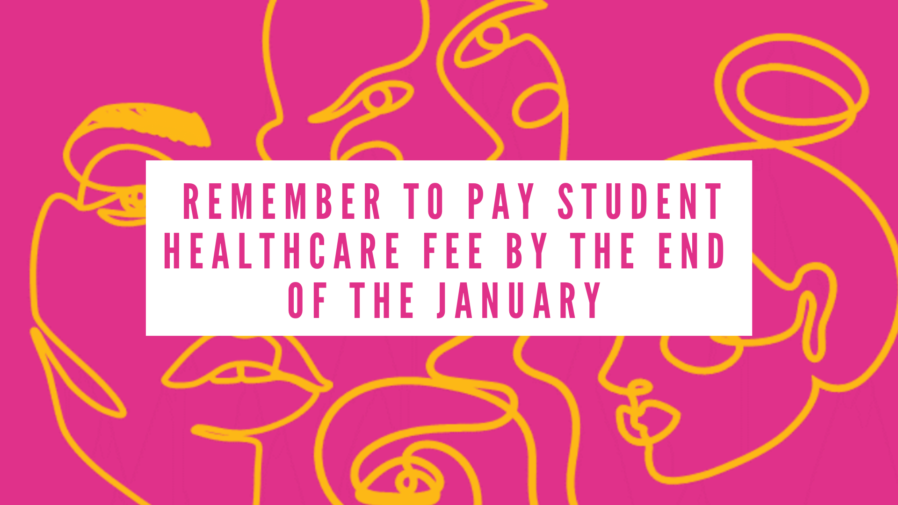 Remember to pay the healthcare fee to Kela!
The student healthcare fee must be paid by students who are completing a degree at a Finnish institution of higher education and have registered as attending for the term.
No bill will be sent on the healthcare fee, and thus you have to pay the fee on your own initiative.
In 2023, the healthcare fee will be EUR 36.80 per term.
The fee must be paid once per term (spring and autumn).
For the spring term, the due date of payment for the healthcare fee is 31 January 2023, provided you have registered as attending by then.
NOTE: If you have social security coverage in another EU/EEA country or in Switzerland or the United Kingdom, you do not have to pay the healthcare fee. However, you are allowed to use the FSHS's services.
Find more information on Kela's website:
How to pay the student healthcare fee in higher education

7. SportUni open house week started today!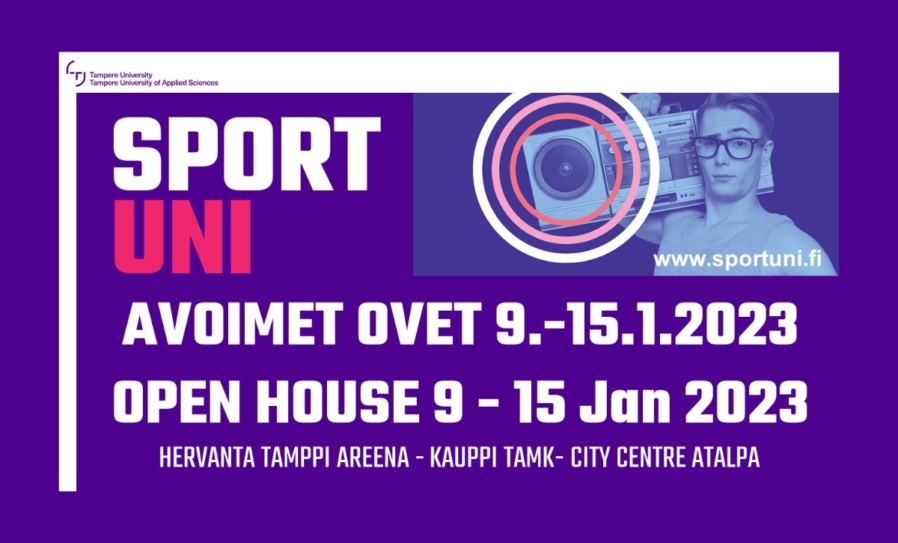 Welcome to try SportUni's sports services.
SportUni has an Open House Week on Mon 9 — Sun 15 Jan. During that week, you can try SportUni's services for free; gyms, group exercises and ball games. Show your student or staff card at the reception.
Registration for group exercise classes and badminton are booked with TUNI IDs from Selection Calendar.
If you have questions, please mail to sportuni@tuni.fi.
Welcome!

8. Fleamarket for work clothes for practical training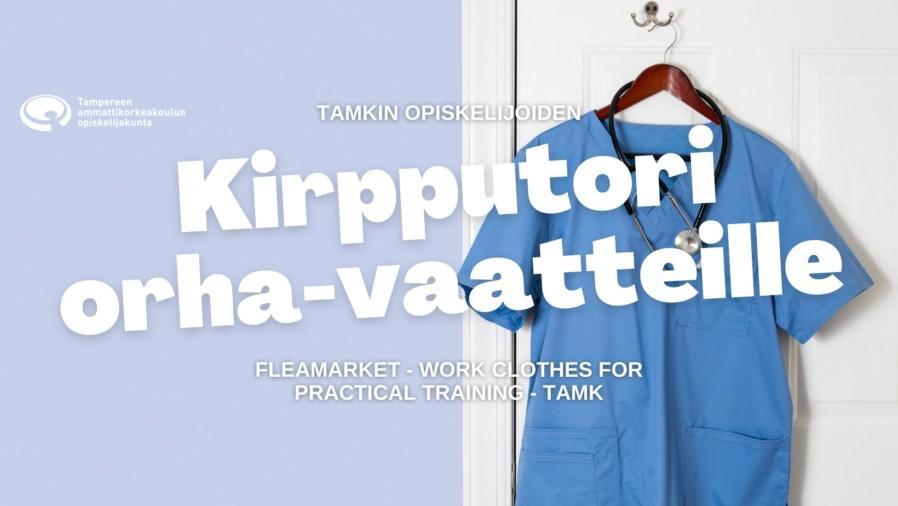 Do to the requests from students Tamko has launched this page for the students to sell and buy used work clothes for health care practical trainings. As a TAMK student you can post here to sell your old work clothes used in practical trainings and of course buy them aswell.

Let's make more sustainable choices!
Link to Facebook: https://www.facebook.com/profile.php?id=100088786598165