Tamko Topics is a weekly newsletter of The Students' Union of Tampere University of Applied Sciences.

ENGLISH SUMMARY 
1. Application for international tutoring is open! TURSASPASSI STAMP!
2. Henna Ruostila is Tamko's new executive Director
3. Tamko's anniversary celebration save the date 15.10.2022!
4. Tamko and TAMK opened donation account to help Ukraine
5. Tr3fest 2022!
6. Feedpack sessions – Let's discuss and develop it together
7. Welcome to Embers Fine Art Degree Show 2022
8. Upcoming Parvi activities
---
1. Application for international tutoring is open!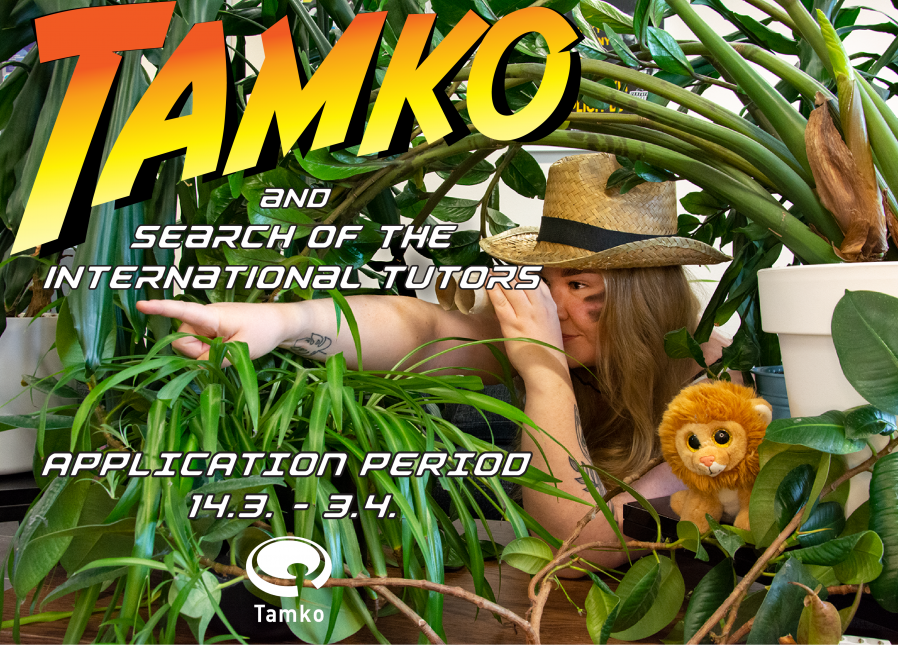 Tamko is searching brave and ambitious international tutors!
Join Tamko's adventurous bunch of tutors and be there to welcome the new exchange students in August! As an international tutor, you'll ensure that our exchange students feel welcome in TAMK and have someone they can rely on. Not to worry, you'll have an excellent network of other international tutors and experts helping you!
Tamko trains all the international tutors of TAMK. The training consists of two sessions in the evening, and the exact dates will be announced later. International tutors are eligible for 2 study credits, one extra point when applying for exchange themselves, and a stamp on the Tursaspassi.
Application period for international tutoring is 14.3. – 3.4.2022
Apply by filling this form: https://forms.office.com/r/m8KkbYsSb5
And after that you are one step closer to joining the adventures of international tutoring!
2. Henna Ruostila is Tamko's new Executive Director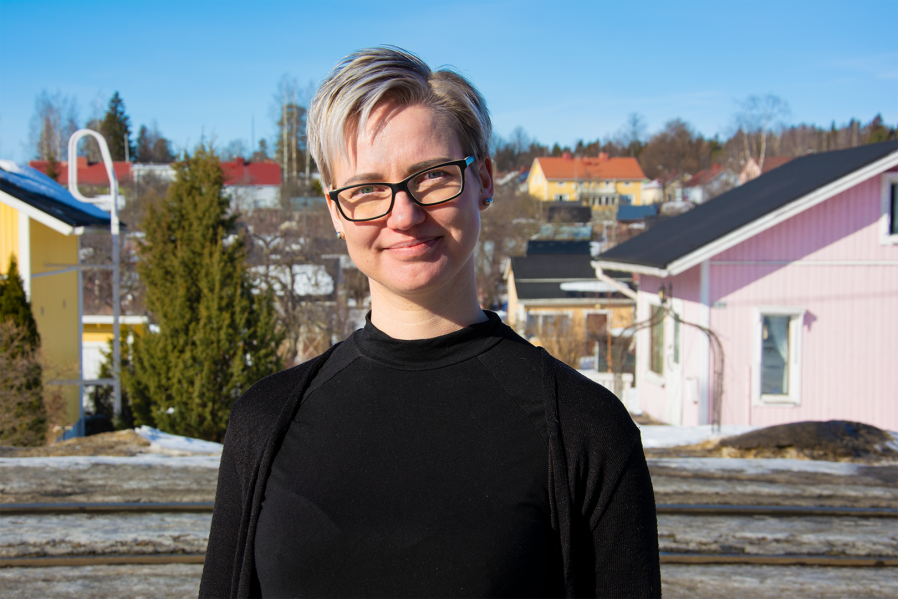 Tamko's new Executive director Henna Ruostila has started in their job today 14.3.2022 as a substitute for student leave. Henna is being introduced to their new tasks just now, and we here in Tamko have welcomed Henna with open arms!
"There's still a lot to learn, but I've been welcomed by an inspiring community with a persistent love for what it does. If we ever run into each other, feel free to strike up a conversation! I'll be all ears, and together we'll develop Tamko." Henna tells.
3. Tamko and TAMK opened donation account to help Ukraine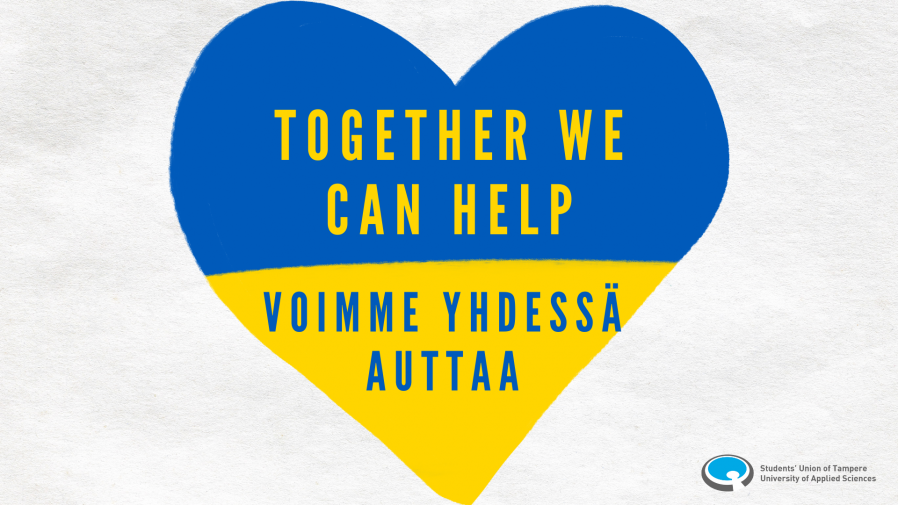 Tamko and TAMK together have opened an account for donations to help the victims in Ukraine via the Finnish Red Cross. Donate the amount that you feel comfortable with!
You can donate here: https://lahjoita.punainenristi.fi/en_US/team/tampereen-ammattikorkeakoulu-ja-tamko

Racism towards Russian and Russian-speaking students has increased due to the war in Ukraine. The war in Ukraine is not the fault of the Russians studying and living in Finland. Tamko underlines that there is absolutely no room for racism.

TAMK is an international and multicultural community which support students and staff equally at all times. If the situation in Ukraine is worrying you, please remember that TAMK has several support actors to contact.
Read more: https://intra.tuni.fi/en/content/news/35016
4. Tamko's anniversary celebration 15.10.2022!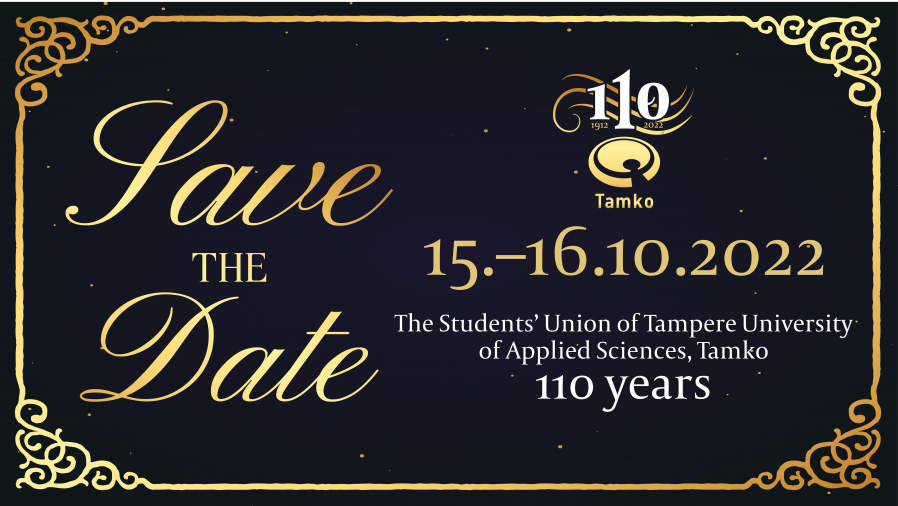 Save the date! Here it comes! Student union Tamko's 110th year anniversary celebration. You are welcome to celebrate Tamko's long history on Saturday 15th of October 2022 in Tampere and the day after that 16th of October to Sillis-breakfast event. Remember to get party clothes and party spirit before the celebration.

Ticket sales and other info will be published closer to the anniversary!
5. TR3Fest 2022!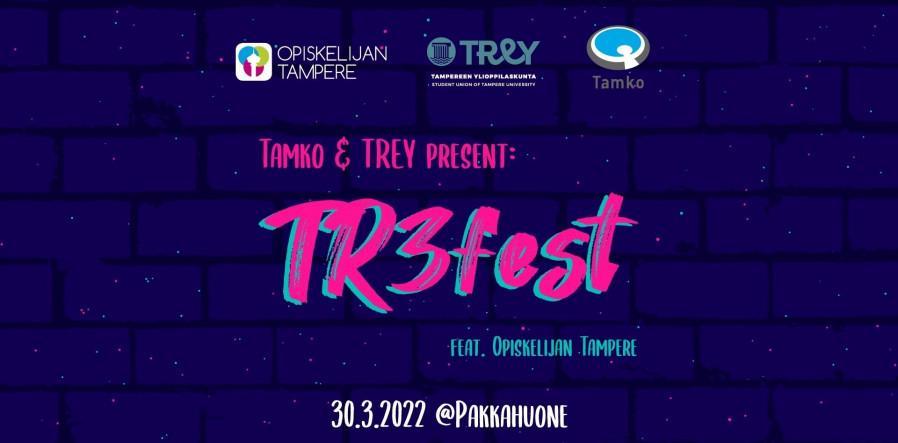 Tr3fest is urban city festival with a casual vibe and entertaining music from student bands will bring together Tampere Universities community students for an eventful festival in Pakkahuone on 30 March. Our main artist of the night will be revealed later!

Get your tickets now for 8 € from Kide.app!
Ticket includes TR3fest event, cloakroom and afterparty at the Klubi.

Schedule:
Doors: 19.00
Student band: 20.00
Student band: 21.30
Main performer: 23.00
After party: 00.00–02.00
P.S. For the first thousand visitors, there will be an overall patch!

Get your tickets from here: https://kide.app/events/0e6a2d3a-0977-4a12-ba2b-5c286c413715
Facebook event: https://fb.me/e/1W9Kidvfz

6. Feedback sessions – Let's discuss and develop it together!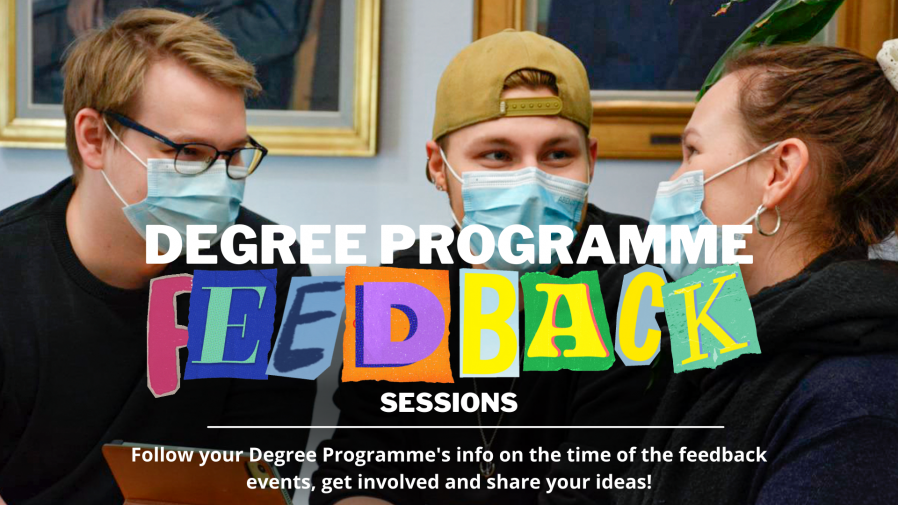 Student feedback was collected last year in the spring and autumn feedback weeks in the form of a new student and annual feedback surveys. Feedback was also collected from master´s degrees and through Graduation phase survey.

During the spring, students and staff will discuss the feedback at joint degree programme specific events, in which the possible development measures will also be agreed

Follow your Degree Programme's info on the time of the feedback events, get involved and share your ideas!

Read more from intra: https://intra.tuni.fi/en/content/news/34127
Feedpack summary can be found by clicking this.
Schedule for feedpack sessions: https://wiki.tamk.fi/pages/viewpage.action?pageId=195934632
7. Welcome to Embers Fine Art Degree Show 2022
Embers are small glowing pieces in a dying fire, but embers are also slowly fading emotions, memories, ideas, or responses still capable of being revived.

The graduating Fine Arts class of Tampere University of Applied Sciences hopes to rekindle the fire of inspiration at Himmelblau Gallery in Finlayson this March (17.3-3.4.2022). The degree show Embers is dedicated to the theme of rebirth. The world has always gone through a cycle of birth, growth, and the end of all things, followed by rebirth. This show is by interdisciplinary artists who are ending their studies at TAMK. Embers shines a light on a myriad of topics ranging from familial connections to gendered social issues.

The future alumni have gathered to discuss complex topics each displaying their own experiences via a multitude of mediums. Jonathan Carey explores the relationship between human consciousness and spirituality. Natalija Sari Djakovic is chasing after the intangible world of emotional experiences. Janna Lindfors has centered her work around fear, life, death, and the human mind. Anniina Nummela is here to remind us of the importance of family connections. Isabella Presnal is investigating women in the video and film industries and the inequality they face. Elizabeth van Schaik focuses on historical heritage in relation to the question of women's rights and equality. Seyoon Yoon is inspiring everyone to find themselves in an emotional love paradise, something we all need these days.

Welcome to the opening event on March 17th at 17:00! Embers degree show is in the heart of Tampere at Himmelblau Gallery, in the Finlayson Art Area, open from March 17th until April 3rd , 2022. Free admission, family-friendly, wheelchair accessible.

Instagram: @TAMKFineArtDegreeShow
Website: https://tamkfineart.wixsite.com/embers
Gallery Himmelblau, Tampere: https://www.facebook.com/HimmelblauArt

Opening hours:
Wed–Fri 11–18
Sat–Sun 12–16
Address: Finlaysoninkuja 9, floor 3B
33210 Tampere, Finland
8. Upcoming Parvi activities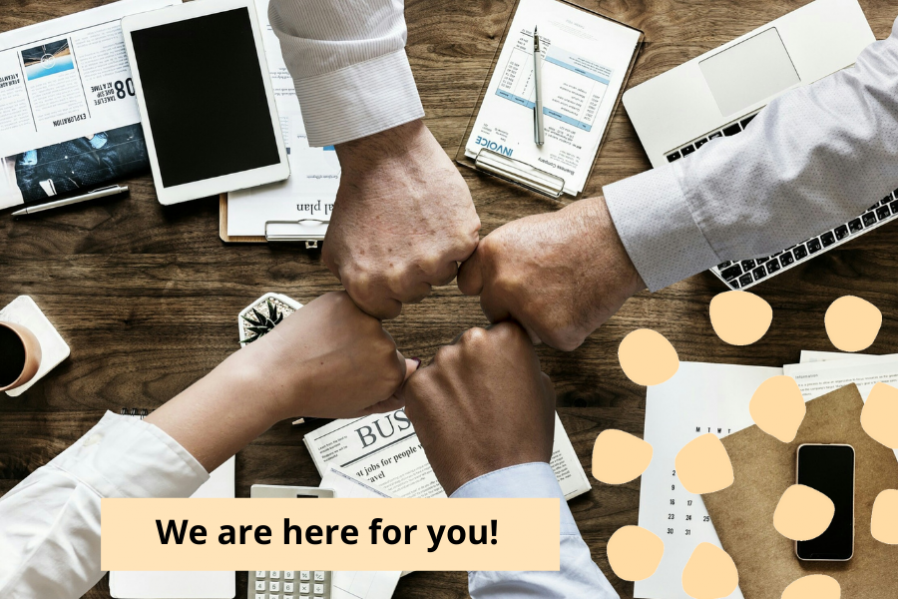 Examples of activity taking place this week:

Wednesday at 15-16.30, Mediapolis
Sparris workshop- Stage Fright Tips: Public speaking is said to be the biggest of all fears. Most of us feel a degree of apprehension when preparing to speak up or perform of others. Let's learn together skills to reduce and manage your fears and anxiety.
Contact persons: Marianna.leikomaa@tuni.fi and Johanna.k.virtanen@tuni.fi.
Wednesday at 16-17.30
Finnish language club: Discussions about Worklife and Networking with TAMK Career Services
Remember that on Mondays (at 10-12), Tuesdays (at 14-16), Wednesdays (at 14-16) and Thursdays (at 13-15) there is Get Stuff Done and on Thursdays (at 13-15) there is CV-clinic every week this spring! You can also find a Student Counselor/Teacher for Special Needs and Student Wellbeing Advisor have a walk-in nearly each day of the week at Parvi and online!

Follow these couple of links and you'll stay ahead of Parvi's activity!
Linktr.ee/tamkparvi
Parvi calendar
Parvi Instagram @tamkparvi
See you at Parvi!