We are a diverse group of students here in TAMK. In addition to our Finnish degree programs, we have plenty of students from various, international backgrounds. Some of us have come a long way from home to study in one of our numerous programs in English, a few of us are here only for a semester or two as exchange students, and some of our students have found their way here through education export programs. The international community around us is the result of many years of work, in which our student union has had a great influence.

During my year in Tamko, I have come to notice that the greatest achievements require teamwork. Especially in the summer, I experienced first-hand some of the challenges involved in helping all our exchange students move from one country to another. Nevertheless, I could rest assured that all the challenges could easily be overcome with so many talented people working together. Especially our international tutors have reduced my levels of anxiety, and time after time they have impressed me with their dedication for our exchange students.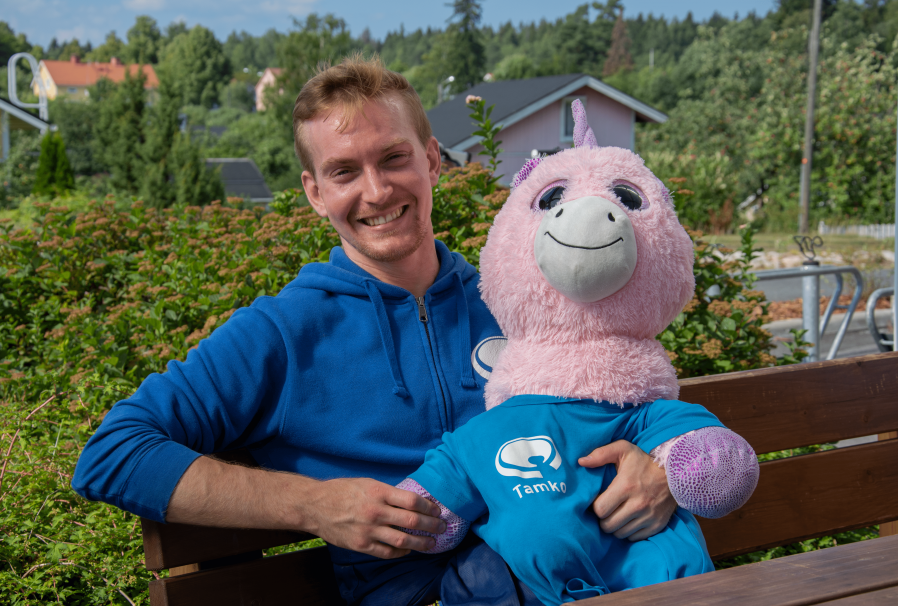 Tutoring is, in fact, one of the most visible operations undertaken by Tamko in the international field. For the first-year students in our English degree programs, Tamko trains degree tutors who work much in the same way as our peer tutors in Finnish programs. A degree tutor is one whose road to TAMK has started from another country. This way the tutor has experienced first-hand, for example, the filling of residence permit forms, and thus is better prepared for the struggles which their peers may face at the start of their studies. International tutors, on the other hand, are the ones helping our exchange students getting comfortable in their temporary home here in Finland. Our tutors, both degree and international, are at the frontline when it comes to integrating our international students into TAMK and the city around it. Tutoring will be the topic of our next blog post, however, so more on that later!
Everyone wins when a tutor succeeds in integrating a new student into our community. We will start seeing new faces at our events and perhaps get new classmates at lectures. One of the first events, which I attended at the beginning of my studies here in TAMK, was the newbie night of my student club. The event was not only for the students in my Finnish program, but instead we were joined by our peers studying the degree program in English. Although I did not know it at the time, one of the Russian students who I met there would turn out to be one of my dearest friends later in life. Being open to new people and experiences is vital as you never know who your new best friend might be!
Spicing up our student life with an international touch, we also have one of our lovely clubs, Club International – or CLINT, as most of us know it. To bring our Finnish students and international students closer together, CLINT, among other things, organizes events with an international theme and handles the purchase of overalls for our exchange students. I personally find the unique, blue-and-white overalls to be one of the most visible ways of welcoming the exchange students as a part of the Finnish student life. It is incredibly heart-warming to see our exchange students sewing their first patches on their brand-new overalls with great excitement on the couches of Solu.

Solu is a quite the international melting pot, thanks to our active exchange students. Because of international events, conferences, language clubs, and friend programs, we have many opportunities to tie international bonds here in our hometown. If these feel like too big steps to take at once, there is always a place where one can head. Engaging small talk, ice skates, and especially hot coffee are always in high demand among our exchange students in Solu. I have experienced the international effect of coffee many times in Solu, where I have found myself more than once chatting with Italian exchange students while enjoying a cup of coffee together. Turns out that us Finns are not the only ones who are big on coffee.

And that is good thing. Working in the international sector is extremely rewarding as I have the chance to meet so many new people with new ideas. This is something not to be taken for granted, however, as an international environment needs to be nurtured by all of us every day. We have discussed with the top management of TAMK about the current state of international affairs and where things are headed, and sometimes we have had to hold our ground and stay firm. Despite the ever-increasing international opportunities here in Tampere, we believe at Tamko that every student should have an equal opportunity to apply for an international exchange, no matter the student's personal economic situation. Yet, as of today, we can enjoy multicultural sauna sessions, learn Finnish together with other international students in HUBS, or give foreigners a taste of salty liquorice in all its forms. Let us enjoy these small and great achievements during our year of celebration.
The author Tamko's board's international affairs responsible Tuomas Väkiparta