Tamko Topics is a weekly newsletter of The Students' Union of Tampere University of Applied Sciences.
ENGLISH SUMMARY
1. Thank you to everyone who participated in Tursajaiset!
2. The future of student services
3. Advocacy days on TAMK's main campus on 21.-21.9. TURSASPASSI EVENT
4. There is still time to buy tickets to Tamko's anniversary celebrations! TURSASPASSI EVENT
5. FSHS general and mental health service unit has now moved to Tulli
6. Tolumppialaiset sports event 19.9. TURSASPASSI EVENT
7. Club International Tampere is looking for new active members TURSASPASSI STAMP!
8. Kolmiot 20 years!
9. Participate in the Campus International survey!
---
1. Thank you to everyone who participated in Tursajaiset!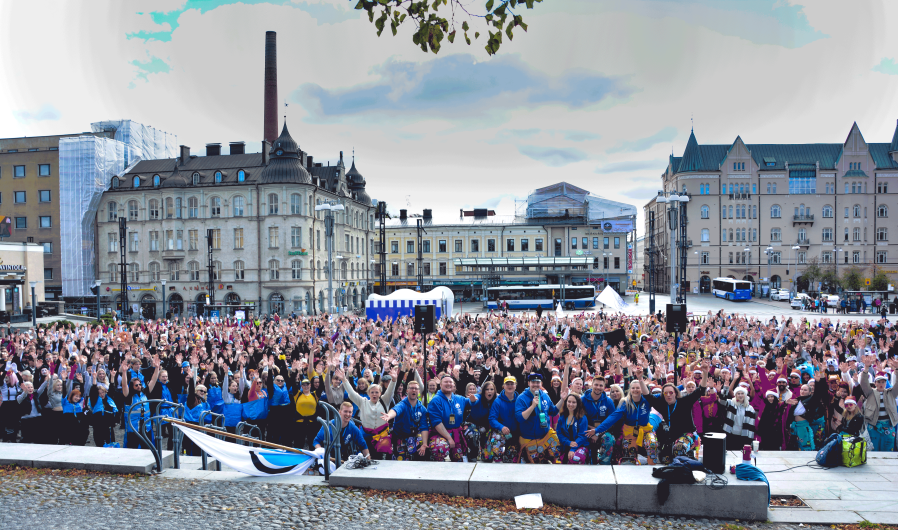 Tamko's Tursajaiset for new students was organized on Wednesday 7.9.2022. Around 1 500 students gathered in central square to start student life together.
Tamko is celebrating its 110th anniversary this year and along its history there has been eighty organized Tursajaiset events. The 2022 Tursajaiset was therefore the 81st of its kind.

The winners of Tursajaiset and the best costumes will be announced during this month.
NOTE! Tursajaiset overall patch will arrive later and tutors will hand it out to those who participated to Tursajaiset.

Thank you to all who participated to Tursajaiset, especially tutors and awesome Tursaat!

You can see more photos from Tursajaiset on Tamko's social channels!
2. The future of student services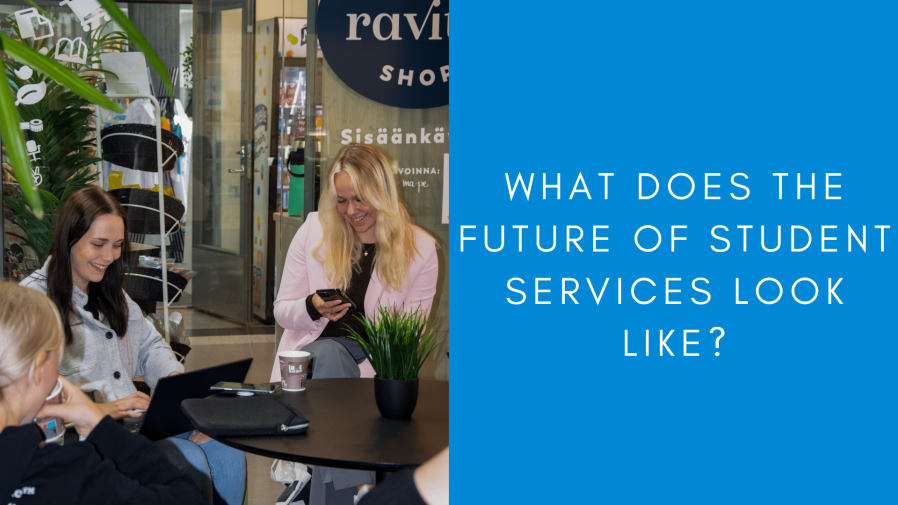 Tamko and TREY are organising a workshop at Opintoasiainpäivät (a university administration conference) on 5th of October. The conference, which is held in Tampere this year, gathers together the members of OHA-forum and other specialists in university administration.
Tamko and TREY will host a workshop whose purpose is to discuss the future of student services and how to get from our current situation to fulfilling future needs. In order to better bring student thoughts and wishes to the table, we are asking the students to answer the linked padlet and share your thoughts on the following matters
What should student services be like in 10 years?
What is good about the current services?
What should be improved upon?
How has covid affected service quality and accessibility?
Do you have any other issues in mind that you would like to make known to university administrative personnel?
"Student services" can mean a wide variety of things here, and you can also answer accordingly. However, the point is to look at university services specifically, and not student union, library or other non-university coordinated services. You can find the padlet at this link. The padlet is open untill 25th of September.
We will collect the answers on the padlet anonymously, but we are asking you to indicate whether you are a university or a university of applied sciences student.
Thank you for your help and thoughts!
For more information, please contact:
Tamko: Hannastiina Ruismäki, edunvalvonta@tamko.fi
3. Advocacy days on TAMK's main campus on 20.-21.9.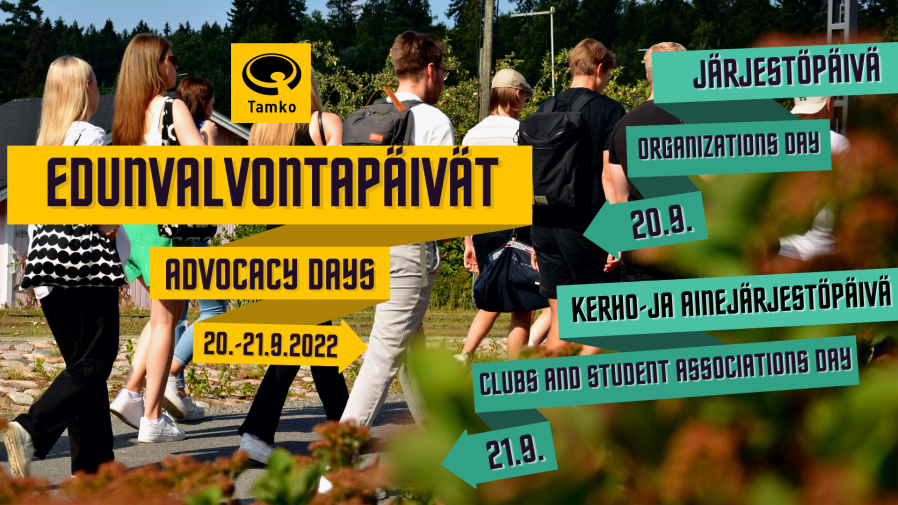 Tamko organizes Advocacy Days on 20.-21.9.2022 at TAMK's main campus!

During the Advocacy Days, main campus lobby is filled with various advocacy actors and organizations. Students can explore the participants and their activities during the event.

Organizations day Tuesday 20.9. at 11-14 various political organizations, trade unions and other organizations from Tampere will be presented to the students.

Clubs and student associations day Wednesday 21.9. at 10-14 students can get to know TAMK's own subject organizations and clubs.

Tamko welcomes everyone to the Advocacy Days!
4. There is still time to buy tickets to Tamko's anniversary celebrations!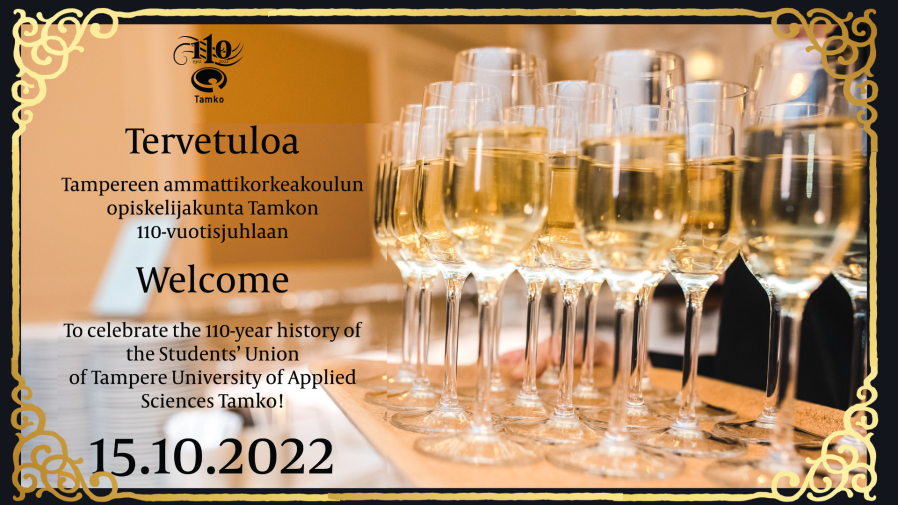 A warm welcome to celebrate the 110-year history of the student union of Tampere University of Applied Sciences Tamko!
The anniversary celebrations starts at Sokos Hotel Torni's banquet facilities at 6 pm, doors open at 5.15.pm. The party continues at Torni into the morning, until 2.00am. You can buy a dinner card for yourself and your partner at once. Ticket sales is open on until Thursday 15.9. If you wish, you can support the student union Tamko's anniversary celebrations and activities by buying a support ticket.

Kide.app link: https://kide.app/events/8349d368-5d1d-4c33-8a80-aede40dd7a4f
Dinner card prices:
Tamko member: €95
Non-member: €130
Support ticket: €200
In accordance with the dignity of the celebration, the dress code is a dark suit and academic badges. We also organize a traditional silliaaminen on Sunday 16.10. Silliaamiainen costs 10 euros/participant. We will announce this closer to the anniversary.
5. FSHS general and mental health service unit has now moved to Tulli!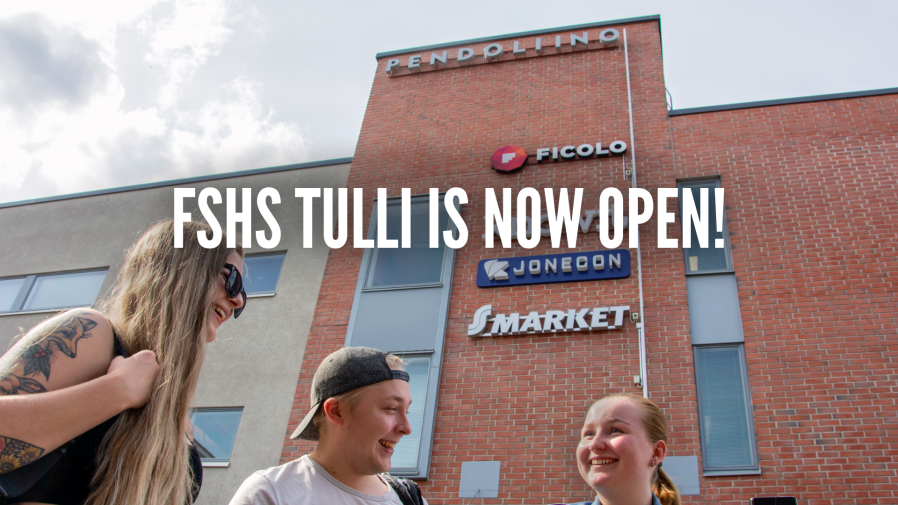 FSHS Tampere's general and mental health appointment services now serve students at Pakkahuoneenaukio 2. The new premises opened for students on Monday, September 12, 2022.
The service unit is located on the upper floor of S-market Pendoliino, and the entrance to FSHS is from Tullikatu. The new place is called Tulli.
The relocation will not affect the FSHS's oral health services in Tampere, so the unit in Hervanta will be operating as usual.
See the information of FSHS Tampere service unit here: https://www.yths.fi/en/service-units/tampere-3/
6. Tolumppialaiset sports event 19.9.!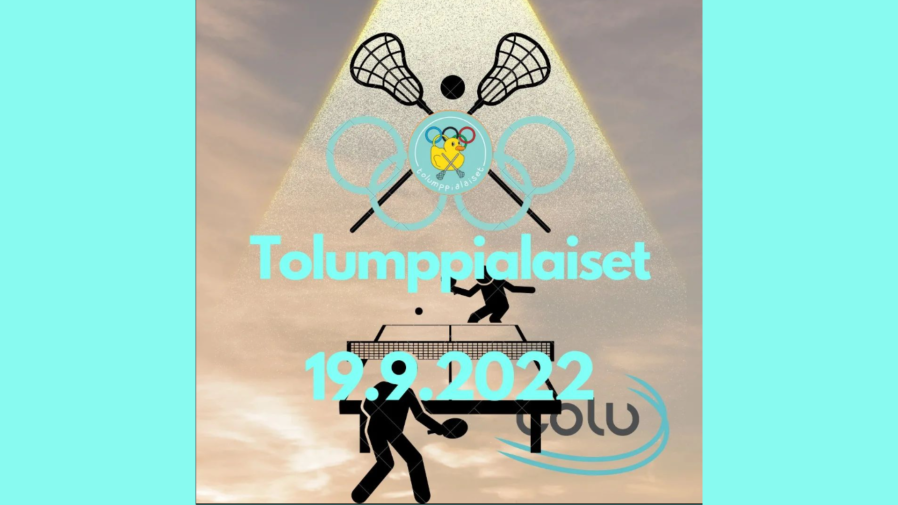 After years of await it's time for Tolumppia once again! On the event there will be competitions and the sports will be ping pong, lacrosse kabaddi, petanque and mölkky.

The sports will act as a checkpoint which shall be wandered around with the group you've made. The event will take place around the Hämeenpuisto area and the event is alcohol free. Grab a friend and make a team of 5-10 people, invent a fun name for your team! Write the team's name on the form while buying the ticket. Every joining person will have to buy their own ticket. If you are unable to form or find a team with the required amount leave the spot for naming the team empty. We will find you a team before the event or at last on the event day.

Last day to apply for the event ends on the 16.9.2022. Everyone who has bought the ticket will get more information on the e-mail you've put on the kide.app at last 18.9.2022. On the e-mail you'll get the information about the starting point and time and other relevant information.

Link to Kide.app: https://kide.app/events/9440e2a0-16d6-414b-a831-bacb3ca23d2b

If the event got you think of some questions slide into Tolu's Instagram DM's @urheiluseuratolu
_______
tl;dr
What: Tolumppialaiset spotrs event
Where: Hämeenpuisto
When: 19.9.2022
Cost: 3€
7. Club International Tampere is looking for new active members for 2022-2023!
Are you an international person?
Interested in organizing trips and events?
Do you have ideas for improving international experience in TAMK?
Want to be a part of an awesome group?
If you said yes, this is for you! Club International Tampere, or CLINT for short, is looking for new members to join our club. CLINT was established in 2004 to organize fun activities and events for exchange students and degree students who are new to the Finnish culture.
Come meet us and hang out at Solu sauna on September 20th, at 19.
Please fill out this form before the sauna event:
https://docs.google.com/forms/d/e/1FAIpQLScKwC-5CxMy5qd5pQpvKQZQVTfyVxwg9pgyNZFwosHRYZUL7Q/viewform

Anything to ask? Contact us:
email: clint.tamk@gmail.com
Instagram: tamkclint
8. Kolmiot 20 years!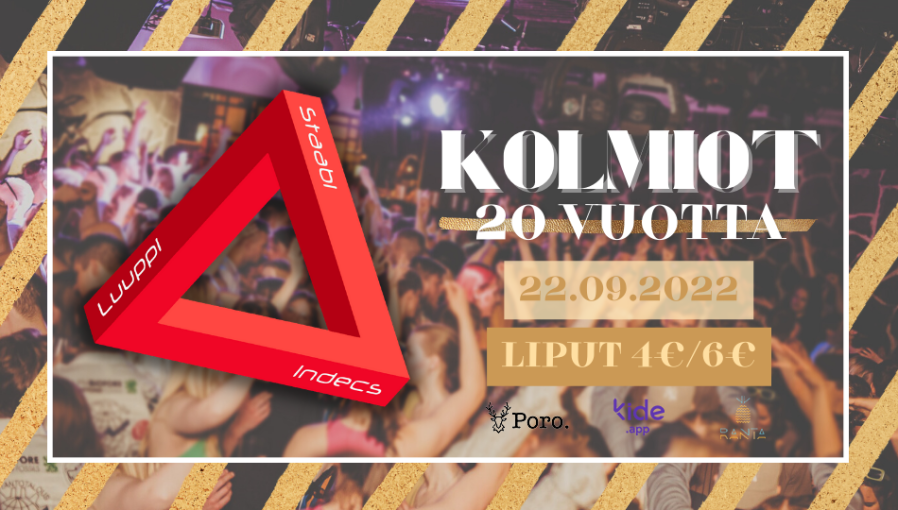 It's finally time for Kolmiot to leave their teenage years behind them, since in September, Kolmiot will turn 20 years. To celebrate this special anniversary, you should join us at the official Kolmiot Preparty at Etunurtsi, Hervanta campus! More info about the preparty will be announced soon!

WHAT: 20v. Kolmiot
WHERE: Ranta & Poro, Hatanpään valtatie 1
WHEN: Thursday, September 22nd from 9pm to 5am
KOLMIOT PREPARTY: Etunurtsi (at Hervanta) from 5pm to 9pm

ADVANCE TICKETS: on Monday, September 12th, price 4€
at 10 am from Kide.app (bit.ly/kolmiot20v)
at 12 pm (noon) from Hervanta, Sähkötalo hall & City Center campus, Main Building lower hall
TICKETS AT THE DOOR: On the Kolmio party day for 6€. People without advance ticket are taken in after midnight or before this if the advance ticket queue is empty.

Remember that the Kolmiobuses leave at 2:30 and 3:30. The bus ticket costs 2€ and can be bought at the bus door with Mobilepay or cash. The buses leave in front of Ratina Stadium and the route is Suvantokatu-Kaleva-Messukylä-Lukonmäki-Hervanta
As usual, student friendly prices are valid all night. Remeber to take your Kolmiopassi with you to get it stamped!
PS. This time, Kolmiot overall badges will be handed out!

Make sure to follow Kolmio party at Instagram and Facebook (@Kolmiobileet) to stay up to date with important information.
See you at Kolmiot!
9. Participate in the Campus International survey!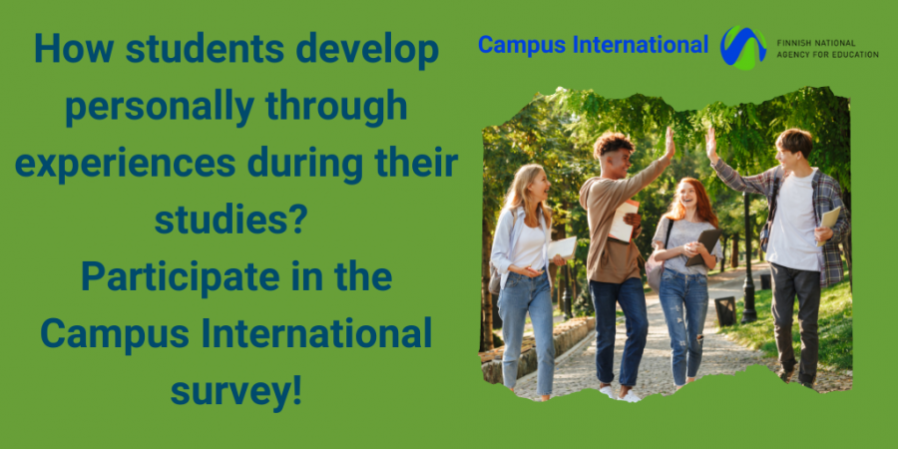 The questionnaire includes questions on student's background, personality traits and behavior. The survey is therefore also an opportunity to learn about yourself. The participants reply the questionnaire twice and the results are compared.

What is the aim of this study? With this study, we want to investigate how young adults develop personally through the experiences they gain during their studies. A special focus is on experiences with internationality in studies – during a stay abroad or during studies in Finland.

Who can participate: All students studying in higher education institutions in Finland. A planned exchange abroad is not a prerequisite for participation. We are also looking for participants who are not planning a stay abroad during their studies or are still undecided about this.

Why: Help us gather data on this important and interesting topic. The study does not pursue any commercial interests; the aim is to gain scientific knowledge*. Participants who have completed both questionnaires can receive personal feedback with an individual evaluation of some of their information after the end of the last survey round if they wish. For the success of the study, we kindly ask to forward the questionnaire to other students for example through Facebook-groups.

How: You can register through the following link and filling out a short registration questionnaire by 15 September 2022 at the latest. You will then be sent a link to the actual questionnaire by e-mail shortly, as well as again in a few months. The questionnaires are in English.
https://survey.institut-istat.com/t/p/fi_campus/

If you have any questions about the study, please do not hesitate to contact us by e-mail erasmus.korkeakoulutus@oph.fi

Thank you very much in advance for your support!

* Participation is voluntary and can be terminated at any time. The personal information collected will be treated as strictly confidential in accordance with the applicable data protection regulations. The data is evaluated anonymously, by storing personal information separately from other questionnaire data.