Tamko Topics is a weekly newsletter of The Students' Union of Tampere University of Applied Sciences.
ENGLISH SUMMARY
1. Solu's opening times during self studying week
2. TR3fest 2022 save the date and band application!
3. Tamko's evening 7.3.
4. Remember to use face mask on campus!
5. Mediapolis wellbeing day 7.3.!
6. Welcome to Finnish Language Club on Wednesdays!
7. CV-photoshoot day coming up
8. Happo ry Winter happening 7.3.-11.3.
9. SOURCE ry: Pinball night
10. Participate in the student barometer 2022 study
11. Campusravita is closed during winter holiday (week 9)
---
1. Solu's opening times during self studying week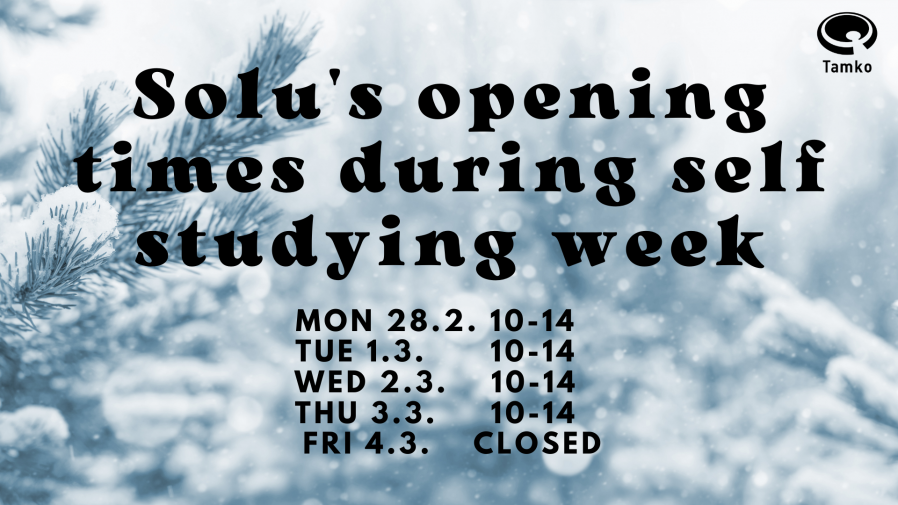 Tamko's office Solu is open during self studying week 9 but with shorter opening times.
Mon 28.2. 10-14
Tue 1.3. 10-14
Wed 2.3. 10-14
Thu 3.3. 10-14
Fri 4.3. CLOSED

Come for a cup of coffee or get yourself some winter sport equipment or board games!
We also service remotely via email: office@tamko.fi or through Whatsapp +358 44 382 6561
2. TR3Fest 2022 save the date & band application!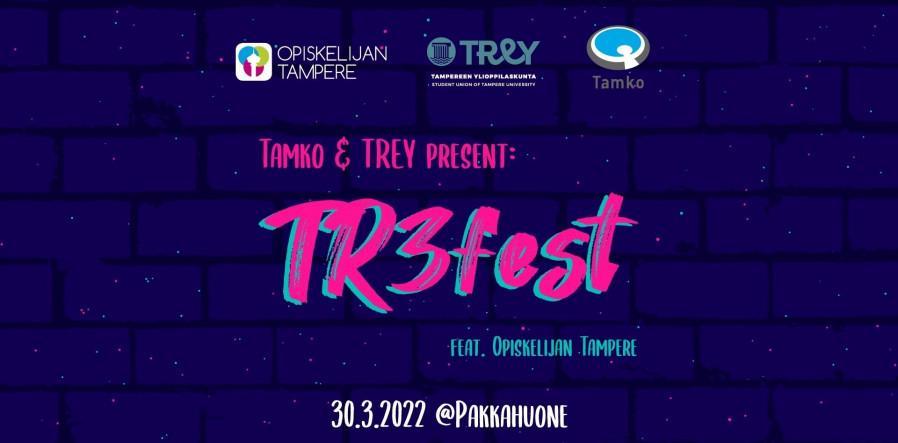 TR3fest is back! This urban city festival with a casual vibe and entertaining music from student bands and our main artist of the night will bring together all Tampere Universities community students for an eventful festival in Pakkahuone on March 30. The latest TR3fest was organized in early 2020 and now it's time to party again – if the world situation just allows it!

The ticket sale begins at the beginning of March – stay tuned and save the date!
You can find the Facebook event from here: https://www.facebook.com/events/1020017545529980?ref=newsfeed

Do you have a student band and want to perform at the event?
We are looking for student bands! More information about the student band application can be found from Tamko's website: https://tamko.fi/…/do-you-have-a-student-band-come-perform…/
3. Tamko's evening 7.3.!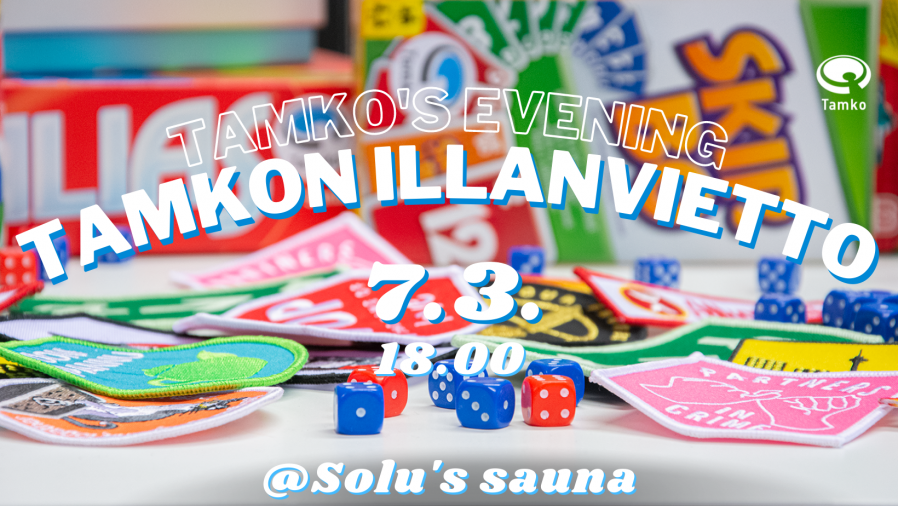 Welcome to Tamko's first evening of 2022! You can dig up your dusty overalls and come sew patches on them, so they will be ready for all the events this spring has to offer. You can also play board games, go to the sauna or just hang out with a good crowd of people. There will be some snacks available so you don't have to go hungry. We still have to be careful about Covid, so please do not come to the event if you feel sick at all.

Link to Facebook event: https://fb.me/e/4f79U9Exn

WHAT? Tamko´s evening
WHERE? at Solu's Sauna
WHEN? 7th of March at 6 pm

All Tamko's events are strictly free of harrassment. We have trained contacts, so if you face any kind of harrassment during the event, please do contact harassment@tamko.fi

If you want more information about the accessibility of the event, please contact accessibility@tamko.fi.
4. Remember to use face mask on campus!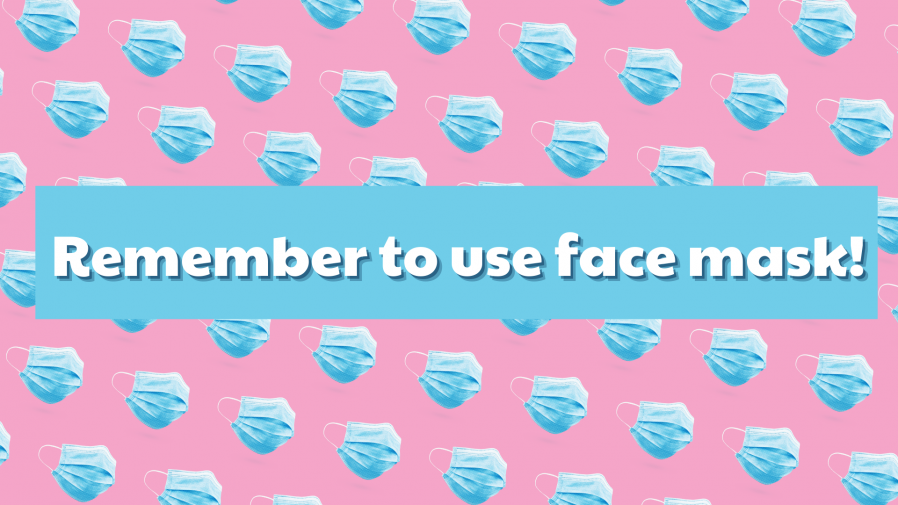 When returning to campus it is good to remind everyone about the use of the face mask. Wearing a face mask is required in the indoors facilities of Tampere Universities. Face masks will be available from the main entrances on the campus buildings.

Also remember the other intructions such as to take care about hand hygiene and that do not come to campus if you feel unwell.

We all want campuses to stay open and its is safer for everyone to come there to work or study. It is very important that all the members of our community continue to behave responsibly.
Read more abput returning to campuses from Intra: https://intra.tuni.fi/en/content/news/34643
5. Mediapolis wellbeing day 7.3.!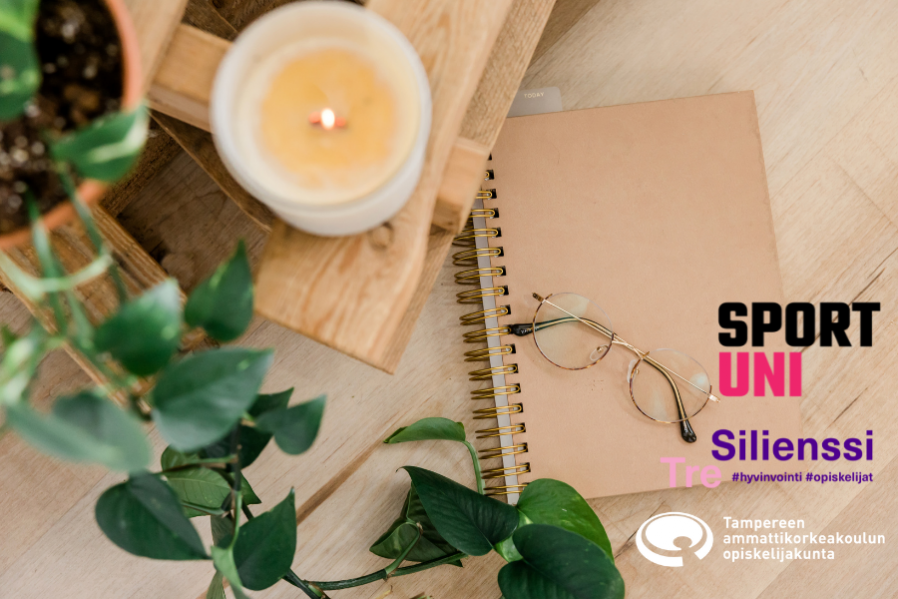 Wellbeing day is organized on the campus of Mediapolis on 7.3. at 10-16. The theme of the day is to support well-being and coping of the students and personnel with cozy and relaxing activities and workshops, and also to create a softer landing to returning physically on the campus after a long remote period.

There will be overall patch sewing, board games, workshops, quiz and snacks! Welcome to participate!

For more information, visit: https://intra.tuni.fi/en/content/news/34693.
6. Welcome to Finnish Language Club on Wednesdays – Let's learn to talk some Finnish together in Parvi!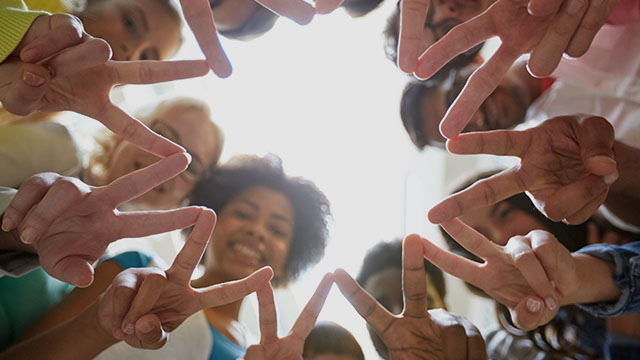 Join us in a casual and relaxed discussion to share experiences, learn some basic Finnish and meet other students! We start on Wednesday 9 March at 16 o'clock!

People with no Finnish skills are also warmly welcome. There will be different themes to discuss each time! There are always some Finns present, too, so you can practice Finnish in everyday life situations – no grammar, no exams, but learning by speaking. Your opinions and experiences are valuable, come and share them with us and find friends and synergy in the TAMK community.

You can find the Finnish Language Clubs and the registration form on JobTeaser: https://tamk.jobteaser.com/fi/events or walk in anytime!
You can find more information and programme from intra: https://intra.tuni.fi/en/content/news/34522
7. CV- photoshoot day coming up!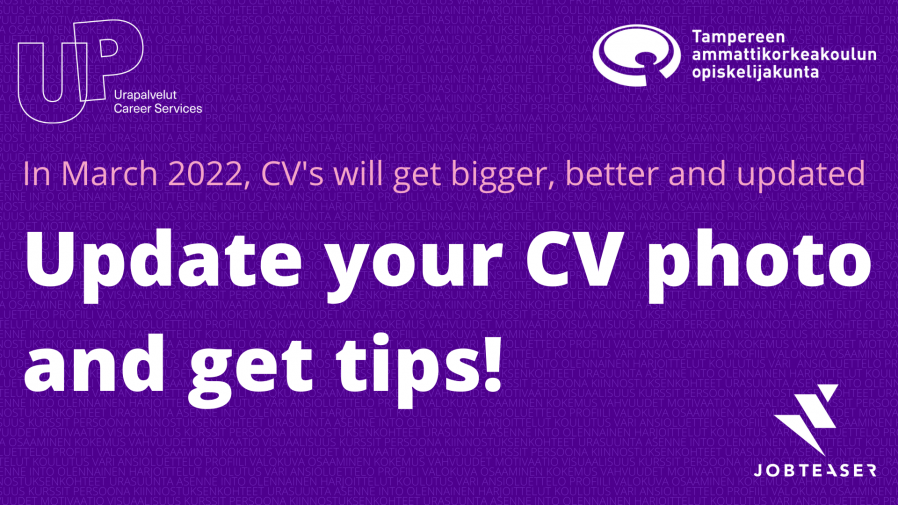 Now that the campuses are opening again, we're able to announce a new day for CV photo shoot! In March you have a great opportunity to get your CV picture or LinkedIn profile picture taken by a professional photographer! Come to Parvi Space (B1-24) on Thursday, March 10th between 9 am and 3 pm, and you'll receive one edited profile picture in your use. Photograph will be sent to you within the following week of photoshoot.
What? CV photoshoot (Petra Vii Photography)
When? Thursday, March 10th, 2022 between 9am and 3 pm (please, notice you might have to wait in line to be photographed so make sure to allow enough time)
Where? TAMK Main campus, Parvi space at B1-24
How to prepare? Wear a clean top of the outfit. You can think about how could you present the organization or company on their web page.
This event is organized by TAMK Career Services and Tamko. Find the event and add to your calendar at JobTeaser's Event calendar: https://tamk.jobteaser.com/en/events/138602-cv-valokuvaus-tamkilla-cv-photoshoot-at-tamk?action=show&controller=events&i18n_locale=fi&id=138602-cv-valokuvaus-tamkilla-cv-photoshoot-at-tamk
8. Happo ry Winter Happening 7.3.-11.3.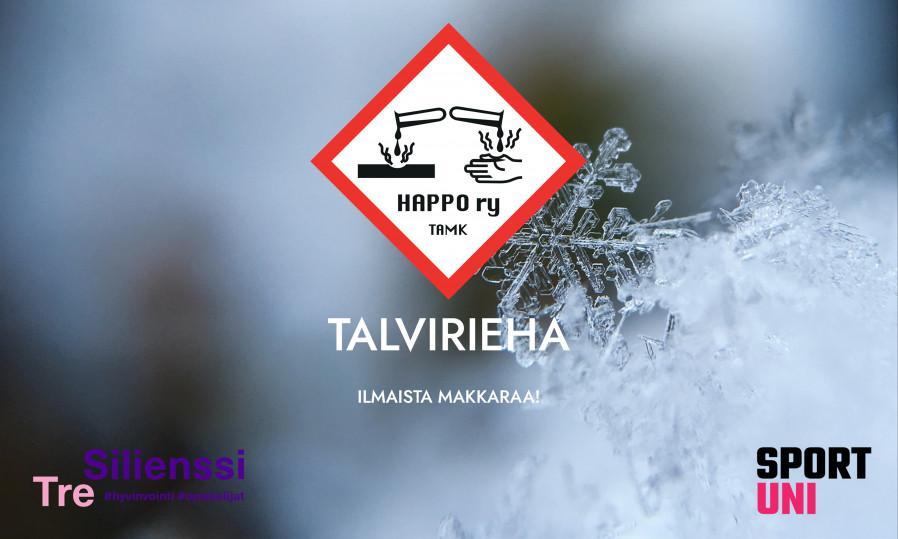 The traditional Happo ry Winter Happening will be held in Sorsapuisto 11.3. from 17 o'clock onwards. Expect casual chilling and winter-related activities. In addition we are holding a virtual task round during week 10, from which your team can win a 200 € gift card.
More information on Happo's Instagram https://www.instagram.com/happo_ry/
9. SOURCE ry: Pinball night
There are many signs of the Spring. The drunkards wake up from their hibernation and return to the benches of Keskustori to nap. It will snow until May Day, but it will rain on May Day. But above all others is one sign of Spring – Waiting for May Day. However, there is still quite a bit of anticipation for May Day so instead we'd have something else to do to alleviate this painful anticipation.
SOURCE ry will be going to Ikuri arcade to play a little pinball. The tickets include 3 hours of playing time, so you can play the pinball machines for free!! This mystical gaming paradise awaits us at Kalkun viertotie 2 A 19 p.m. 16.45 15.3.2022. NOTE! Please come to the venue in time to get things running smoothly. The event is open for everyone!

Ticket sale starts 28.2.2022 at 2pm in Kide.app!
Link to Kide.app event: https://kide.app/events/49facd4b-2873-4d25-b6b7-d25b117d5d9c
10. Participate in the Student Barometer 2022 study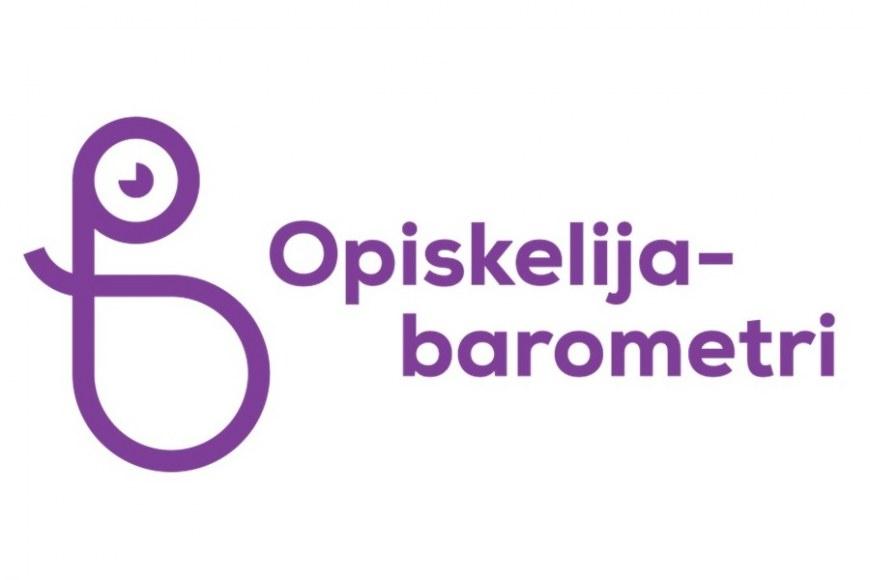 Student Barometer is a survey aimed at students in higher education. Its purpose is to collect information on students' experiences and opinions of their studies, student life, and everyday life. Information produced by Student Barometer is used in work to develop student wellbeing, student activities, the quality of teaching, higher education internships, studies and reports on working life and living, and educational institutions. By responding to the survey, you are participating in discussions about topics that affect student life!

Students respond to the survey anonymously and their data will not be combined with data from other sources. Results will be published in such a way that it will not be possible to identify an individual respondent.

The survey will be open until 9 March 2022 https://link.webropol.com/s/ob2022.

Read more from Intra news: https://intra.tuni.fi/en/content/news/34590
11. Campusraita is closed during winter holiday (week 9)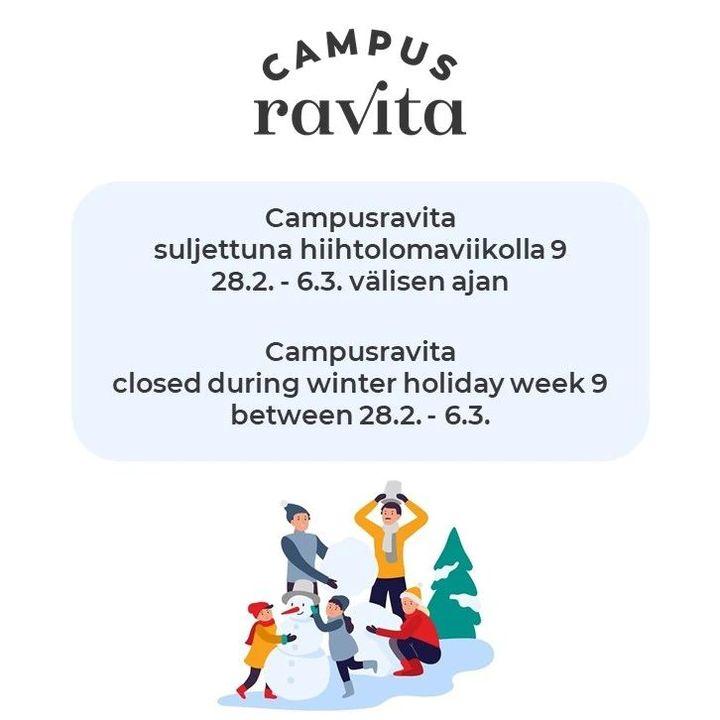 Campusravita is closed during winter holiday 28.2.-6.3. (week 9).
Campusravita will serve you again on Monday 7.3. from 8 am. Welcome!