Tamko Topics is a weekly newsletter of The Students' Union of Tampere University of Applied Sciences.
ENGLISH SUMMARY
1. Vote in Council elections! TURSASPASSI STAMP!
2. Dear student, how are you doing?
3. Apply for degree tutoring! TURSASPASSI STAMP!
4. Become an international tutor! TURSASPASSI STAMP!
5. Well-being week 2023 TURSASPASSI STAMP!
6. Tolu goes Hell TURSASPASSI STAMP!
7. Meet OP banking specialists on TAMK main campus on 25.10.
8. Looking for alcohol-free activities? Want to meet new people? Welcome to Kamula!
---
1. Vote in Council elections!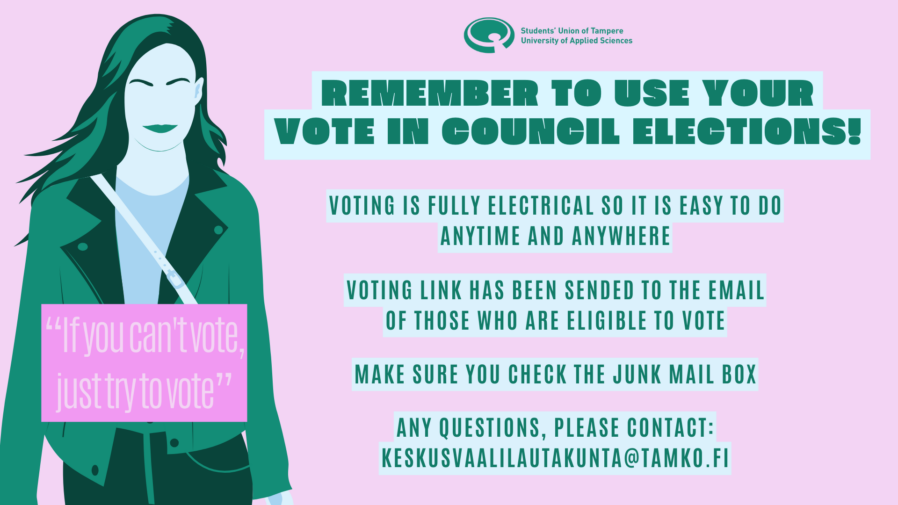 Voting in Tamko's Council elections is going on!

The voting in 2023 Council elections is fully electrical, so it is easy to vote in anywhere and anytime! The voting link will be sent to every eligible voter via e-mail, please remember to check your spam!

There are 54 candidates from six different candidate lists! You can get to known all the candidates from Tamko's website: https://tamko.fi/students-union/council/council-election-candidates/

Remember to use your voice and vote! You can get stamp to your Tursaspassi!
2. Dear student, how are you doing?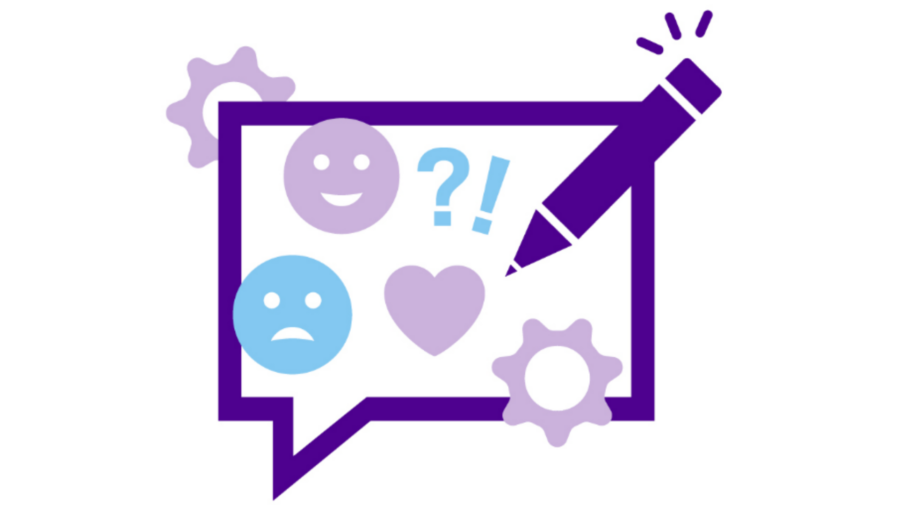 Dear student, how are you doing?
The feedback surveys will be open from October 24 to November 10. In addition to course feedback, TAMK collect the feedback every autumn from new students, second- and third-year students and masters' degree students who started their studies in spring 2023.
You will receive a survey by e-mail during this week from studentfeedback.tamk@tuni.fi. If you can't find the mail, check your spam folder as well.

Your feedback is important! Please answer the survey and participate in the feedback session for your degree program next spring.
Also, visit the feedback stand at the Say it out loud! feedback days at main campus on October 24th at 10-14 or 26th at 10-14.
3. Apply for degree tutoring!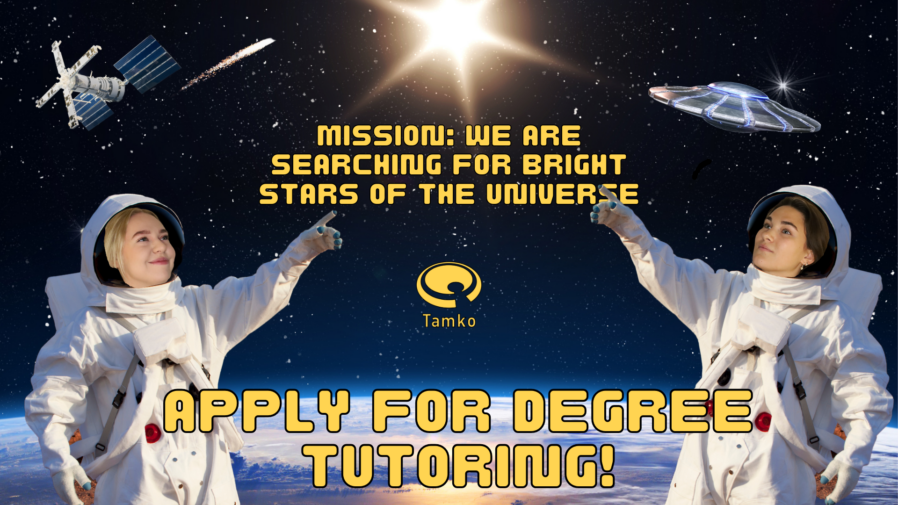 Houston, we have a mission! We are searching for bright stars of the universe, meaning awesome tutors! Enrollment for degree tutoring is now on! Tutors will gain new friendships and study credits: sounds like a great adventure, huh? Also by applying for tutoring you can get stamp to your Tursaspassi.
Degree tutors help out new degree students of TAMK. They are playing an important part in integrating new students to Tampere and Finland. The training aims to train foreign students to work as degree tutors with their Finnish peer tutor colleagues. Degree tutors will meet the group once a month during the academic year 2023-2024. All the applicants will be interviewed after the application period and the trainings will take place on the spring semester 2024.
Application period 23.10.-12.11.
Enroll here and start your adventure!
4. Become an international tutor!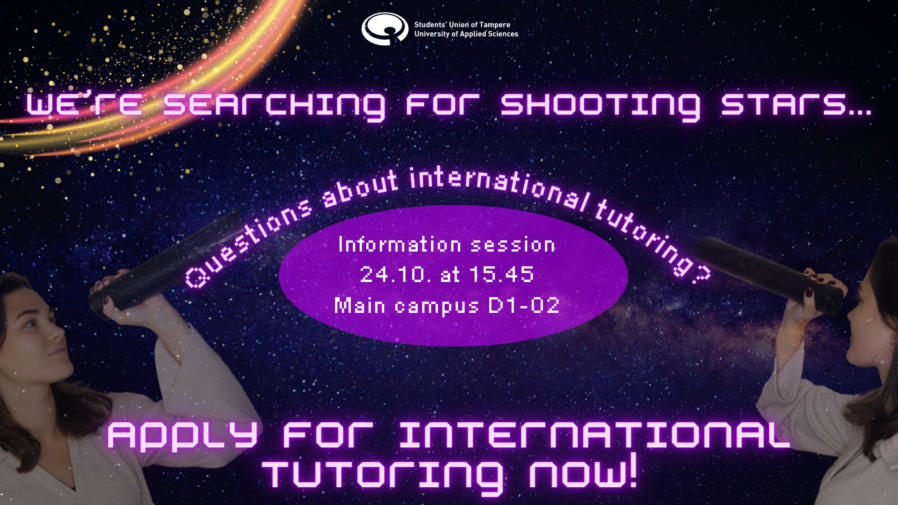 We're searching for bright shooting stars to join our adventure, could YOU be one of them?

Come to welcome new exchange student arriving on January to TAMK and apply to become International Tutor. As International tutor you will help the exchange students to navigate around Tampere and Finnish student life. International tutoring is a great way to network and get new friends from around the world. You'll get 2 study credits and an extra point from international tutoring at the end of tutoring, if you're going to study abroad as an exchange student yourself. Aaand you get a stamp to your Tursaspassi!
There will be two training sessions organized by Tamko during autumn 2023 on 7th and 14th of November. Enrollment is open 9.10.-29.10.
Enroll here: https://forms.office.com/e/UV7fnmh1k7

Are you interested in becoming an international tutor, yet something is still holding you back?
Tamko is organizing an information session on tomorrow Tuesday 24th of October at 15:45- around 16:30 in D1-02. At the meeting we will tell you more about being an international tutor and answer your questions regarding it. The event will be held in English since it will be the working-language with the exchange students.
No need to sign up, feel free to come by!
5. Well-being week 2023!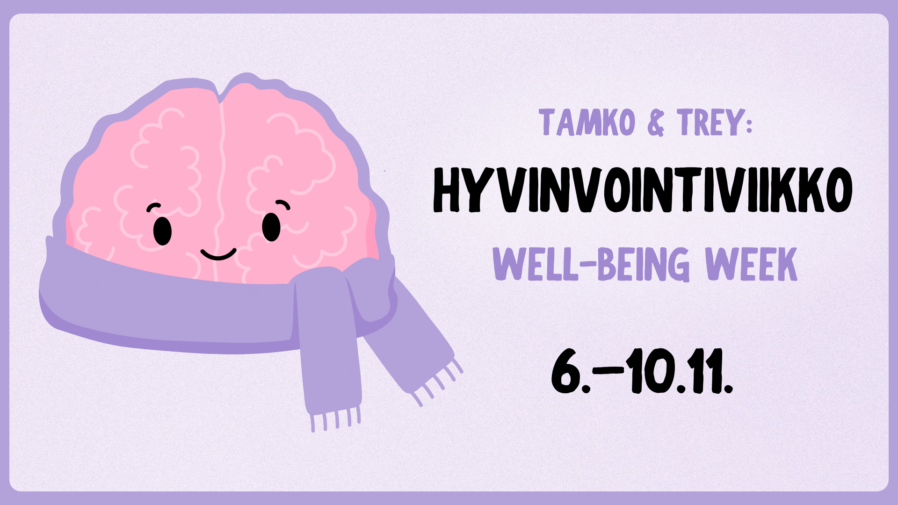 Tamko's and TREY's Well-being Week is gathering a total of 25 wellness-focused events during 6th of October to 10th of October 2023. This year, the theme for the Well-being Week is "Ways to cope" and we want to offer students the opportunity to find ways to cope and take care of their well-being. There are events like PowerPoint competition, day sauna, Mocktail workshop and dough theraphy! Get to known the full programme from Tamko's website and join us!
Well-being Fair starts the whole week at TAMK's main campus lobby on Monday 6.11. at 10-14.00. There will be a variety of well-being-focused actives and associations that provide information to support one's well-being during studies, after studies and in working life such as FSHS, SportUni, Nyyti ry. Ohjaamo and Kamula.
If you participate at least one Well-being week event, you will receive an overall patch from Solu by showing a picture for proof! We also hand out the patches at the Well-being Fair. You can get a stamp to your Tursaspassi too!
So feel free to join the events and find new friends for fun!
6. Tolu goes Hell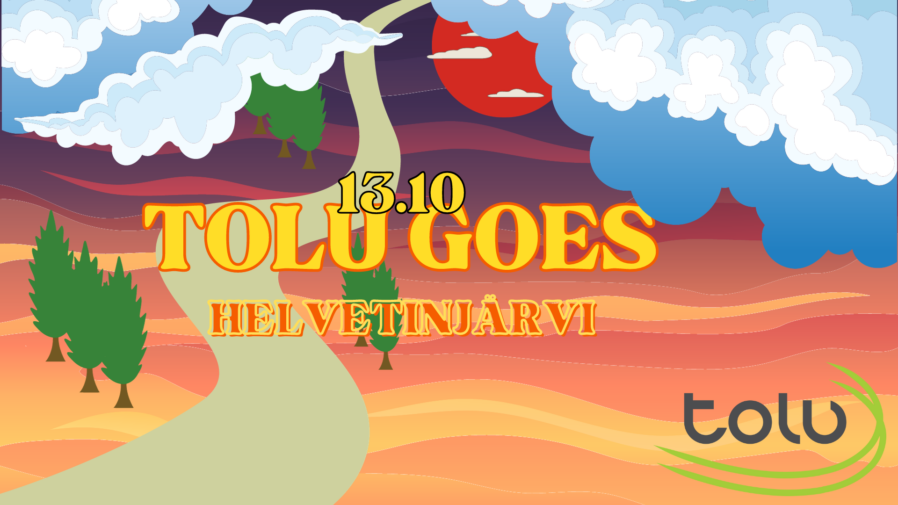 Tolu Goes Hell or hiking in Helvetinjärvi national park. Join us to the national park and let's enjoy the nature together!
The bus will leave at 09.00 from TAMK's main campus from the Kuntokatu side so DON'T BE LATE.
There are limited amount of tickets so be quick and they cost 10€/per. The ticket includes a return ticket and an overall patch!
Remember to wear according to weather because e.g. the ground might be wet and soak your socks & shoes.
REMEMBER to take enough water with you so you won't get dehydrated and have some snack in case you feel like needing a bit energy to complete the hike. If you feel like you've got some energy left you'll still make it to the light show opening.

TL;DR
What? – hiking in Helvetinjärvi national park
When? – Friday 27.10 at 09.00
Where? – bus leaves from TAMK, Kuntokatu side
Price? – 10€
Tickets: https://kide.app/events/5b1b869b-126d-41f3-b735-432f9f4ca707

You can get a stamp to your Tursaspassi to "Tolu ry event"!
7. Meet OP banking specialists on TAMK main campus 25.10.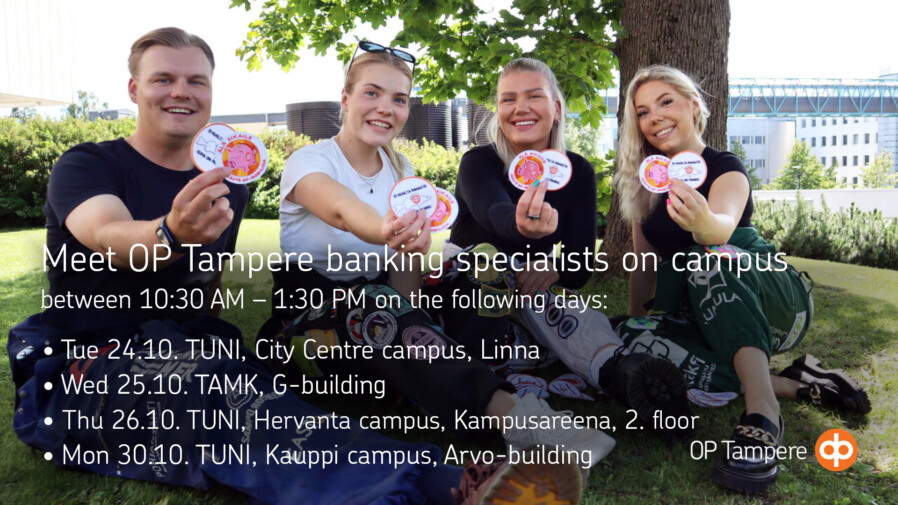 Meet our OP Tampere banking specialists on campus between 10:30 AM – 1:30 PM on the following days:
• Tue 24.10. TUNI, City Centre campus, Linna
• Wed 25.10. TAMK, G-building
• Thu 26.10. TUNI, Hervanta campus, Kampusareena-building, 2. floor
• Mon 30.10. TUNI, Kauppi campus, Arvo-building
Let's have a chat about banking and insurance topics, take part in pizzagiftcard lottery and enjoy chocolate bar! Come to meet us and maybe you will get an overall patch too!
See you on campus soon!
8. Looking for alcohol-free activities? Want to meet new people? Welcome to Kamula!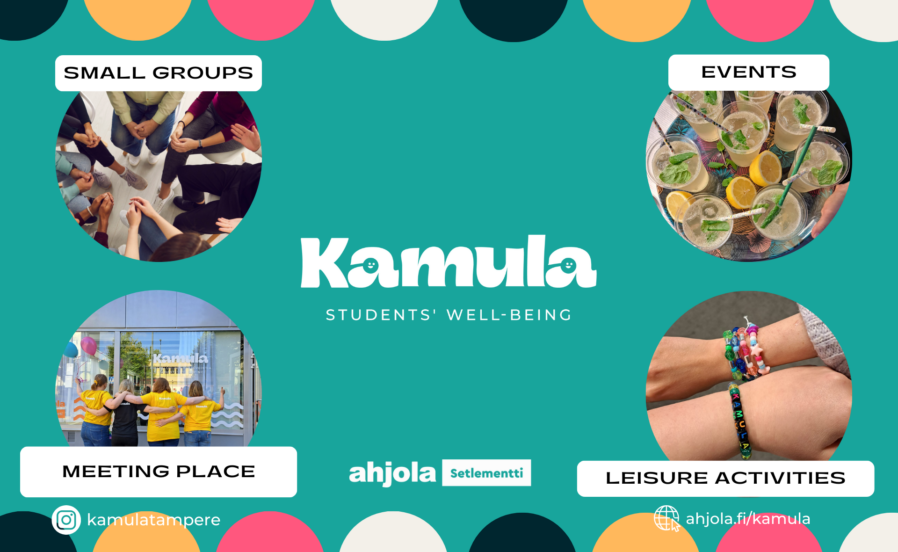 Looking for alcohol-free activities? Want to meet new people? Welcome to Kamula!

Kamula is students' meeting place, small groups, leisure activities and events in Amuri, Tampere. Kamula activities goal is to strengthen students mental well-being and prevent loneliness.
In October-November, Kamula's program includes murder mystery roleplay, Halloween celebrations, board games, baking, and yoga. All activities are free of charge and alcohol-free. We also use the principles of a safe space in our activities. You are warmly welcome!
More info: www.ahjola.fi/kamula
Instagram @kamulatampere https://www.instagram.com/kamulatampere/