ENGLISH SUMMARY
1. Last days to stand as a candidate in Council elections!
2. Student, come and comment on what the new curricula will look like!
3. Tamko's Alkumetri 5.10.! TURSASPASSI STAMP
4. Hangouts Trivia Night TODAY! TURSASPASSI STAMP
5. SiipiBingo TURSASPASSI STAMP
6. The healthcare fee due date today 2.10.
7. CLINT's Open Meeting and Recruitment sauna 5.10.
8. Mobile library card is in Tuudo
9. Finnish language club
10. Job Fair Tampere
---
1. Last days to stand as a candidate in Council elections!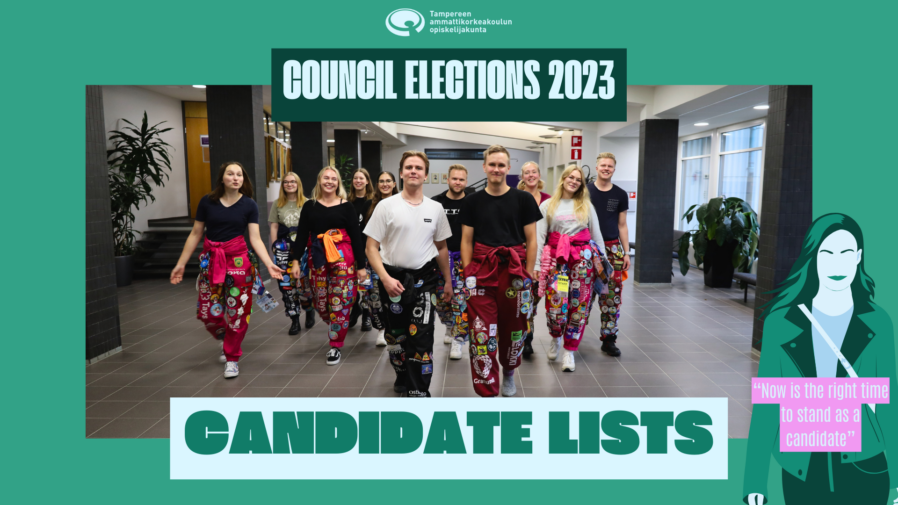 Now is the right time to stand as a candidate in Tamko's Council elections!

In order to run for the Council, you need to declare yourself to a candidate list. Here you can see the lists that have been announced to Tamko so far.

TRADENOMIT
Declare yourself to this list via this form: https://forms.office.com/e/rdGGjBztUJ

SOTEN VALITUT PALAT
Declare yourself to this list by sending email to: kopo@piratery.fi

INSINÖÖRIT
Declare yourself to this list via this form: https://forms.gle/Mvr4xG5NxcJBwxEM6

CULTURE AND MEDIA -LIST
Declare yourself to this list via this form: https://forms.gle/xpf2qwzxw1ryfGKG9

If you can't find suitable list for yourself, you can also set up your own! Please indicate the list you have set up yourself here.
_______

After you have declared yourself to a list, fill out the candidate form. Use the form to answer your basic information as well as, for example, your election theme, slogan and photo. Here is the form: http://lomake.tamk.fi/lomakkeet/34895/lomake.html

Moe information about Council elections: https://tamko.fi/students-union/council/council-elections/
We would like to remind that the official working language of the Council is Finnish.
2. Student, come and comment on what the new curricula will look like!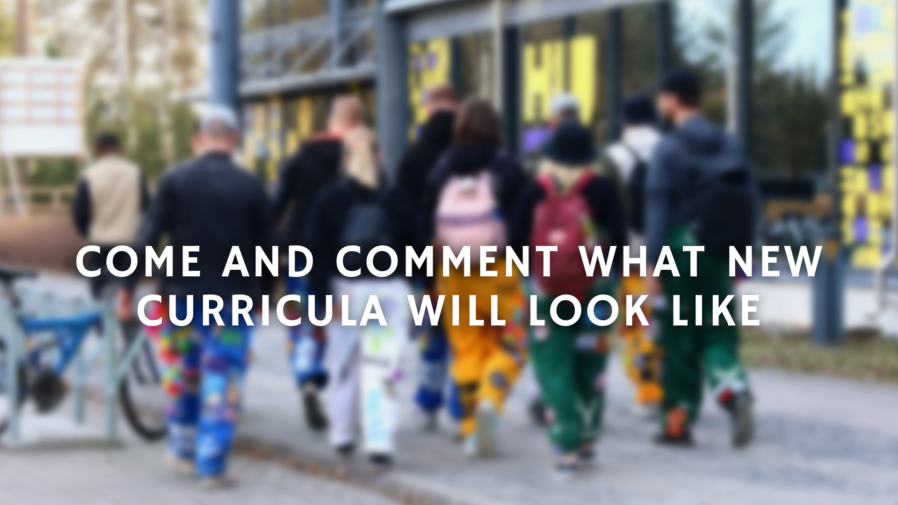 There is a curriculum reform going on at TAMK and now students are invited to comment what the descriptions of the new curriculas look like. You can get to know the new curriculum texts at the open PopUp events, which are held at TAMK's main campus Stage (C1-05)
Tuesday 3rd of October at 9-12 (Stage, C1-05)
Thursday 5th of October at 9-12 (Stage, C1-05)
The events are organised in co-operation with Tamko and TAMK. Welcome to visit to the stand at the PopUp and share your thoughts!
3. Tamko's Alkumetri 5.10.!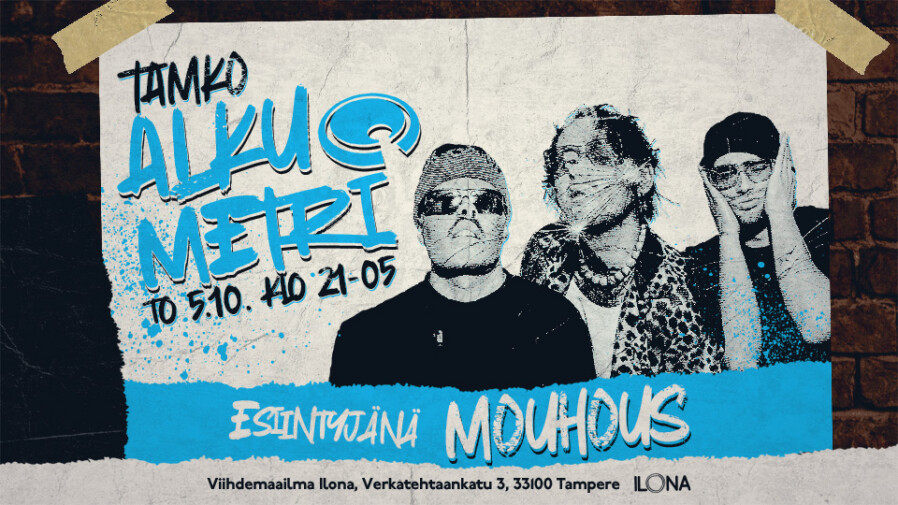 The school year has kicked off quickly and now it's time to accelerate properly! You see, it's time for Tamko's Alkumetri! Alkumetri will be held on 5.10.2023 at Viihdemaailma Ilona and doors are open 21-05. It's worth starting to stretch your dance leg already, because Ilona's stage is taken over by MOUHOUS. This hot boy band can raise the mood anywhere, anytime!
The ticket price in advance is 5 € for everyone. With an advance ticket, you can enter your own queue until 23:00. Tickets at the door 10 €.

Advance tickets for the event will go on sale 21.9. at 12am in Kide.app: https://kide.app/events/fd75001b-4094-493b-b041-c4542d66c29a
—
All events of the Student Union Tamko are completely harassment-free and no harassment or discrimination of any kind will be tolerated. Trained harassment contact persons can be reached at email address hairintayhdyshenkilot@tamko.fi.
If you would like more information about the accessibility or accessibility of the event, please contact saavutettavuus@tamko.fi.
4. Hangouts Trivia Night TODAY!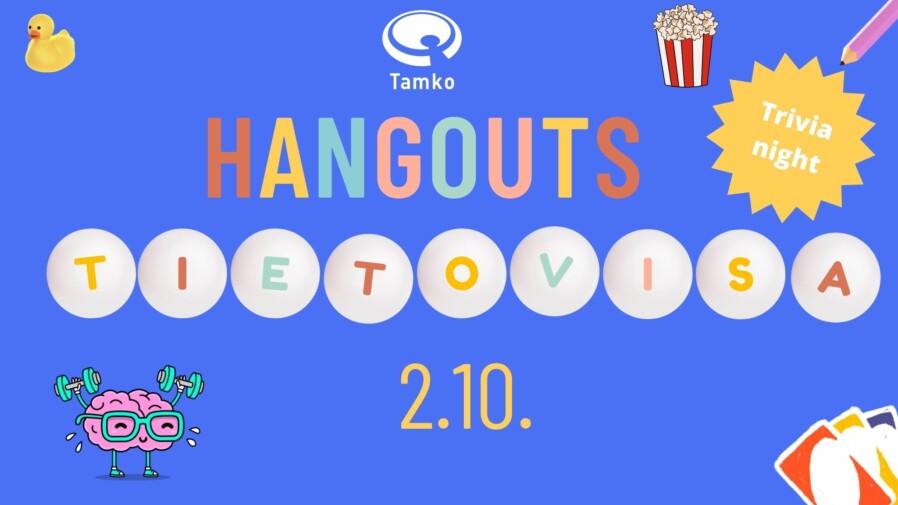 October's theme for Hangouts is trivia night!

Come and try if your trivia knowledge is up to your standards, say hi to new people, and play board games. Arrive at Solu's sauna on 2.10. at 5 pm! You can also just come hang out and hop into the warm sauna. Please bring your own sauna things!

During the evening, there will be something to eat and drink, you are allowed to bring your own snacks and board games too!

Hangouts is a free and alcohol-free event. Get a stamp from the event to your Tursaspassi to "Participate in Tamko's Hangouts"

WHAT? Hangouts trivia night
WHERE? At Tamko's office Solu's downstairs sauna facilities, Kuntokatu 3, L-building
WHEN? 2.10. at 5 pm

All Tamko's events are strictly free of harrassment. We have trained contacts, so if you face any kind of harassment during the event, please do contact hairintayhdyshenkilot@tamko.fi

If you want more information about the accessibility of the event, please contact saavutettavuus@tamko.fi.
5. SiipiBingo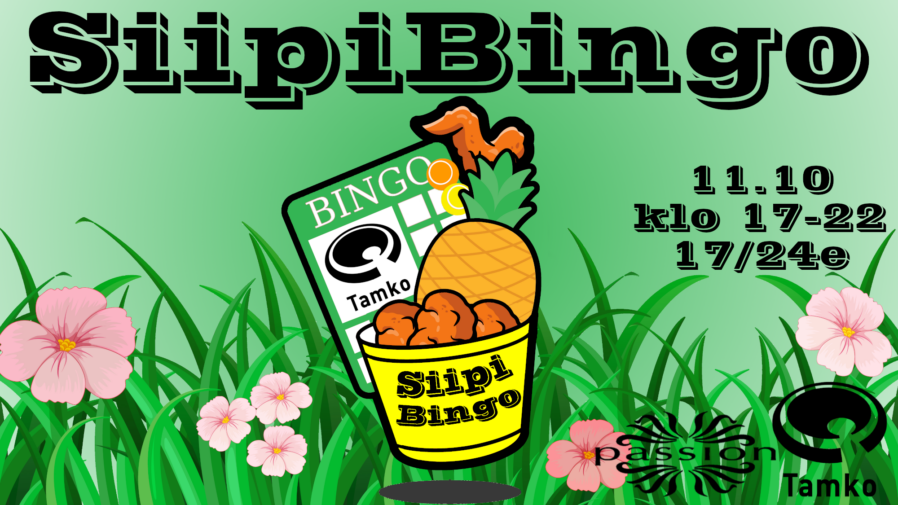 Pineapple, sun, wings and bingo. Autumn is coming, but SiipiBingo is bringing back the summer heat! SiipiBingo takes place on Wednesday 11th of october at Bar Passion from 5 pm to 10 pm.
There is also a friend table! If you come to the event alone or want to get to know new people, you can sit at a marked table where anyone can become a friend.
Vegetarian/vegan/special diets have also been taken into account, this time, the vegetarian option is spring rolls.
Tickets to the event include a wing buffet, bingo and overall badge.

Ticket sale begins tomorrow 3.10. at 12.00 in Kide.app:
https://kide.app/events/f4e7cf07-bde3-4e24-b8d2-a353ff0c70fa

WHAT? SiipiBingo!
WHERE? Bar Passion, Tullikamarin aukio 1
WHEN? 11th of october at 5pm to 10pm
HOW MUCH DOES IT COST? Tamko's members 17 €, others 24 €
*Due to the increase in food prices, the price of the buffet has also increased. We always try to organize our events as cheaply as possible and hope that prices will decrease for future events.
6. Pay the healthcare fee TODAY 2.10.!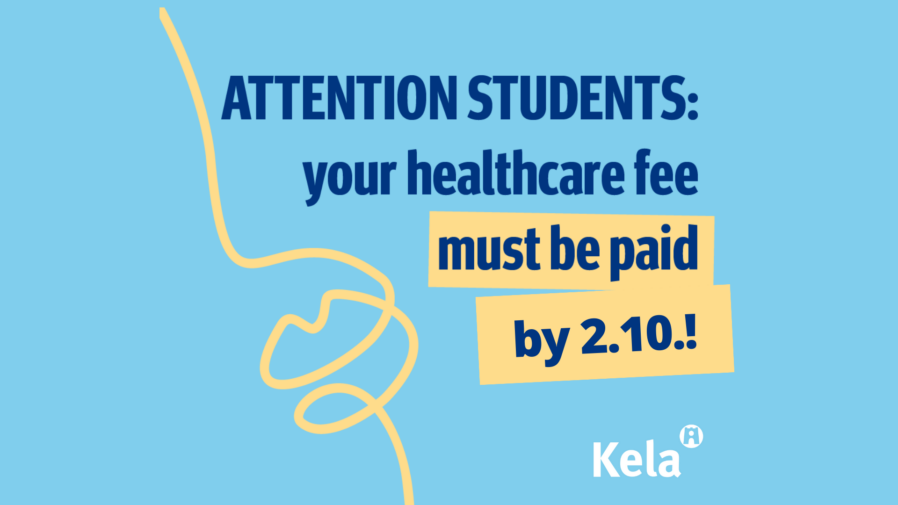 Students can pay the autumn term healthcare fee today 2 October 2023 at the latest!
The due date for payments of the autumn term healthcare fee for higher education students was 30 September 2023. OmaKela was unavailable due to a maintenance break on the original due date of the healthcare fee, so students were not be able to pay the fee on that date.
It was therefore decided to extend the payment period for students so payments can be made via OmaKela on Monday 2 October 2023.
If the student pays the healthcare fee not later than 2 October 2023, they will not be sent a payment reminder and they will not have to pay the EUR 5 late fee.
More information at: https://www.kela.fi/web/en/healthcare-fee-for-students-in-higher-education
7. CLINT's Open Meeting and Recruitment Sauna 5.10.!

Welcome to CLINT's Open Meeting and Recruitment Sauna on 5.10.!
Club International Tampere, or CLINT for short, is an international club working under Tamko. We are having an open meeting for those who are interested in getting to know the club a bit better and perhaps even joining our board!
The meeting and recruitment sauna will take place in Solu at the downstairs sauna and conference facilities on Thursday, 5.10.2023 from 18:00 onwards. The meeting will end around 19:30, after which everyone is more than welcome to get to know more about the club, its board members and officers, and hear the why and the how behind our activities and events.
There will be small snacks, so in case you need more than just a sip of tea and a few crackers to stay well-fed, please bring your own food! The sauna is open till 23:00, so bring your swimwear and towel in case you feel like getting to know us better in the hot steams of a cozy sauna!
Please bear in mind that the meeting and sauna are primarily aimed for those interested in the club and possibly taking part in its activities as board members or officers!
WHAT? CLINT's open meeting and recruitment sauna
WHERE? Solu's sauna in the L building of TAMK's main campus
WHEN? Thursday 5.10.2023 between 18:00-23:00
8. Mobile library card is in Tuudo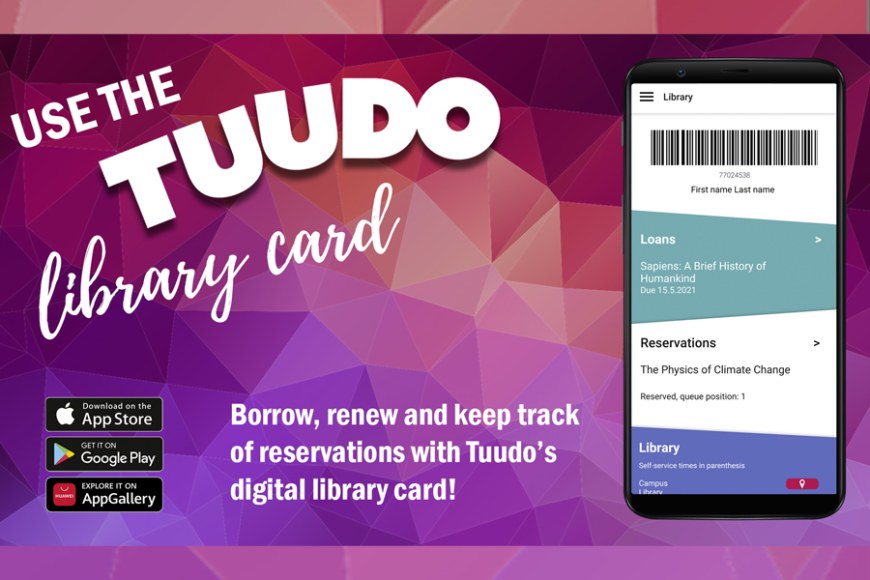 Download Tuudo and you can easily and quickly get a digital library card, which allows you to borrow books and manage library transactions with your own phone and find the most important news related to the library in the same application with one glance!
Through Tuudo, you can view your loans and reservations. You will receive notifications about expiring loans and incoming reservations. You can easily renew your loans through Tuudo.
You can also find the locations and opening hours of the library units in Tuudo as well as the most important news about the library's services!
This is how you use Tuudo's library services:
Download Tuudo for free from your own app store. Log in to Tuudo with the same Tuni-id credentials that you use in other services as well.
Tampere University library can be found in Tuudo's side menu. If you already have a valid library card, you will see it ready in Tuudo.
If you do not already have a library card, it's easy to register in Tuudo. Open the library page in Tuudo and click the "Add card" -button. Fill in the necessary information and you can start using the library services.
The Tuudo application and digital library card are available to you during your studies and employment, as long as your Tuni-id is active.
When borrowing at the customer service desk, you need an official identification document in addition to the digital library card. When using a self-service machine, a PIN code is sufficient.

https://www.tuni.fi/en/news/tuudo-brings-library-services-and-most-important-news-your-phone-use-tuudo-mobile-service
9. Finnish language club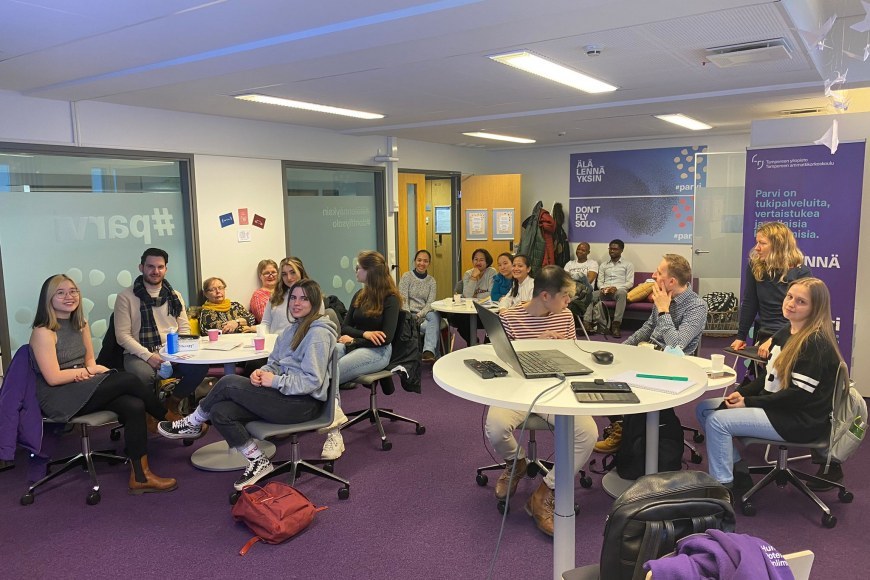 Welcome to the Finnish Language Club on Wednesdays at 3-5PM – Let's learn to talk some Finnish together in Parvi
Join us in a casual and relaxed discussion to share experiences, learn some basic Finnish and meet other students! People with no Finnish skills are also warmly welcome. No registration needed, you can just pop in when you feel like it and bring your friend too.
More info and the schedules here: The Finnish Language Clubs continue in September (tuni.fi)
10. Job Fair Tampere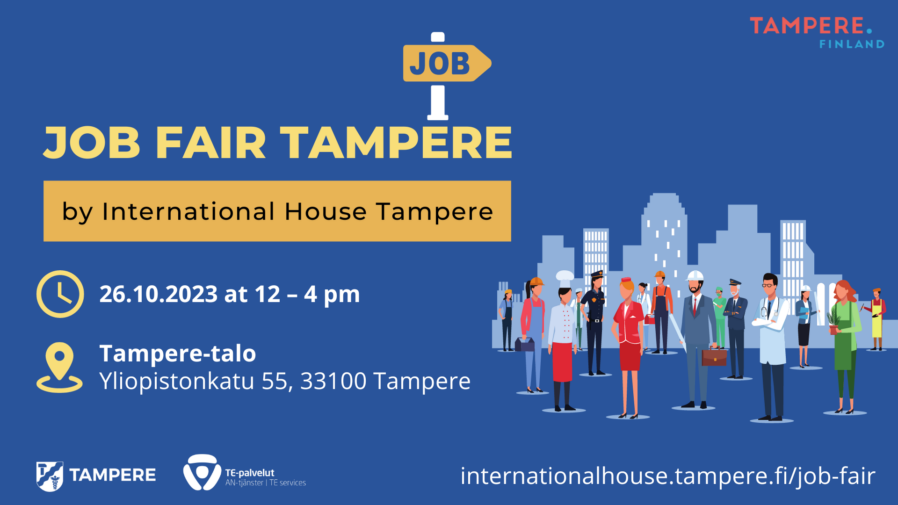 The most effective way to recruit and find work in Tampere, Finland is coming for the third time! This time, we are going bigger and better at Tampere-talo. We invite employers and jobseekers to come together at the Job Fair Tampere on the 26th of October!
If you are seeking a place to show your skills and connect with company representatives, Job Fair Tampere is the place for you! Come and join the event where you can meet and connect with employers, jobseekers and different support services.
Find new job opportunities and get noticed by potential employers in the Tampere region who are looking to recruit new talents! Don't miss out on this opportunity to be a part of a vibrant and dynamic job fair event. This is your chance to meet and connect with like-minded professionals and to expand your opportunities and network.
Time: October 26, 2023 at 12:00-16:00
Venue: Tampere-talo. Yliopistonkatu 55, 33100 Tampere, Finland
Make sure to come prepared to impress your future employer!
The event is free of charge, and its official language is English.
Find out more: https://internationalhouse.tampere.fi/job-fair/