Tamko Topics is a weekly newsletter of The Students' Union of Tampere University of Applied Sciences.
1. Advocacy days starts tomorrow at main campus! TURSASPASSI EVENT!
2. Stand as candidate in Tamko's Council elections TURSASPASSI STAMP!
3. Tamko's Alkumetri 21.9.! TURSASPASSI EVENT!
4. Become a Peer Coach!
5. The future of student services
6. Autumn's Sparris workshops to support studying
7. Club International Tampere is looking for new active members TURSASPASSI STAMP!
8. OP Tampere student campus tour at TAMK main campus 6.10.!
---
1. Advocacy days starts tomorrow at main campus!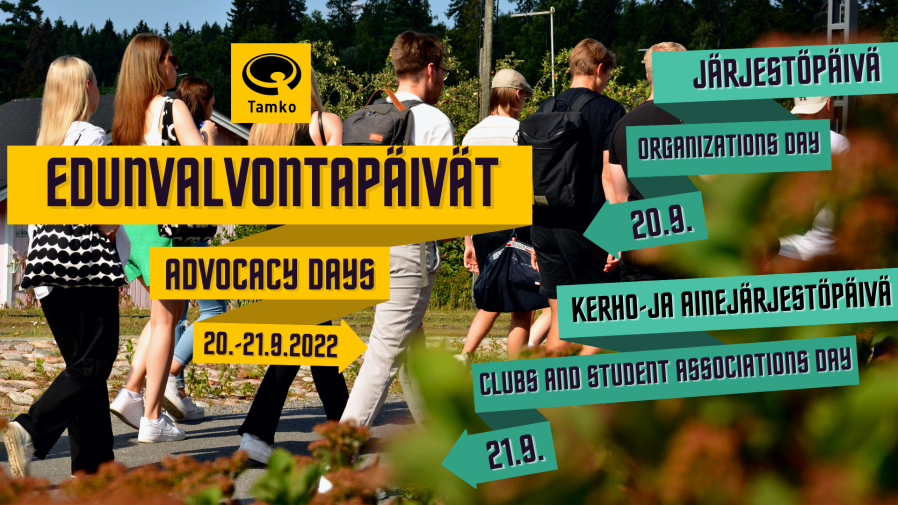 Tamko organizes Advocacy Days on 20.-21.9.2022 at TAMK's main campus!

During the Advocacy Days, which starts tomorrow, the main campus lobby is filled with various advocacy actors and organizations. Students can explore the participants and their activities during the event.

Organizations day Tuesday 20.9. at 11-14 various political organizations, trade unions and other organizations from Tampere will be presented to the students.

Clubs and student associations day Wednesday 21.9. at 10-14 students can get to know TAMK's own subject organizations and clubs.

Tamko welcomes everyone to the Advocacy Days!
2. Stand as candidate in Tamko's Council elections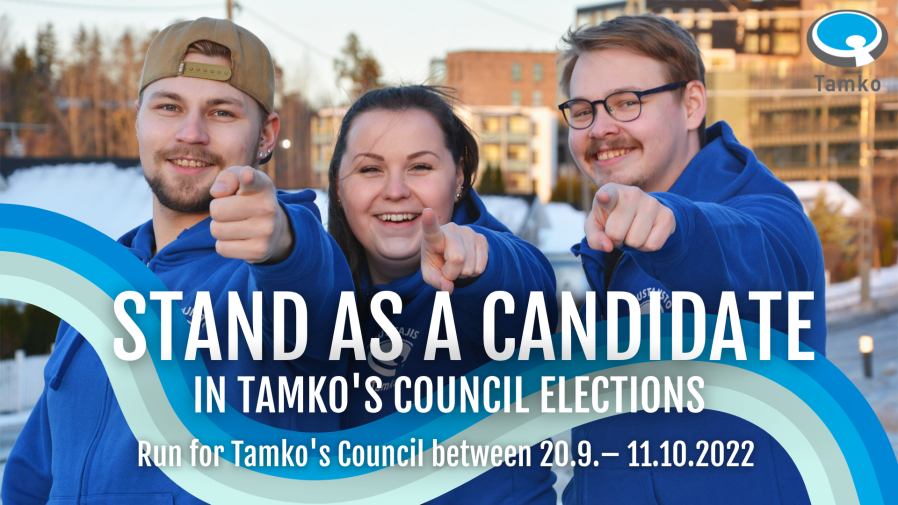 Tamko's Council elections for 2023 will be held between 26.10 – 9.11.2022. Twenty-one members are elected to the Council. All members of the Students' Union of Tampere University of Applied Sciences who are registered as attending and have paid the Students' Union's membership fee have a right to vote in the elections.
All members who have a right to vote may stand as candidates. The nomination of candidates begins tomorrow on 20.9.2022 9.00 AM and ends on 11.10.2022 12:00 AM. The forms for candidates and lists are available on Tamko's website.

Working at Council you will get more out of student life. You will meet new people, make new friends and practice conference standards. All the decicions are made together, you don´t have to work alone! As as student you are expert!

You can find more information about standing as candidate in council elections and other useful information about Council elections from our website: https://tamko.fi/students-union/council/council-elections/ And follow our social media!
3. Tamko's Alkumetri 21.9.!
Autumn is here again and it's time for Tamko's traditional event called Alkumetri! Last time the Tamko's Alkumetri was organized was on year 2019 so come to the event and have a great time.

In honor of Tamko's 110th anniversary, top Djs Johnnie No-Skool and Justin Case will entertain the evening. Also for anniversary, ticket will cost only 1 € for our members!

The event takes place in Bricks on the 21/9/2022, and the doors will be open from 9 pm till 5 am. Tickets for the event will sold trough Kide.app. Preordering the ticket costs 1 € for the Tamko's members and 4 € for non-members and at the door. Preordered tickets have their own queue to Bricks all the way till 12 am. Ticket will not include cloakroom fee. Tamko's membership will be checked at the door.

Link to Kide.app: https://kide.app/events/e8f560e2-c35d-4af8-b5d0-1d9fff21ee21

All Tamko's events are strictly free of harassment. If you face any kind of harassment during the event, please do contact harassment@tamko.fi

If you want more information about the accessibility of the event, please contact accessibility@tamko.fi.
4. Become a Peer Coach!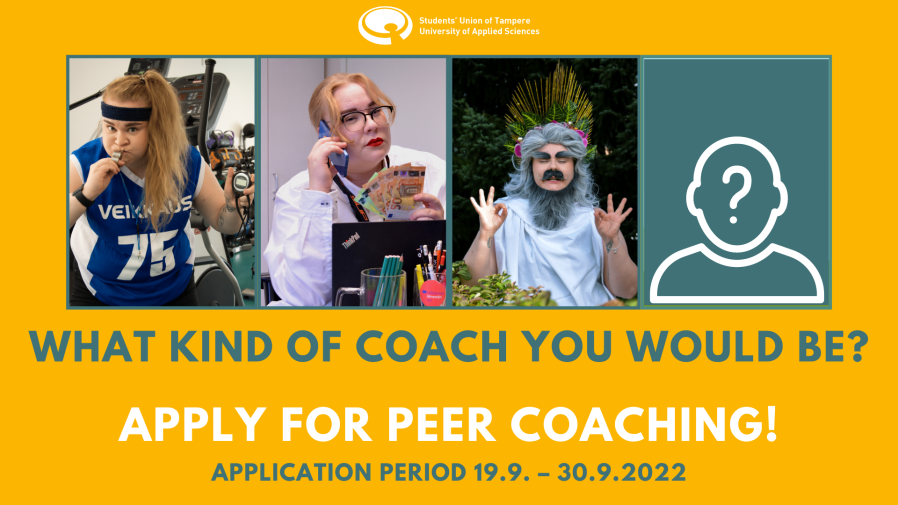 Are you interested in supporting other students or would you like make TAMK even more communal and get study credits from it!? Become a Peer Coach!
Peer Coaching is indented for students from all the study programmes and all different phases of studies. Peer Coaches can support other students example when studies are not proceeding, when returning to studies after brake or when in need of social contacts. Peer Coach can organize one on one meetings, group meetings or events based on their preferences.
Student Union Tamko will train all the Peer Coaches together with TAMK. Training session is held during 4th October and you will be given support throughout the coaching. Coaching itself will be starting during second period. If you are motivated to support others and you have positive attitude, you are the person we are looking for!

Application period is from 19th of September until 30th of September 2022.
Apply here: https://forms.office.com/r/TVp3sqLQjZ
You can change the language to English from the upper corner
5. The future of student services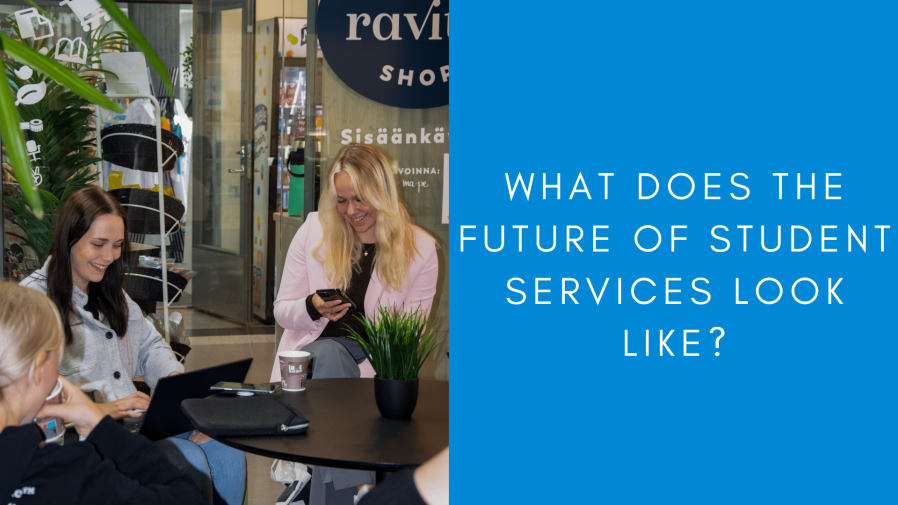 Tamko and TREY are organising a workshop at Opintoasiainpäivät (a university administration conference) on 5th of October. The conference, which is held in Tampere this year, gathers together the members of OHA-forum and other specialists in university administration.
Tamko and TREY will host a workshop whose purpose is to discuss the future of student services and how to get from our current situation to fulfilling future needs. In order to better bring student thoughts and wishes to the table, we are asking the students to answer the linked padlet and share your thoughts on the following matters
What should student services be like in 10 years?
What is good about the current services?
What should be improved upon?
How has covid affected service quality and accessibility?
Do you have any other issues in mind that you would like to make known to university administrative personnel?
"Student services" can mean a wide variety of things here, and you can also answer accordingly. However, the point is to look at university services specifically, and not student union, library or other non-university coordinated services. You can find the padlet at this link. The padlet is open untill 25th of September.
We will collect the answers on the padlet anonymously, but we are asking you to indicate whether you are a university or a university of applied sciences student.
Thank you for your help and thoughts!
For more information, please contact:
Tamko: Hannastiina Ruismäki, edunvalvonta@tamko.fi
6. Autumn's Sparris workshops to support studying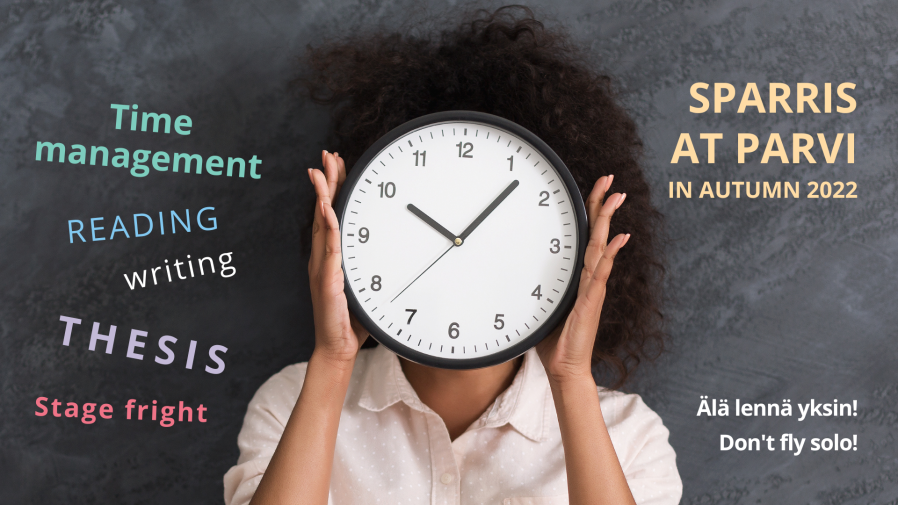 How can I manage the time and deadlines?
How to get started with writing or thesis work?
How to tackle the stage fright?
TAMK offers as additional support a range of activities that support the academic progress of our students, such as Sparris Study Skills Workshops. There are workshops available both in English and Finnish.
Sparris workshops are organized mainly at Parvi room (at the TAMK Main Campus, B1-24) or on Zoom.
All the Sparris workshops for autumn 2022 and additional info can be found on the Student's Guide's Study Skills page.
Welcome to one workshop or all of them! No pre-registration is required.
7. Club International Tampere is looking for new active members for 2022-2023!
Are you an international person?
Interested in organizing trips and events?
Do you have ideas for improving international experience in TAMK?
Want to be a part of an awesome group?
If you said yes, this is for you! Club International Tampere, or CLINT for short, is looking for new members to join our club. CLINT was established in 2004 to organize fun activities and events for exchange students and degree students who are new to the Finnish culture.
Come meet us and hang out at Solu sauna on September 20th, at 19.
Please fill out this form before the sauna event:
https://docs.google.com/forms/d/e/1FAIpQLScKwC-5CxMy5qd5pQpvKQZQVTfyVxwg9pgyNZFwosHRYZUL7Q/viewform
Anything to ask? Contact us:
email: clint.tamk@gmail.com
Instagram: tamkclint
8. OP Tampere student campus tour at TAMK main campus 6.10.!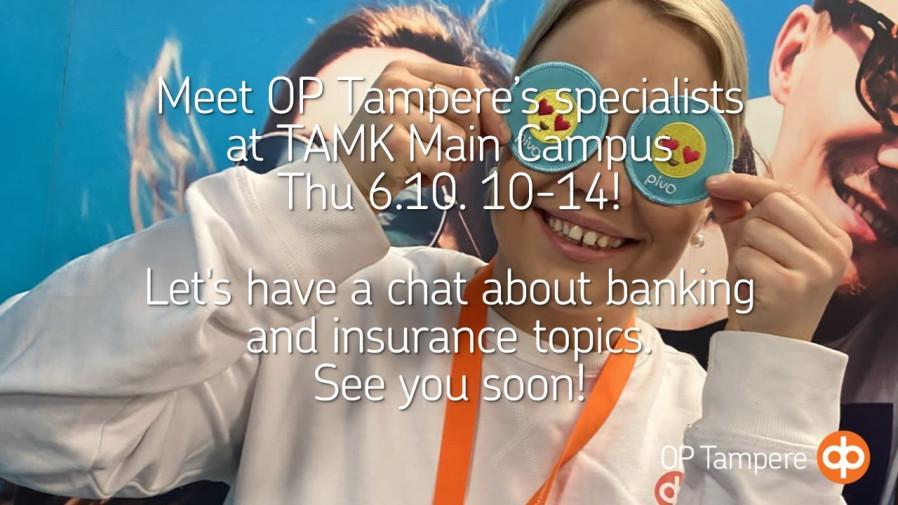 Meet OP Tampere banking specialists on campus!
Let's have a chat about banking and insurance topics, take part in lottery and enjoy Kismet chocolate bar! Come to see what else we have there!
-Tampere University, City centre campus, Main building Tue 4.10. 10-14
-TAMK, Main Campus Thu 6.10. 10-14
-Tampere University, Hervanta campus, Kampusareena Tue 11.10. 10-14
See you soon!