Tamko Topics is a weekly newsletter of The Students' Union of Tampere University of Applied Sciences.
ENGLISH SUMMARY
1. There is still time to apply for international tutoring! TURSASPASSI STAMP
2. The advance voting of parliamentary elections begins
3. Spring Trip 3.4. TURSASPASSI STAMP
4. Feedback sessions – Let's discuss and develop it together!
5. Suggest the winner of the National Teacher of the Year award
6. Stand Up gig: ISMO in English 3.7.
7. HumaniTarina fundraiser
8. TUNI RUN
---
1. There is still time to apply for international tutoring!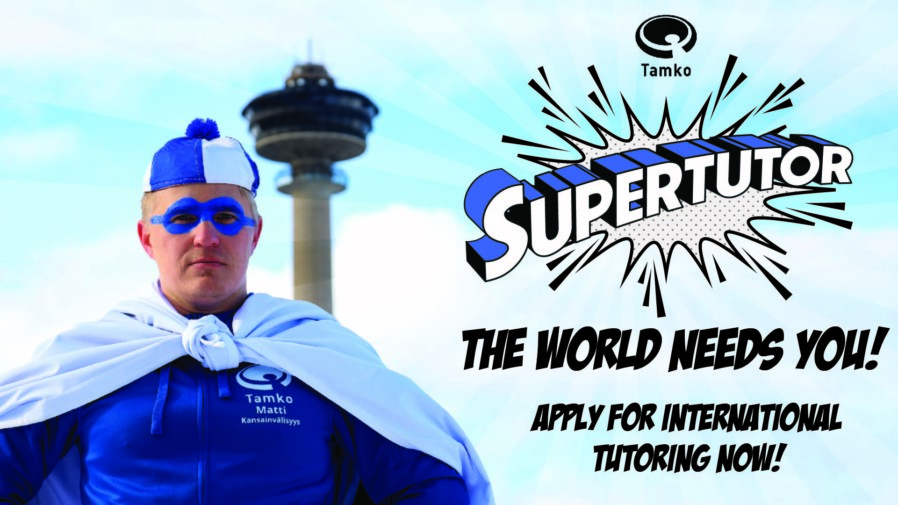 Join Tamko's big bunch of tutors and be there to welcome the new exchange students in August! As an international tutor, you'll ensure that our exchange students feel welcome in TAMK and have someone they can rely on. Not to worry, you'll have an excellent network of other international tutors and experts helping you!
Tamko trains all the international tutors of TAMK. The training consists of two evening sessions in the April, and the exact dates will be announced later. International tutors are eligible for 2 study credits, one extra point when applying for exchange themselves (after the tutoring is completed), and a stamp on the Tursaspassi.
Application period for international tutoring is open until 2.4.2023

Apply by filling this form: https://forms.office.com/e/Jc45A9snws
…And after that you are one step closer to joining the adventures of international tutoring!
2. Use your voice and vote in parliamentary elections!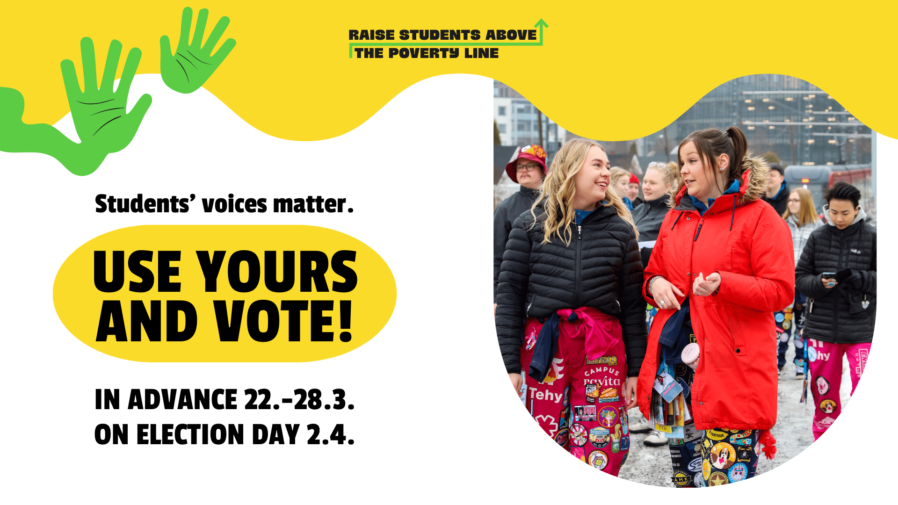 Now is the time to let students' voices be heard! Vote in parliamentary elections!

Advance voting
– Advance voting is on until tomorrow Tuesday 28.3.
– You can vote in advance at TAMK's main campus Teiskontie side lobby on today Monday and tomorrow Tuesday between 8 and 18. So if you are around the main campus, it is easy to vote between lectures!
– There are other advance polling stations around the city
Election day
If you don't have time or you don't want to vote in advance, you can still vote on election day 2.4. on the voting station that is specified to you. Information on the election day polling station can be found in the notice of right to vote. Voters can also check their election day polling station in the Polling station service at www.aanestyspaikat.fi

Things to remember:
– When you go to vote, remember to bring your ID with you (police-issued ID, passport, driver's license, or similar photo document)
– Be careful and follow the instructions given when writing your candidate's number on the ballot paper
– Enjoy election coffee and sweets after voting!

The voter turnout of the parliamentary elections has been ascending amidst young people and overall, as well – we students need to be active in voting, let's get that voter turnout up!
3. Spring Trip 3.4.!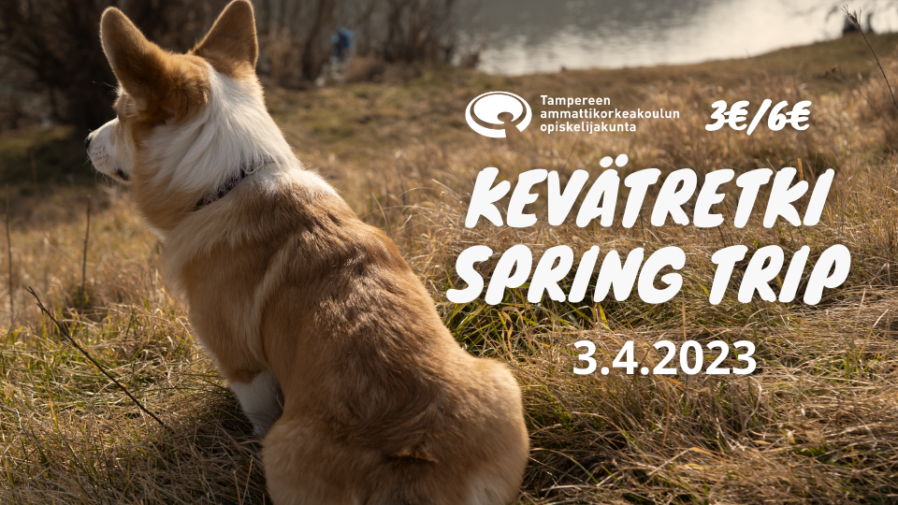 Spring is coming and a little outdoors tirp will make you feel better!
The previous popularity of the Autumn trip has been reorganized and this time the trip will be held at Suolijärvi in Hervanta! Dogs are also welcomed on the trip so please note this if you are allergic to dogs.
The departure takes place from the main doors on TAMK's Teiskontie side on 3.4. at 15.00. To Hervanta we will get by TKL busses, so make sure you have toped up your buss card! The trail will start from the beach of Suolijärvi at 16:00, so if you are going to arrive on your own, meet us up there before 16:00. The trail at Suolijärvi is a 4.5 km long and halfway through the trip, we'll enjoy some treats at the fire!
The event costs 3€ for Tamko's members and 5€ for non-members.
https://kide.app/events/b55d5c84-c687-46eb-b4b0-e3af04e9037d

Please take with you some warm clothing and a good mood for the trip!
All Tamko's events are strictly free of harrassment. We have trained contacts, so if you face any kind of harrassment during the event, please do contact harassment@tamko.fi
If you want more information about the accessibility of the event, please contact accessibility@tamko.fi.
You can get stamo to your Tursaspassi!
4. Feedback sessions – Let's discuss and develop it together!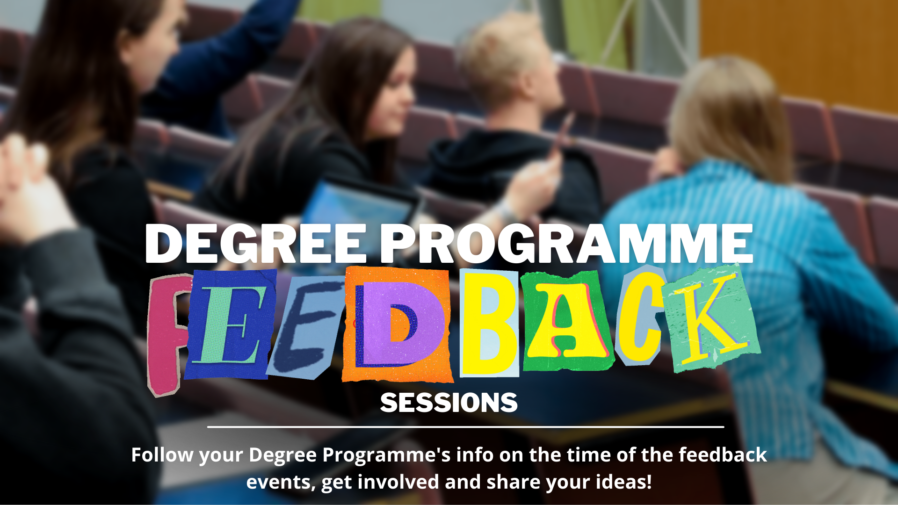 Student feedback was collected last year in the spring and autumn feedback weeks in the form of a new student and annual feedback surveys. Feedback was also collected from master´s degrees and through Graduation phase survey.

During the spring, students and staff will discuss the feedback at joint degree programme specific events, in which the possible development measures will also be agreed

Follow your Degree Programme's info on the time of the feedback events, get involved and share your ideas!

Read more from intra: https://intra.tuni.fi/en/content/news/45752
Feedpack summary can be found from here: Student feedback summary 2022 final.pdf
Schedule for feedpack sessions: https://wiki.tamk.fi/pages/viewpage.action?pageId=195934632
5. Suggest the winner of the National Teacher of the Year award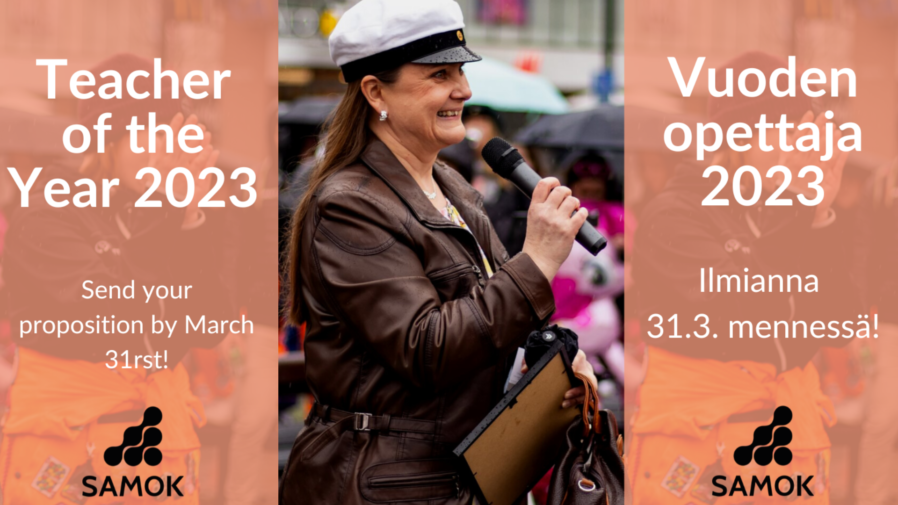 The Federation of Finnish Student Unions SAMOK annually awards the National Teacher of the Year award. The task of the Student Unions is to propose candidates for teacher of the year based on the students' proposals, from which a jury assembled by SAMOK chooses the teacher of the year. The award winner will be announced at the AMK days on May 3-4, 2023.

The response time is until 31st of March 2023.

Give your suggestion through this link: https://www.lyyti.fi/questions/0dfd95e9c9
6. Stand Up gig: ISMO in English 3.7.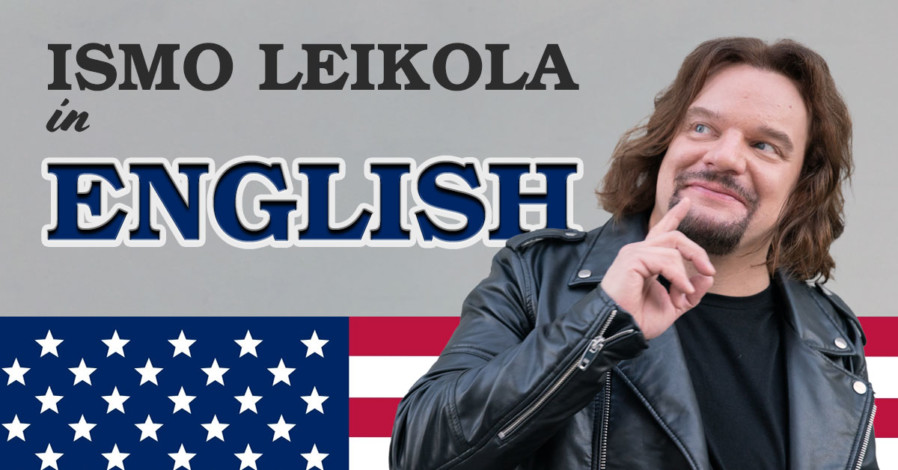 This unique event is all about Ismo's English stand up comedy. You will hear jokes Ismo tells on stage in the US and worldwide. Come and see what new observations Ismo has made while travelling accross the globe! The ultimate observer, ISMO is able to make people see familiar things a new through his unique perspective. ISMO started his comedy career in 2002 in Finland; becoming one of the top performing comedians in the country today.

Ismo is having a gig in Tampere Pyynikin kesäteatteri 3.7.
Tickets for students 34.50 €

Show is in English and K-16!

More information: lippu.fi
7. HumaniTarina fundraiser
Tarina Ry offers students an opportunity to take part in helping the victims of the war.
HumaniTarina fundraiser opened on March 1st 2023 and all the proceeds will go towards buying medical and maintenance supplies, portable power stations and protective gear, which will then be donated to International Finnish Rescue Team for them to use in high risk areas of eastern Ukraine. The fundraiser will run through the whole month, ending on March 31st 2023.

Tarina Ry is working together with Ukrainian Association in Finland, who have provided their money collection permit for Tarina Ry to use for the duration of the collection.

When donating, please be mindful about using the reference number stated below. This helps differentiate the donations made for HumaniTarina from other donations Ukrainian Association in Finland collects 🙂
Collection permit number: RA/2022/388

Donation details
Name: Ukrainalaisten yhdistys Suomessa Ry
IBAN: FI87 1544 3000 2751 85
BIC: NDEAFIHH
Reference number: 201236
8. TUNI RUN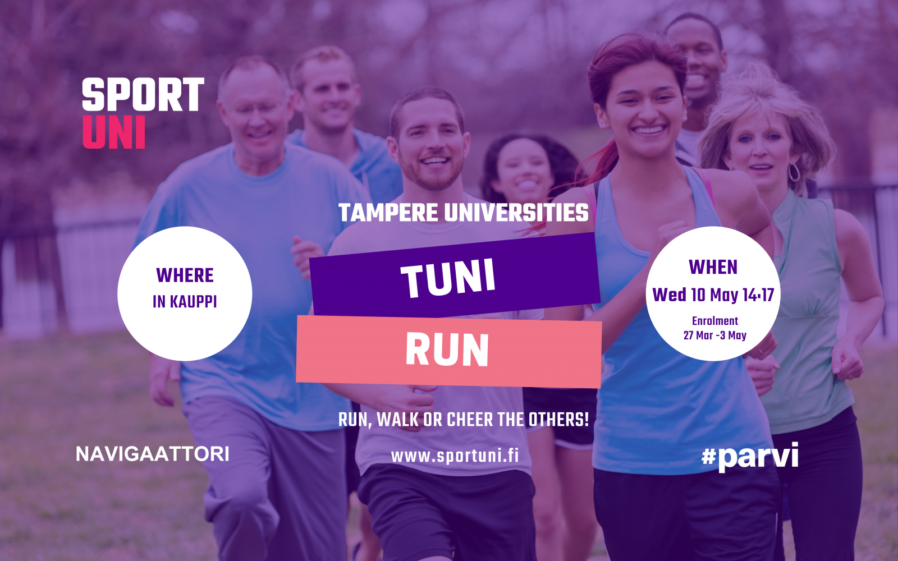 Welcome to the greatest event of the Spring – TUNI RUN! It's free!

Where: Terrains of Kauppi
When: Wednesday 10.5.2023 at 14.00 – 17.00
To whom: To entire community of Tampere Universities; students and staff.
Routes for walking or running: 3km, 5km and 10km

TUNI RUN is a free event for students and staff of all Tampere Universities. The event includes a guided warm-up before the start, and after the finish line, there will be crepes with jam. Navigaattori and Parvi also takes part to the event.

Come along to run, walk or just cheer!
Enrolment starts at 27.3. You can participate alone or in a group.
Sing up from here!