Tamko Topics is a weekly newsletter of The Students' Union of Tampere University of Applied Sciences.
ENGLISH SUMMARY
1. Apply for Tamko's harassment contact
2. Tamko's Loppumetri 20.4.! TURSASPASSI STAMP
3. Solu's opening hours during Easter
4. Welcome to Council's statutory meeting TURSASPASSI STAMP
5. Sparris workshop: Bachelor's Thesis guidance supports your thesis process
6. PISTOT 13.4.
7. TUNI RUN
---
1. Apply for Tamko's harassment contact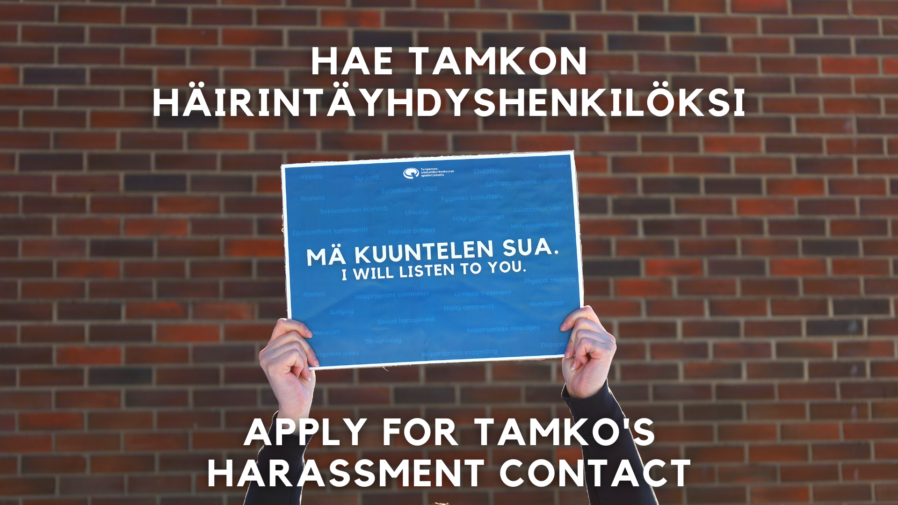 We are seeking new Harassment Contact Persons for the Student Union!
Tamko has Harassment Contacts who provide help and guidance for students who have experienced disturbance in any form. Harassment Contacts do not document any of the cases and they have full confidentiality. Bullying, inappropriate or discriminating behavior are taken seriously in TAMK and Harassment Contact Persons are supporting students in these kinds of situations.
Harassment Contacts are regular students of TAMK and new contact persons will be trained for the part. Tamko´s Board member and employee are supporting Harassment Contact Persons. We encourage students from diverse backgrounds to enroll for this role.
If you are interested, send your application on this application form: https://lomake.tamk.fi/lomakkeet/34538/lomake.html
Application period is open until Sunday 23rd of April 2023. All applicants will be noted after this time.
Read more about the Harassment Contacts from http://tamko.fi/en/tamko-harassment-contacts.
2. Tamko's Loppumetri 20.4.!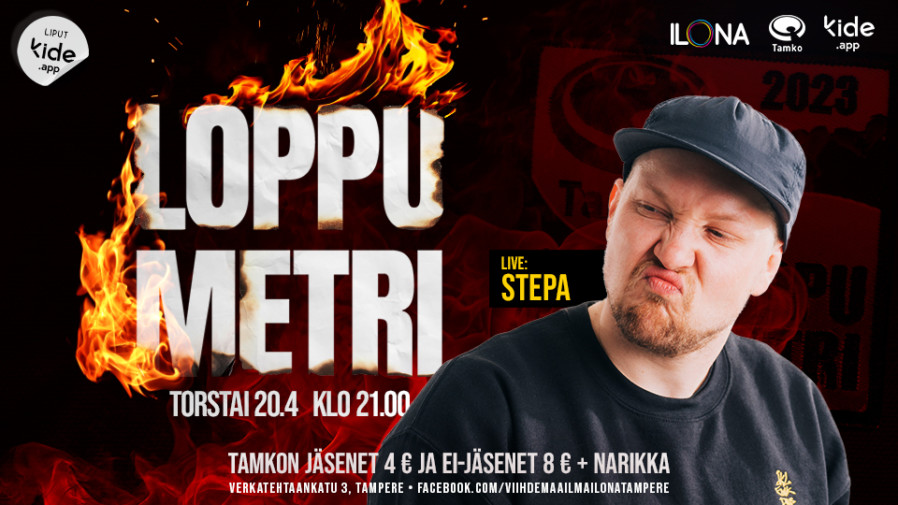 Aahh yeaah time for the hottest party of this spring it's Tamko's Loppumetri! It's time to sing, dance and party when the doors to Ilona open on Thursday 20th of april at 21pm. Take your friends and festivity with you because this school year ending party is something you don't want to miss!
And the night won't be boring when on the stage of Ilona rises Stepa! The "voice of northern finnish rap" will make anyone feel good and have fun.
Didn't get an overall patch from Alkumetri? No worries! There's enough patch to fill in both those events!

The event takes place in Ilona on the 20/4/2023, and the doors will be open from 9 pm till 5 am.
Tickets for the event are available on Kide.app on 11.4. at 12.00: https://kide.app/events/c5102d3b-c2c4-4799-b354-eb52feccddf9 

Preordering the ticket costs €4 for Tamko's members and €8 for non-members and tickets bought at the entrance are priced at €10. Preordered tickets have their own queue to Ilona all the way till 12 am.
Loppumetri is the official after party for TTO's, TIRO's and PIRATE's Wappustartti!
! All Tamko's events are strictly free of harassment. We have trained harassment contacts at Loppumetri, so if you face any kind of harassment during the event, please do contact harassment@tamko.fi.
! If you want more information about the accessibility of the event, please contact accessibility@tamko.fi.

You can get a stamp to your Tursaspassi by attending!
3. Solu's opening hours during Easter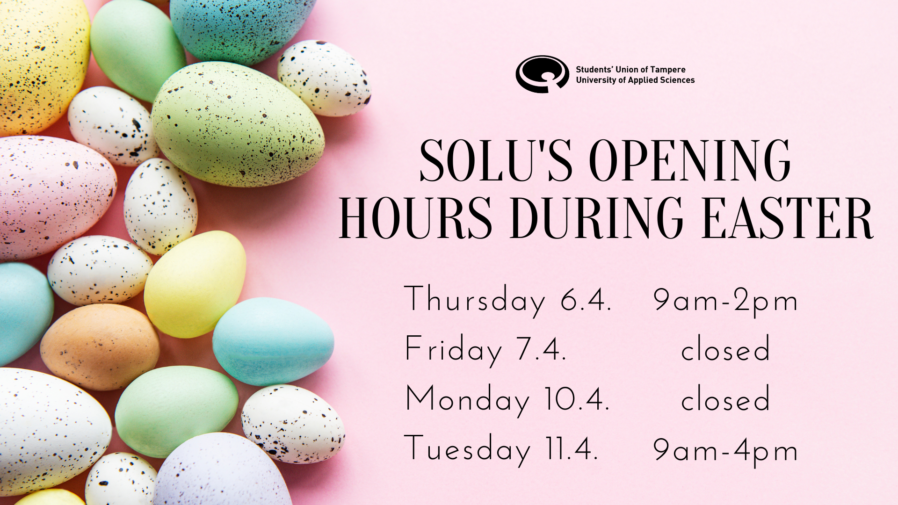 Easter brings out few exceptions to Tamko's office Solu's opening hours:
Thu 6.4. 9am-2pm
Fri 7.4. closed
Mon 10.4. closed
Tue 11.4. 9am-4pm

You are welcomed to have a cup of coffee or chill out!
4. Welcome to Council's statutory meeting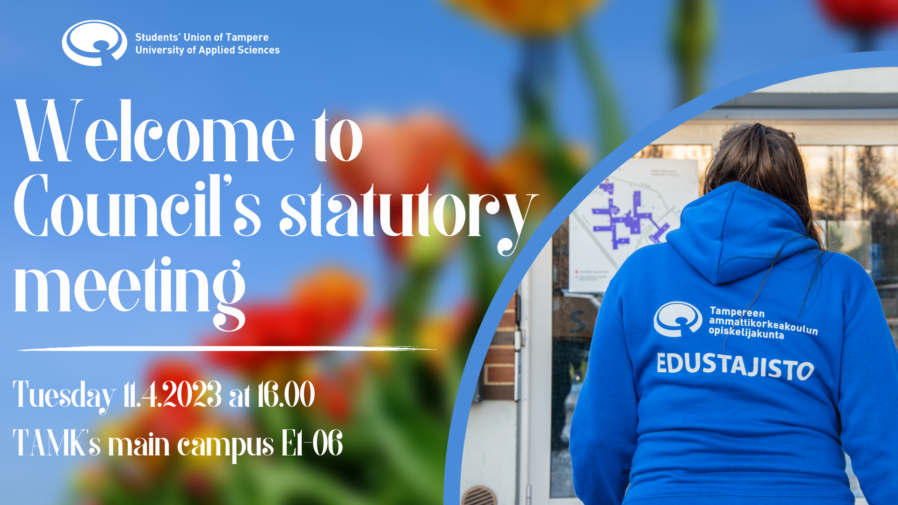 Welcome to Council's statutory meeting on the 11th of April 2022 at 16.00 at TAMK's main campus in room E1-06. All Tamko's members are welcomed to join. In the meeting Council goes trough current and statutory affairs.
The meeting will be held in finnish.
By taking part in the meeting you can get stamp for your Tursaspassi.
Meeting's agenda will be released later to Tamko's website.
5. Sparris workshop: Bachelor's Thesis guidance supports your thesis process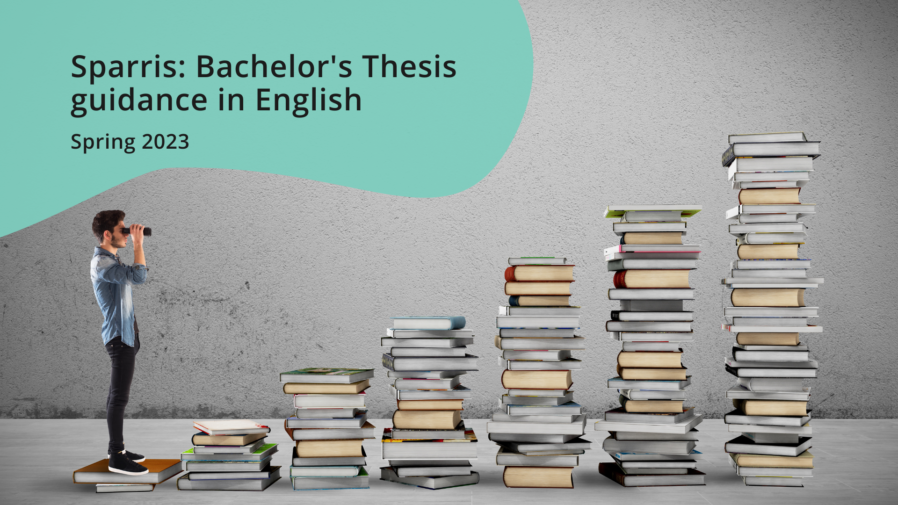 Does starting your thesis work feel challenging? Sparris provides support for getting your thesis started or continuing the work. You don't have to leave alone, let's tackle this together.
Bachelor's Thesis guidance on April-May 2023:
– Mon 3.4. at 15-16.30, Parvi (B1-24)
– Tue 25.4. at 15-16.30, Parvi (B1-24)
– Mon 15.5. at 15-16.30, Parvi (B1-24)
Sparris study skills workshops are open to all TAMK's students. Welcome to one workshop or all of them! No pre-registration is required.
6. PISTOT 13.4.!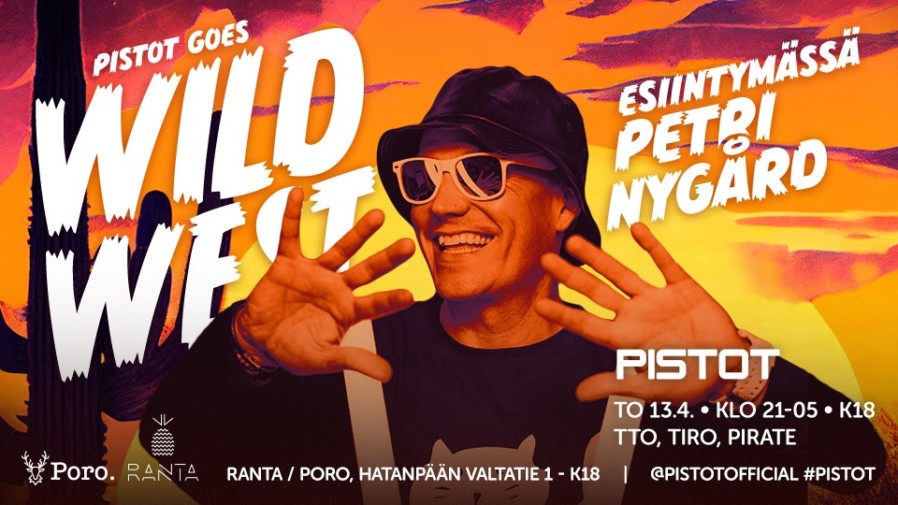 The best interdisciplinary monthly student party in Koskikeskus Ravintolamaailma. PISTOT is organized by TTO, TIRO and PIRATE.

The next PISTOT will be held on April 13. from 21:00 to 05:00.
Performer is the great Petri Nygård.

So buy tickets and come join the party!
https://kide.app/events/5def0b6c-1eb9-41b4-8f7d-25424b0fca9e

For more information:
Instagram: @pistotofficial
Facebook @pistottre
Tickets from Kide.app
7. TUNI JUOKSU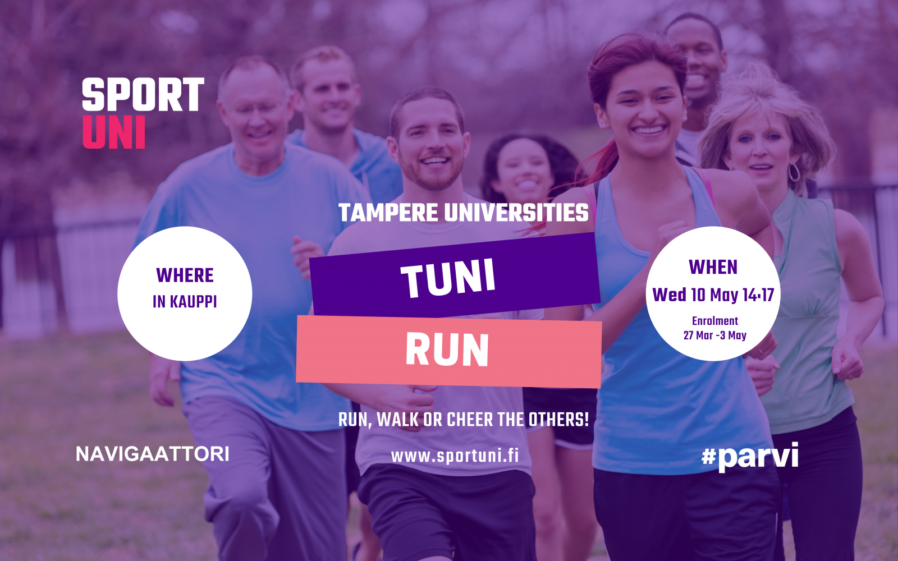 Welcome to the greatest event of the Spring – TUNI RUN! It's free!

Where: Terrains of Kauppi
When: Wednesday 10.5.2023 at 14.00 – 17.00
To whom: To entire community of Tampere Universities; students and staff.
Routes for walking or running: 3km, 5km and 10km

TUNI RUN is a free event for students and staff of all Tampere Universities. The event includes a guided warm-up before the start, and after the finish line, there will be crepes with jam. Navigaattori and Parvi also takes part to the event.

Come along to run, walk or just cheer!
Enrolment starts at 27.3. You can participate alone or in a group.
Sing up from here!