On a September day, you are standing in Keskustori with 1,500 other students and you and your class are dressed in the most amazing costumes. The sun is shining and some guy in a blue hoodie shouts different phrases into the microphone, which you then repeat out loud. Your studies have just started and you're
wondering: "Is this what it's going to be like for the next four years?"
That moment I described is probably a familiar memory of Tamko Tursajaiset for many of us. This event for starting students is one of the first events for many of you in your study career. This traditional event in Tamko was organized for the 81st time this year, which has changed very little throughout history. Traditions include march through Tampere, an oath, and different checkpoints. After the day's event, there are official afterparty at a local restaurant.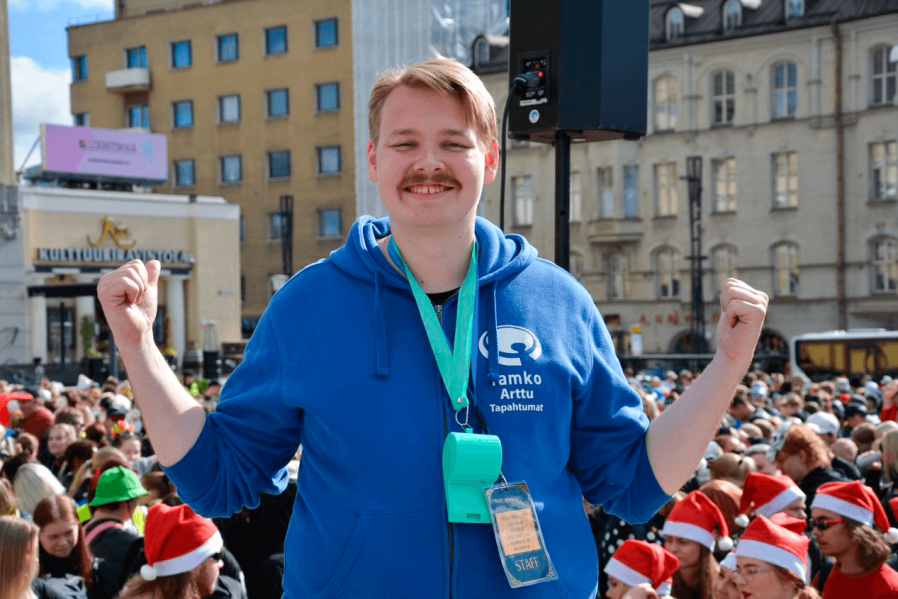 Over the years, 110-year-old Tamko has organized many kinds of events, both large and small. There have been various food tastings, autumn trips and afterparties. However, today's events show a shift away from the focus on alcohol and the demand for alcohol-free events has grown significantly in recent years. This is very great, that Student events are no longer just dancing in restaurants until late at night, but everyone can find something to do in their free time that interests them. Whether the event is alcoholic or nonalcoholic, they all have in common that they are easily approachable, safe and everyone is welcome to participate.
However, Tamko is not the only entity that organizes events in Tampere. Tamko's stakeholders are the largest event organizers, who offer the most diverse events for all students. Whether it's sauna evenings, pub quizes, bar tours or yard game events, all of these ultimately have the same purpose: to create a sense of community and give a break from everyday studying.
Even though events are organized almost every day, it's worth remembering that you don't have to participate in everything. I myself know how much fun it would be to participate in every possible event that is organized, but my own well-being and use of time always comes first. So remember to monitor your own well-being with the events aswell.
In closing, I would like to encourage all students to take part in many different events and enjoy them to the fullest, while remembering to take care of your well-being aswell. Events are part of student life, and you can make lifelong friends from them. These great moments experienced at the events can be fondly remembered even years from now. I personally hope that the events will be a big part of student culture even after the next 110 years.
The author Tamko's board's event responsible Arttu Laukkanen