Tamko Topics is a weekly newsletter of The Students' Union of Tampere University of Applied Sciences.
ENGLISH SUMMARY
1. Donate blood and save lives! TURSASPASSI EVENT
2. Valentine's Day event at TAMK main campus on 14.2.
3. Welcome to the Pop-up relaxation workshop
4. After Ski- Kolmioparty 23.2.
5. Sustainability Open Space
---
1. Donate blood and save lives!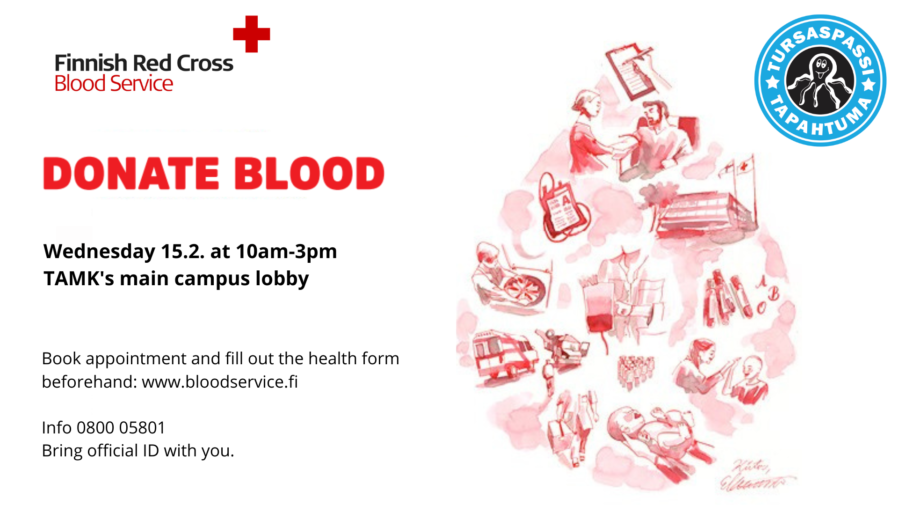 Tamko and SPR are organizing blood donation at TAMK main campus lobby on Wednesday 15.2. from 10am till 3pm.

Blood donation is an easy way to help and only takes about an hour. Come along to save lives!
You can book an appointment for donation and make a health survey in advance at https://www.bloodservice.fi/

Donating blood is a tangible and easy way of doing good. Every day, patients in Finland need the help of 800 blood donors. The blood donated by volunteers helps over 50,000 patient a year. This help cannot be replaced by money or medicines. Blood products are administered to patients of all ages, from unborn babies to the elderly. Blood products can often save lives.

Who can donate?
You can donate blood if you are from 18–70 years of age, weigh at least 50 kilos and have no health complications that would make you ineligible to donate blood. First-time donors cannot be over 59 years of age. You can test your eligibility to donate here: https://www.sovinkoluovuttajaksi.fi/#

When you go to donate blood, please bring a photo ID issued by a competent authority.

You can get a stamp to your Tursaspassi by attending!
2. Valentine's Day event at TAMK main campus on February 14.2.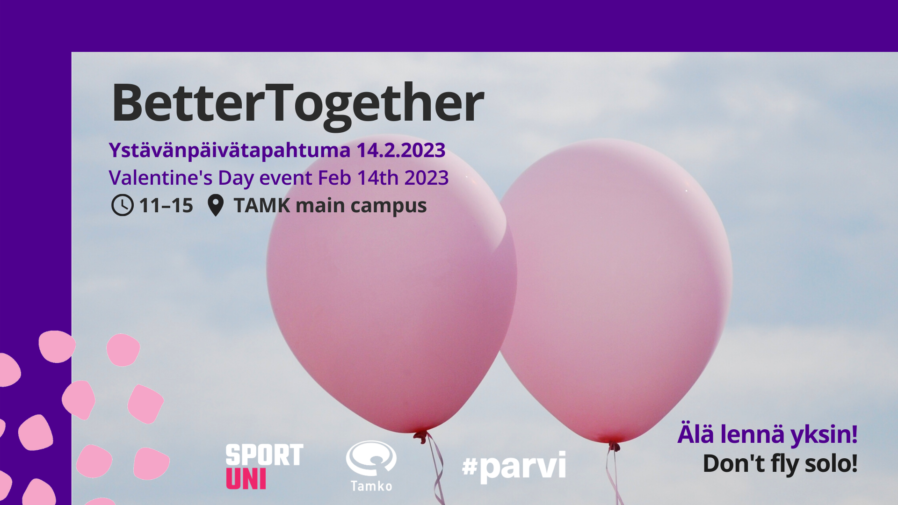 Save the date!
TAMK Parvi, SportUni and Tamko bring people together on Valentine's Day 14th February, together with students.
· Stands and live music
Teiskontie lobby, at 11-14
· Pancakes made with love
Outside Teiskontie main doors, at 11-14
· New friends from speed dating
Parvi (B1-24), at 11-14
· Relaxing body care
SportUni (L-building), at 14-15
No pre-registration is needed for the day's activities. Just show up alone or with a friend. The event is free of charge and open to all TAMK's students. Welcome!
3. Welcome to the Pop-up relaxation workshop!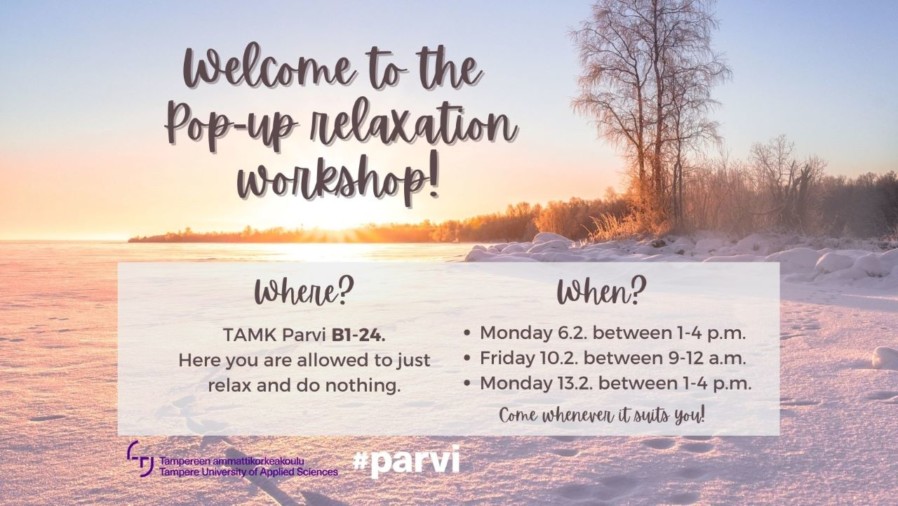 Do good for yourself and come to the Pop-up relaxation workshop during your study or work day! Here you are allowed to just relax and do nothing. If you want you can take part in a guided stretching routine (in Finnish) every hour. At the workshop you can also enjoy a cup of tea.
Where?
TAMK Parvi B1-24
When?
– Monday 6.2. between 1–4 p.m.
– Friday 10.2. between 9–12 a.m.
– Monday 13.2. between 1–4 p.m.
Come whenever it suits you.
Welcome!
4. After Ski Kolmiot 23.2.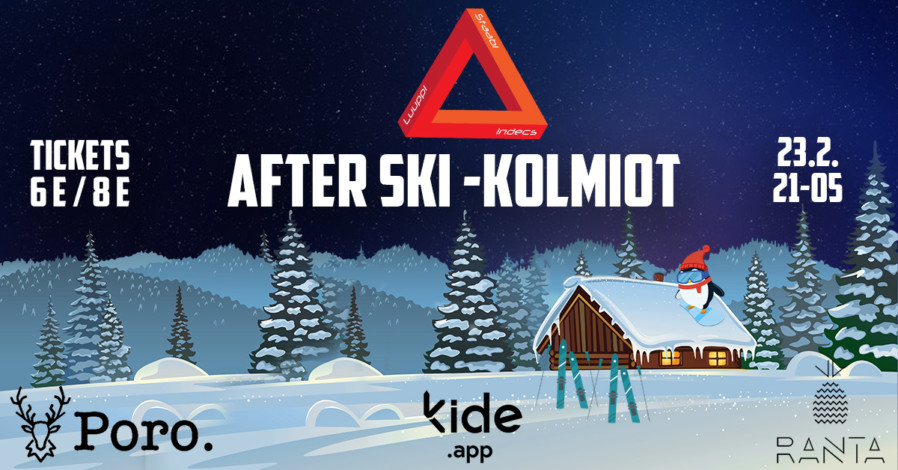 The skiing season is at its peak and the holidays are just around the corner. In case you're already missing hillside parties and After Ski spirit, come to After Ski Kolmiot in February! Grab your skiing gear and join us again at Ranta & Poro on 23rd.

WHAT: After Ski Kolmiot
WHERE: Ranta & Poro, Hatanpään valtatie 1
WHEN: Thursday, February 23rd from 9 PM till 5 AM
OPTIONAL DRESS CODE: Skiing-theme! Grab your ski goggles and beanies (but maybe leave your skis at home).
ADVANCE TICKETS: On Monday, February 13th, price 6€ (incl. cloakroom)
-at 10 AM from Kide.App (bit.ly/3DoIrmQ)
-at 12 PM from Hervanta, Sähkötalo Hall & City Center campus, Main Building lower hall.
TICKETS AT THE DOOR: On the party day for 8€ (incl. cloakroom). People without advance ticket are taken in after midnight or before this if the advance ticket queue is empty.

More information from Kolmio party on Instagram and Facebook
(@Kolmiobileet)
5. Sustainability Open Space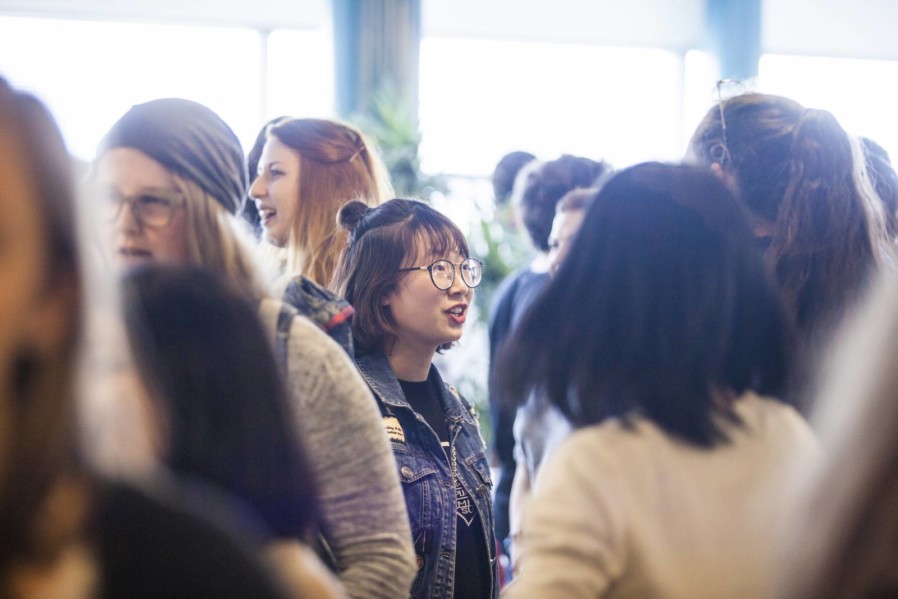 Sustainability Open Space is a series of open dialogic discussion events in the spring semester 09.02., 23.03. and 20.04.2023.
You are warmly welcome to come and hear interesting topical introductions and exchange ideas and act on sustainable development themes. Sustainability Open Space is held primarily in English, but you are welcome to discuss and comment in Finnish as well. Just listening and being present is also valuable. Place: TAMK Catering Studio Living Lab (Kuntokatu 3, entrance G0-27). Hospitality management students' cooperative PIPA Company will set up a self-service cafe for us, where you can buy organic coffee or tea and a small vegan snack (MobilePay).
Read more and reserve your seat: https://sites.tuni.fi/learninglab/sustainability-open-space/