Tamko Topics is a weekly newsletter of The Students' Union of Tampere University of Applied Sciences.
ENGLISH SUMMARY
1. There is still time to vote in Tamko's Council elections! TURSASPASSI STAMP
2. Become a Degree tutor NOW! TURSASPASSI STAMP
3. Tamko & TREY Wellbeing week has started! TURSASPASSI EVENT
4. Your feedback is important!
5. Vote for the TAMK's student, staff member and teacher of the year!
6. CLINT: PRE Christmas Party 30.11. TURSASPASSI STAMP
7. Tolu Goes Sauna! TURSASPASSI STAMP
8. Glowing in Kolmiot -party 24.11.
9. Nokia Arena Haalarilöylyt 22.11. TURSASPASSI STAMP
---
1. There is still time to vote in Tamko's Council elections!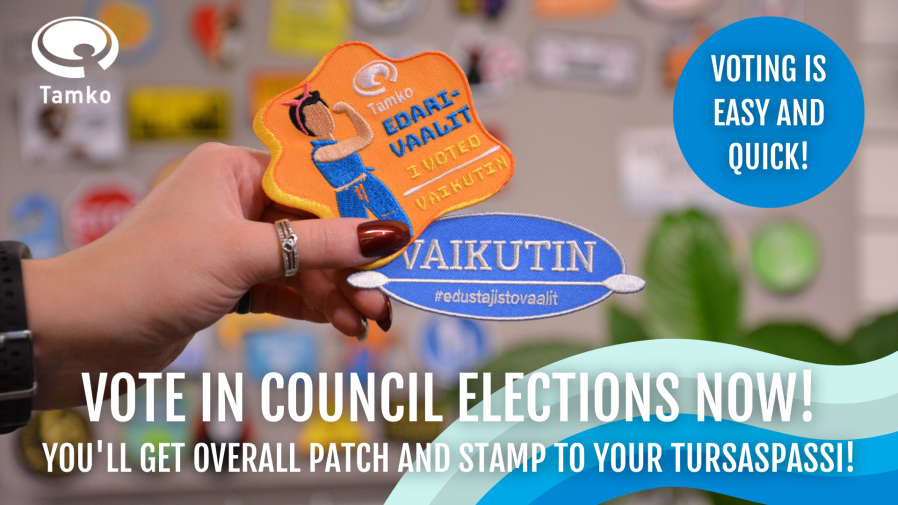 Casting your vote electronically in the Council elections is quick and easy! You can do it anytime, anywhere – all you need to do is click on the link in your email! You may also vote at one of the polling stations on Wednesday. What matters most is that you vote in the elections and thus shape the future of all students!
HOW TO VOTE?
Electronic voting
You can vote until 9.11. 3pm.
The electronic voting takes place via email link. The link will be sent to TUNI email for all Tamko members who are eligible to vote in the Council elections. Make sure you check your junk mail.
Ballot box voting
On Wednesday 9.11. at 9am to 3pm
Or you can vote traditional way with pen and paper in ballot box voting. You can vote in all three TAMK's campuses. Bring your ID with you.
WHO TO VOTE?
Council elections are held as list election so the voter does not only vote for person but also for a list.
There are 48 candidates from 5 different candidate lists. You can check out more information about the candidates from Tamko's website and find the most suitable candidate for you: https://tamko.fi/students-union/council/council-election-candidates-2023/
2. Become a Degree tutor NOW!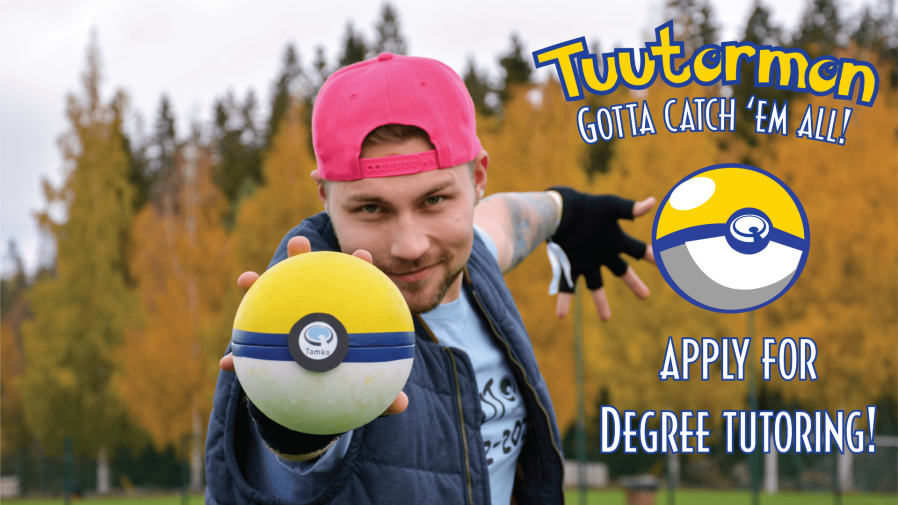 Have you thought about becoming a tutor? Now is the time to apply! Application deadline is this Sunday!
Degree tutors are helping out new degree students of TAMK. They are playing an important part in integrating new students to Tampere and Finland. The training aims to train foreign students to work as degree tutors with their Finnish peer tutor colleagues. Degree tutors will meet the group once a month during the academic year 2023-2024. All the applicants will be interviewed during the autumn and the trainings will take place on the spring semester 2023. Tutors will gain new friendships and study credits: sounds like a great deal, huh?
Note that if you are Finnish student studying in English degree programme, we wish you to fill in the Vertaistuutori application.
3. Tamko & TREY Wellbeing week has started!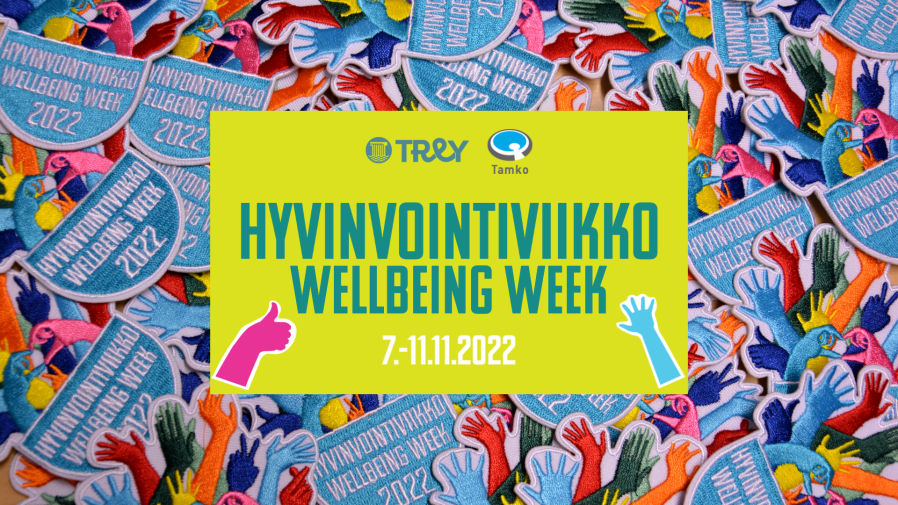 Speed dating, daytime sauna, skating sessions, movie nights…

Tamko's and TREY's Wellbeing week has started! During this week there is over 33 different wellbeing-related events happening around Tampere!

This year, the theme of the event is "together as a community", and part of the idea of the event week is to offer opportunities to make new acquaintances. So feel free to join the events and find new friends while having fun! The full programme can be found from Tamko's website.

This year, wonderful overall patces have been acquired for the Wellbeing week, which are distributed only to the fastest! To get an overall badge, you just need to participate in at least one Wellbeing week event and show photo proof of this at Tamko Solu.

For participating in the Wellbeing week event, you will also get a stamp on the Tursaspassi!

Welcome to join!
4. Your feedback is important!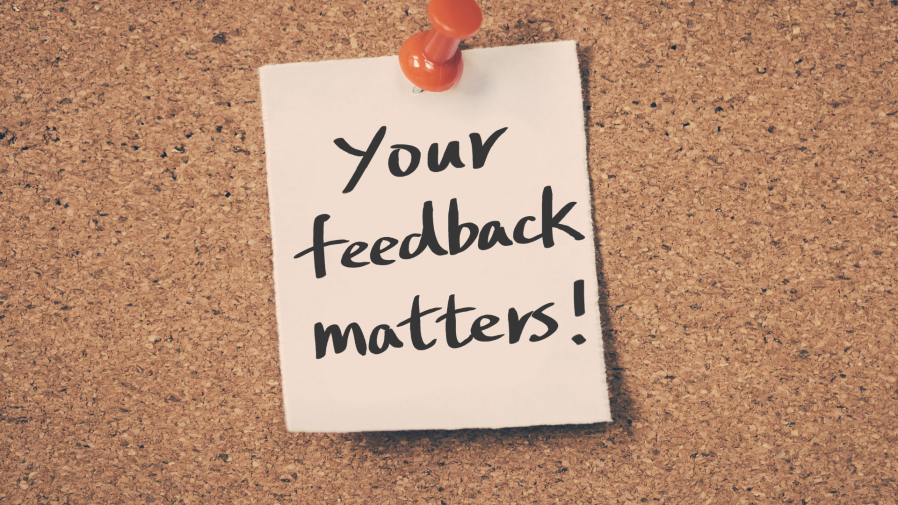 The feedback surveys will be open from October 25 to November 11. In addition to course feedback, TAMK collect the feedback every autumn from new students, second- and third-year students and masters' degree students who started their studies in spring 2022.
You will receive a survey by e-mail during this week from studentfeedback.tamk@tuni.fi. If you can't find the mail, check your spam folder as well.

Your feedback is important! Please answer the survey and participate in the feedback session for your degree program next spring.

Intra news:https://intra.tuni.fi/en/content/news/42905
5. Vote for the TAMK's student, staff member and teacher of the year!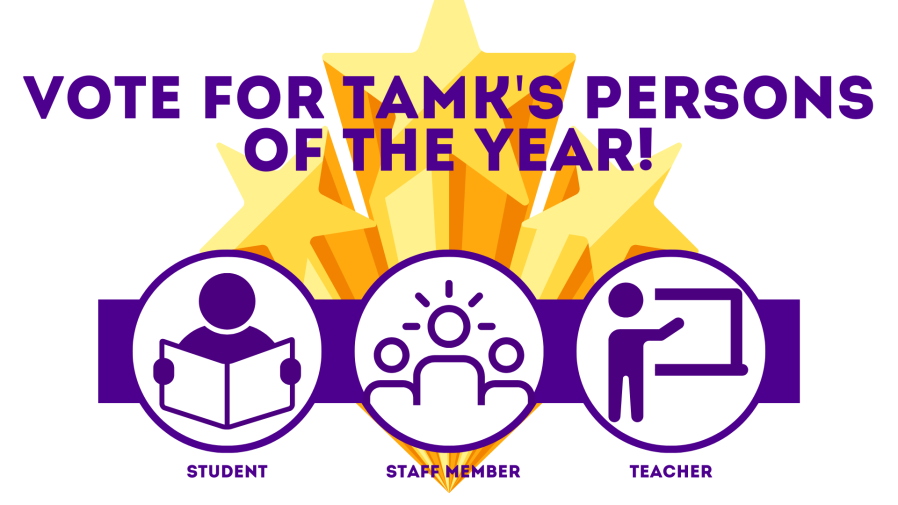 Vote for the TAMK's student, staff member and the teacher of the year!
Student of the year
This year TAMK will nominate the Student of the Year for the first time. In your opinion, who has promoted communality at TAMK and would deserve this recognition?
Please send your proposal by 13 November 2022 with this form:
https://lomake.tamk.fi/lomakkeet/33764/lomake.html
The staff member and teacher of the year
Which TAMK staff member do you think has promoted community spirit, student-friendliness and supported students moving forward this year? And which TAMK teacher this year has guided, helped and created community in the classroom through their own activities?
Send your proposal through this link:
https://forms.office.com/r/ZYau4pqkhr
Winners will be awarded on graduation ceremony on 19 December 2022.
6. CLINT: PRE Christmas Party 30.11.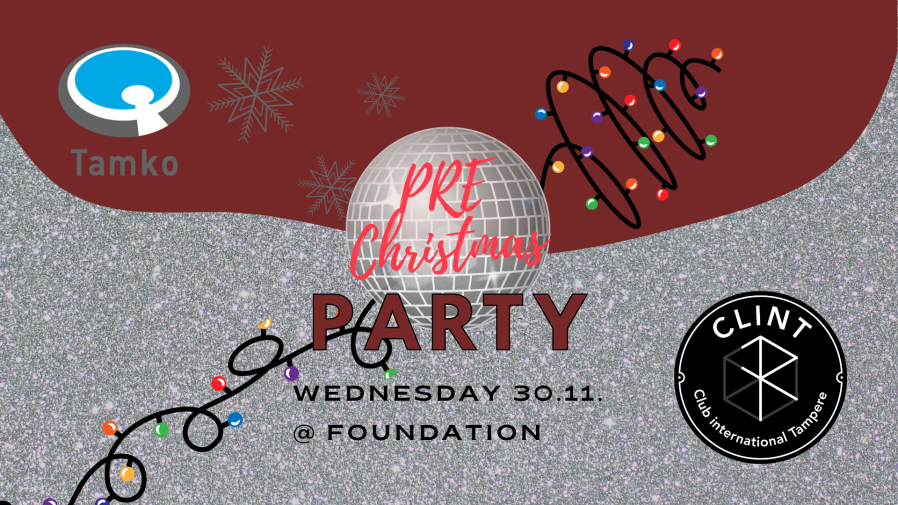 Are you craving for Christmas pastries or you cannot wait to decorate gingerbreads? No worries! Clint organizes the best pre-Christmas party you don't want to miss on 30.11. at Foundation. To remember this night forever, you will get a Christmassy overall patch. We will host a Secret Santa at the party, so bring a wrapped gift worth of approximately 5 euros, you will get one random present back from someone else.
We will start the Christmas celebration with fun activities and games at 18:00 and the party starts around 21:00. If you want to participate for the Secret Santa, be there latest at 20:00! Some snacks and drinks are offered, but bring your own drinks so you have enough energy to party until the morning

Tickets: https://kide.app/events/00000b74-dff9-4a45-8f2e-28ff3ead63d7
More info on instagram: @tamkclint
7. Tolu Goes Sauna!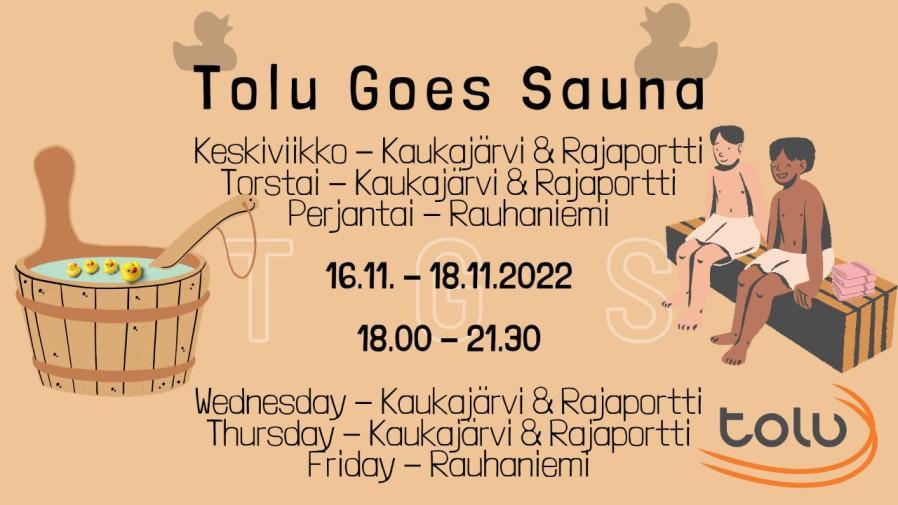 The most awaited sauna-apport is here. Come and join us!
There's going to be an amazing spirit in the midst of the smog! Grab your towel and swimming costume and get to know Tampere's saunas. We'll be crawling 3 different saunas for 3 days and there's an opportunity to take a dip in a lake by the saunas at Kaukajärvi and Rauhaniemi.
The saunas are:
Wednesday – Kaukajärvi & Rajaportti – 18.00 – 21.30
Thursday – Kaukajärvi & Rajaportti – 18.00 – 21.30
Friday – Rauhaniemi 18.00 – 21.30
While buying the ticket, choose the day between Wednesday and Thursday when you want to visit the saunas at Kaukajärvi and Rajaportti. Because of the small size of the saunas we need to stagger the visitors.
The ticket price is 20€ and it includes entrance to all of the 3 saunas and the event's own overall patch. Also Tolu's overall patches are dealt.

Tickets here: https://kide.app/events/359ff0c7-40ef-4241-96eb-c17748988518
If you are wondering and got questions contact us on email halitus@urheiluseuratolu.fi or slide into our Instagram dm (@urheiluseuratolu).
8. Glowing in Kolmiot -party 24.11.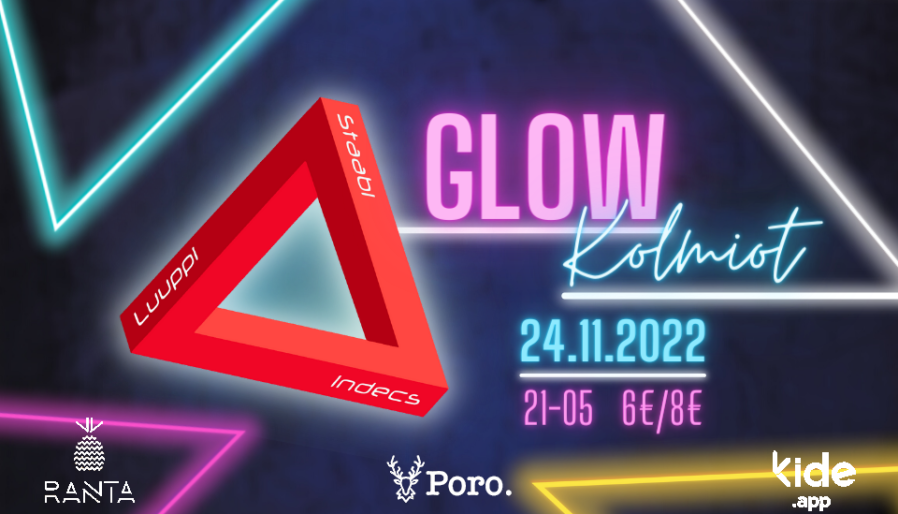 Are you craving a bit of color and lights in the grey and dark autumn evenings? This month, the atmosphere will be glowing in Komiot, as there will be light sticks handed out and you get to shine under UV lights on the dance floor. Dress in neon colors to color the evening of others as well!

Advance tickets: 14.11. at 10 am from Kide.app (bit.ly/glowkolmiot)

Check more from FB event: https://fb.me/e/4Zb4dCXoc

PS. This time, Kolmiot overall badges will be handed out!
9. Nokia Arena Haalarilöylyt 22.11.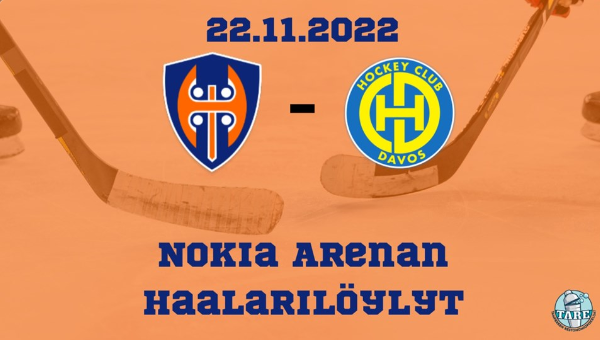 Yes you read right! Haalarilöyly's are moving to Nokia Arena this year!
The speediest student event will be organized for the eight time by TARE ry. The concept remains the same, but for the first time we'll be at amazing Nokia Arena. Tampere is known for its hockey enthusiasm and that is why we students gather together to take over any arena. Wether you are a merciless sports-fan or a mere party goer, you don't want to miss this event.
This year the gameday is on tuesday 22.11., when Tampere's Tappara meets the Swiss HC Davos. Whatever your favorite team is, you'll get to enjoy the sporty athmosphere in this game! Before the matchup, there is going to be a round of checkpoints at the ice rink, where you and your team (max. 6 ppl)b get to complete challenges. The best team will be rewarded!
Go to ticket sale at Kide.app 4.11 at 1 PM. Buy 10€ (+service fee) ticket and we'll see you 22.11. at Nokia Arena. Event starts at 4.30 PM with checkpoint round, after which at 7 PM we are moving to watch spetacular CHL match.

https://kide.app/events/2801cbd6-bb5f-4d5c-a376-1c4e675ea56b
This event won't be hard on your purse! The 10€ ticket includes:
– Round of checkpoints
– Ticket to Tappara – HC Davos -match
– Overallpatch
This year there will be those much talked about student friendly priced drinks!
WHAT: Nokia Arenan Haalarilöylyt
WHERE: at Nokia Arena
WHEN: 22.11.2022 starting at 4.30 PM