Tamko Topics is a weekly newsletter of The Students' Union of Tampere University of Applied Sciences.
ENGLISH SUMMARY
1. Apply to Tamko's Board!
2. No harassment or discrimination in student life
3. Hangouts: make Christmas cards to elderly people
4. Gift donation to Tartu chrildren's shelter
5. Pre-Christmas karaoke bingo
6. UV-PISTOT!
7. There is still time: Suggest TAMK's staff member and teacher of the year
---
1. Apply to Tamko's Board
Tamko's Board for the year 2024 will be elected at the Council's organizational meeting on Wednesday 22.11. at 16.30 in TAMK's main campus space E1-06.

At the meeting the current Board will present its roles and then those who are interested can step forward. You can think in advance for example what to tell about yourself and reasons why you are applying to the Board. If you can't make it to the meeting, you can send application in forehand to edustajisto.pj@tamko.fi.

On Tamko's Board you get to work with topics like student advocacy, sub-associations, events and educational and social affairs. Please notice that Board's working language is Finnish. The Board needs students from all fields and from all year courses so that the wide spectrum of students would be represented! Being on the Board takes some time from your calendar but it is also fun! You don't have to know anyone or anything in advance, just come along! 

See you at the organizational meeting!
2. No harassment or discrimination in student life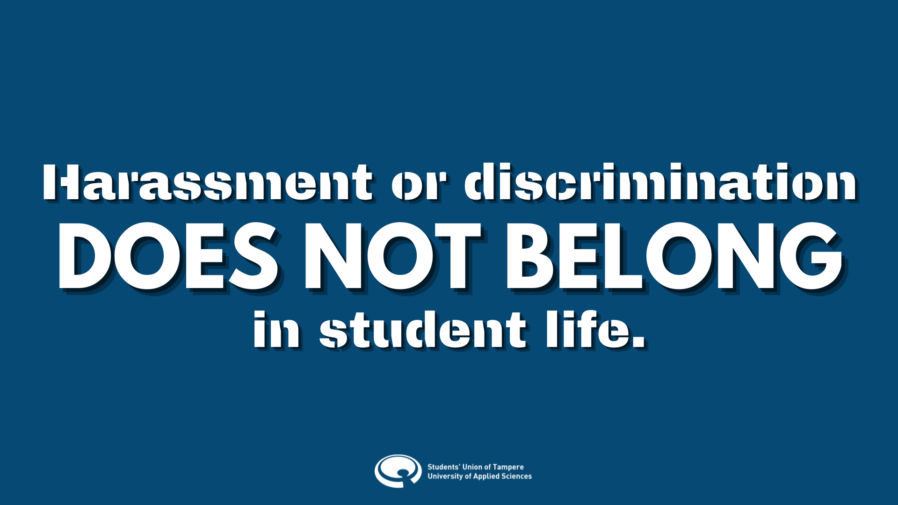 Tamko wants to remind you that harassment and discrimination do not belong in student life, nor outside of it. So take part in maintaining a safe environment where no one is left alone.

Keep these three points in mind:

1. Pay attention to others around you
2. Respect others and their own space
3. lnterfere if you encounter or witness inappropriate behavior

Tamko's Harassment Contacts are here for you at harassment@tamko.fi
3. Hangouts: make Christmas cards to elderly people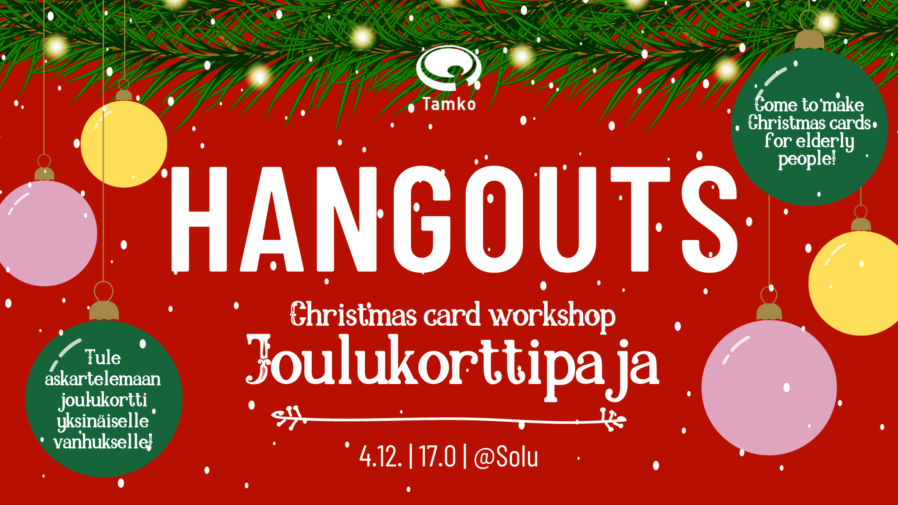 Hangouts Christmas card workshop!
Come to Solu's sauna on 4.12. from 17 to create Christmas cards for the elderly! The cards will be collected and sent through Siskot ja Simot organization to lonely elderly. You can also just hang out and enjoy the warmth of the sauna. Please also bring your own sauna things!

Tamko offers crafting materials for card making and some snacks but you can also bring your own.

Hangouts is a free and alcohol-free event and you can get a stamp from the event to your Tursaspassi.

WHAT? Hangouts Christmas card workshop 
WHERE? At Solu's Sauna 
WHEN? 4.12. at 5 pm 
https://kide.app/events/aec8fa92-d344-400b-b728-9ca8f265eb21/details
__
All Tamko's events are strictly free of harassment. We have trained contacts, so if you face any kind of harassment during the event, please do contact hairintayhdyshenkilot@tamko.fi. If you want more information about the accessibility of the event, please contact saavutettavuus@tamko.fi. 
4. Gift donation to Tartu chrildren's shelter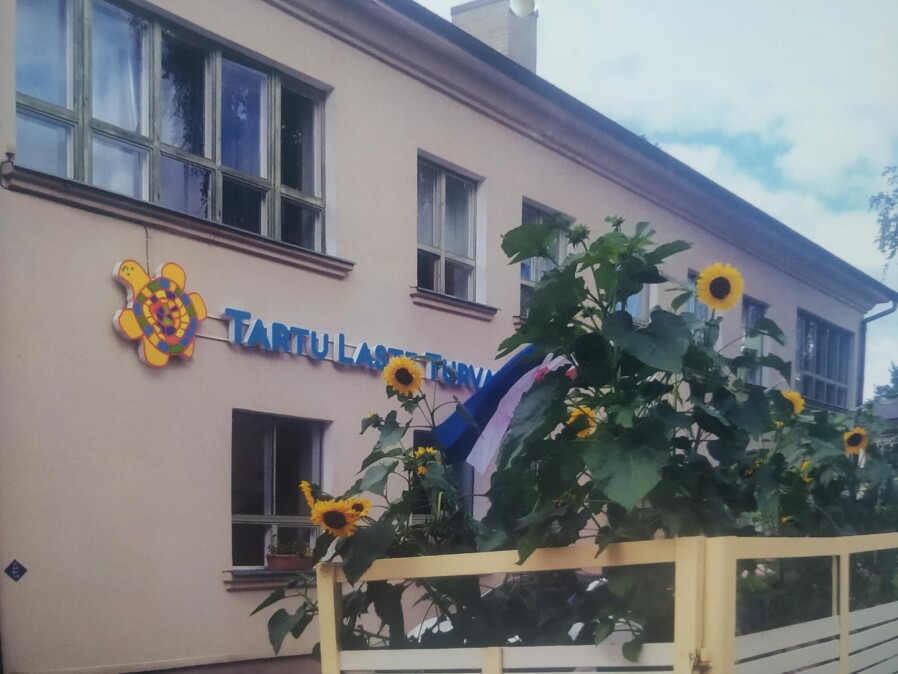 Hello all students in TAMK!

In the spirit of Red Nose day, Nenäpäivä, we are asking for donations for children in Tartu children's shelter for the Christmas party we are arranging with them.

This donations is arranged by Sopu ry, Tarton Lasten Turvakodin Ystävät ry and students of social services in TAMK.

Children and mothers from Tartu children's shelter wish for the following gifts:
All kinds of toys (a special wish is small legos), stickers and sticker tattoos (unicorns are highly popular), head bands, hair bands, hair brushes, hygiene products such as balsams, shampoos, toothbrushes and toothpastes, deodorants, facial cleanser creams, hand creams, cosmetics, Finnish sweets and Finnish healthy snacks etc.

We wish that all the donated products are in a mint condition. The donations will be held in the H0-corridor nearby sofas. You can donate until 24.11.

We are the most thankful for every donation!
Thank you for supporting our trip to Tartu and making children in Tartu children's shelter happy! <3
5. Pre-Christmas karaoke bingo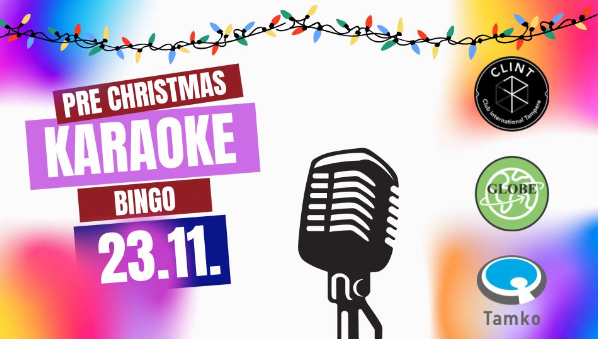 Ready to let out the Christmas spirit by singing your heart out? CLINT and GLOBE come together to bring you a pre-Christmas karaoke bingo night!

Christmas time is approaching and what better way to prepare for it other than singing Christmas songs. Join Clint and Globe on a fun karaoke bingo evening at Kaijakka, one of the best karaoke bars in Tampere.

We will have a Christmas-themed evening of singing and you have the chance to participate in our Bingo game and win prizes. Wear your ugly Christmas sweaters to start off with the right spirit and feel free to decorate your overalls with Christmas decorations.

The night is at a bar, but there is no need to drink alcohol to participate in the bingo or have fun together!
The event is free for everyone, you can wear your overalls. The event will start at 19:00 and end at 22:00, the winners of the bingo will be announced before 22:00 so be there early enough to participate in the bingo and have a chance to win some cool prizes!

After 22:00 you can keep on partying at Kaijakka!

WHAT? CLINT x GLOBE Pre-Christmas karaoke bingo!
WHEN? Thursday 23.11.2023, from 19:00 to 22:00
WHERE? Kaijakka, Laukontori 12
FOR WHO? The event is open to everyone!
TICKETS? Free https://kide.app/events/12a2290f-633a-4bee-bde3-f1df61e2fdd5

The event is harassment-free in line with Tamko guidelines.
6. UV-PISTOT!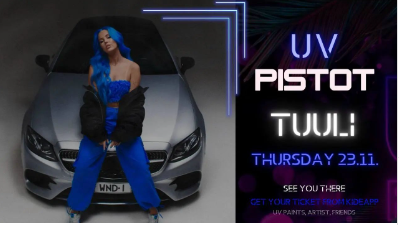 Get ready to shine and glow, at UV-PISTOT parties where light and colors meet in a magical way!
It will be an unforgettable evening full of the glory of neon colors, good music and great company. Amazing Tuuli will be performing!
The doors open at 9 pm and stay open until 5 am, be there!
WHAT: UV-PISTOT
WHEN: Thursday 23.11. from 21:00 to 05:00
WHERE: Restaurant world: Koskikeskus Ranta & Poro.
HOW: Tickets €4 in advance/€6 at the door. €0 with Bilepass (note! free ticket must be redeemed)
https://kide.app/events/7ac118c7-44ef-4a5b-8709-d1dd49542031

PISTOT is organized by TTO ry, TIRO ry and PIRATE ry

All PISTOT events are completely harassment-free and no form of harassment or discrimination is accepted. PISTOT parties include trained anti-harassment contact persons Susanna (hairinta.susanna@tiro.fi), Ville (hairinta.ville@ttory.fi) and Riku (hairinta.riku@piratery.fi), who can be contacted if necessary.
7. There is still time! Suggest TAMK's staff member and teacher of the year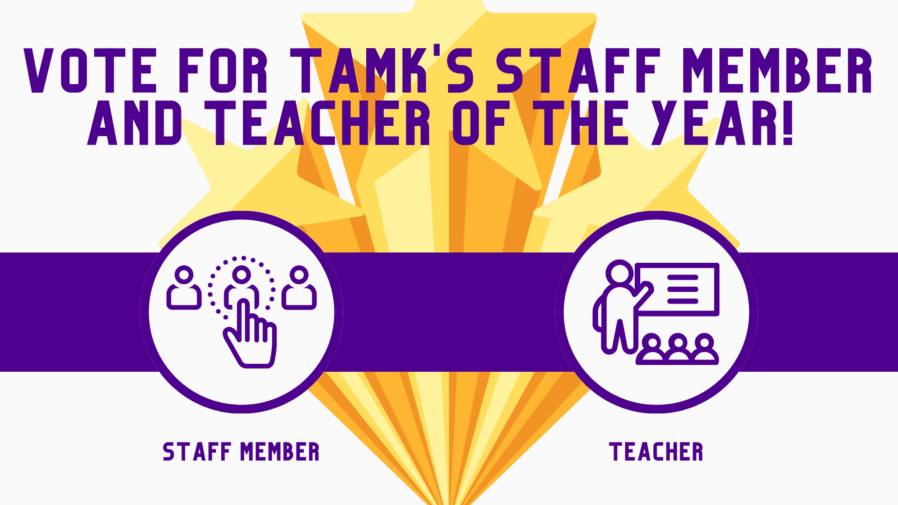 Every year, TAMK honours people who are important to the community. The TAMK Board of Directors selects the staff member and teacher of the year based on nominations and additional information received. The Student of the Year award and scholarship are provided by TAMK. The awards are distributed by the TAMK support foundation.

Which TAMK staff member do you feel has contributed to the community, student-friendliness and supported students this year?

Who has been a teacher at TAMK this year who has guided, helped and created a sense of community in the classroom?
Submit your own suggestion with reasoning using this form: https://www.lyyti.fi/questions/0d1034cbe7 (staff member and teacher nomination on the same form) The deadline for responses is 26.11.2023.

The awards will be presented at the graduation ceremony on 15th of December 2023 and will then be published in the Intra and on the Tamko website.

Everyone at TAMK can vote!