Tamko Topics is a weekly newsletter of The Students' Union of Tampere University of Applied Sciences.
ENGLISH SUMMARY
1. New student: Welcome to Tamko! TURSASPASSI STAMP!
2. New academic year stickers
3. Tamko's Tursajaiset 7.9. TURSASPASSI EVENT
4. Free coffee for new students!
5. Tamko's anniversary celebrations 15.10. TURSASPASSI EVENT
6. FSHS Kalevantie service unit will move in September
7. Remember to pay healthcare fee by the end of September
8. Autumn student events
9. Become a TAMK student ambassador!
10. Students with children can participate Kotila's activities for free!
---
1. New student: Welcome to Tamko!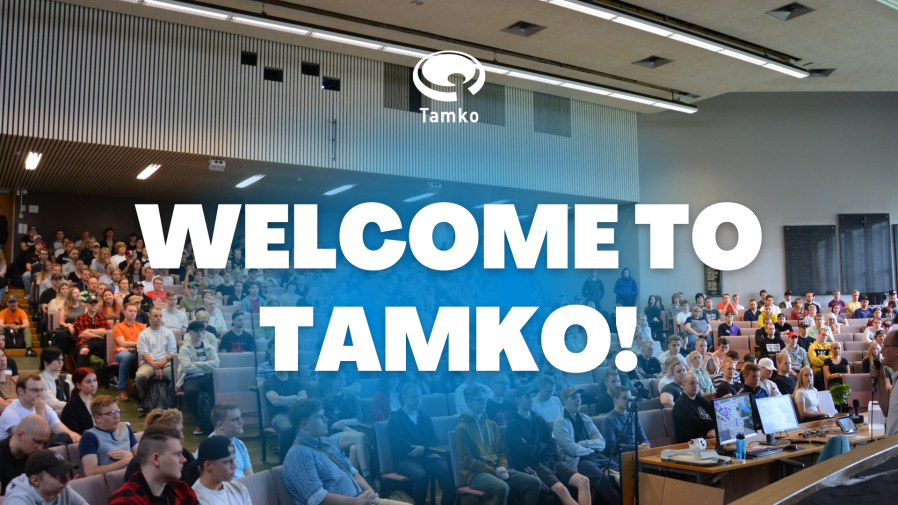 Hello new student and warmly welcome to Tamko!

Hopefully you have recovered from all information recieved from orientation weeks and studies starts to roll forward.
If you ever feel like you need tips for student life, face challenges during your studies or if you are in need for coffee come to Solu and we will help you out!

Tamko Topics
Tamko Topics is weekly newsletter where we gather the most important topics about student life. Topics has information about Tamko, student life in Tampere, co-partners, events, FSHS information and a lot more!

Tursaspassi-passport
Tursaspassi is a fun thing given to first year students to make their first year of studies a little bit funnier. You can get stamps to Tursaspassi from events, shops, places and activities. Mainly, you can get the stamps from the event organizers or staff. If you forget to collect the stamp or there is no one to witness the activity you can get a stamp from Solu in exchange for a picture/other valid proof. Tursaspassi is supposed to be a fun thing, so let's stay positive! The prizes for collecting the most stamps are listed in the passport.

If you didn't recieve Tursaspassi from your tutor, you can get it from Solu.
2. New academic year stickers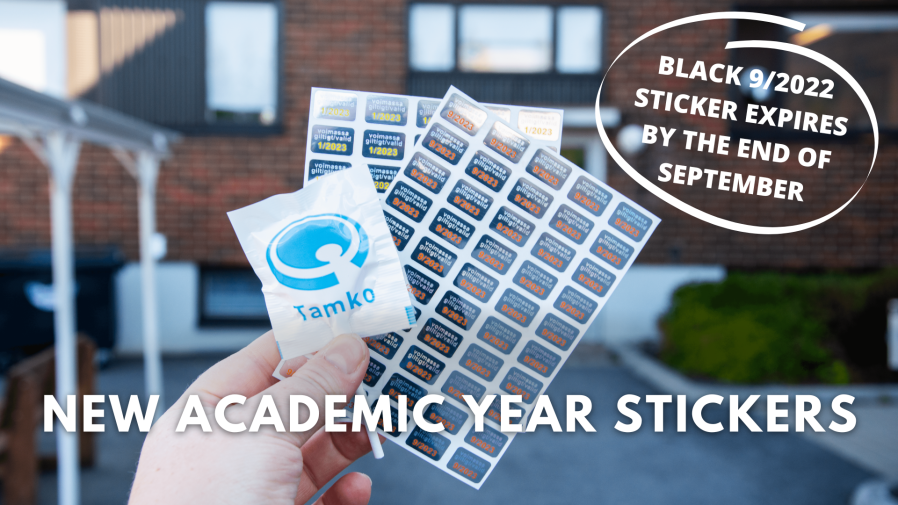 Continuing students, you are also warmly welcomed back to school! <3

New stickers for student cards are available at Solu! The stickers can be fetched every week from Monday till Friday between 9 am and 4 pm. SportUni payments can be made at the office as well.
The black 09/2022 sticker from the previous academic year is valid till the end of September. If your membership has already been paid, the mobile student card in Pivo functions normally even after the sticker has expired.

We will mail new stickers for €2 via Kide.app only for students living outside Tampere. https://kide.app/produ…/8987538d-0810-487e-8455-843b8a43ff73

Welcome to Solu!
3. Tamko's Tursajaiset 2022!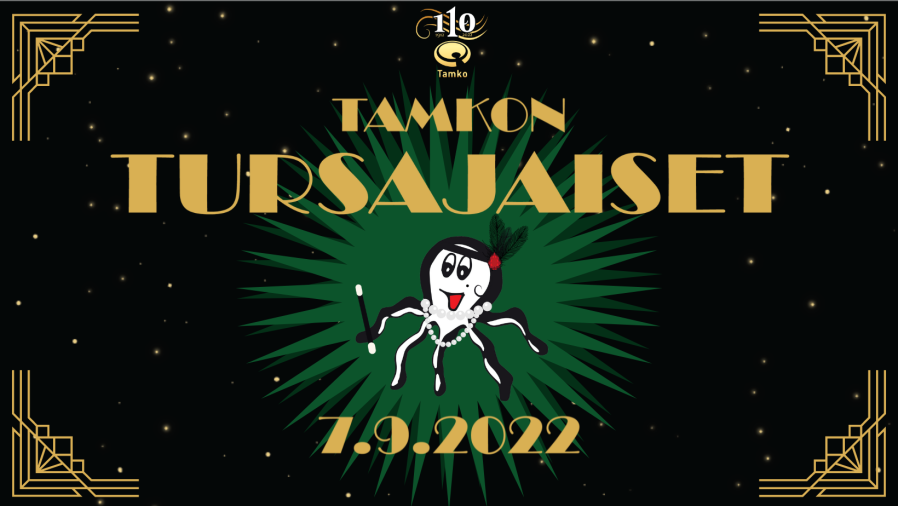 Its that time of the year again where Tampere is full of confused small freshers or Tursas. Its time for the Tursas shephards to get to work and direct the lost Tursas into the Tampere student life. It is time for the 81st Tursajaiset organised by Tamko!

This years Tursajaiset will be organised on 7th of September and the daytime activity is free for all new students. The event will start at 12:00 and this is when the new tursas groups will be formed and ready at the square near the Teiskontie's entrance. From there the whole mass of new students will march towards Keskustori. At Keskustori the new students will pledge a vow called Tursas vow. After this the group will go towards the Tursasland. At Tursasland, groups will go around doing different tasks. The group with the most points and best costumes will be awarded after the event.

The daytime activity of Tursajaiset will end at 19:00 (7pm) after which everyone can continue partying at the afterparty. This year the afterparty will be hosted at Viihdemaailma Ilona. Tickets to the venue will come on sale at Kide.app on August 30 at 2pm. Tickets cost 5€ for a member of Tamko and 8€ fon non-member and at the door.

Link to the Kide.app: https://kide.app/events/e0104d8b-e9d1-4b82-9180-462aebb16d79

All Tamko's events are strictly free of harassment. We have trained contacts also at Tursajaiset, so if you face any kind of harassment during the event, please do contact hairintayhdyshenkilot@tamko.fi. If you want more information about the accessibility of the event, please don't hesitate to contact us: accessibility@tamko.fi.

TLDR:
WHAT: Tamko's Tursajaiset 2022
WHERE: Starting from Kuntokatu 3 main square
WHEN: 7.9.2022 12am, afterparty in Viihdemaailma Ilona at 9pm.
4. Free coffee for new students!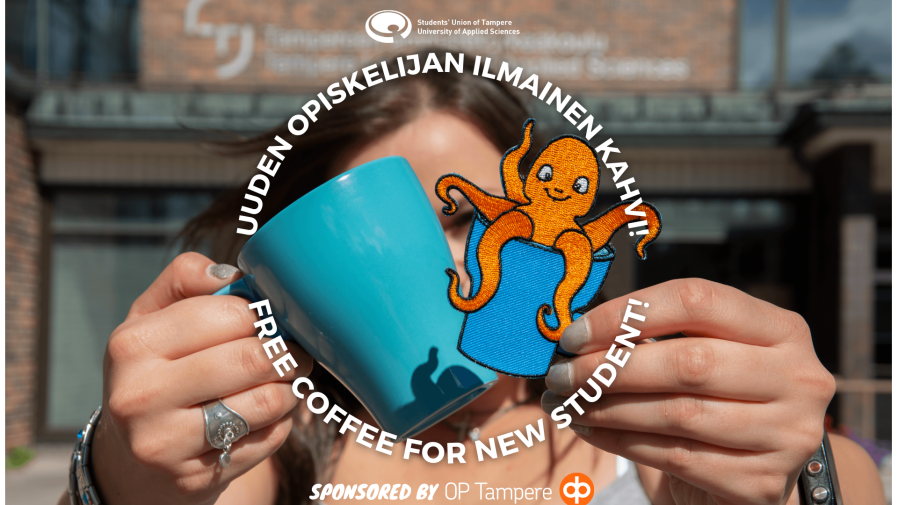 New student, enjoy your free cup of coffee or tea!

OP Tampere is offering offee or tea for new students! You can get the free coffee by getting the coupon from Kide.app during the campaign, one coupon per student. There is limited amount of coupons available.
As a part of cooperation of OP Tampere and Tamko, this coupon is only for Tamko members, membership is checked at the cashier. The coupon is valid only in Campusravita or Mediapolis cafe until 30.9.2022 and applies only to normal, regular size coffee/tea.

Link to Kide.app coupon: https://kide.app/products/656602dc-8c6c-483f-a0c7-140712f8efa5

You can buy cute Tursas in coffee cup- overall patch from Solu! 😉

The campaign starts on this Thursday 1.9. at 9am.
5. Tamko's anniversary celebrations 15.10.2022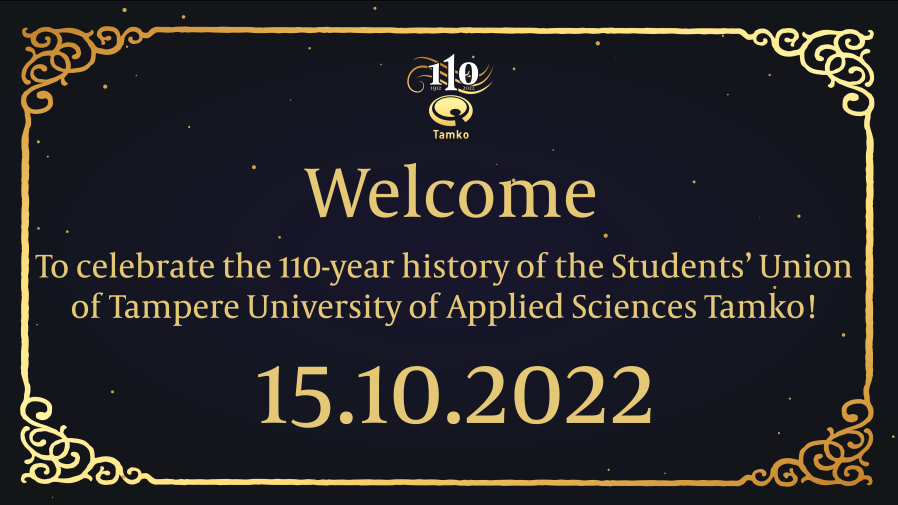 A warm welcome to celebrate the 110-year history of the Students' Union of Tampere University of Applied Sciences Tamko!
The anniversary celebrations starts at Sokos Hotel Torni's banquet facilities at 6 pm, doors open at 5.15.pm. The party continues at Torni into the morning, until 2.00am. You can buy a dinner card for yourself and your partner at once. Ticket sales open on 1.9. and is open on until15.9. If you wish, you can support the student union Tamko's anniversary celebrations and activities by buying a support ticket.

Kide.app link: https://kide.app/events/8349d368-5d1d-4c33-8a80-aede40dd7a4f
Dinner card prices:
Tamko member: €95
Non-member: €130
Support ticket: €200
In accordance with the dignity of the celebration, the dress code is a dark suit and academic badges. We also organize a traditional silliaaminen on Sunday 16.10. Silliaamiainen costs 10 euros/participant. We will announce this closer to the anniversary.
6. FSHS Kalevantie service unit will move in September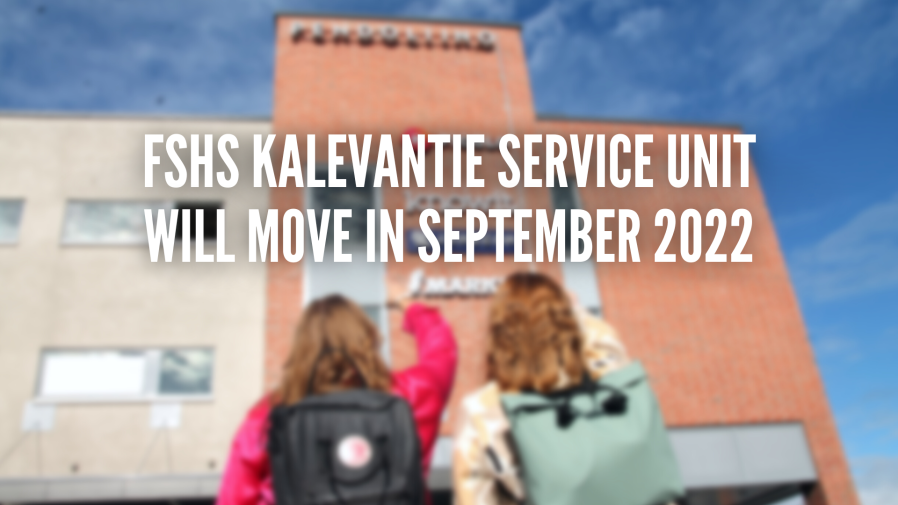 FSHS Kalevantie service unit (Kalevantie 3, 33100 Tampere) will move in September 2022! The new office is called FSHS Tulli, and is located in the Pendoliino building at Pakkahuoneaukio 2, 33100 Tampere. The entrance will be at the corner of Tullikatu.
The moving of the service unit causes some changes to FSHS' operations:
During weeks 35 and 36, all appointments will be remote appointments, unless agreed otherwise with the member of staff concerned (e.g. appointments outdoors during a walk)
You can contact the general and mental health services office by calling 046 876 9182 between 9 a.m. and 11 a.m.
If everything goes as planned, the FSHS's new premises will open on 12 September 2022. So always remember to check where your appointment is located and whether it is held remotely! Please note that the oral health appointments are in Hervanta as usual, and will not be affected by the move.
FSHS' updating news article about the matter can be found on FSHS website here: https://www.yths.fi/en/news/2022/the-general-and-mental-health-appointment-services-in-tampere-will-move-to-a-new-location-in-early-autumn/
7. Remember to pay healthcare fee by the end of September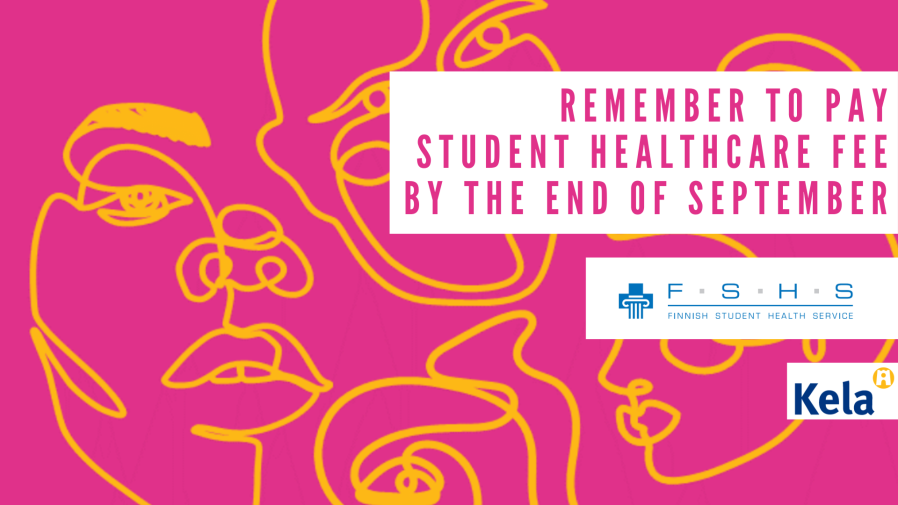 Remember to pay the healthcare fee to Kela!
The student healthcare fee must be paid by students who are completing a degree at a Finnish institution of higher education and have registered as attending for the term.
No bill will be sent on the healthcare fee, and thus you have to pay the fee on your own initiative.
In 2022, the healthcare fee will be EUR 35.80 per term.
The fee must be paid once per term (spring and autumn).
For the autumn term, the due date of payment for the healthcare fee is 30 September 2022, provided you have registered as attending by then.
NOTE: If you have social security coverage in another EU/EEA country or in Switzerland or the United Kingdom, you do not have to pay the healthcare fee. However, you are allowed to use the FSHS's services.
Find more information on Kela's website:
How to pay the student healthcare fee in higher education
8. Autumn student events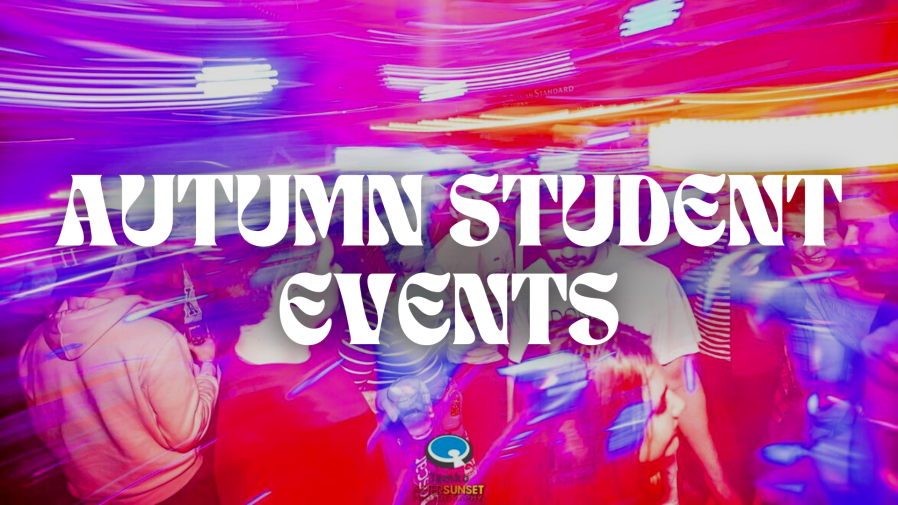 Autumn is the time for student events!
Tamko has listed some upcoming student events with the names of heir organizers:
30.8. Kisko-fest
31.8. Bubirundi- pub crawl / Bubiklubi
1.9. Haalaribileet- party
6.9. Syysfest / Opiskelijan Tampere
7.9. Tursajaiset- biggest event for freshmen / Tamko
10.9. Asfalttisähäly – floorball tournament / Antura
15.9. Sisämaaristeily – bus tour / Kolpakko, Source, Happo
15.9. PISTOT-party / Pirate, TTO, TIRO
19.9. Tolumppialaiset – sports event / Tolu
20.9. Kaljamölkky / Sopu & Konekerho
21.9. Student association and club day at TAMK main campus / Tamko
22.9. Kolmiot -party / Inceds, Luuppi, Staabi
6.10. Haalaribileet- party
15.10. Tamko's 110 annual celebration party
List for things to remember as a new student or returning one:
-There is lots of events happening but no need to stress about taking part of every one of them. Participate to those that YOU are interested in and have time to go.
-Many events are cross-disciplinary so all students in the University Community can participate in the events. But check out event information.
-Easiest way to find information about upcoming events is to follow student associations' and clubs' social media and Kide.app
–Kide.app is app and the key to student events. It's also where most event tickets are being sold
-Tampere has a rich student life, there is something for everyone. Events vary from alcoholic to non alcoholic events, sports, culture, internationality, gaming, etc.
9. Become a TAMK student ambassador!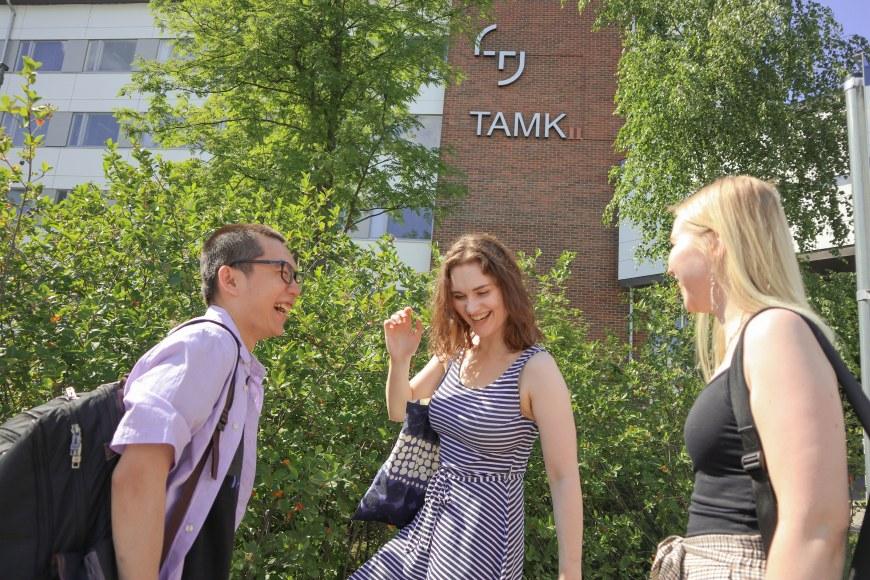 Are you interested in promoting your degree programme and TAMK to potential applicants? Do you want to provide an encouraging example through your personal story? Say YES! and apply to become a student ambassador! Application period is open until 31st of August 2022.
As a student ambassador you gain important working life skills, such as presentation and public speaking skills, social media skills, networking. You also learn to understand the importance of student recruitment and collaboration with secondary schools. Activities are available for you to sign up for when your own schedule allows and carry a participation fee. Becoming a student ambassador is therefore also a means to earn something extra alongside studying.
Read more info from Intra and apply!
https://intra.tuni.fi/en/content/news/40881
10. Students with children can participate Kotila's activities for free!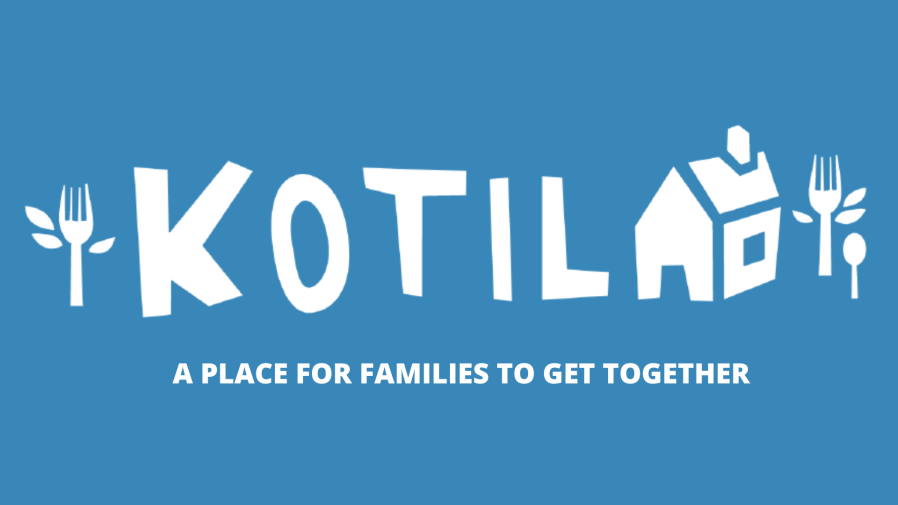 Students with 0-10 years old children can eat and participate in Kotila's activities for free!

Kotila is a common living room where families with children can spend time together in a home-like, communal space. There are various activities for families, such as games and different events. For parents, we have people available for peer support and anything you might need to talk about. We also provide guidance and advice in questions about parenthood, as well as information about services for families with children in Tampere.

Kotila is open on Tuesdays from 2pm to 6pm for 0-2 year old children and their families, and on Wednesdays and Thursdays from 2pm to 7pm for 0-10 year old children and their families. Evening snacks are available, and if you want, you can take part in guided activities such as arts and crafts and story massage.
Every two weeks on Saturdays we prepare and eat lunch together in Kotila. The lunch is free of charge for families. If you would like to join us, you must register in advance.
Read more about Kotila:
https://www.ahjola.fi/lasten-ja-nuorten-toiminta/kotila/

Instagram: @kotilatampere
Facebook: Kotila
More information: Kati Joki, p. 044 5538488 tai kati.joki@ahjola.fi