Tamko Topics is a weekly newsletter of The Students' Union of Tampere University of Applied Sciences.
ENGLISH SUMMARY 
1. There is still time to apply for international tutoring! TURSASPASSI STAMP!
2. Become a Peer Coach! TURSASPASSI STAMP!
3. Tr3fest 2022 is happening this Wednesday!
4. SOURCE & SYNTAKSI: TITELAN 2022 TURSASPASSI EVENT!
5. TIRO ry: T-Itse Labra 31.3. TURSASPASSI EVENT!
6. Welcome to the Deluxe Arts 'N' Culture Event!
7. Check out what's happening at Parvi
8. NyytiCoaching
9. Feedpack sessions – Let's discuss and develop it together
10. Welcome to language club on this Wednesday!
11. What do you think about intranet?
---
1. There is still time to apply for international tutoring!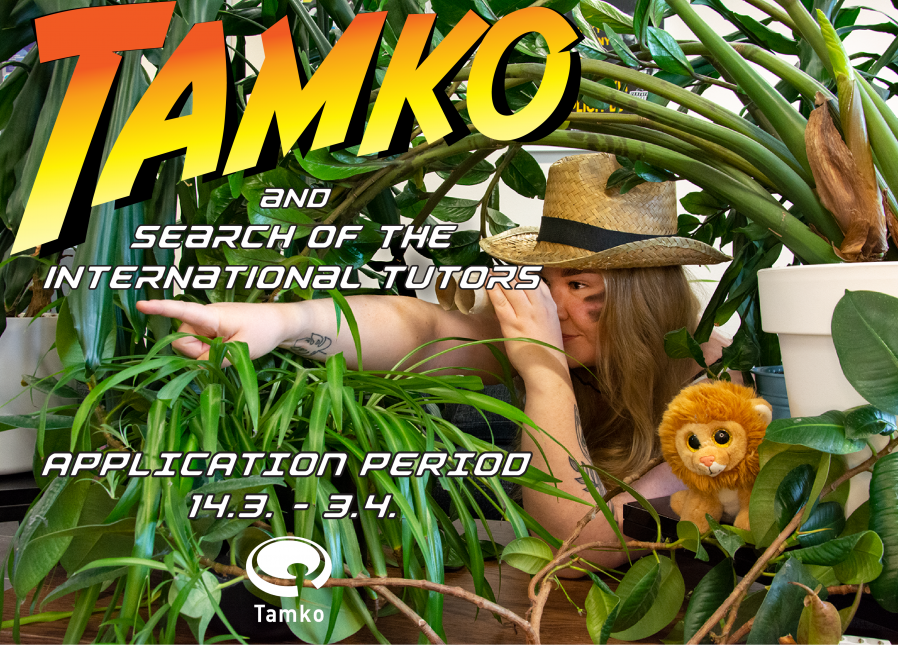 Tamko is searching brave and ambitious international tutors!
Join Tamko's adventurous bunch of tutors and be there to welcome the new exchange students in August! As an international tutor, you'll ensure that our exchange students feel welcome in TAMK and have someone they can rely on. Not to worry, you'll have an excellent network of other international tutors and experts helping you!
Tamko trains all the international tutors of TAMK. The training consists of two sessions in the evening, and the exact dates will be announced later. International tutors are eligible for 2 study credits, one extra point when applying for exchange themselves, and a stamp on the Tursaspassi.
Application period for international tutoring is open until this week's Sunday 3.4.!
Apply by filling this form: https://forms.office.com/r/m8KkbYsSb5 

And after that you are one step closer to joining the adventures of international tutoring!
2. Become a Peer Coach!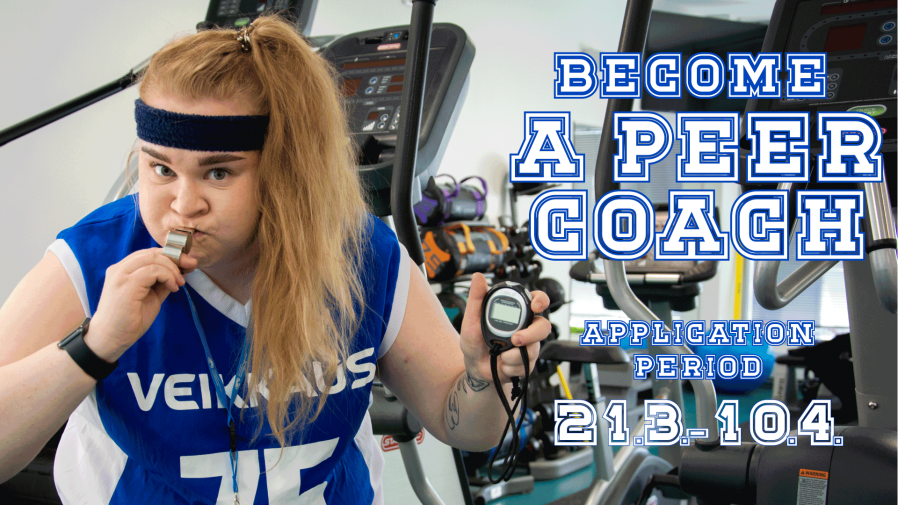 Are you interested in supporting other students or would you like make TAMK even more communal and get study credits from it!? Become a Peer Coach! Application period open 21st of March until 10th of April.
Peer Coaching is indented for students from all the study programmes and all different phases of studies.Peer Coaches can support other students example when studies are not proceeding, when returning to studies after or brake or when in need of social contacts. Peer Coach can organize one on one meetings, group meetings or events based on their preferences.
Student Union Tamko will train all the Peer Coaches together with TAMK. First training session is held during this spring. Coaching itself will be starting during autumn semester. If you are motivated to support others and you have positive attitude, you are the person we are looking for!
Apply here! (https://forms.office.com/r/TVp3sqLQjZ)
You can change the language to english from the upper corner.
3. TR3Fest 2022 is happening this Wednesday!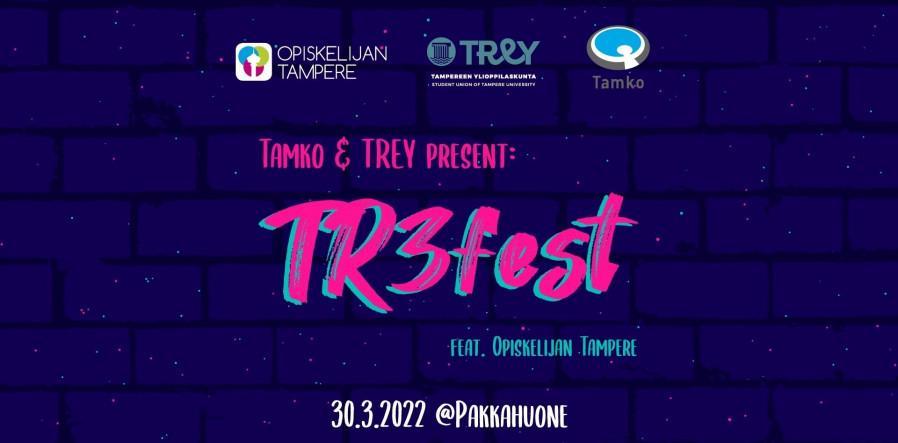 Tr3fest is just around the corner! This Wednesday Pakkahuone will be filled with casual vibe, music and students from all Tampere Universities communities. Student bands Massipojad and Roasted Onion will entertain you during the evening awith the  headliner Younghearted!

There is still chance to join the party and get tickets to this party! Buy them for 8 € from Kide.app! Ticket includes TR3fest event, cloakroom and afterparty at the Klubi.

Schedule for the evening:
Doors: 19.00
Massipojad: 20.00
Roasted Onion: 21.30
Younghearted: 23.00
After party: 00.00–02.00
P.S. For the first thousand visitors, there will be an overall patch! 

Get your tickets from here: https://kide.app/events/0e6a2d3a-0977-4a12-ba2b-5c286c413715
Facebook event: https://fb.me/e/1W9Kidvfz
4. SOURCE & SYNTAKSI: TITELAN 2022!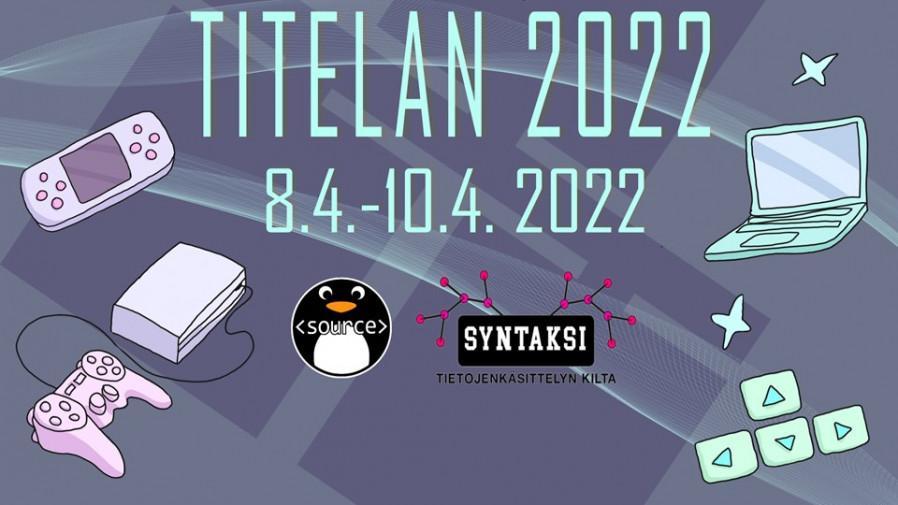 Finally it's here again –  TITELAN!
After a break of a couple of years, Tamk's biggest lan event is here. SOURCE and SYNTAKSI have joined forces to organize this spectacle. Grab your gang of friends to chill and play games to Sportuni premises on 8.-10-4.

The event is open for everyone, no club memberships required!

Tickets are on sale in Kide.app now: https://kide.app/events/e2a93f5d-8697-435c-9202-d9989d28ab2e
5. TIRO ry: T-Itse Labra 31.3.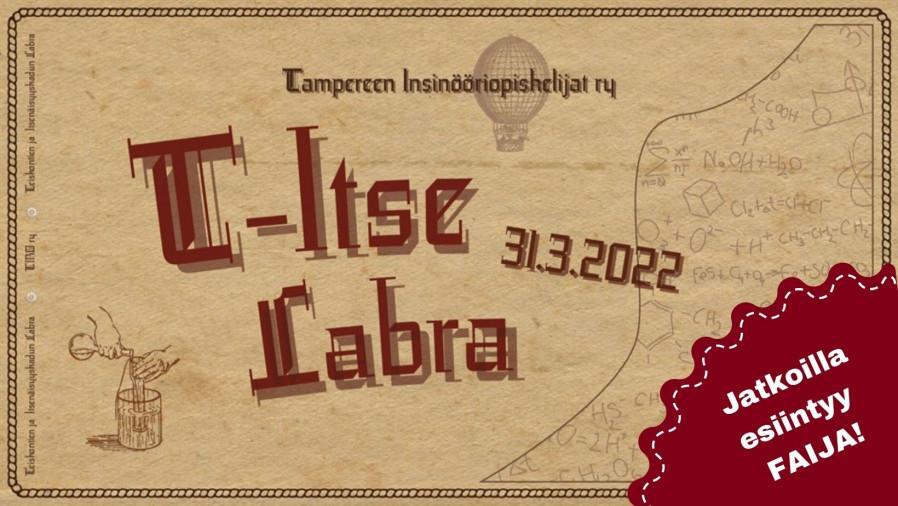 Go on an adventure along Teiskontie and Itsenäisyydenkatu under the guidance of T-Itse Labra pass on the 31st of March! In this traditional event the idea is to tour bars and enjoy drinks worthy of 1,2 or 3 stars. So that the events of this adventure are not forgotten, you can also write a report about the events of the evening.

After the tour it is good time to head to the after party where FAIJA is performing!

T-Itse labra also rewards:
– Every participant gets T-Itse overall patch for year 2022 and a patch corresponding 1, 2 or 3 star
-The best written report will be rewarded after the event
-The Acid of the year will be rewarded at the after party

Ticket for this fun costs 5 € for TIRO's members and 8 € for others. The ticket includes entry for after party. Get your tickets now!

Tickets: https://kide.app/events/5d313e45-bdbf-4b91-bcc5-95feabac484e
More info from Facebook: https://www.facebook.com/events/1026657791527393
6. Welcome to the Deluxe Arts 'N' Culture Event!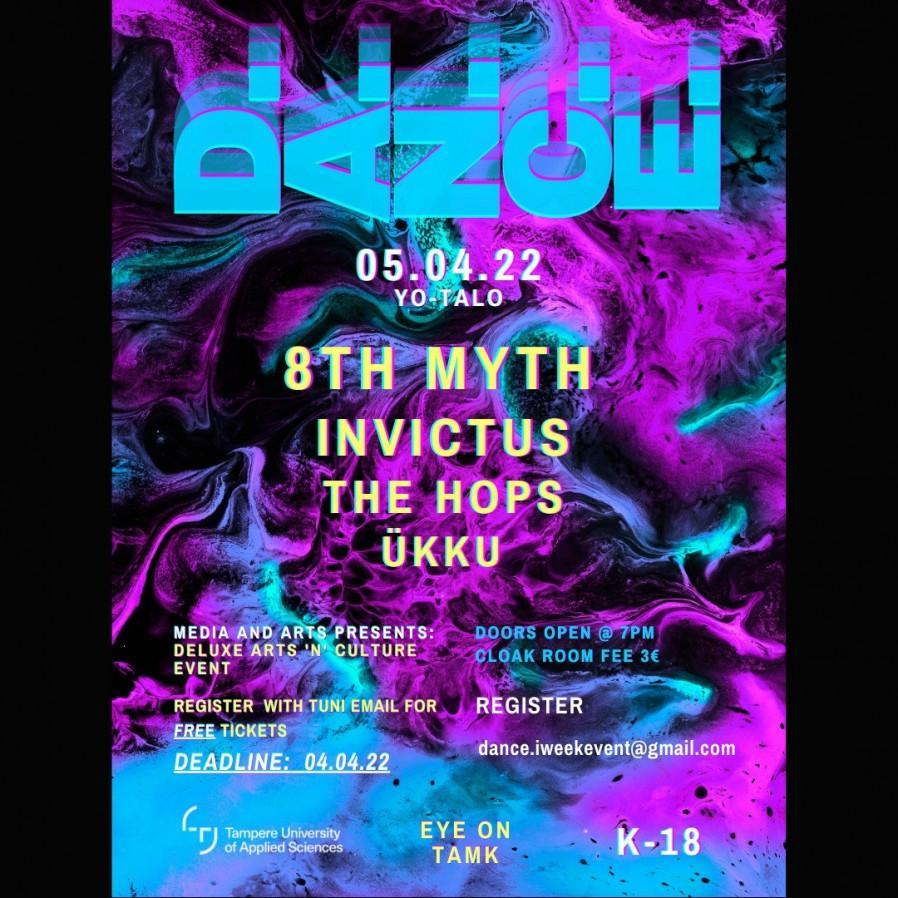 Welcome to join us in a collaborative event filled with great performances and video installation screenings: D.A.N.C.E! You'll be greeted with great performances from our own talented artists, VJ set, a chill zone close to the bar with Media and Arts students' video works.

The event is free, there is a 3€ cloak room fee.

Register with your TUNI email by sending "attending" to
dance.iweekevent@gmail.com

Your TUNI email has your full name, so make sure to use it to save your name on the list!
7. Check out what is happening at Parvi!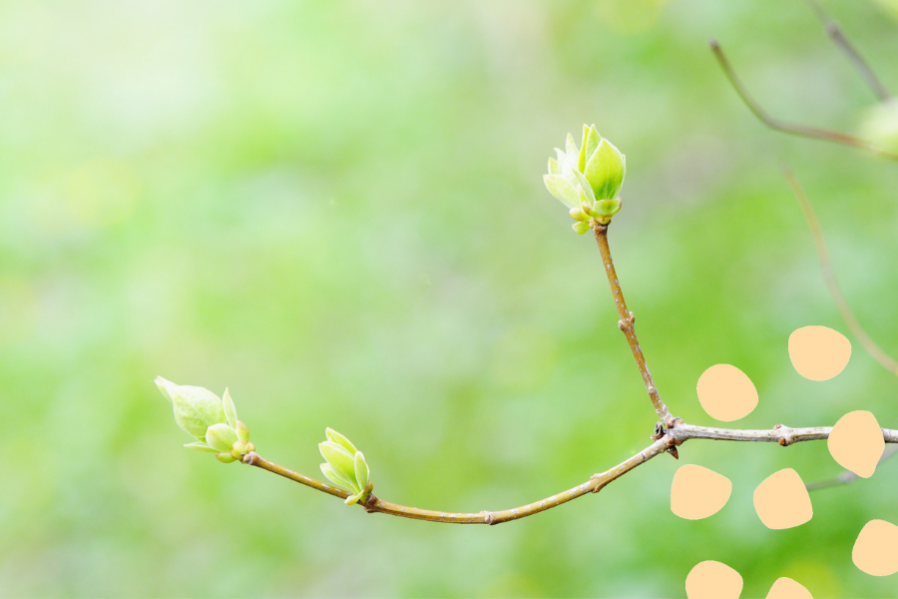 Spring event!
Spring event for all of TAMK on the 13th of April in honor of returning to campuses and the student mental health day, welcome! The event offers different kind of stands, mocktails and pancakes! Live music will be provided by Tamk's own band and the main performer Samae Koskinen! Mark the day in your calendars already!
Read more: https://intra.tuni.fi/en/content/news/35582
Examples of Parvi activity taking place this week:
Finnish language club
Discussions about organizational NGO work and volunteering / Meet SPR – Finnish Red Cross
Wednesday at 16-17.30
Worry café
Is the world in turmoil? Come share your worries over a cup of coffee at Parvi!
Friday at 13-15
Remember that on Mondays (at 10-12), Tuesdays (at 14-16), Wednesdays (at 14-16) and Thursdays (at 13-15) there is Get Stuff Done and on Thursdays (at 13-15) there is CV-clinic every week this spring! You can also find a Student Counselor/Teacher for Special Needs and Student Wellbeing Advisor have a walk-in nearly each day of the week at Parvi and online!
Parvi calendar: https://calendar.google.com/calendar/u/0/embed?src=tamkparvi@gmail.com&ctz=Europe/Helsinki
Parvi's Instagram: @tamkparvi!
Parvi's Linktree: Linktr.ee/tamkparvi
See you at Parvi!
8. NyytiCoaching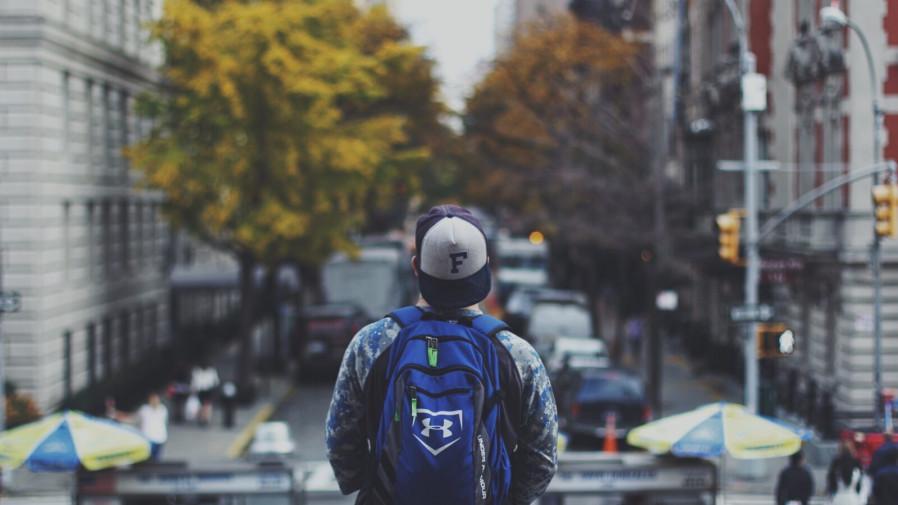 Coaching available to support your transition to working life – apply now! 
Are you in the final stages of your studies? Would you like to receive coaching to find your own direction and potential? Would you like to get support to identifying your working life expectations and career goals?
With NyytiCoaching, this is possible! The coaching process includes three meetings, which are conducted online. The coaches are certified professionals.
Coaching is aimed at students in the final stages of their studies at universities and universities of applied sciences, as well as doctoral students throughout Finland. Coaching is free of charge for students.
The call for applications for this spring NyytiCoaching in now open. 
Apply here: https://www.nyyti.fi/en/opiskelijoille/nyyticoaching/ 
9. Feedback sessions – Let's discuss and develop it together!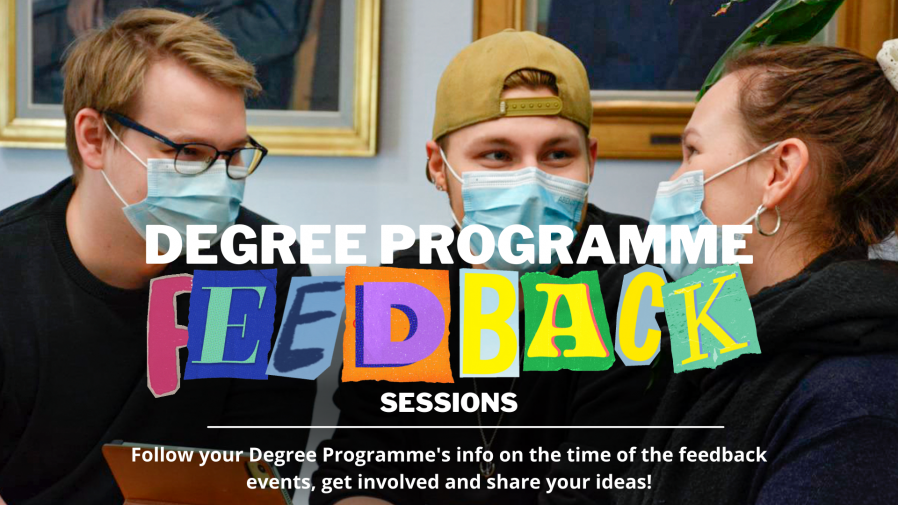 Student feedback was collected last year in the spring and autumn feedback weeks in the form of a new student and annual feedback surveys. Feedback was also collected from master´s degrees and through Graduation phase survey. 

During the spring, students and staff will discuss the feedback at joint degree programme specific events, in which the possible development measures will also be agreed

Follow your Degree Programme's info on the time of the feedback events, get involved and share your ideas!

Read more from intra: https://intra.tuni.fi/en/content/news/34127
Feedpack summary can be found by clicking this.
Schedule for feedpack sessions: https://wiki.tamk.fi/pages/viewpage.action?pageId=195934632
10. Welcome to language club on this Wednesday!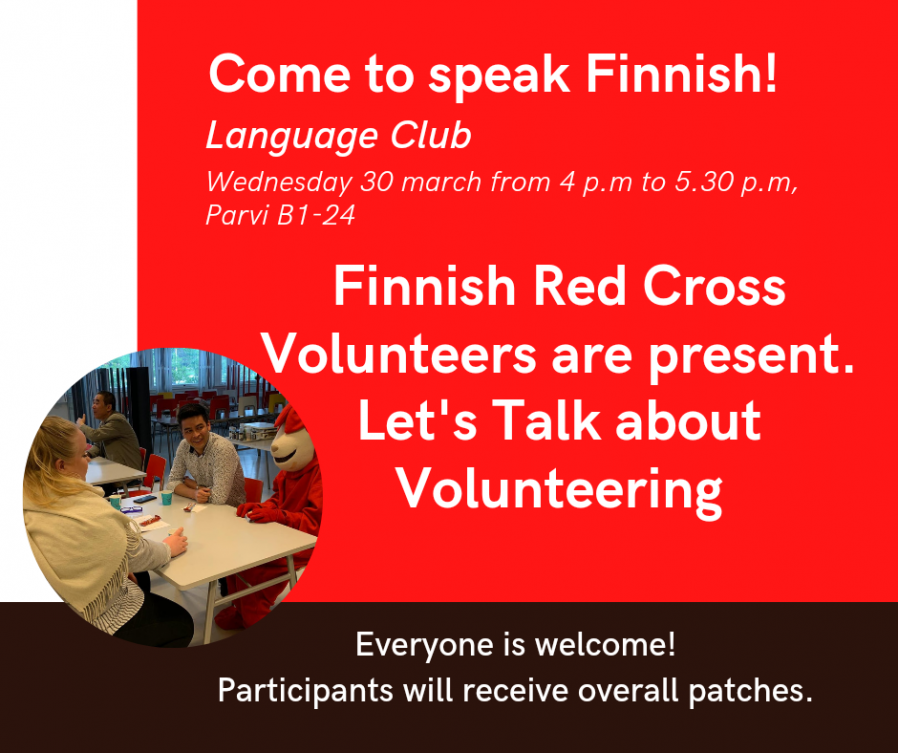 Join us in a casual and relaxed discussion to share experiences, learn some basic Finnish and meet other students! People with no Finnish skills are also warmly welcome. There will be different themes to discuss each time! There are always some Finns here too so you can practice Finnish in everyday life situations, no grammar, no exams, but learning by speaking. If you are lucky, you can find new friends too!
This Wednesday 30.3. at 16-17.30 there will be Discussions about organizational NGO and volunteering with SPR – Finnish Red Cross. Welcome!
11. What do you think of the intranet?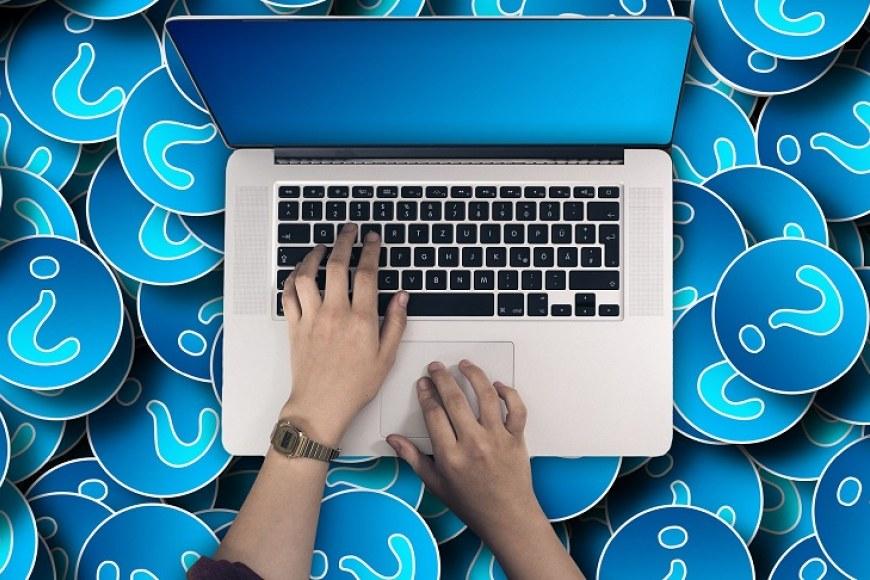 What do you think of the Tampere Universities intranet? Answer our user survey
Wonderful, terrible, okay, developable? Tell us what you think of the intranet and have your say on how it will be developed in the future.
The form will be open until 7 April 2022: https://forms.office.com/pages/responsepage.aspx?id=r0Rp-nzM2EyRVMARMnmJENFVyPAeYf5NpKjfYO-Sh3dUMkpQTkFVN0xBMVo2QlMwUlFQMTMxQzZPTi4u

https://intra.tuni.fi/en/content/news/35533