The purpose of a peer coach is to guide and support, for example, transfer students (students whose right to study is transferred from one UAS to another or from one programme within TAMK to another) or students who are resuming their studies, are at a turning point in their studies or need sparring. We especially want to reach older students who could benefit from peer coaching.
In peer coaching, the coaches get to put their own strengths and possible previous guidance experience to good use. Peer coaching can be realized as, for example, both individual and group meetings or event organizing. Peer coaches get to plan their activities together with their coachees.
Peer coaching awards 2 credits, but the number of credits can be increased, depending on how active you are. In addition to trainings and coaching, a learning diary must be submitted to get the credits. Peer coach applications are open every spring, keep your eye on our information channels!
For more information: Tutoring expert
Become a Peer Coach! Autumn 2022 application period has started!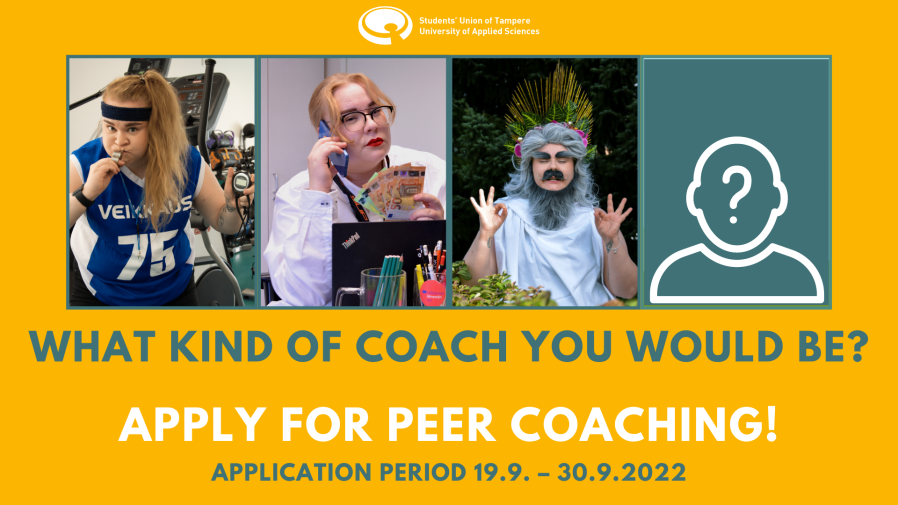 Are you interested in supporting other students or would you like make TAMK even more communal and get study credits from it!? Become a Peer Coach!
Peer Coaching is indented for students from all the study programmes and all different phases of studies. Peer Coaches can support other students example when studies are not proceeding, when returning to studies after brake or when in need of social contacts. Peer Coach can organize one on one meetings, group meetings or events based on their preferences.
Student Union Tamko will train all the Peer Coaches together with TAMK. Training session is held during 4th October and you will be given support throughout the coaching. Coaching itself will be starting during second period. If you are motivated to support others and you have positive attitude, you are the person we are looking for!

Application period is from 19th of September until 30th of September 2022.
Apply here: https://forms.office.com/r/TVp3sqLQjZ
You can change the language to English from the upper corner